Overall ranking lists
Similar ranking lists
What is artificial grass?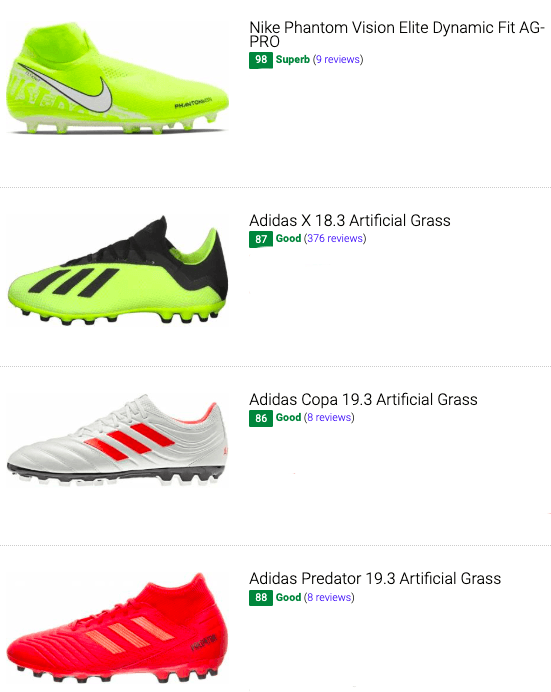 In soccer, artificial grass is also known as "artificial turf", "3G or 4G pitches" or "synthetic grass". Although it is has been referred to in several names, it has distinct grass characteristics that differ from Turf.
Artificial grass is a type of synthetic fiber that is made to simulate the properties of natural grass. One defining characteristic of the artificial grass is its height. Its blades are longer in comparison to Turf. AG surface is often used in sports arenas and stadiums while Turf is mostly found indoors.
Artificial grass consists of two types of synthetic surfaces: the 3G and 4G pitches. The 3G pitches are specifically designed for recreational and professional soccer and rugby. It has sand as its base and a layer of rubber infill or crumbs for support. Ranging from 40-65 millimeters in pile height, 3G pitches measurements can be customized depending on the sport.
The term "4G" in artificial grass technically does not exist. None of the accredited sports organizations have recognized this type of ground. However, it is popularly used by manufacturers to refer to a synthetic grass without any infill. Most of the non-infilled artificial grass are those that came from the earlier generation of synthetic pitches.
The advantages and disadvantages of using artificial grass as soccer pitches
Advantages
Artificial grass is cost-effective. Although the cost of installing these synthetic grounds are more expensive than natural grass, its long-term value is a bang for the buck due to its low-maintenance quality
The condition of artificial grass pitches is stable regardless of the weather conditions. Unlike Firm Ground, it does not get muddy or too dry depending on the season.
Synthetic Grass surfaces are easy to maintain compared to natural grass which requires irrigation and special grass treatments.
Artificial Grass is more durable compared to having a firm ground pitch, which is susceptible to water permeability that can cause muddy and slippery surfaces.
Disadvantages
Studies have shown that the risk of injury in an AG pitch is higher compared to FG. The most common injuries are skin abrasions and ACL (Anterior Cruciate Ligament) sprain injury.
There is a large chance of players getting dehydrated in an artificial grass soccer pitch particularly during summer or sunny days. The temperature gets higher by 35-55 degrees Fahrenheit when playing on a synthetic surface, according to studies.
Because synthetic grass risks have been prevalent nowadays, several less invasive versions have been manufactured. Recently, new brands of synthetic grasses have emerged with new and improved technologies to lessen injuries and to closely mimic the characteristics of natural grass such as the FIFA-approved FieldTurf.
What is an artificial grass soccer cleat?
Knowing the characteristics that would work best in a synthetic pitch is crucial to choosing the most appropriate Artificial Grass soccer cleat available in the market. Setting aside technologies, here is your guide to knowing the fundamental qualities for artificial grass soccer cleats:
Low-profile, hollow studs for comfort and better grip in sand-filled surfaces
Secondary studs for perimeter traction (optional)
Heel cushioning for support against injuries caused by synthetic grass friction
Cushioned Insoles to lessen stud pressure
Shorter studs with mini-studs for appropriate ground penetration
Reasons why you shouldn't be wearing firm ground soccer cleats on artificial grass
Whether a firm ground soccer cleat is appropriate for an artificial surface has always been one of the contentious topics in the soccer cleat world. Ideally, Artificial Grass soccer cleats should be the most suitable between the two. However, in the real world, some players still opt to go for firm ground cleats for various of reasons.
Having two pairs of cleats, one for each type of surface may not seem to be cost-effective. However, most experts say that using the right footwear on an artificial surface would result in more pros than cons. Here are some of the reasons why it is highly recommended to wear Artificial Grass soccer cleats in a synthetic grass pitch:
Artificial grass studs are engineered to produce the right amount of ground penetration in an AG surface. Its length and shape can grip well in the synthetic ground causing less drag and slips. Firm ground studs, on the other hand, are longer because they are intended to penetrate the soil. Consequently, firm ground studs may grip harder on a synthetic base. As a result, serious injuries may happen as your body tilts forward while your foot is still planted.
The varied shapes and sizes of studs in an artificial grass soccer cleat are built to cover enough surface area without being slippery. Additionally, the hollowed studs are shaped in such a way that rubber pellets may enter but do not get lodged. Contrastingly, Firm ground studs are solid and may get dragged when in contact with the pellets.
Although some experts also contest that firm ground cleats can still be worn in artificial grass, it is only applicable for firm ground cleats with conical studs. Rotational maneuverability is highly important in a synthetic ground and having a cleat with conical studs may help, especially in quick changes of direction as opposed to cleats with bladed studs.
Using a firm ground soccer cleat in an artificial grass surface may cause premature damages to the cleats as they do not react well to the abrasive friction in synthetic grass. In this scenario, the cleat warranty will be voided because the cleats were used on an unspecified surface leading to a more costly and counterproductive option, which is to buy a totally new pair of cleats.
Artificial grass soccer cleat soleplate provides a higher level of stability compared to firm ground. This cleat characteristic will significantly reduce the chances of having injuries.
Artificial grass soccer cleat soleplate by brand
Now that artificial grass is becoming more prevalent more than ever in soccer pitches, soccer shoe manufacturers have built cleats that can withstand the abrasive ground. Gradually, some of these companies have invented soleplate technologies that are scientifically compatible with the synthetic fibers.
Here are some of the artificial grass soleplate innovations of some of the popular brands:
Nike
Nike offers a wide array of artificial grass soccer cleat choices. All of their four main lineups have artificial grass cleats which are the Nike Mercurial, Magista, Hypervenom and Tiempo.
Nike AG-Pro studs perform best with the new versions of synthetic turf. At a glance, it may look like a traditional firm ground configuration due to the mixture of conical and bladed studs. However, the combination of hollow and Chevron studs allows just the right amount of grip on a synthetic ground.
The stud configuration is seen in the AG-Pro versions of Mercurial Vapor XI Neymar.
Nike's soleplate for the Artificial Grass soccer cleats features a lightweight nylon construction coated with Pebax overlay. It has extra flex grooves that aid in quick changes of directions. The Tiempo Legend VII AG-PRO is one of the cleats with Nike's artificial grass plate.
Puma
Puma offers firm ground cleats that can double as an artificial grass cleat. These are often tagged as FG/AG cleats. The ingenious idea provides several advantages such as its cost-effective benefit. Players no longer have to purchase two types of cleats when switching from one type of surface to another.
An example of an FG hybrid cleat is the Puma Future 18.1 Netfit while some of their artificial grass soccer cleats are the EvoPower Vigor 3 Graphic AG, One 17.1 AG and One 17.3 AG.
Puma artificial grass soleplates are made of Pebax material which is known for its lightweight quality. Similar to the Nike Artificial Grass soccer cleats, Puma artificial grass stud configuration is a mixture of conical and bladed studs for better grip and maneuverability in a synthetic surface.
Adidas
Adidas is known for creating the world's first FG/AG hybrid cleat. The revolutionary move from one of the biggest soccer shoe companies has received positive reviews from players who longed to have a multi-functional cleat.
The Adidas Ace 15.1 is the first ever FG-AG hybrid cleat released by Adidas. It features a soleplate of more than 40 differently sized conical studs. The stud distribution is intended to produce traction that would be versatile for the two types of grounds.
The Adidas hybrid soleplate has gone through biomechanical testing to intensively check if it can safely work with both natural and artificial surface.
The Adidas Ace 15.2, Ace 15.3 and X 16.1 are some of the FG/AG cleats of Adidas.
Adidas also features cleats that are solely built for artificial grass. It features the Agility stud configuration composed of multiple hollow studs arranged to aid in direction changes and acceleration.
The Nemeziz 17.3 Artificial Grass and Predator 18.3 Artificial Grass are some of the artificial grass soccer cleats offered by Adidas.
New Balance
The redesigned soleplate of New Balance artificial grass soccer cleats is built with a mixture of triangular and hexagonal shaped studs. Inspired by track studs, the stud arrangement is made to produce excellent traction in the artificial ground. Visaro 2.0 Pro AG is one of the NB cleats that carries this soleplate.
Mizuno
Mizuno offers artificial grass soccer cleats designed with moulded stud pattern. The soleplate is composed of multiple conicals studs with different sizes to provide outstanding traction on synthetic surfaces. The Monarcida Neo AG and Morelia Neo KL II AG are some of the Mizuno cleats with a moulded soleplate.
Umbro
The artificial grass soccer cleats of Umbro are built with ergonomically designed studs that reduce overall soleplate pressure. Multiple conical studs are arranged to produce the appropriate traction in the artificial ground. Most of Umbro's artificial grass cleats come from its Speciali Eternal lineup such as the Special Eternal Team AG and Speciali Eternal Pro AG.
Frequently asked questions
Why are the studs in artificial grass soccer cleats hollowed?
The studs in Artificial Grass soccer cleats are hollowed for various reasons. First, synthetic grass tends to produce more heat compared to natural grass. Hollowed studs will be the best choice for the heat-generating surface as they tend to cool down faster than regular cleats.
Secondly, they keep the cleats lightweight. The soleplate for Artificial Grass soccer cleats are usually heavier and having hollowed studs will help reduce extra weight from the cleat.
Lastly, when hollowed studs come in contact with the rubber pellets, they infiltrate them in such a way that they don't get stuck internally. This way, players can accelerate without worrying too much about slippages.
What is AstroTurf? What type of cleats should I wear in AstroTurf?
Astroturf is one of the most popular brands of artificial grass. Its original versions are short-piled and carpet type. Turf soccer cleats are highly recommended for AstroTurf. They are different from Artificial Grass soccer cleats. The studs in Turf cleats are much shorter and are designed for grounds that do not need penetration or "digging in".
Can I wear artificial grass soccer cleats on Turf?
Artificial ground soccer cleats are not recommended for Turf surfaces due to the length of its studs that are designed to penetrate the ground. In contrast, Turf surface does not require longer studs because the grass is short-piled and almost flat. In fact, wearing artificial grass cleats in Turf may cause damage to the surface and may give players discomfort.
9 best artificial grass soccer cleats
Adidas Predator 18.3 Artificial Grass
Nike Phantom Vision Elite Dynamic Fit AG-PRO
Adidas X 18.3 Artificial Grass
Puma One 18.1 Artificial Grass
Puma One 18.4 Artificial Grass
Adidas Predator 19.3 Artificial Grass
Adidas Copa 19.3 Artificial Grass
Puma One 18.3 Artificial Grass
Adidas Nemeziz 18.3 Artificial Grass
This shoe has recently been added to RunRepeat. There are still not enough reviews for us to assign it a
CoreScore
.
CoreScore
A score from 1 to 100 that summarizes opinions from users and experts. The average CoreScore is 78.
More...