Make your mark during the game, not on the court. This is what athletes can expect when wearing their Adidas volleyball shoes. These trainers are built to support agile movements by offering a grippy underside that prevents slippage. They also have features that provide lateral stability to avoid toppling over during swift direction changes.
Benefits of using the best Adidas volleyball shoes for men and women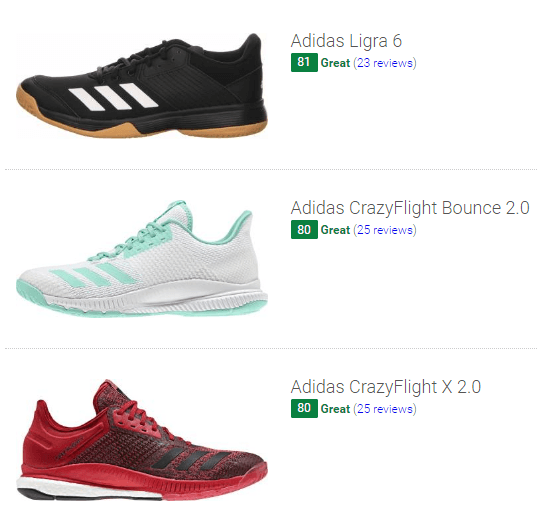 Volleyball is an intense sport that requires players to be always moving to be able to hit the ball. Athletes need a volleyball shoe that would allow them to keep up with the demands of the game. But what should volleyball players look for in a proper pair of Adidas volleyball shoes?
A typical volleyball match can last somewhere between 60 to 90 minutes. For some, that may not be a long time, but when you are wearing an uncomfortable pair of footwear, an hour could seem like an eternity.
Adidas volleyball shoes are equipped with midsole technologies that reduce the impact of each step. In some cases, the unit is also bouncy, allowing it to use the force of impact for energy to take off.
Adidas volleyball trainers are crafted using pliable material. This characteristic is vital to facilitate smooth volleyball footwork that includes lunges, side steps, sprints, jumps, quick turns, to name a few. They are built quite similar to badminton shoes.
Jumps and sprints are made easy when wearing a pair of volleyball shoes from Adidas because they barely weigh a thing. Some games can last for hours and when you are wearing something heavy, to begin with, you'd feel like you're wearing hiking boots near the end. It could cause you to drag your feet and increase the risk of a fall.
Volleyball players do quick stops and often run before jumping for a more powerful blow. Imagine if before you jump your foot suddenly slips from under you? The result would be disastrous. Adidas volleyball shoes are equipped with an outsole that provides traction on smooth indoor floors. They have a tread pattern that promotes expansion in multiple directions and often has a pivot point under the ball to allow players to turn without straining their knees.
A common feature found in Adidas volleyball shoes is that the outsole extends upwards in critical areas of the midsole. The wrap serves as an outrigger, like those found on boats, preventing the foot from wobbling or rolling excessively to the sides. It should also be noted that the outsole construction also helps players push off the ground using the sides of their feet to facilitate swift movements.
Hot and sweaty feet should be the least of your worries when you step on the court. Thus, Adidas volleyball shoes are equipped with mesh panels on their upper. These elements keep the weight of the footwear at a minimum. They also help with heat and moisture regulation. Breathable tops are often found on workout shoes as well. They prevent the foot from perspiring while throwing down at the gym.
Some people prefer wearing shoes that are a half-size bigger because they like the extra room. However, if you're a volleyball player, that half-inch leeway could cause slippage inside the footwear. This could result in injuries or a slower foot reaction time. Volleyball shoes from Adidas are designed to hug the foot to provide snugness without constricting it.
Technologies used in Adidas volleyball shoes
Upper
TPU yarn. Adidas volleyball shoes are mostly covered in mesh. This fabric is soft that can easily tear. To reinforce the top, thermoplastic polyurethane (TPU) yarns are woven into the fabric. The addition of TPU yarns enhances the support of the upper material without adding extra weight to the trainer.
S-shape heel counter. An S-shaped heel counter is found in some Adidas volleyball trainers, like the CrazyFlight X 2.0. This element aims to stabilize the hindfoot. It also supports the Achilles tendon, so it doesn't get strained while performing agile movements.
Midsole
Boost. This cushioning unit looks similar to styrofoam. It is made of blown-up granules that have been fused to create a bouncy platform. It is designed to absorb shock and at the same time, convert the force of impact into energy for an explosive take-off. This springy foam was first implemented in Adidas running shoes in 2015.
Bounce. Another proprietary midsole technology used in Adidas volleyball shoes is the Bounce platform. This cushioning unit expands when you apply pressure on it and quickly returns to its original place when the foot lifts off from the floor. Compared to Boost, it is firmer and weighs more. Because of these characteristics, it is suited for people looking for a more stable pair. As the name implies, the CrazyFlight Bounce 2.0 uses this type of midsole.
Springblade insert. Springblade is Adidas' unique sole technology that uses blades of varying widths and angle placement. This feature provides customized shock attenuation as each slat moves differently. In some Adidas volleyball shoes, the design is used in the insole, not the exterior cushioning unit.
Outsole
Adiwear. Another innovation used in some volleyball shoes from Adidas is the Adiwear outsole. It is a high-abrasion compound with a very grippy characteristic. It is also lightweight and flexible, allowing the footwear to bend according to the needs of the wearer. Finally, the material doesn't leave streak marks on polished floors. An example of a shoe equipped with Adiwear is the Ligra 6.
Adidas makes its mark
Adidas' root in the volleyball scene is a bit of a blur. However, it is one of the brands that has been quite active in terms of sponsorships and collaborations with volleyball players and teams.
In March 2019, Adidas has partnered with Intersport GmbH, an international sporting goods retailer, and Twitter Inc. According to the deal, high school volleyball and soccer games will be live-streamed on the social media platform. This is in response to a study which stated that women's sports are barely getting any media coverage.
Alix Klineman, the 2017 AVP Beach Volleyball Rookie of the Year, was signed a multi-year deal with Adidas in June 2018.
In November 2017, Adidas signed 16 USA volleyball players who would be part of brand marketing campaigns and collaborations on volleyball shoes, apparel, and gears. The list includes setters Lauren Carlini and Carli Lloyd, middle blockers Paige Tapp, Tori Dixon and Hannah Tapp, outside hitters Jordan Larson, Kim Hill and Sarah Wilhite, from the U.S. Women's National Team and Katie Holloway from the U.S. Women's Sitting Volleyball Team.
Adidas has also tapped male volleyball athletes. They include outside hitters Thomas Jaeschke and Taylor Sander, middle blockers David Smith, Max Holt and Dan McDonnell, opposite Ben Patch, and libero Dustin Watten.
Frequently asked questions
How much do Adidas volleyball trainers cost?
Volleyball shoes from this brand typically cost somewhere between $60 to $150. The price depends on the cut of the top as well as the technologies present on the model. The more advanced features a pair has, the higher the price tag is.
Here at RunRepeat, we strive to give you the best deal on your desired pair. You don't need to wait for a sale to save a few bucks. All you need to do is click on a model and we'll scour our partner retailers to find the best price.
How should Adidas volleyball shoes fit?
This type of trainers should fit perfectly. There should not be room for the foot to slip and slide inside the trainer since the player will be moving quickly and in all sorts of directs. It should not be too tight that the athlete will feel pain or numbness, especially in their toes.
Should I get a mid-top or a low-top Adidas volleyball shoe?
It depends on your preference. If you want more support for your ankles, or you want the collar to fit like you are wearing a sock, a mid-cut pair would suit you. On the other hand, if you want more mobility around your ankles with minimal ankle support, a low-top footgear would fit the bill.
Do Adidas volleyball shoes come in wide width?
No, Adidas volleyball shoes do not come in wide profiles. However, the toe box is constructed to be a bit roomy so the toes won't feel pinched but still snug for a proper foothold.
Can I use my Adidas volleyball shoes for everyday wear?
The simple answer is yes. But the rubber outsole of the Adidas volleyball trainers is meant to be soft to provide exceptional grip on indoor court floors. Their outsole is not designed to withstand the abrasions of walking on rough surfaces like pavements. For everyday use, a comfortable pair of walking shoes would suit you. However, if a more trendy footgear is what you're after, check out our list of in-style sneakers.
Can I use my volleyball shoes from Adidas in other sports?
Yes, you can use Adidas volleyball trainer for other activities like squash, badminton, racquetball or other indoor sports. These shoes are flexible, lightweight, and support agile movements. However, some badminton players prefer to wear proper badminton shoes because they have less ankle support, which gives their ankles more freedom to move.
When should I replace my Adidas volleyball trainers?
The moment you see signs of extreme wear and tear, then it's time to start looking for a new pair. Signs to look out for include: holes or rips on the upper, outsole losing traction, and the midsole no longer absorbing shock.
Volleyball shoes typically last a full season, which is about 5 to 6 months of 3 to 4 days of practice, including competition. However, if you use them more frequently and for more extended periods, then the footgear might not last a full season.
Can I use my basketball shoes for volleyball?
Yes, you can use your basketball shoes. Especially if you're a male volleyball player since the styles are quite limited. Also, basketball and volleyball shoes are constructed the same way: they have bouncy cushioning for explosive take-offs and reduced impact during landing, grippy and rounded outsoles, and lateral support for quick directional changes.
Though there are several similarities between basketball and volleyball shoes, some argue that the designs of the midsoles are quite different. Basketball trainers are constructed for forward and backward movements. On the other hand, volleyball shoe midsoles are created to place most of the support under the balls of the feet so they can move swiftly forward and from side-to-side.
How do I clean my Adidas volleyball shoes?
The good news is, Adidas has made it really easy for owners to keep their kicks clean. Most of their trainers are machine washable unless they are made of leather or suede components. Remember to separate the insole (if possible) and the laces. Put them in a pillowcase or a laundry bag before throwing them into the washer.
As for the type of detergent to use, it is recommended to use liquid instead of powder. The reason behind this is that granules of a powdered detergent may not dissolve and could get stuck in the nooks and crannies of the footwear. This could also result in unsightly markings on the shoe.
After washing, leave the footgear and its components to dry indoors. Be sure to keep it away from direct heat sources. The drying time could vary from a few hours to a full day, depending on the materials of the shoe as well as the air humidity.
Another way to clean your Adidas volleyball shoe, especially if you lack time, is via a quick wipedown. Use a cloth dipped in a warm soapy solution to rub off the dirt from your trainers. Rinse the washcloth with clean water and then wipe away the suds and dirt from your shoe. The drying time will be faster since it does not get soaked in water.
Remember! Do NOT machine dry your trainer as the heat can compromise the integrity of the volleyball shoe.
Does Adidas sell volleyball trainers specific to your position in court?
Volleyball shoes from Adidas are meant to accommodate the needs of players regardless of their position. Whether you're a hitter, a server, a blocker, a libero, a setter, or an opposite, these kicks are designed with a grippy outsole, a shock-absorbing midsole, and an upper that can securely hold the foot during quick transitions.
Can I use Adidas training shoes for volleyball?
Training footwear from Adidas includes weightlifting, workout, and CrossFit shoes. Some of these models may not be as flexible and lightweight as volleyball shoes, which could reduce a player's reaction time. And though many training shoes offer lateral support, their outsole may not provide the needed grip on smooth indoor courts.
Fun fact
Aside from volleyball shoes, Adidas also sells other essentials like short tights, performance tights, jackets, t-shirts, and pants. They also offer knee pads.
Adidas specifically designed volleyball shoes for the U.S. team. Both the CrazyFlight Bounce 3 and the CrazyFlight X 3 feature a transparent outsole, making the star-studded midsole visible. The top features the red, white, and blue colorways, reminiscent of the American flag.
The U.S. women's volleyball team qualified for the 2020 Tokyo Olympics. And yes, they were wearing Adidas gears.
During the 2000 Summer Olympics, Cuba's women's volleyball team bagged the gold wearing Adidas gear.
It seems Adidas is a lucky charm for volleyball players. In the 2008 Summer Olympics, the women's team from China also won gold.
Adidas and Parley of the Oceans announced a collaboration in 2015 to create a line of trainers that are made using plastic collected from the ocean. These shoes include running, training, tennis, and lifestyle footwear baring the Parley branding. They also have shoes for volleyball like the Adidas CrazyFlight X 2.0 Parley.
In July 2017, Adidas and USA Volleyball, the official team sent to compete in the Olympics, announced a multi-year partnership. The deal stipulates that Adidas will be the provider of athletic footwear, apparel, and accessory brand for the team.
Adidas is the exclusive partner of the John Turner Classics. It is the largest high school volleyball tournament in the U.S.
Additional information about the brand
Before branching out into other sports like volleyball, Adidas was known for making spiked running shoes.
Did you know that the Boost technology was not developed by Adidas? It was created by Badische Anilin & Soda-Fabrik (BASF), one of the largest chemical manufacturers in the world. BASF figured out that it was bouncier than traditional EVA foam used in shoes, so it pitched its inventions to another German company — Adidas.
It was long believed that Adidas stood for All Day I Dream About Sports. But in reality, it is the mash-up of its founder's nickname and last name, Adolf 'Adi' Dassler.
The founder of Adidas and Puma are brothers. Adolf, or Adi, started making shoes in his mother's kitchen after returning from war. His brother Rudolf joined his endeavor and they built the Dassler Brothers Shoe Factory. However, a misunderstanding during an attack led by Allied warplanes. The rift between the brothers grew and soon parted ways.
3 best Adidas volleyball shoes
Adidas CrazyFlight X 3
Adidas Stabil X
Adidas Stabil Bounce
This shoe has recently been added to RunRepeat. There are still not enough reviews for us to assign it a
CoreScore
.
CoreScore
A score from 1 to 100 that summarizes opinions from users and experts. The average CoreScore is 78.
More...