Adidas Tubular sneakers
Showing no hints of slowing down, Adidas continuously enjoys its reign in the modern atleisure sneakers game. Since the brand was discovered, it has been unending in designing and engineering first-rate technologies to make its wearers perform better and feel comfier while using their sneakers.
The pedigree of Adidas Tubular has grown exponentially and considered one of the most voguish and remarkable sneakers being sold in the market. It began with experimenting with pump-up soles and conceptualized the use of car tires on the sole to stir its traction pattern for excellent grip and traction.
Popular Adidas Tubular sneakers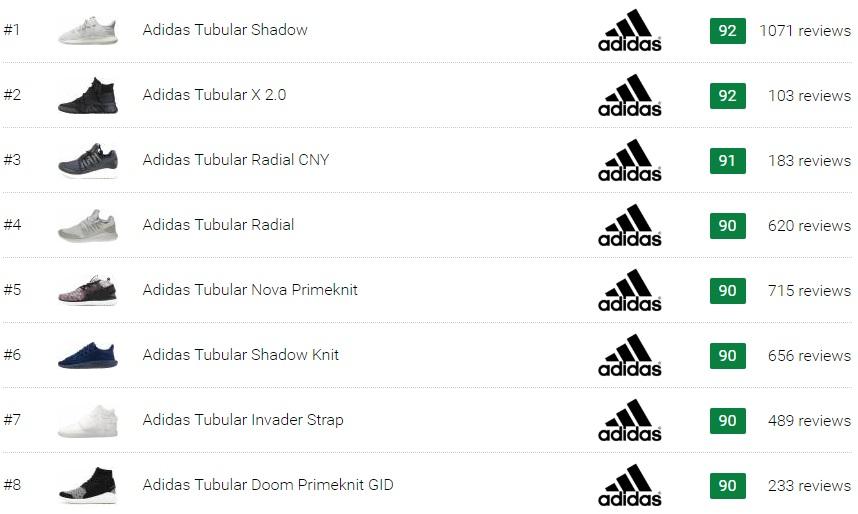 Adidas has marketed several iterations molded from the Tubular's progressive look and here are few of the best Adidas Tubular iterations according to its collar height:
Low-Top:
This cut delivers better exposure of the ankle and provides maximized range of motion. It is considered the most versatile as it is easier to style with any ensembles. Listed below are few samples of low-rise Tubular sneakers:
Adidas Tubular Dawn
These Adidas Tubular sneakers were introduced in 2017 exclusively for the ladies. Unlike the other kicks made solely for the women, these shoes do not feature feminine design but instead futuristic look but versatile enough for any ensembles. The brand inserted modern technologies to keep its wearers comfortable when the ladies need to be on their feet all day.
Adidas Tubular Entrap
Adidas unveiled another sneaker limited for the ladies, the Adidas Tubular Entrap. These sneakers were armed with technologies to deliver superb comfort and durability. This pair boasts its lightness and super breathability with minimal design to make it versatile and stylish.
Adidas Tubular Radial
In 2016, the classic Adidas Tubular was retooled to launch the Tubular Radial. These Adidas Tubular sneakers used new tooling and rich materials and display a sporty vibe that is made for the streets. The stylish features of this model add overall appeal to one's attire, making this a highly recommended addition to anyone's collection. This model was further enhanced by the brand and offered in various upgrades, such as:
Adidas Tubular Radial CNY - To commemorate the colorful festivities of the Chinese New Year, Adidas unwrapped their Tubular Radial CNY. This iteration stayed faithful to its parent silhouette which gives recognizable comfort and fit. The Three Stripes applied details stirred from the Chinese New Year celebration, creating one-of-a-kind footwear.
Adidas Tubular Radial Ice Mint - These affordable Adidas Tubular sneakers provide a cool vibe and charming appeal that can be easily paired with any attire. It was launched in 2016, and since then, many buyers have expressed admiration for the fresh style while furnishing stable and comfortable strides. These easy to wear kicks are highly recommended for wearers with an on-the-go lifestyle.
Adidas Tubular Radial Primeknit - These lightweight and well-ventilated sneakers display monochromatic hues and clean details for minimal and straightforward design. Many modern fashion stylists love the versatility of these sneakers that can be easily worn with any casual ensembles.
Adidas Tubular Runner
The Adidas Tubular Runner tops the lineage of the modern Tubular silhouette. This pair was unveiled in 2014 that brags its versatility that can be mixed and matched with different ensembles. Adidas had five years of research to combine the car tire inspiration and the modern high-fashion.
While these lace-up Adidas Tubular shoes were introduced as running kicks, many fashionistas appreciated its exceptional look. The heel cage adds striking appeal and displays mostly a powerful feature that can be used on the street fashion.
The Adidas Tubular Runner Weave
The full woven upper of the Adidas Tubular Runner Weave showcases the combination of black and white rested atop the iconic Tubular sole. These affordable sneakers were released on February 11, 2016, and captured the hearts of many reviewers and onlookers.
Adidas Tubular Viral 2.0
Unlike its predecessor Adidas Tubular Viral, the Adidas Tubular Viral 2.0 has no elastic strap on its forefoot and diamond pattern on its heel. These sneakers are made of matte mesh upper to create appealing street fashion kicks. The brand used welded panels to keep the sleek and overall lightness.
Adidas Tubular Nova Primeknit
These reasonably-priced Adidas Tubular sneakers were once dubbed as one of the best sneakers Adidas ever launched. These kicks highlight its superb quality and comfort without surrendering its affordability and style.
Adidas Tubular Moc Runner
The brand unveiled the low-top Adidas Tubular Moc Runner that displays an interesting combination of materials with various colorways. The moccasin details on the toe box and the stitching delivers remarkable feature lined with suede mudguard details. This footwear provides modern simplicity and sleek aesthetics that will inevitably break necks.
Adidas Tubular Shadow
Buyers have praised the Adidas Tubular Shadow for it superb comfort and up-to-date style apt for the current trend. It displays a simple and versatile look that can be worn with almost any everyday attire. While these heavily sought-after Adidas Tubular sneakers do not contain Boost or any advance cushioning technology, it still gained popularity for its low-priced comfort and style.
This iteration comes in two special editions:
Adidas Tubular Shadow Knit - One of the reasonably-priced Adidas Tubular sneakers, the Adidas Shadow Knit has been considered the cut-rate substitute to high-priced Adidas Yeezy Boost 350 when it comes to aesthetics. These lightweight and breathable kicks are highly recommended especially for buyers with wide feet for its roomy width and adjustable lacing system.
Adidas Tubular Shadow Primeknit - To make the Adidas Tubular Shadow lighter, the Three Stripes used the Primeknit upper on the Tubular Shadow silhouette. These kicks have sock-like construction for minimalist design and easy to slip-on feature. However, few reviewers criticized the absence of overlays which give them uncertainty on these kicks' overall support and durability.
Mid-top:
This type of cut partially covers the ankle to provide better support compared to the lows. While this cut is mostly considered the hardest to style, many still loved its biased-cut. Here are few of the mid-top Adidas Tubular kicks found in the market:
Adidas Tubular Defiant
These women-exclusive, slip-on Adidas Tubular sneakers gained popularity for its looks that highly resembles the luxurious Yeezys. Its upper is decked with exciting colorways with street-ready looks that can be paired with various outfits.
Its details display a luxurious aesthetics which will surely make any regular attire appear expensive and one of a kind that can be worn as one's everyday, casual sneaker. Adidas unveiled several kicks stemmed from the Defiant, these are:
Adidas Tubular Defiant Primeknit - These sneakers have a futuristic look specifically for the women. It displays a minimalist design using Primeknit upper and distinctive decoration across the forefoot. Adidas offers this in various colorways giving its wearers freedom in choosing their ideal colorway.
Adidas Tubular Defiant Rita Ora - These mid-top Adidas Tubular sneakers demonstrate the authentic Tubular Defiant silhouette with elastic midfoot strap rested atop a Tubular white sole. Rita Ora, a pop icon, inserted her modern touch by adding subtle texturized details on various areas of the shoe.
Adidas Tubular Invader
The mid-top Adidas Tubular Invader sneakers were unveiled in 2016 that resembles the very popular and expensive Yeezy kicks. This iteration fused the Tubular elements and the vintage Invader details to come up with fashionable yet versatile sneakers.
The Adidas Tubular Invader kicks are made of luxurious upper and cushioned sole for style and comfort for day-long use. Adidas launched these strapped Adidas Tubular sneakers in striking colorways and can go well with any casual attire which will surely elevate one' overall look.
This silhouette turned very popular which prompted the Adidas to unveil several iterations molded from it, such as:
Adidas Tubular Invader 2.0 - These street-ready Adidas Tubular sneakers resemble the luxurious Yeezys and the Y-3 sneakers. Many loved the striking look made of premium materials to deliver comfort and durability.
Adidas Tubular Invader Strap - The mid-top profile of these shoes furnishes advanced design made of perforated suede upper with three stripes embossed on the side. The brand used a wide midfoot strap over the lacing system to improve the foot support and secure fit of this sneaker. Many have tagged these sneakers as the "Poor Man's Yeezy 750 Boost" for its affordability while staying luxuriously appealing with basic comfort.
Adidas Tubular Invader Strap JC - The noise-pattern jacquard on its upper supported with adjustable suede strap on its forefoot turns the Adidas Tubular Invader Strap JC striking for the majority of the reviewers.
Adidas Tubular Rise
While many considered these sneakers underhyped, the Adidas Tubular Rise features a simple style with a unique lacing system for the added appeal. These kicks stayed true to the Tubular features -comfortable, durable, and superb quality. Like some of the Tubular kicks, these stylish Adidas Tubular sneakers resembled the pricey Yeezy but offered at a more budget-friendly price.
Adidas Tubular UNCGD
Stripping the x-shaped panel of the Adidas Tubular X, the brand unveiled the Adidas Tubular UNCGD in 2017. The ankle area of this model is free from any panel, thus tagging it as 'uncagged.' The camo design on its upper adds a look that will inevitably turn some heads.
High-top:
These sneakers entirely cover the ankle. This type of cut provides better stability and protection among the three types of profiles. Some Adidas Tubular kicks were injected with ample cushioning to amplify the foot and ankle support. Few Tubular silhouettes with the high-cut profile are:
Adidas Tubular X 2.0
These stylish sneakers were introduced in 2017 that displays high collar height with the ribbed midsole and woven textile upper. These lightweight Adidas Tubular sneakers provide ample support and comfort for all-day use while staying strikingly stylish.
Adidas unveiled the Tubular X Primeknit, fashioned from the fashion-forward look of the Tubular X and revamped with lighter and more breathable material, the Primeknit.
Adidas Tubular Instinct
These high-top Adidas Tubular sneakers were launched in 2015 and display suede upper with mesh details on some parts of the shoe. These sneakers kept all the general features of its ancestor and utilized the rope-like laces for a lockdown fit. The brand unwrapped several iterations built from the silhouette of the Tubular Instinct:
Tubular Instinct Boost - The Three Stripes fused two of its revolutionary technologies to come up with stylish and comfortable sneaker dubbed as Tubular Instinct Boost. These modernized Adidas Tubular Sneakers were introduced in 2016, the same year when the Adidas NMD popularized the Boost technology. These kicks have micro-perforated heel panels to heighten the breathability and harmonize the combination of the Boost and Tubular technologies.
Tubular Instinct Low - Debuted in 2016, these low-top sneakers were made of various combinations of material and colors. These kicks display its b-ball heritage made of premium pigskin suede upper rested atop a modified Tubular rubber outsole. Many applauded the simplicity of these kicks making it more versatile and classic.
Tubular Instinct JC - These high-top monochromatic Adidas Tubular sneakers present appealing street-style without leaving the comfort and durability behind. The jacquard material on the upper boosts the charming appeal and versatile vibe that can be easily matched with any attire.
Adidas Tubular Doom Primeknit
The Y-3 silhouette inspired the Adidas Tubular Doom Primeknit with its comfy Primeknit upper, minimum lacing system, and the sock-like access that hugs the feet comfortably day long. Meanwhile, the midsole showcases patterns to add a sleek vibe. Several iterations were uncovered using the Tubular Doom PK silhouette:
Tubular Doom Primeknit GID - These unique men's Adidas Tubular sneakers high spot its glow in the dark elements making its wearers stand out even when in the dark. These unique kicks are a perfect addition to anyone's collection for its minimalist design that will undoubtedly stay on-trend for a lasting time.
Tubular Doom Sock Primeknit - These lightweight sneakers perfectly fused the running and basketball silhouettes. Unlike its ancestor, these model have a low-top profile with sock-like construction for distinct style and easy slip on and off. These sneakers also feature flashy laces and supportive heel spoiler for striking style.
Best Adidas Tubular sneakers collaborations
The Adidas Originals is admirable for its unremitting efforts in expanding the list of its impressive breadth of sneakers. One of its endeavors is providing the followers and fanatics with exciting collaborative projects with various brands, celebrities, and retailers to come up with unique iterations.
Here are few of the favorite Adidas Tubular sneakers born from partnerships:
KITH x Adidas Tubular Doom
In January 2016, Adidas Originals collaborated with a lifestyle retail store originated in New York called KITH headed by Ronnie Fieg. The KITH x Adidas Tubular Doom was introduced with winterized sock construction with Primeknit upper.
The Kith and Adidas Tubular partnership introduced a kick with a futuristic concept. The mid-top profile was considered not only voguish but highly functional as it was designed to withstand the extreme cold weather condition of the city that never sleeps, New York.
This collaboration received an overwhelming response from the sneaker fans and even braved the snowstorm when this kick was unveiled in January 2016. As early as now, many expressed excitements about the release of the second installment of the KITH and Adidas Originals collaboration.
Adidas Tubular Defiant Rita Ora
Adidas and British singer Rita Ora first partnered in 2016 to promote the sporty urban fashion. Ora shared during in one of her interviews that Adidas gave her freedom in involving herself in the designing their collaborative products. This collection, according to Ora, is not about being trendy but it is about what will make its wearers feel good and to express themselves better.
The Adidas and Ora series is composed of extensive products from leather sneakers to the sports bra that echoes the personal style of Ora - eclectic and versatile. This partnership with sports giant is not the first for Ora in the fashion world and previously partnered with the DKNY brand.
The low-top Adidas Tubular Defiant Rita Ora displays mesh upper with monochromatic suede overlays. The elastic strap on the forefoot delivers secure fit while the Tubular outsole provides stability and a distinct style. One variation of this collab is the graphic print on the Tubular sole which was taken a cue from the paint-by-number kits. Top of Form
Slam Jam x Adidas Tubular Nova
Luca Benini founded the Slam Jam in 1989 as a music, culture, and fashion retailer that sells hard to find European and American streetwear. This retailer has partnered with several brands such as Carhartt WIP, Palace, Undefeated, Puma, and Stussy to come up with one-of-a-kind items.
In 2016, Slam Jam and Adidas Originals unveiled the white Slam Jam x Adidas Tubular Nova sneakers that set to stand out in the sea of lifestyle sneakers. These Adidas Tubular sneakers are dressed in a clean combination of neoprene, mesh, and suede details on its upper. To further boost the relaxed vibe, the brand used fray details all over.
These white sneakers are part of the Consortium World Tour and have a retail price of $150. These noteworthy kicks are highly recommended to be own for its versatility, durability, and on-point style that can easily match with any preferred attire.
Mastermind Japan x Adidas Tubular Instinct
This collaboration was considered one of the most anticipated collaborations in 2016. The Mastermind Japan is a Tokyo -based fashion retailer and chose to revamp the Tubular Instinct with premium black leather. This high-top kick was injected with perforation details on the sidewalls and vamp.
The midsole has split black and white colors and fabricated with huge skull and crossbones on the heel region. For its securing system, these Adidas Tubular sneakers used reflective laces and zipper at the rear for easier on and off.
The overall look of this sneaker gives a bold attitude and daring statement to the whole ensemble of its wearers. This black and white colorway enhances the versatility and punk aesthetics which has been praised by many lifestyle sneakers buyers and onlookers.
OTH x Adidas Tubular Moc Runner
It was the Off the Hook (OTH), a Canadian sneaker retailer, which got the first ever chance to revamp a Tubular sneaker in 2014. The brand picked the Adidas Tubular Moc Runner, re-engineered with premium gray wool and soft black leather. Each sole was designed by icy graphics and the OTH logo branding on the heel, and rope laces.
This native-inspired sneaker was taken a cue from the Voyageurs, merchants in 18th to 19th century and treks the French-Canadian wilderness to trade goods. The brand introduced this sneaker in the limited quantity at a slightly expensive price range of $140.
Adidas Tubular x All-Star Weekend
This collaboration with the NBA All-Star Weekend showcases the glow in the dark Primeknit upper. Stark of black and white are used to add contrast to the straightforward Primeknit upper for a one-off casual look. When the lights are out, its toecap, midsole, and speckling Primeknit upper flash an enticing green. This kick was introduced in February 2016 at a price range of $180.
The glow in the dark details is the continuation of the Aurora Borealis product story during the 2016 NBA All-Star Weekend. The glowing green speckles were inspired by the Canadian starry night sky found within the Aurora Borealis which can be observed across North America.
Brief history of Adidas Tubular sneakers
The Tubular was initially designed for running kicks in the late 80s. However, this technology had its first break in the lifestyle scene 23 years after it debuted in the market. Outlined below is the concise history of the Adidas Tubular sneakers:
The Adidas Tubular was born and was the first ever sneaker with an inflatable sole, and this kick came with a pump to adjust the cushioning of the sole. It was called the Tubular "OG 93" and revolutionized the cushioning technology.
1995. After almost two years in the market, Adidas archived the Tubular. The masses failed to pick this silhouette up for its too futuristic look.
Nic Galway saw significant potential in the futuristic look of the Tubular and unearthed it from the archives. He re-introduced it as the Tubular Runner in 2014, and several iterations were created since then, proving that this kick is worth the wait. Currently, the Tubular has turned strong and modernized and offered in several sub-styles to make it more versatile.
2015. This kick slowly invaded the fashion domain and was seen sported by several celebrities, such as Kendall Jenner, A$AP Rock, and Justin Bieber. Also in the same year, an entire fashion show was dedicated to the Adidas Tubular silhouette. Since then, the family of the Tubular continues to grow and launched several iterations such as Nova, Viral, and Doom.
2016. The first-ever collaboration of the Tubular with a celebrity was introduced to keep the Tubular at the forefront of the fashion scene.
2017. Adidas unveiled the Adidas Tubular Shadow silhouette that turned very popular to the street fashion for its durability, versatility, and budget-friendly price range.
Ideas on how to style the Adidas Tubular shoes
Modern sneakers are not solely designed to fit the performance needs but also these pair of fancy shoes are now considered staple in every man and woman's wardrobe. Aside from giving its wearers' comfort and support for day-long activities, these kicks serve as a way to express one's self.
Differentiating the stylish from what is not is very hard as it is considered subjective. Thus, it is advised to wear your preferred attire depending on your preference and your comfort and not by what is dictated by fashion.
We have come up with suggestions on how to creatively style the Adidas Tubular sneakers according to its collar height:
Low-top
Low-top sneakers are generally the most comfortable profile to style for its versatility. Many also opt to wear this as it does not constrict their ankle much, thus allowing them to move better. Here are few recommendations in wearing these low-top Adidas Tubular sneakers:
These kicks can be paired with skinnies or legging flaunting tad skin on the ankle. Many pair their tight jeans with oversized hoodies and a cap and oversize sunglasses.
For gym-ready look, some pair these sneakers with joggers or tracksuit.
Ladies sometimes don these footwears with tight-fitting or flowy short or long dresses with shades and a fancy leather bag.
Deconstructed jeans also look good when paired with the low-top Adidas Tubular sneakers.
Mid-top
While considered a tricky pair to style, many still pick these kicks for its better ankle support and distinctiveness. Some common ways to style the mid-top sneakers are:
Rolled-up jeans with a polo and a cap can be matched up with mid-top kicks.
Some pair these shoes with shorts to fully expose their exceptional footwear.
Tattered skinnies or legging with crew-neck shirt work well with these sneakers.
High-top
Because of its usual chunky profile, these sneakers are considered the hardest to pull off. But when matched with the right mix of the outfit, these Adidas Tubular shoes can make the wearer look remarkable and fashion forward. Here are some of the highly suggested ways to style the high-top kicks:
Slim jeans, crisp shirt, and textured jacket perfectly go well with high-tops for a smart casual look.
Surprisingly, trousers, shirt, and a blazer go well with high-top kicks especially if the wearer wants to look smart and not too casual.
Some hip-hop fans can be seen sporting high-top shoes with baggy pants tucked inside their not fully-laced kicks.
Several ladies sport their high-top Adidas Tubular sneakers with skinnies or leggings, skirts, and mini dresses.
Frequently Asked Questions
Why the Adidas called it 'Tubular'?
The Adidas Tubular was taken a cue from the 90s running footwear. Nick Galway saw great potential about the design of the Tubular running footwear from the 90s and re-launched it in 2014 as Adidas Tubular Runner. 'Tubular' was used to name this model as its outsole was inspired from the inner tubes of car tires that provide extra grip and traction.
Why is Adidas Tubular similar to the Y-3 silhouette?
Both the Adidas Tubular and the Y-3 Qasa were designed by the Adidas vice president of Global Design Nic Galway. Galway shared that the Tubular is the product of the design process of Y-3 and almost similar to the initial prototype of the Qasa. He thought of reconnecting the high-end fashion and the general releases by launching luxurious Y-3 silhouette and affordable Tubular kicks.
What are the price ranges of Adidas Tubular sneakers?
The Adidas Tubular shoes presently offered in the market have a price range of $110 to $225. The most affordable presented is the Adidas Tubular Invader Strap with a price range of $100 while the most expensive Tubular kick existing is the Mastermind Japan x Adidas Tubular Instinct with a price point of $225.
What are the Adidas Mi Tubular shoes?
Adidas allows its followers to personalize their chosen Tubular silhouette through the Mi Tubular range. Buyers can make a choice from an extensive selection of colors posted online, design the upper, alter the laces, and even include a message or name to their preferred Tubular sneaker. This method allows the owners to individualize and wear unique Adidas Tubular sneakers on the city pavements. Buyers can avail of this through the Adidas official websites.
Where can I buy Adidas Tubular casual sneakers?
Adidas Tubular sneakers are widely available around the globe Most Adidas stores offer the Adidas Tubular in various iterations. In addition, several physical stores in malls and retailers also sell these products for buyers to try on these sneakers in actual. Meanwhile, buyers can also purchase these online through a wide range of retailers found on the internet, such as Amazon, eBay, Zappos, and the likes.
What is the size range of the Adidas Originals sneakers?
Most Adidas Tubular sneakers are presented in both genders' sizing. Most of them are offered in a size range of 5 to 16 in men's and 5 to 14 in women's. Some sneakers are exclusively offered in men's sizing, and women are advised to take 1.5 sizes down their regular fit to enjoy these kicks. Meanwhile, women-exclusive kicks can be enjoyed by men by grabbing 1.5 sizes up than the man's usual shoe size.
Why did Adidas Tubular shoes launch under the Adidas Originals line?
The Adidas Tubular sneakers are unveiled under the Adidas Originals as the Tubular came from the early design resurrected to present to the current market. Adidas Originals concentrates on revamping old silhouettes to meet the contemporary demand.
How to keep the Adidas Tubular sneakers clean and free from bad odor?
There are several ways of keeping one's sneakers clean and odor-free. Here are few of them:
It is best to clean your sneakers right after it gets dirty.
When cleaning the shoes, it is advised to remove the laces first.
The Tubular sole can be cleaned using clean, damp cloth.
For the outsole, buyers may use a soft brush with soapy water.
It is ideal to air dry the sneakers instead of tumble drying it in the machines.
Before putting the insole and laces back, make sure that these parts are already dry.
For the soft leather or suede upper, it is advised to use preventive measures such as spraying water repellent or cream the night before the wearer is planning to use it.
Storing the shoes in a dust bag is ideal to avoid harboring dust and moist that may ruin the texture of the leather or the suede.
Avoid using a washing machine, dryers, or bleach in cleaning the Adidas Tubular sneakers.
Where are the Adidas Tubular shoes manufactured?
The stylish and durable Adidas Tubular sneakers are manufactured in almost sixty various countries across the globe. Most of the factories are found in Asia, and 27% of it is from China. Most of the Adidas' products are outsourced from more than 1,000 factories in Europe, Africa, New Zealand, Australia, and in the United States of America.
Why is the Adidas Tubular Shadow Knit called the alternative to the pricey Adidas Yeezy Boost 350?
There are many facets of the Adidas Tubular Shadow Knit that makes its similar to the expensive Adidas Yeezy Boost 350. They both display a straightforward design with sleek construction, and its light brown colorway resembles the Yeezy.
While the Adidas Tubular Shadow Knit does not have Primeknit upper, the design of its mesh is almost similar to the looks of the Primeknit of the Yeezy. The extended Tubular sole of the Tubular Shadow Knit looks like the chunky Boost midsole of the Yeezy, too.
The Tubular Shadow is offered at a price range of $110, which is less than half of the retail price of Yeezy Boost 350.
15 best Adidas Tubular sneakers
Adidas Tubular Shadow Knit
Adidas Tubular Invader
Adidas Tubular Nova Primeknit
Adidas Tubular Doom Sock Primeknit
Adidas Tubular Runner
Adidas Tubular Instinct Low
Adidas Tubular Rise
Adidas Tubular Doom Primeknit
Adidas Tubular Instinct Boost
Adidas Tubular Invader Strap
Adidas Tubular X Primeknit
Adidas Tubular Invader 2.0
Adidas Tubular Radial
Adidas Tubular Shadow Primeknit
Adidas Tubular Dusk Primeknit
This shoe has recently been added to RunRepeat. There are still not enough reviews for us to assign it a
CoreScore
.
CoreScore
A score from 1 to 100 that summarizes opinions from users and experts. The average CoreScore is 78.
More...