Adidas skate sneakers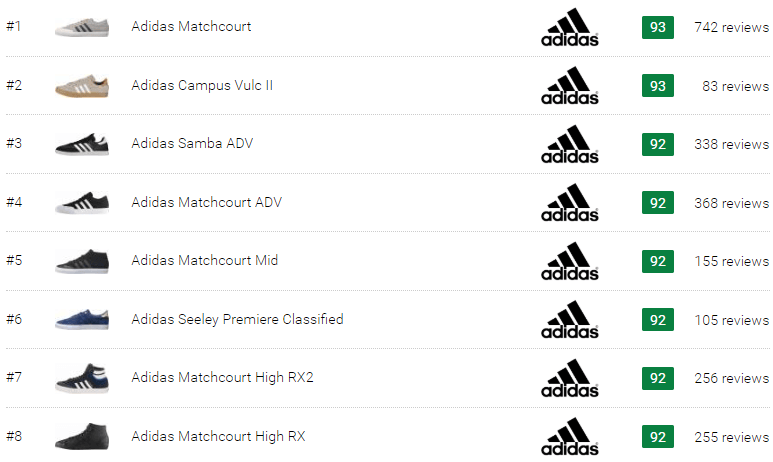 The sport of skateboarding, born sometime in the late 40s to early 50s, was first popularized by Californian surfboarders who wanted to perfect their moves on concrete when there were no waves to be found. They called this sport "sidewalk surfing." The skateboards back then were just made of skate wheels attached to square wooden boards
By the 60s, skateboarding was gaining ground, and skateboards started to resemble surfboards more, albeit smaller ones. By the time the 70s rolled in, the sport was becoming famous, and skateboard wheels made of polyurethane were developed which caused the massive jump in the popularity of the sport.
In 1975, one of the biggest skateboarding competitions ever was held—the Del Mar National Championships. The event drew up to 500 competitors, but it became known more for ushering in a new era of skateboarding. A Santa Monica team called the Zephyr team, or the Z-Boys, brought about an aggressive and showy style of skating that was so unlike anything skateboarding has seen before. Their moves would revolutionize the sport.
In the 80s, vert ramp skating was at first the focus of skateboarding companies, but many skateboarders had no access to vert ramps or couldn't afford to build one. This inspired the growth of street skating which developed many of the basic tricks, such as kickflips and the Impossible, that modern skating is built on.
The 90s to the present day saw skateboarding becoming recognized as a real sport. Big footwear brands such as Adidas took notice and developed their own skateboarding collections. Known skateboarders such as Matt Beach, Mark Gonzalez, Dennis Busenitz and the like became part of a roster of riders for the brand.
Adidas skate shoes
Adidas has been developing their skateboarding division for decades. These kicks are designed to maximize an athlete's performance and enhance their abilities on the board.
Adidas Matchcourt - The Matchcourt are modern skate shoes inspired by heritage court-style silhouettes. These Adidas men's skate shoes carry a clean look with a low profile. The shoes boast of thick rubber toecaps and uppers made of either thick canvas or suede. Not much cushioning for these kicks as they are strictly barebones but are excellent for doing all kinds of board tricks.
Adidas Campus Vulc II - These low-top shoes are re-engineered versions of the Campus Vulc. The new silhouette is given a sleeker look and sturdier build to withstand the rigors of skateboarding. These no-frills Adidas skate sneakers feature suede uppers, double-layered foxing tapes, and grippy vulcanized soles.
Adidas Samba ADV - The excellent stability and pointy shape of the Advanced Samba model make it an ideal skate footwear for all those flip tricks. The Adidas brand has resurrected the classic soccer shoes, the Samba, into functional and skateboard-centric footwear. The shoes feature suede and leather uppers, internal booties, breathable mesh tongues, and molded TPU heel clips.
Adidas Seeley Premiere Classified - Not only are these exceptional Adidas skate sneakers but the boat shoe-inspired Seeley Premiere Classified are also surprisingly stylish. The shoes are made with pigskin nubuck uppers, slimmed-down collars, and Vector Traction outsoles. Rich but understated colorways are available for this silhouette.
Adidas City Cup - Doing accurate flicks is easy with these heavy-duty skate kicks from Adidas. The shoes feature one-piece toes, double-cup midsoles for enhanced flex and stability, herringbone tread patterns for grip, and uppers made of thick suede overlays with mesh underlays.
Adidas Leonero - A street-ready style mixed with a skate shoe construction describes the Leonero very well. The sneakers ably took football shoe elements and added them to the Leonero for a completely new take on skateboarding shoes. These Adidas skate shoes are supportive, durable, and stable with enhanced traction and board control.
Adidas Adiease - Sturdier than most canvas skate shoes, these sneakers feature toe rubbers, laces, and uppers that don't slash or tear easily. In terms of board feel and grip, reviewers give these shoes a high rating as well. Seamless uppers expand and adjust to the shape of the feet, and the breathable covering helps air circulate inside so you can ollie and flip as much as you like without your feet feeling sweaty.
Adidas Seeley - Combining timeless looks with excellent grip and traction, these Adidas skate sneakers are the perfect choice for skateboarders who like to ride in style. The Seeley features abrasion-resistant uppers that are able to withstand heavy use. Pivot-pointed vulcanized rubber soles provide enhanced control and support while herringbone tread patterns give added grip. The Adidas Seeley has a variety of colorways ranging from blue and black to red and grey. Users can also choose from fabrics such as canvas, synthetic nubuck, or suede.
Adidas 3ST.003 - Called by some reviewers as one of the most durable skating footwear out there, the 3ST.003 certainly provides all the flexibility and durability you would need. The shoes' suede uppers are covered with ADITUFF technology to withstand wear and tear while Geoflex outsoles deliver exceptional board feel.
Adidas signature skate shoes
Pro skate shoes are usually good quality skate sneakers. This is not to say that non-pro skate shoes aren't, because a lot are. Just that if a pro is willing to attach his name to a sneaker, then that shoe must have ticked off all the boxes of requirements that pro wants in the shoe he skates in.
Here are some legendary skateboarders and their Adidas pro-skate shoes that have made a mark in the skateboarding scene:
Lucas Puig
Lucas Puig is a professional skateboarder of French origin. He began skateboarding professionally for Cliché Skateboards at a young age and was the first to film and release a vid for the digital platform of Transworld Skateboarding. He joined Adidas in 2010 and released his first signature shoe, the Adidas Lucas, in 2012.
Adidas Lucas Premiere - Superb board control and excellent board feel are some words reviewers used to describe these Adidas skate sneakers. This grippy low-top model seamlessly combines suede and mesh to create a robust but breathable shoe that's up to any flip or tricks you can muster. Adituff reinforcement has been added to the toe regions for durability while leather eyestays provide enhanced protection.
Adidas Lucas Premiere x Helas - French skateboarding brand, Helas, along with Lucas Puig and the Adidas skateboarding team designed these Adidas skate shoes which are heavily influenced by 90s anime. Durable cream leather uppers, combined with navy stripes, and pastel blue heel counters combine to create subtly-styled sneakers you can wear to ride the board or walk the urban jungle.
Dennis Busenitz
Dennis Busenitz is a professional skateboarder from Newton, Kansas who won the prestigious Tampa Pro back in 2011, beating top contenders such as Paul Rodriguez, Chaz Ortiz, and Nyjah Houston. He became a Volcom rider in 2000 and has been part of the Adidas riding team since 2006.
Adidas Busenitz Pro - The Pro version of the Busenitz has been praised by reviewers for their excellent balance of cushioning and board feel. They also feature padded tongues with customizable lengths, full suede uppers, rubber cupsoles, and GeoFit collars for a snug and comfortable fit. The Busenitz Pro comes in a wide variety of colors including blue, black, grey, green, and burgundy.
Adidas Busenitz Vulc - If versatility and durability are what you're looking for in shoes, then these Adidas skate sneakers are for you. The shoes provide excellent board feel, good grip, and fresh comfort right out of the box. The kicks feature suede uppers which provide a luxurious but durable feel, customizable tongues, Nano Heel cushioning to deliver a smooth ride, and recessed eyelets that prevent laces from ripping.
Mark Suciu
Mark Suciu is a pro skateboarder from Saratoga who first came to the skating community's attention with his part in Habitat's Origin film in 2010. He has a raw, street-skating style that has earned him the title, 'Year's Best AM' by The Skateboard Mag for 2012.
Adidas Suciu ADV - Users called the Suciu ADVs light, durable, and with excellent lockdown fit. These signature Adidas skate shoes live up to the pro skateboarder's name. The neat silhouette combined with a very technical construction is designed for maximum performance. The shoes feature suede uppers, Vector Traction cupsoles with flex grooves, and Adiprene insoles. The Suciu ADV is available in several black colorways, blue, white, and red.
Adidas Suciu ADV II - A great follow-up to the Suciu ADV, the Suciu ADV II features better protection for the heels that would come in handy for your gaps and stairs tricks. These kicks also carry a slimmer profile, better ventilation, and improved toe construction which help prevent crucial seams from tearing. Just like the Suciu ADV, these low-top shoes are available in several cool colorways.
Silas Baxter-Neal
Silas Baxter-Neal is a pro skateboarder from Oregon who first appeared in Thrasher's Rocket Science in 2004. He was hailed as Thrasher's 2009 'Skater of the Year' and has appeared in various full-length videos including Habitat's Inhabitants. He has been riding with Habitat and Adidas for over a decade.
Adidas Silas Vulc ADV - The main focus of these Adidas skate shoes is board control. Silas specifically designed these kicks to provide all-over support and balance to the rider. The shoes also feature good impact protection, ventilation, and grip.
Nora Vasconcellos
Nora Vasconcellos is Adidas' first female professional skater, 2017 Vans Park Series World Champion, and Transworld's Reader's Choice awardee. She's known for her flawless transitional skating and skillful handling on half-pipes.
Nora Vasconcellos x Adidas Matchcourt RX - Released on July 2018, these Adidas skate shoes are Nora's first signature footwear for the brand. The sneakers are a customized take on the Matchcourt RX and feature double-wrapped foxing, canvas and suede uppers, Nora's trademark favorite pastel color, and her graphic designs. The shoes contain the same precise board feel and grippy soles of the original silhouette.
FAQ
Q: Can I wear other Adidas shoes for skating aside from skate sneakers?
A: Yes. But skate sneakers are designed for performance and can help you ride better than simple lifestyle shoes.
Q: How long do Adidas skate sneakers last?
A: This depends on how you use your sneakers. If you bought the shoes simply for style and not function, your shoes should last you a good long while (still depending on how you take care of them). If your purpose is to skate and you do so a lot, a few weeks might be the utmost.
Also, the material determines the longevity of the shoe. Leather and suede are hardier than canvas, and most pro skaters use the first two. Canvas can be used for light skating but anything too aggressive, and they will shred fast.
Q: What should I look for when choosing which Adidas skate shoes to buy?
A: Aside from the material which covers your shoes' uppers, you should also take note of the following:
Stitching - Good skating footwear is stitched together, not just glued. This makes the shoes last longer. If possible, look for double stitching which should make them even stronger.
Grip - You won't be able to stay on your board for long if you've got slippery soles. Choose Adidas skate sneakers with sticky outsoles to help you grip the board better.
Weight - Your shoes need to be light enough to help you with the variety of tricks you want to pull off. However, too light and you risk getting a fragile pair that disintegrates after the first few uses.
Protection - Some skaters prefer padding especially on the tongues and heel collars which often get hit by the boards. Some don't so this is just a matter of preference. But if you like cushy shoes, you should definitely look into this.
Reinforced Laces - Laces should be reinforced with metal because if they're not, you can rip through them quickly.
Q: Where can I buy Adidas skate sneakers?
A: Right here. Simply click on the 'Sneakers' link at the top of the page. Check the left side of the page and tick the Adidas box under 'Brands' as well as the Skate box under "Inspired from.' You should see a list of all Adidas skate shoes on sale from our partner retailers. Decide on the model, read our reviews, and purchase.
Q: How do Adidas skate shoes fit?
A: It depends on the model. Some run true to size while others are reportedly bigger/smaller.
Q: How do Adidas skate shoes fit compared to Nike skate sneakers?
A: Adidas shoes are somewhat bigger than Nike sneakers. To get the correct fit, check the sizing chart of Adidas, particularly the centimeter section. For example, shoes with 25cm of measurement are listed as a size 7 in Adidas while Nike lists that measurement as a 7.5.
Q: How to wear Adidas skate shoes? Any suggestions?
A: It depends on what you want to wear them for. Skating needs loose clothing for better movement. Tight clothes might minimize the tricks you can do on your board. For lifestyle use, however, anything goes.
For skating:
Men - Keep it simple and functional. Joggers, shorts, and loose pants will always be first choice when riding the boards. Just make sure to pair with a cool statement tee or hoodie.
Women - Black goes with everything. Take your favorite black pants, a cream colored shirt with ¾ sleeves, and your Adidas skate shoes for a comfy outfit fit for an afternoon of skateboarding.
For casual lifestyle use:
Men - If you've got skinny jeans, pair them with a long-sleeved shirt, and a neutral-colored jacket. Make sure your shirt is a bright color to give your ensemble a bit of contrast. Top off with a beanie and skate kicks. You can replace the denim with a leather jacket for a bit of edge.
Women - A cute A-line dress in a vibrant color topped off with a denim jacket would look stylish but comfy when paired with your Adidas skate sneakers.
For smarter occasions:
Skate sneakers, or almost any type of sneakers for that matter, can be dressed up. Choose Adidas skate shoes that are made of suede, leather, or nubuck from your collection. Canvas and knit shoes are way too casual.
Men - A suit can be suitably dressed down by pairing it with casual shoes. Or, you can just take chinos, a polo shirt, and your favorite skate sneaks for casual Fridays at work.
Women - Choose a pair of sneakers with a pretty, feminine color and match with a tulle skirt, a blouse, and a cute clutch bag that comes in the same shade as your shoes.
Q: How do I make the insoles of Adidas skate shoes better?
A: Different models come with different insoles. Some are quite thin (better board feel) while some are thick (cushy footbed). If you love everything about the shoes you currently have except for the insoles, simply purchase insoles separately. Most skate sneakers have removable insoles. Take these and replace with customized ones that are suited for your purpose. These could provide any or all of the following:
Impact protection
Heel-to-toe protection
Foot molding technology
Q: When did Adidas start making skate shoes?
A: Adidas started making skateboard-specific shoes in 1998 at around the same time Nike first attempted to get into the sport. They didn't advertise their skate shoes heavily back then, but they did have Matt Beach and Mark Gonzales right from the start to ride for them.
Q: Where are Adidas skate sneakers made?
A: Adidas products are manufactured in around 60 countries around the world. Most of the production is outsourced to factories located in Africa, Europe, America, Australia, and New Zealand although the bulk of these factories are in Asia.
15 best Adidas skate sneakers
Adidas Matchcourt
Adidas Pro Model Vulc ADV
Adidas Samba ADV
Adidas City Cup
Adidas Matchcourt Mid
Adidas Busenitz Vulc
Adidas Seeley
Adidas Suciu ADV II
Adidas 3MC Vulc
Adidas Adiease
Adidas 3ST.003
Adidas Adiease Premiere
Adidas Superstar Vulc ADV
Adidas Busenitz Pure Boost Primeknit
Adidas 3ST.002
This shoe has recently been added to RunRepeat. There are still not enough reviews for us to assign it a
CoreScore
.
CoreScore
A score from 1 to 100 that summarizes opinions from users and experts. The average CoreScore is 78.
More...