Adidas Samba sneakers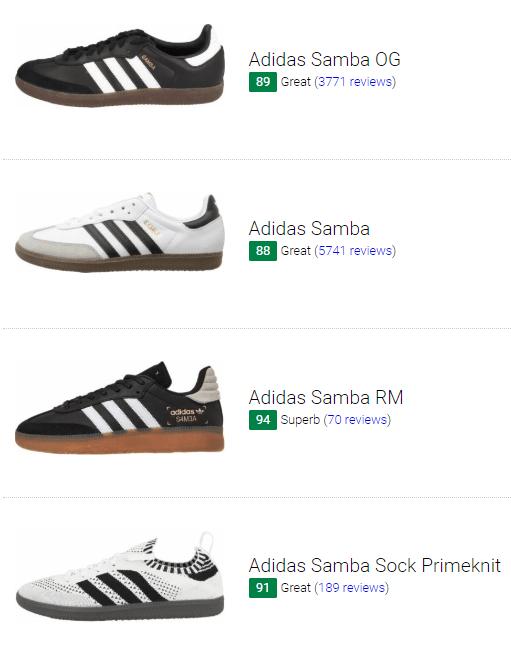 These timeless classics have won the longevity record for their 65 years of production, and it's easy to see why. The shoes have that classic look that transcends time, and it's not so far-reaching to think that these kicks will remain for dozens of years more. The shoes are no fuss and just 100-percent personality. They are clearly on the shopping list of thousands of sneaker fans.
A short history of Adidas Samba shoes
The Adidas Samba silhouette was conceptualized in the 40s, right after the Dassler brothers had their famous split, and was finally released in the 1950s. It was originally designed for playing football during icy conditions.
Since the shoes were created to play football, Adidas needed a strong material to cover the sneakers. They settled on full-grain kangaroo leather which has the unique property of being cut down thinly yet maintain its strength. (In 2012, Adidas cut down their use of kangaroo leather by 98% when manufacturing football boots amid clamor from animal rights groups).The Adidas Samba sneakers were trimmed with suede and featured extra durable soles.
One of the original colorways consisted of black uppers with white stripes and tan gum soles, and which continues to this day as the model's most popular one.
Over the years, the silhouette proved to be so popular with football fans, particularly the Europeans, that the sneakers crossed the boundaries between sport into fashion. Adidas caught on this Samba frenzy and released several iterations based off the OG.
Adidas Samba shoes: some versions
Adidas Samba OG. The Samba OG is similar to the other Samba iterations with the exception of the tongues which are much smaller in the OG. These kicks feature old-school arches—which is to say flat or non-existent—nylon/nubuck/full-leather uppers, a slimmed down Samba profile, and quilt details on the heel patches. Some colorways: Gum Pack - Made of nubuck uppers, this pack consists of two shade options. These Adidas Samba shoes are available in white (White/Gum-Gold Metallic) and black (Black/Gum-Gold Metallic). Drop date: Dec 2017.
Adidas Samba MC - This version of the classic deviates away from the regular leather of the Samba. The shoes are covered with canvas uppers, and the 3-Stripes have been removed, leaving only the gold Samba wordings on the lateral side of the sneakers. The retro styling and T-toe suede uppers keep these sneakers as timeless-looking as ever. These Adidas Samba shoes are offered in blue, white, black, and red.
Adidas Samba FB - The Samba FB is a luxe take on the well-loved Samba silhouette. Premium suede covers the tonal/monochromatic (except for the black colorway) uppers, and the brand has taken care to keep the alterations very minimal to showcase the shoes' beauty. Seamless stitching replaced the quilt details on the heel tabs of the shoes. These Adidas Samba shoes are available in blue, white, red, and black.
Adidas Samba SPZL - These kicks launched in the Fall/Winter 2016 collection of the Adidas Spezial. Following along the retro silhouette's lines, these kicks have managed to give an old classic a new spin still. The SPZL edition of the Samba features large toecaps and wedge EVA soles that's a new direction from the usual cupsoles of previous retros. The Samba SPZL debuted in two colorways—Black and Lime Green. Adidas' black and white Samba shoes recall old-school classics while the neon green shade is reminiscent of 80s football footwear.
Adidas Samba Super Suede - Based on the chunkier profile of the Samba Supers, the Adidas Samba Super Suedes do everything the same except for the new treatment for the uppers. This time, Adidas offers an all-suede Samba model right down to the overlays. The tongues also lost their quilt detailing and instead sport a smoother surface with a contrasting trefoil logo in white.
Adidas Samba Sock Primeknit - The very modern Samba update happened when Adidas decided to cover the iconic silhouette with its famous Primeknit material. All of the details that identified the Samba such as the long tongues, heel tabs, and T-toe overlays were copied into the one-piece Primeknit material by way of contrasting stitches and colors.The new uppers wrap the foot with ultralight comfort and sock-like fit. These Adidas Samba shoes are offered in white (Cloud White/Core Black/Bluebird) and black (Core Black/Cloud White/Core Red).
Adidas Samba ADV - The Adidas icon has crossed sports boundaries from football into skateboarding. The Samba ADV has been reimagined into a functional skateboarding sneaker with the introduction of TPU heel clips for enhanced heel support and lockdown. The uppers remain made of leather and suede to meet the rigors of the sport, but the profile has been slimmed down as a boost for carrying out flip tricks. The Adidas Samba ADV sneakers also feature extra long tongues which can be folded over as added protection for the midfoot areas, and thick cushioning on the heels for protection against impact landings. Internal mesh booties complete the shoes.
Other Adidas Samba iterations
Adidas Samba 85 - These are particularly known for their distinctive color. The 85 has striped soles and toecaps.
Adidas Samba Super - The Super carries the traditional classic look but feature extra large tongues and big toecaps.
Adidas Samba JP - The Samba JP does not have a T-toe design and instead sports more streamlined and pointier toes.
Adidas Samba MTL - This was a limited edition that was released in Japan. The shoe had a super modern look with crackled leather uppers, gold accents, and purple soles.
Adidas OT-Tech - The uppers of the OT-Tech is mostly monochromatic black (except for the blue heel tabs) with white midsoles. Interesting dagger-like patterns are featured on the midsoles.
Adidas Samba Classic - These football cleats feature long tongues, enhanced arch support, and full-grain leather uppers.
Adidas Samba Millenium Leather Indoor - These are indoor soccer shoes with Adidas' Torsion System in the midfoot and die-cut EVA midsoles.
Special Editions
Pride Month - To celebrate Pride Month in 2018, several celebrities including Elton John, Naomi Campbell, Pharrell Williams, and David Beckham reimagined the Samba in a series of designs. One pair had rainbow laces, another featured feathered uppers, and yet others boasted of a variety of details such as dog leashes and huge silver metallic wheels. These sneakers were sold off in an auction.
The Shoe Surgeon Edition - This version was not actually by Adidas but an initiative of The Shoe Surgeon, who created hybrid sneakers from the Samba and the hoop-inspired silhouette, the Adidas Dame 4. The shoes highlighted the Samba's uppers—which in this case was made out of black and white leather—and the tooling of the Dame 4. The sneakers also contain BOUNCE cushioning for excellent shock absorption. The shoes are covered in black uppers and feature white stripes—a colorway that recalls the original version. White heel patches with quilt detailing and grooved gum outsoles complete the look.
Collaborations
HAGT x Adidas Samba - Tokyo cult label, Have A Good Time, gave the Adidas Samba the Japanese touch with the release of the HAGT x Adidas Samba during the last quarter of 2018. Black kangaroo leather uppers feature classic detailing as well as special new features such as the HAGT print on the tongues and sockliners.
Fairey x Samba ADV - This very limited edition collab was the brainchild of renowned artist Shepard Fairey and the brand on the Samba ADV silhouette. The very clean-looking sneakers featured all-white uppers, icon motifs on the heel counters, Fairey's name in gold next to the 3-Stripes, and Star Gear-printed sockliners. The shoes were part of a package that included a Montana spray paint can, custom skateboard deck, and other collectibles. This collab dropped June 9, 2018 and was sold exclusively at Beyond the Streets gift shop.
BNY x Adidas Samba - Luxury retailer Barney's New York combined with Adidas and focused their creative genius on the Samba. Premium one-piece leather uppers with debossed 3-stripes and translucent textured midsoles grace this new edition of the classic. Luxe leather linings and Ortholite insoles enhance the premium look and feel of these kicks. These particular Adidas Samba shoes launched in white and black colorways.
Similar Silhouettes
So you've got a Samba but want more shoes along this style for your collection? We've got some suggestions for you. Below are shoes like the Adidas Sambas that you love:
Nike x J. Crew Killshot 2 - This revamp of a 30-year old vintage tennis silhouette has got sneaker fans clamoring for more. It always sells out after every release and generates much hype and excitement. The shoes have that timeless style that can go any way you want it—casual or dressy—and feature all the requirements of a classic shoe which include a sleek profile and gum rubber soles. The low-key style is comparable to the Adidas Samba's and is a breath of simplicity in itself.
Adidas Stan Smith - Though Adidas Stan Smith sneakers do not feature gum soles, they are about as classic as you can get. The full-grain leather uppers with the perforated 3-Stripes are instantly recognizable even when the silhouette has been dressed in dozens of color combinations aside from the OG white and green. Pimpled soles provide excellent grip both indoors and outdoors.
Nike SB Team Classic - While these kicks may be rooted in skateboarding, and the Samba in soccer, the two share the same low-profile, sleek, and timeless styling. Smooth sidewalls connect the uppers to the soles and help deliver consistent flicks. The sock-like construction of the SB Team Classic which, while not offering much support, provide supreme comfort.
Puma Super Liga OG Retro - These shoes are the most like Adidas Sambas in looks. Both started as indoor soccer shoes, have almost identical styling, and have that laid-back retro look. The sneakers contain pivot points at the forefoot to support quick turns and spins plus provide added traction.
Adidas Mi Spezial - First seen as handball shoes in the late '70s, the Spezial has been revived as street-style casual sneakers that are available for customization on the Mi Adidas platform. The Samba and the Mi Spezial both have that same suede T-toe overlays, gum soles, and leather heel tabs. Spezial sneakers are especially noted for their four-zone build which can keep up with the pressure of hard and fast turns.
Trivia
Did you know that Adidas Samba sneakers are the brand's second best-selling silhouette, just a little behind the Stan Smith? More than 35 million sneaker pairs have been sold worldwide since their launch.
The classic Adidas sneakers are the oldest running shoes still in production today.
The shoes have featured in a song by the Bouncing Souls. The song "Olé" carries these lines: "Lace your Sambas, get on out…"
The lead singer of that hardcore punk rock Nevada band, 7 Seconds, wears Adidas Samba shoes at all live performances.
Queen's lead singer Freddie Mercury famously wore white Sambas during his live performance of the Bohemian Rhapsody in 1985.
All football players in the movie, Remember the Titans, wore Sambas on and off the field.
FAQs
Q: Where can I buy Adidas Samba sneakers?
A: From our partner retailers. Read up on our reviews, decide which Adidas Samba silhouette fits you, and click on the shoe offers that are posted on the page of those Samba sneakers that you're viewing.
Q: How do I wear men's Adidas Samba shoes if it's for a casual occasion?
A: The Samba silhouette can readily transform into a street-style look with a few well-chosen pieces of clothing. Team up your Samba kicks of any color (casual style isn't too particular) with joggers, a long shirt, and a bomber jacket.
Q: Any style tips for wearing Adidas Samba shoes in women's sizing?
A: Have a badass outfit by pairing your Samba kicks with ripped black jeans, a long-sleeved denim shirt, and a pretty fringed bag.
Q: Do you have any suggestion for wearing men's Adidas Samba shoes in smart settings?
A: Sambas are one of the few models that will always look good with a suit. Want to step out looking like a GQ model? Try wearing neutral-colored Samba sneakers (black or white) with grey suit pants, a white shirt, and a charcoal wool blazer jacket. It also helps if your hair has that well-groomed and polished look.
You can also go for an oxford shirt with open collars in place of the tee.
Q: I'd like something a little more chic than basic casual getups. Can you suggest a dressy ensemble to pair with Adidas Samba shoes in women's sizes?
A: Go for black and white chic. Match your white sneakers with tight black pants, a white crocheted V-neck top, and a black blazer.
Q: What is the difference between the Adidas Samba Original and the Classic?
A: Adidas Samba Classic shoes feature shorter tongues compared to the OG. They also have better arch support compared to the old-school style of the OG which is flatter. The OGs are geared more for lifestyle use while the Classics are still used for playing football.
Q: How do the Sambas fit?
A: It depends on the version. Some run slightly narrow while others run somewhat small in terms of length. For a better feel of the fit and sizing of the different versions, check out our collated user review articles.
Q: Are Adidas Samba shoes easy to break in?
A: Most are. The breaking-in period varies from model to model and on what activities the user does. One thing is certain, though, once the breaking in is over, the Adidas Sambas are some of the comfiest sneakers ever.
Q: Which of the Adidas Samba versions are better? The ones with long tongues or short?
A: Long tongues are often associated with football cleats like the Adidas Samba Classic shoes. Many brands advertise that long tongues will increase a shoe's strike zone because of the bigger area available for striking shots. If you're going to wear your Adidas Sambas solely for fashion, then the decision whether to buy ones with short or long tongues is purely down to style.
Q: How do I clean my Adidas Samba sneakers?
A: It depends on the fabric. Below is a guide on how to keep your shoes looking spanking clean:
For uppers made out of Primeknit:
Wipe down your sneakers' outsoles with wet towels to remove layers of dirt.
Scrub the sides of the midsoles and outsoles in long strokes with melamine foam pads (several brands sell this). Take care not to scrub the Primeknit material with this.
If your melamine foam has not shredded yet, clean the undersides of your shoes with them next.
Wet a soft cloth and lather it with mild soap. Squeeze the soap lather onto the knit uppers.
Use paper towels to blot out each section of your sneakers.
Repeat the lathering and blotting until you're satisfied that all dirt has been lifted.
Rinse your soft cloth and use this to remove soap residue from the sneakers. Repeat until the uppers don't feel soapy anymore.
Carefully blot dry all areas with a paper towel.
For uppers made of suede and nubuck:
Follow the first two steps in cleaning Primeknit shoes. Take care not to touch the suede/nubuck uppers with the wet towels and melamine foam pads.
Use a suede brush to gently remove dirt trapped within the nap of the uppers.
If the shoes are really filthy, use a cleaner specifically made for suede and nubuck shoes. Spray or wipe on.
Use a clean cloth to work the cleaner into your sneakers' uppers.
Brush the uppers again with the suede brush.
For uppers made of leather:
Get a soft cloth and dip it into a mixture of mild soap and water.
Wring out the cloth and use it to wipe off the surface of your leather shoes.
Wipe off the soap residue with another cloth.
Dry off with paper towels or cloth.
Q: How do I make my shoes last?
A: Regular cleaning will help make your shoes last longer and will also keep them looking new. Try to alternate the kicks you wear to let them rest and breathe. Storing them properly (away from sunlight) will also extend their life.
3 best Adidas Samba sneakers
Adidas Samba ADV
Adidas Samba OG
Adidas Samba OG MS
This shoe has recently been added to RunRepeat. There are still not enough reviews for us to assign it a
CoreScore
.
CoreScore
A score from 1 to 100 that summarizes opinions from users and experts. The average CoreScore is 78.
More...