Adidas mid top sneakers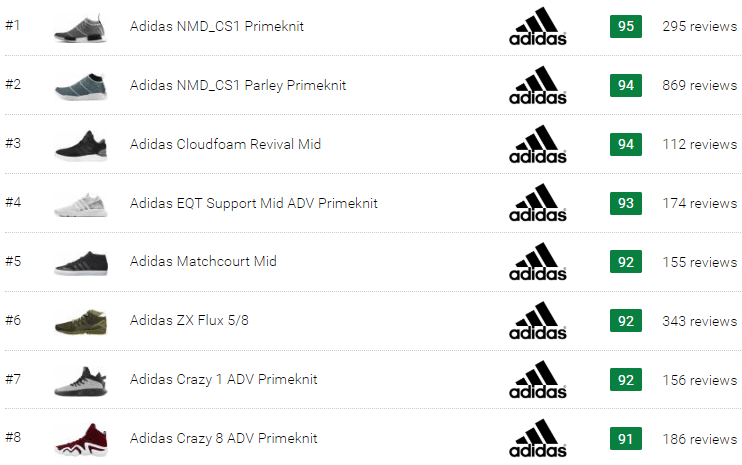 Out of the three types of sneaker construction, mid tops are what you can probably consider as the least popular kind. Low top sneakers are considered the most popular because it is perceived as the most versatile and easiest to style with. High tops, on the other hand, have dominated the performance footwear and remained to be a major item despite sneakers transitioning into the lifestyle arena.
So what's left for mid tops? Even though it is the least favored type of construction, one can look at it as an advantage and see it as the most unique silhouette. Getting the same benefits as the high top sneakers, it sure is the kind that should not be dismissed.
Adidas, known as one of the dominating brands in the lifestyle arena, has provided us with a great selection of mid top sneakers that will bring you to wonder if being labeled as an underdog is really fitting. Our team has gathered the best on our list to give you an overview of what the brand has in store.
Most popular Adidas mid top shoes for men
Adidas NMD_CS2 Primeknit
Throwback shoes interpreted in a modern way has been a trend for so long that it makes us wonder if it'll ever go out of style. The futuristic NMD CS2 Primeknit challenges the status quo and captures the attention of most. As part of the NMD, the most talked about line of the brand, you can be assured that these Adidas mid top sneakers are far from the ordinary.
Specifications:
It has a Primeknit upper which channels the sock-like fit that is very much on-trend.
The Boost technology, the brand's most responsive cushioning system ever, takes over these sneakers.
The Adidas NMD_CS2 Primeknit is offered at $190.
Adidas Crazy BYW
If the previous pair spells advanced, wait 'til you look at these. Even though it gets style notes from the 90s, the Crazy BYW's over-the-top look brings it to the dad sneaker trendy shoe list. The recognizable Crazy 8 waves draw a second glance matched with the popular most responsive cushioning system, Boost.
Specifications:
BYW translates to "Boost Your Wear" and resonates to the triple Boost system pods injected on the shoe.
These men's Adidas mid top sneakers' upper is composed of deconstructed mesh, knit, and bonded suede.
You can avail of these sneakers for $170.
Adidas Tubular Invader Strap
These Adidas lifestyle mid top shoes take the "Two Become One" on a different level. As a result of perfectly blending the Invader, an 80s basketball sneaker, and Tubular, the modern yet timeless Tubular Invader Strap is a definite must-have Many describe the Tubular Invader Strap as the easier to covet Yeezy's. They share the same profile, but the difference in price points are high.
Specifications:
A lace-up closure, reinforced with a wide strap, ensures full lockdown.
To put some oomph on the shoe, an embossed snakeskin heel strap and heel is placed.
The Tubular Invader Strap highly resembles the Adidas Yeezy Boost 750.
Adidas EQT Support Mid ADV Primeknit
With the advent of minimalism, Adidas released the EQT line which carries the slogan "everything that is essential and nothing that is not." The success of the collection paved the way for its expansion to different versions. The EQT Support Mid ADV Primeknit combined the style of a 90's sneaker but updated to adapt to the modern times. Those looking for a sneaker that bears performance-inspired qualities but changed it as a street-style piece can take a peek at these.
Specifications:
These Adidas mid top shoes are clad in a Primeknit upper for lightweight comfort and adaptive support.
This EQT version sports a soft-compression molded insole for maximum comfort.
The standard retail price of the Adidas EQT Support Mid ADV Primeknit is $120.
Adidas Pro Model
Launched initially as a professional basketball shoe, the Adidas Pro Model transitioned into the sidewalks in the 1970s. If you love the Adidas Superstar but is not a fan of its ubiquitous style, then you might want to take a look at the Pro Model. Fans can also get the best of both worlds because when paired with jeans or wide-legged pants, it gives the look of the Superstar.
Specifications:
Just like the Superstar, these mid top Adidas sneakers for men sport the iconic rubber shell toe.
The full-grain leather upper makes its look premium but still apt as a street style piece.
The outsole has a herringbone pattern for superior traction.
Adidas 3ST.002
The 3ST is the latest skateboarding line of the brand. Launched just this 2018, the 3ST was a result of the "open source workshop design approach." This means that it's a maximum collaborative effort of professionals of both skate and design. The 3ST.002, along with the 3ST.001, are the future of skate shoes. It's no wonder that it made it on the list.
Specifications:
As skateboarding-inspired footwear, the brand made a bold move of ditching the laces and making it a slip-on shoe.
This Adidas mid top sneaker exudes a futuristic yet timeless vibe, primarily because of its one-piece minimal upper.
To boost the durability these kicks, an AdiTUFF technology is injected on the suede upper.
Most Popular Adidas Mid Top Shoes for Women
Adidas Stan Smith Sock Primeknit
We all have that specific picture of Stan Smiths in mind, but this version deviates from the usual. For one, it doesn't have the leather upper and the iconic logo of the name bearer. Nonetheless, these women's shoes remain to be fashionable, modern, and sophisticated.
Specifications:
The Primeknit upper hugs the feet and provides adaptive support without weighing the feet down.
The only leather present on these is the arch overlay on the medial side and the heel patch. Both of which carries the Trefoil logo.
The slip-on construction permits convenient and quick wear.
Adidas Hoops 2.0 Mid
Just looking at the name of the shoe, these sneakers will tell you that it is basketball-inspired. This mid-cut shoe carries the typical profile of hoop shoe. As part of the sub-brand called the Adidas Essentials, formerly Adidas NEO, the Hoops 2.0 is affordable but stylish.
Specifications:
The upper of the shoe is composed of synthetic leather matched with a thick rubber outsole.
The price of the Adidas Hoops 2 is $65.
It has a breathable mesh collar which provides comfort without putting too much weight on the shoes.
Adidas Tubular Defiant
Going back to the archives can sometimes lead to great things. The Tubular is something that was developed by Nic Galway, but the technology came from Adidas archives. The Defiant is a product of this. But what sets this apart from the others is that it is exclusively made for women and it was something that was made for the streets. Carrying a profile that is Yeezy-inspired, female sneakerheads, which is a market that is fast-growing, finally have something to look forward to.
Specifications:
These women's Adidas mid top sneakers are not all about style. The neoprene upper and single piece Tubular Sole ensures all-day comfort.
A pull strap is available on the tongue to give users ease when wearing the shoe.
Mono mesh material is installed on the Tubular Defiant's quarter panels for increased breathability.
Adidas by Stella McCartney Ultra Boost X Mid
Stella McCartney and Adidas' partnership has come a long way since 2005. Each piece released by the designer reflects her cutting-edge style combined with Adidas' technology. The Ultra Boost X Mid reflects this as it combines style and performance without sacrificing one or the other.
Specifications:
These women's Adidas mid top sneakers are infused with a Torsion system between the forefoot and heel for a more stable ride.
The Continental Rubber outsole gives the shoe excellent traction across all weather conditions.
It provides a unique compression fit because of its adaptive arch which molds to the shape of the feet.
Adidas Stan Smith UP
Even though there is another version included on the list, we can't dismiss this one. If you think wedges and sneakers come from a different spectrum, these mid top Adidas sneakers for women will show that both can be in one. The boost and height and flair without the need of sacrificing comfort is what the Stan Smith UP is all about.
Specifications:
The height of the sneaker boots' heel is 2 inches.
The upper of these Adidas mid top sneakers are composed of full grain leather, similar to its predecessor.
Same with the OG, the lateral and medial sides of the shoe sport the Three Stripes.
Frequently Asked Questions
1. Are there Adidas mid top sneakers that are not too bulky?
Certainly. Adidas offers a huge selection of choices that come in varying shapes and colors. You can take a look at those clad in a Primeknit upper. Usually, these are the ones that won't give you the bulk because it hugs the foot like a sock. If that's not your cup of tea, there are also some that are in leather, canvas, or suede.
2. What are the advantages of mid top casual sneakers?
There are various reasons other than style to get yourself a pair of Adidas mid top shoes. Most of this fall on how it performs. A lot of mids offer plenty of cushioning and stability, especially those that are skateboarding and basketball inspired.
Mid tops, compared to low top sneakers, offer additional support and helps with the prevention of ankle sprain, albeit not guaranteeing it. This benefit does not only become useful for athletes but for everyone. Those who are also with larger frames could take advantage of this type of construction to prevent their feet from rolling. To further its benefits, you can also avail of lock-down systems to secure the feet.
Mid top sneakers also offer additional foot coverage which means extra protection on the feet most especially on wet and muddy areas. It also becomes useful for chillier months compared to low top sneakers because of the added fabric.
3. What can I do to prolong the life of my Adidas mid top lifestyle shoes?
Not everything is made forever, but they sure can last. Holding on to your favorite pair is possible as long as you follow the steps that we suggest:
Properly take off your shoes. Not loosening the laces and simply kicking haphazardly can damage the laces long-term.
Do some initial cleaning before storing it. Polishing it with a dry brush after every wear can go a long way and can prolong washes in between.
Storing it your sneakers in a cool and dry place will also make a difference in wicking away odor and from damaging the shoe.
Have a rotation. Just like us, sneakers also need a breather.
4. Are there steps that I should avoid when cleaning my shoes?
Being intimidated when cleaning sneakers is a regular thing. Because of the different materials sneakers are now made of, from Primeknit to suede, it is typical to be left clueless on how to tackle it without the damage. Following these steps may help you:
Do not put them in the washing machine and dryer. Some may have done it and enjoyed how easy it is but, in the long run, this process doesn't work for all types of upper and can damage the shape of the shoe.
Do not use harsh products on your sneakers. To be sure, use the cleaner first on a small portion of the shoe.
Do not dry your Adidas mid top shoes on direct sunlight.
Do not brush your shoes too hard as it can loosen up the material of the upper.
5. Can I style wear my Adidas mid top sneakers as business casual?
Of course. Wearing your sneakers to achieve a certain look will heavily rely on how you style it. To attain that primp look that is perfect for work or dinner, you can choose a pair that is sleek and neutral-colored. Leather or suede upper, compared to canvas and Primeknit, may be the safer approach when dressing up. We recommend you to shy away from bulkier options like the typical skateboarding profile with overly padded tongue and collar. The Adidas Splendid, Adidas Matchcourt Mid, and Adidas VS Set Mid are some of the sneakers that we recommend.
Pairing these kicks with a button down and dark-washed or black pants will be the easiest and most effortless way of getting ready. If you want to take it up a notch or for chillier months, topping it off with a blazer will be your way to go.
6. Do mid tops make the legs appear shorter?
Mid and high top sneakers intimidate some people because it has the tendency to make the legs shorter. Though it may be true, there are some styling tips that you can follow:
Pair your Adidas mid top shoes with skinny jeans or leggings.
Match the color you're your pants with your shoe to give the illusion of longer legs.
Try rolling your pants up to create volume on the bottom part of your overall silhouette.
Women can try wearing it with dresses and skirts for a more feminine look.
7. Can you suggest some collaboration Adidas mid top shoes?
Even though sneaker collabs are more apparent now than back in the day, we can't deny that there are still some that excite us. Adidas is notorious when it comes to this and looking at their releases, we can say that most of them have resurrected and gave new life to the classics. If you're looking for some mids, you might want to take a look at these:
Pharrell Williams x Adidas Crazy BYW LVL
The multi-hyphenated artist puts his spin on this Crazy sneakers. Two versions of these sneakers were released, one in black and one in hot pink.
Additional info:
Aside from the use of hot pink, the vertically placed "Ambition" word on the upper catches attention.
Like the other Pharrell sneakers, this BYW LVL has the signature reflexology design.
Boost midsole pods for superior cushioning and comfort seals everything together.
Another version of this was released called "Gratitude."
Dragon Ball Z x Adidas EQT Support Mid ADV
Called the "Shenron" to pay tribute to the magical dragon in the Dragon Ball series, these adidas shoes mid top use the EQT Support Mid ADV's profile.
It comes in a green and orange hues to represent the character's color with yellow
To replicate the color of his eyes, red accents on the midsole are placed on the shoe.
Along with the release of the shoe are other models that are also named after the other characters.
Another version called "Super Shenron" was released. It has a black and gold colorway.
Rick Owens x Mastodon Pro Model
Taking his flamboyant styling, Rick Owens interpreted the Pro Model in a minimalist but luxurious manner. Compared to his other designs, this version is more straightforward. With that, those that are looking for a designer shoe can avail these.
Most of the elements of the Pro Model can still be seen in this model, including the iconic rubber shell toe.
The Adidas mid top sneakers come in a luxe milky white leather and rubber and sport a monochromatic look all over.
Shockingly, these sneakers were launched with $1,000 price tag.
KITH x Adidas Tubular Doom
Released in 2016, this Ronnie Fieg creation lets its users gear up for the winter because of its winterized features. Combining the style of pre-made sandals and socks is a collaborative masterpiece that can't be dismissed.
The overlays are made of wool which serves as a blanket that hugs the feet and reinforcement on the laces.
The strap on the heel area has KITH's message "Just Us" and the sock liner sports the Trefoil logo and RF which stands for Ronnie Fieg.
The upper is built with Primeknit which is responsible for its sock-like fit. It sits atop a ribbed Tubular sole, giving a streamlined and sleek effect.
8. Where can I buy Adidas mid top sneakers?
What is excellent about choosing Adidas is that it is widely available. Almost any sneaker store in the United States will probably carry the brand. If you are also a fan of online shopping, you can also order a pair at the brand site or other reputable websites. Just make sure that the website where you are purchasing are legitimate.
9. What is the price points of Adidas mid tops?
The great thing about Adidas mid top sneakers is that because it is offered in such a broad range of price points, anyone can get their hands on a pair. Those that are looking for a budget-friendly sneaker can avail one for as low as $60. But if the sky's the limit with regards to your bank account, then be ready to shell out about $250 or above.
10. Why should I choose Adidas over any other brands?
There are various reasons why Adidas triumphs over others. Aside from being one of the first few brands who stepped first in this game, the fact that it was able to stay relevant up to this day should leave you mind-blown. But we're not done yet, there are still a few more to keep you interested.
Adidas cares for the environment, and it's not just on the surface or a one-time thing. Teaming up with Parley, an organization that addresses the issues of the ocean, the partnership resulted in a masterpiece that is made up of ocean plastic like the Adidas NMD_CS1 Primeknit.
They know what athleisure is. No offense to other brands and we're sure that they're already playing the game well, but when it comes to this trend, we can assure you that the brand is taking it seriously.
It houses some of the best classics, and because bringing back the old is much of a thing in the streets now, you have a lot to choose from in the Adidas archives.
Its technologies go beyond its performance footwear. Have you heard of the Boost and the NMD?
15 best Adidas mid top sneakers
Adidas NMD_CS1 Parley Primeknit
Adidas Crazy 1 ADV Primeknit
Adidas NMD_CS1 Primeknit
Adidas EQT Support Mid ADV Primeknit
Adidas Pro Model
Adidas Crazy 8 ADV
Adidas Hoops 2.0 Mid
Adidas Tubular Invader
Adidas NMD_CS2 Primeknit
Adidas Tubular Rise
Adidas Crazy BYW
Adidas Forum Refined
Adidas Tubular Invader Strap
Adidas Veritas Mid
Adidas 3ST.002
This shoe has recently been added to RunRepeat. There are still not enough reviews for us to assign it a
CoreScore
.
CoreScore
A score from 1 to 100 that summarizes opinions from users and experts. The average CoreScore is 78.
More...