Adidas Gazelle sneakers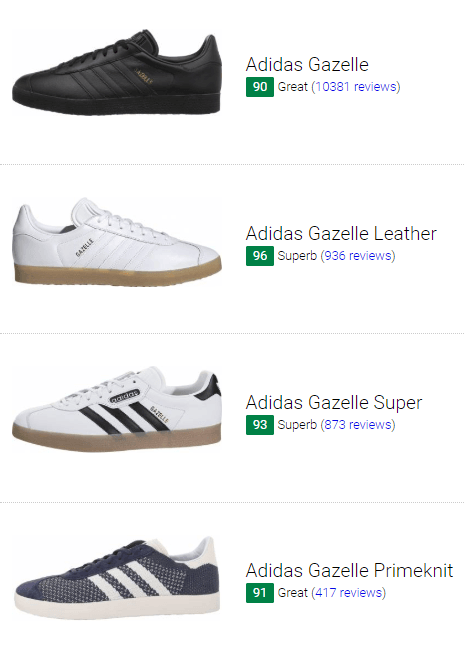 There are but a few shoes that can be referred to as timeless originals. For a shoe to be considered as a true classic, it must be regarded as stylish, versatile, comfortable, and to a certain extent, affordable. Adidas is one of the brands that have an extensive collection of vintage footwear, which is among the reasons for its enduring success.
Adidas Gazelle is widely regarded as one of the famous shoes of all time. Introduced in the 1960s, it was designed to be used for cross-training and soccer, but due to its modest appeal, it became a fixture on lifestyle fashion. The Gazelle is also one of the first sneakers that have been popular with both men and women.
Over the decades, numerous reiterations have been released to quench the public's clamor for Adidas Gazelle sneakers. Thanks to its worldwide popularity, various fashion and apparel companies teamed up with Adidas to make their own version of the Gazelle. Being one of the quintessential lifestyle kicks in history, there is a plethora of models and other relevant topics about Adidas Gazelle sneakers.
Notable Adidas Gazelle sneakers
The Adidas Gazelle sneakers are among the most beloved shoe lines in the world. As such, it has been reimagined in almost every imaginable color variants such as black, white, red, yellow, violet, green, teal, orange, and many more. Listed below are some of the best-rated Adidas Gazelle sneakers with its corresponding color options.
Adidas Gazelle Leather
The Adidas Gazelle Leather was first introduced in the early 2000s as one of the shoes under the Adidas Original line. In 2012, a rendition of it called Premium Gazelle OG Leather Pack in two color options, white and navy. Since then, multiple releases of the Gazelle Leather was released in succession. For this model starts from 8 to 13, in US men's sizing, medium width. So far, below are some of the colorways released:
Black / Black / Black
Grey One/ White /Metallic Gold
White / White / White
White / Gold / Gum
Adidas Gazelle OG Trainer
This is the footwear that started it all. The OG Trainer was first introduced to the public in the 1960s as an indoor soccer shoe, but its transition to the lifestyle category turned it into one of the most recognizable lifestyle kicks ever. Most of its elements have not been changed on most of its reiterations, such as the vintage suede upper, synthetic 3-stripes and tongue, and the trefoil branding on the tongue and heel. In terms of color schemes, the Gazelle OG Trainer offers the widest variety.
Adidas Gazelle Super
Making its debut in 1987, the Adidas Gazelle Super was first made available in former Yugoslavia. Its original design, similar to other classic Adidas Gazelle sneakers, has been coveted by collectors. On its 30th anniversary, the super was re-released, much to the delight of sneakerheads and casuals.
The vintage appearance of the Gazelle Super and nostalgic vibe, with its branding printed in gold letters alongside the popular 3-stripe on the lateral sides are immediate head-turners. In US men's sizes, it starts from 4 to 14.5, and it offers width options from narrow to extra wide. These are examples of colorways released for the Adidas Gazelle Super:
Tactile Yellow / Carbon / Off-White
Red / Vintage White / Gold Metallic
Grey One / Mystery Ruby/ Gold Metallic
Vintage White / Core Black / Gum
Core Black/ Vintage White/ Crystal White
Night Navy / Gold Metallic
Grey One / Mystery Rouge Ruby / Gold Metallic
Blue / Vintage White / Gold
Retro Tactile Green / Off White / Carbon
Grey Two/ Footwear White /Crystal White
Super Purple / White / Gold Metallic
Crystal White / Trace Blue / Ftw White
Core Black/ Trace Scarlet / Gum
Adidas Gazelle Primeknit
One of the latest renditions of the Gazelle is the Adidas Gazelle Primeknit. Its initial release came in three distinct color schemes. This Primeknit variant retained the classic flair with its suede toe boxes and off-white soles. An extra set of laces was also included on its package.
The most noticeable aspect of this shoe is the utilization of the Primeknit tech on its exterior. For this version, it is offered in US men's and women's sizes. Women can get theirs from 5 to 10 while men can have it from 7 to 13. So far, these are some color variants of the Adidas Gazelle Primeknit:
Nemesis / Off-White
Sesame / Off-White / Trace Green
Blue / Chalk White
Core Black / Core Black/ Off-White
Ftw White/ Chalk White/ Chalk White
Sesame / Off-White
Scarlet / Off-White / Chalk White
Footwear White / Hi-Res Blue / Chalk White
Core Black / Real Gold / Chalk White
Sun Glow / Ftw White/ Core White
Easy Green / Footwear White / Chalk White
Adidas Gazelle Tonal Leather
This model is a variation of the Adidas Gazelle Leather. Premium leather upper and monochromatic color options emanate an elegant touch to the classic sneaker. Considered as a unisex shoe, it is officially available in US men's sizes from 4 to 14. Ladies can order a pair by subtracting 1.5 from the men's size. Here are the colors offered for the Tonal Leather:
White / White / White
Black / Black / Black
Adidas Gazelle Foundation
It is one of the Adidas Gazelle sneakers that brings back the 90s vibe with its pigskin leather uppers blended with synthetic overlays. Design-wise, it does not deviate much from the classic silhouette of the original model, yet some modern updates of the Gazelle on its materials makes the Adidas Gazelle Foundation stand out from its siblings. This model is available in US men's size from 4 to 14. Below are some of the color schemes available:
Core Black / White / Gold Metallic
Dark Grey / Heather Solid Grey / White / Gold Metallic
Collegiate Royal / White / Gold Metallic
Adidas Gazelle Stitch and Turn
The Stitch and Turn is one of the latest addition to the ever-growing Adidas Gazelle sneakers collection. This one is a product of unorthodox construction to make a modern and minimalist vibe on the timeless footwear. Its upper consists of premium suede with noticeable stitch-and-turn details. The Stitch and Turn is offered for both men and women. Males can order theirs in US men's sizes from 5 to 14. Females can select from US women's sizes 5 to 11. Here are some of the color variants for the Adidas Gazelle Stitch-and-Turn:
Grey / Grey / Cloud White
Wonder Pink / Wonder Pink / Cloud White
Croyal / Croyal / Ftw White
Colred / Colred / Ftw White
Branch / Branch/ Ftw White
Adidas World Cup Gazelle Super Essential
In 2016, the Gazelle got another remake, taking from the success of vintage sneakers Stan Smith and Superstar as a part of the Adidas Originals series. A modern take on the 1987 Gazelle Super, it features an upper made of leather instead of suede, but still retains the original detailing like the contrasting Three Stripes, tongue and heel tab.
One of the distinct differences of this reiteration to its original model is the presence of an Adidas branding on the outer sidewall. Similar to many Adidas Gazelle sneakers, this one is available for both men and women. Men can order in US men's sizes from 4 to 14. Women can have theirs in US women's sizes from 5 to 11. Currently, this color scheme is the only one available for the Adidas World Cup Gazelle Super Essential:
Core Black / Ftwr White /Crystal White
Adidas Gazelle Crafted
Charles F. Stead, one of the popular suede leather tanners, helped in reiterating the Gazelle. This model is among the most recent additions to the Adidas Gazelle sneakers collection, which fully utilizes the premium suede upper for an elegant and luxurious look. The metallic gold details on the lateral sides and heel area adds to its premium appeal.
The Adidas Gazelle Crafted is a unisex footwear. It is available in US men's sizes from 6 to 13. Females may still order, but they have to subtract 1.5 of their regular size. So far, this color scheme is the most common for the Adidas Gazelle Crafted:
Adidas Gazelle Sport Pack
Released in 2016, the Adidas Gazelle Sport Pack showcases the '91 version of the iconic classic. It pays homage to its original model by utilizing the same suede upper and other details but equipped with modern support features. The Sport Pack is offered in US men's and women's sizes, which is a common feature for many Adidas Gazelle sneakers. Males can avail theirs from 5 to 13 while females can have it from 6 to 12. These are a few of the color schemes offered for the Adidas Gazelle Sport Pack:
Collegiate Navy / White / Gold Metallic
Scarlet / Footwear White / Gold Metallic
Green / White / Gold Metallic
Magenta / White / Gold Metallic
Mint / White / Gold Metallic
Red / White / Gold Metallic
Adidas Gazelle Decon
One of the modern version of the Adidas Gazelle sneakers line, the Adidas Gazelle Decon aesthetically deviates from the classic design. The absence of the Three Stripes on the lateral sides and its premium leather upper showcases a pristine and elegant aesthetic of the Deconstructed model. Its translucent brown sole is also a unique feature compared to other Gazelles.
The Gazelle Decon is a unisex shoe and is offered in US men's sizes 4 to 12. Ladies need to deduct 1.5 from their standard size if they want to get the ideal fit. These are the color schemes offered for the Adidas Gazelle Decon:
Tactile Rose/ Tactile Rose/ St Pale Nude
Trace Green / Trace Green / St Pale Nude
Adidas Gazelle Cutout
Exclusively made for women, the Adidas Gazelle Cutout exhibits a very different design compared to all of the Adidas Gazelle sneakers ever released. Regardless of the design, the comfort and breathability are confirmed by most of its wearers. The Adidas Gazelle Cutout is available in US women's sizes that range from 3 to 11. Currently, it is available in grey and black color variants.
Adidas Gazelle collaborative sneakers
Similar to other famous footwear, Adidas Gazelle sneakers have its fair share of collaborative sneakers because of its heritage and worldwide popularity. Below are some of the most sought-after and recent revision of the classic shoe.
Neighborhood x Adidas Gazelle Super / Adidas Neighborhood Gazelle Super
Tokyo-based apparel brand Neighborhood is a popular choice for many due to its unique clothing that has been influenced by motorcycle riders, military, work clothes, and others. Together with Adidas, these two companies released four collaborative designs to reimagine some of Adidas' sneakers. The Adidas Neighborhood Gazelle Super showcases a Primeknit upper and a tonal black color scheme that delivers a modest and sleek appearance.
Adidas Consortium x Slam Jam x United Arrows & Sons Gazelle
A network of numerous shops that have access to the rarest and unique Adidas releases is what the Adidas Consortium is about. The Adidas Consortium teamed up with two prominent apparel labels, Japan's United Arrow & Sons and Italy's Slam Jam Socialism. These three companies shared their concept and ideas to present two luxury edition of these two Adidas sneakers, Gazelle and Campus.
For the limited edition Adidas Consortium x Slam Jam x United Arrows & Sons Gazelle, its upper is made of Alcantara, an innovative and high-quality material utilized in many applications. The interior of this shoe is also made special due to the use of Ikeuchi Organic toweling, which is one of the trademarks of United Arrow. All of these features resulted in a luxurious tonal white sneaker. This shoe's initial price is $150, but there are some stores that offer a significant amount of discount.
JUICE x Adidas Gazelle
Hong Kong-based boutique JUICE and the Three-Stripe brand has recently released some collaborative Adidas Gazelle sneakers and a few other Adidas shoes. These two are the JUICE x Adidas Gazelle sneakers released so far:n
Adidas Consortium x Juice Gazelle – The upper of this version consists of woven-like textile upper with pigskin nubuck overlays. An innovative take on the legendary Gazelle, it was initially offered at almost $200.
Adidas Consortium x Juice Gazelle Primeknit– This shoe exhibits a Primeknit upper with suede vamp and leather liner. It is currently available in Beige / White color variant only.
Sneaker Politics x Adidas Gazelle
Louisiana-based sneaker and apparel boutique Sneaker Politics has teamed up with Adidas to release a collaborative sneaker to celebrate the label's new shop in New Orleans. Inspired by popular Mardi Gras festivities, the vintage footwear has been reimagined with distinct details.
Adidas Consortium x Sneaker Politics Gazelle PK Mardi Gra– As the name implies, this pair's upper is made of Adidas' trademark yarn tech Primeknit. The Primeknit is combined with premium suede overlays and vintage gum rubber outsole which provides a modern iteration of the classic silhouette. The shoe is offered in Cream & Collegiate Purple color variant.
Adidas x Wings + Horns Gazelle
The Canada-based menswear brand Wings + Horn combines sleek Japanese craftsmanship with top-quality fabrics to create uniquely minimal East-meets-West designs on its products. The company teamed up with Adidas to release a couple of Adidas Gazelle sneakers that showcases a contemporary and minimal aesthetics. These are the two models so far under this collaboration:
Adidas x Wings + Horns Gazelle Primeknit OG – Exhibiting a monochromatic Off-White color scheme, this sneaker combined the elements of a Primeknit upper, nubuck leather heel tab, and suede overlays for a pristine and modest vibe. The sneaker's initial retail price was $135.
Adidas x Wings + Horns Gazelle OG – Contrary to the Primeknit OG variant, this model has an all-black color scheme with the exception of the sole. Instead of Primeknit, it features a suede upper which showcases the appeal of the '85 classic, which is different to Primeknit OG's modern appearance.
Adidas Consortium ALIFE x Starcow Gazelle
New York-based clothing label Alife has established its mark on the casual apparel market since its inception in 1999. Similar to the success of Alife, the Paris-based Starcow has made strides on its brand since its start in 2001. Both of these brands thrived in the world's most popular cities, New York and Paris, which speaks volumes on its expertise on trend and design.
Adidas Consortium ALIFE x Starcow Gazelle is introduced in 2017 as a fresh take on the classic low-top. It exhibits an upper that consists of suede and nubuck overlays and reflective 3M 3-stripes. So far, it is available only in Core White / Grey color scheme.
The FARM Company x Adidas Gazelle
Brazilian-based design firm the FARM company conceptualized some eye-catching Adidas Gazelle sneakers. These collaborative sneakers were first introduced in 2014 with three variants of "floral" designs and another different silhouette in 2018. The first collaborative collection is called The FARM Company x adidas Originals Gazelle "Floral" while the recently released one is named Adidas Originals x The FARM Company Gazelle W 'Polka Dots'.
The presence of Adidas Gazelle sneakers on various subcultures
Multiple factors contribute to the enduring worldwide popularity of the Adidas Gazelle sneakers. Despite its original purpose as a cross-training and indoor soccer footwear, the Gazelle became an iconic shoe on the lifestyle fashion. It emerged as a staple on most of the significant subcultures due to its universal appeal.
Terrace Clothing
Terrace clothing is an essential part of British culture. Terrace fashion is more commonly referred to as football casual, which is a fashion style that is inspired by the world's most popular sport, football. This style is extremely popular in the UK during the 80s, with brands such as C.P. Company, Fred Perry, and Lacoste offered a variety of products to quench the young lads' infatuation for the fashion trend.
Due to its soccer roots, the Gazelle fits perfectly as the quintessential footwear for Terrace fashion. Adidas Gazelle sneakers evolved into a status symbol on this fashion style. Other shoes that have the same suede upper was labeled as the "poor man's Gazelles," namely Madeira, Monaco, and Samoa. It goes without saying that the Gazelle is the top choice for everyone. Decades later, the Terrace fashion is making a comeback, and it is certain that the Adidas Gazelle sneakers will be as integral like before.
Britpop
Adidas Gazelle sneakers also made its mark on another British subculture, the 90s Britpop emergence. Britpop is UK's answer to the USA's grunge domination of the pop scene. Musicians such as Stone Roses, Supergrass, Blur, and arguably the most popular of them all, Oasis, have made Adidas Gazelle sneakers their go-to footwear.
Hip-Hop
Hip-hop is one of the most popular and enduring subcultures. A legend of the genre, D.M.C., played a significant role in merging the style of the streets and sportswear by releasing their song "My Adidas." Thousands of fans lifted their pair of Adidas shoes during a concert on Madison Square Garden in 1986, which is a testament to the success of the brand on the hip-hop scene.
Beastie Boys was particularly charmed by the Gazelle's retro vibe and European heritage. As such, it became the group's trademark shoes for many of their performances and promotional materials. Other hip-hop groups like Broken Glass and Rock Steady Crew had also included Adidas Gazelle sneakers into their get-up.
Reggae
Bob Marley is the most famous figure of the Reggae and Rastafarian genre. He is a fan of the brand, as he usually paired his trademark rastacap with Adidas tracksuit and Adidas Gazelle sneakers on his feet. Many people are not aware that Bob Marley was a big football enthusiast, and he always donned the Gazelle while on the field.
Grunge
Kate Moss made the Adidas Gazelle the standard shoe on the grunge subculture. A famous photo of her rocking the low-top with modest clothing and oversized overcoats became a signature poster of the grunge, literally and figuratively. Other well-known figures of the genre such as Danny Boyle and Ewan Mcgregor had Adidas Gazelle sneakers on their feet on selected occasions.
Adidas Gazelle shoes trivia
The Gazelle is the first Adidas footwear that has a suede(kangaroo velour) material, which deviates from the usual leather construction on most sports footwear.
The origins of the name Gazelle was not clear. Some said it came from a sprinter who bears the nickname "Black Gazelle." Other stated that during the 60s, Adidas simply had a running theme of naming its shoes after fast land animals.
It was introduced initially in two color options, red and blue variant. The Gazelle Rot(red) is designed for outdoors because of its non-slip sole while the Gazelle Blau (blue) has a microcell ripple sole that is more suited for indoor use.
The Gazelle is considered a success during the 80s because the regular manufacturing cycle of Adidas shoes were only four years.
Its trademark hexagonal microcell sole was first seen in 1972.
How to clean Adidas Gazelle sneakers
Just like the case of any other shoes, regular cleaning of Adidas Gazelle sneakers will go a long way to preserve its pristine and modest appearance. Below are instructions and tips on cleaning the Gazelle shoes.
Instructions
Shake off the dirt and other foreign objects first. It is easy for sneakers to get stones and other small objects in its soles. Knock the soles of the pair together and use a toothbrush or other soft brushes to wipe any excess dirt, soil, and pebbles off the soles. As much as possible, do not brush the fabric material.
Remove the laces. Clean it separately.
Mix an eco-friendly regular laundry detergent and warm water to create a solution. Dip a washcloth on the solution and start scrubbing it on the stained and discolored areas of the shoe.
Use a different washcloth and dip it in warm water to rinse the shoe. Wipe the shoe until no detergent residue remains.
Let the shoes dry only via room temperature.
For those Adidas Gazelle sneakers that are made of leather, it is advisable to use a small portion of shoe leather to keep it in great condition. Never use shoe leather on any other footwear that is not made from leather.
Tips
Never use a washing machine for cleaning Adidas Gazelle sneakers as it may deform the shape.
Don't use a dryer or heater to dry the shoes because those may damage the color and shape of the sneaker.
Avoid using strong cleaning products like bleach and other chemical solutions as it will most probably ruin the shoes permanently.
Do not use a hard brush to scrub shoes. Many Adidas Gazelle sneakers have a delicate material and using a hard brush will damage it.
If the shoe is not in use, keep it on its original box or shoe storage box to protect it from sunlight.
Remove the stains as soon as possible. It is possible that it may become permanent if not removed quickly.
Commonly-Asked Questions about Adidas Gazelle sneakers
What is the price range of Adidas Gazelle sneakers?
On average, the Adidas Gazelle sneakers are priced at $80. Some shopping websites are offering it at a discounted price. For those limited edition Gazelles, prices may vary, but it usually ranges from $125 to $200.
Do Adidas Gazelle shoes look good on women?
Certainly. Being one of the most famous sneakers in history, its timeless silhouette has transcended gender, age, race, and purpose. In fact, many women have made the Gazelle their go-to footwear for a myriad of activities such as weekend activities, working out, casual workdays, or during holidays.
Where to buy Adidas Gazelle kicks?
The availability of the Gazelle in most shops, physical and online, is absolute. It is effortless to purchase the low-top, but for some of the collaborative shoes, it may be a challenge to acquire a pair due to its limited numbers.
What is the size range of Adidas Gazelle sneakers?
Most of the Gazelle lifestyle kicks are available in men's sizes from 5 to 16 while ladies size range average starts from 5 to 14, both in US sizing. Unisex Gazelle shoes are also available, which women have to size down by 1.5 from their regular sizes for the ideal fit.
Are Adidas Gazelle shoes comfortable?
Many of the shoes under this collection has received positive remarks for being comfortable. Still, as with the case of other low-top casual shoes, it is common for some to complain about it for being too narrow. There are selected Gazelle models such as the Adidas Gazelle Super that offers width options.
What are some of the latest color releases of Adidas Gazelle casual sneakers?
Below are some of the recently released color schemes:
adidas Originals Gazelle Collegiate Burgundy
adidas Originals Gazelle Collegiate Navy
adidas Originals Gazelle Collegiate Green
adidas Originals Gazelle Collegiate Purple
adidas Originals Gazelle Collegiate Gold
adidas Originals Gazelle 2 Collegiate Solar Yellow
adidas Originals Gazelle OG Trainer Vapor Pink
adidas Gazelle Bold Red Snakeskin
adidas Gazelle Unity Lime
adidas Originals Energy Blue
What is the difference between the Adidas Gazelle and Adidas Gazelle OG Trainer?
It is relatively simple to notice the difference between these two sneakers. The Adidas Gazelle OG Trainer features a more pointed shape, a shorter tongue, a slimmer midsole, and a shorter toe box compared to the standard Gazelle. Additionally, the OG Trainer has the Gazelle branding horizontally, contrary to the standard Gazelle that has it diagonally.
6 best Adidas Gazelle sneakers
Adidas Gazelle Decon
Adidas Gazelle Stitch and Turn
Adidas Gazelle Leather
Adidas Gazelle Super
Adidas Gazelle
Adidas Gazelle Foundation
This shoe has recently been added to RunRepeat. There are still not enough reviews for us to assign it a
CoreScore
.
CoreScore
A score from 1 to 100 that summarizes opinions from users and experts. The average CoreScore is 78.
More...