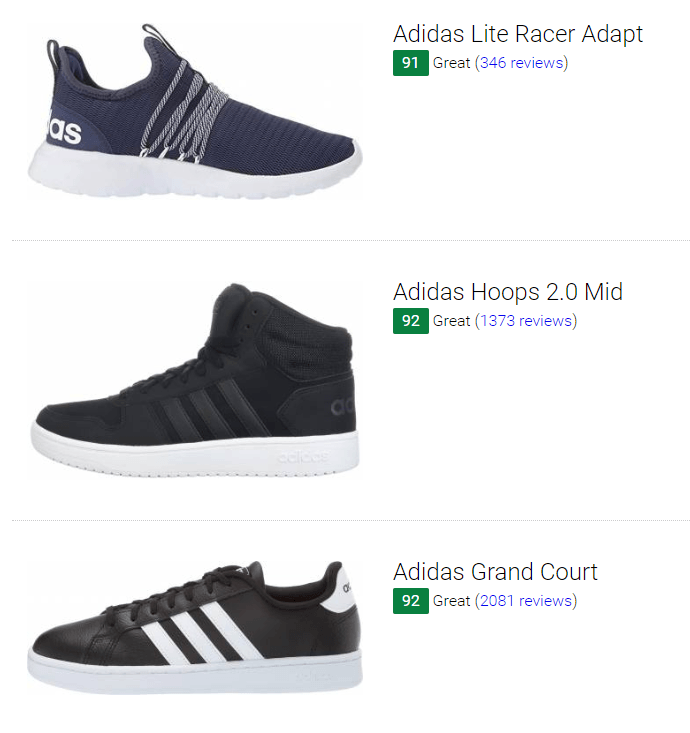 Best Adidas Cheap Sneakers - August 2019
Today's sneaker scene mostly involves collecting hype and limited models that usually equate to expensive price tags. However, contrary to the current market's direction cool sneakers doesn't always have to be costly, overly hyped, and limited in nature because there are cheap sneakers that are equally cool.
Not all consumers have the means to continually shell out $120 upwards for new sneaker releases, especially now that big brands, such as Adidas, are dropping several hyped sneakers every week. Copping a cheap pair of good looking and quality sneakers is more straightforward and more accessible than what most sneaker fans believe. You don't have to spend fortunes just to look fly and feel comfortable from the ground up.
If you are an Adidas fan and on the lookout for cheap cool sneakers from the Three Stripes brand, we've gathered the ultimate guide to relatively cheap Adidas sneakers that should definitely be included in your daily rotation.
Best cheap Adidas shoes
Below is a list of Adidas' most inexpensive lifestyle sneakers that are priced anywhere from $35 to $90. These shoes are grouped into two major categories: casual and skateboarding shoes. Without further delay, sit back, relax, and indulge in these cheap Adidas shoes that could make you look better than what your budget might imply.
Casual Adidas shoes for cheap
1. Adidas Daily 2.0
Inspired by the silhouette of basketball sneakers, the 2nd version of the Adidas Daily made the hoop kick the foundation of its aesthetic design but altered for a more fashionable aesthetic ideal for everyday wear. It is an update of its predecessor (the Adidas Daily) as it replaced the former vulcanized sole with a cupsole version that retains the look of the vulc midsole.
The shoe features Ortholite Float insoles for added comfort and in-step cushioning.
It retails for $60 or $65, depending on the upper materials.
2. Adidas Superstar
Once an 80s hip-hop group's shoe emblem, the Adidas Superstar is known today as one of the most iconic and most legendary sneaker silhouettes in the history of footwear. The shoe's clean and recognizable shell toe design has helped catapult its prestige in the world of fashion and likewise in the sneaker hall of fame. Former NBA basketball player Kareem Abdul-Jabbar pioneered the wearing of this kick on the hard court.
This sneaker is available in varying prices with the lowest at $80, depending on the material.
Reviewers have mentioned that it runs half to full size bigger than usual.
3. Adidas Campus
This suede-clad Adidas classic is another Three Stripe kick that crossed over from the basketball courts onto various subcultures and remains steadfast in today's most iconic sneaker list. The Campus' longevity could be contributed to its vintage good looks, versatility, and rich history. It is also bathed in countless colorways that continually provide fresh and exciting options to its new and long-time fans.
While the Superstars would always be linked to Run-DMC, another talented hip-hop group called the Beastie Boys prides itself of wearing the Adidas Campus as their signature kick in the 90s.
This sneaker's retail price ranges between $80 - $130, depending on the materials used - offering options for different budgets.
4. Adidas Nizza
This kick is one of the cheapest Adidas shoes one could find online. With the men's model priced at $70 and the women's at $65, most buyers were ecstatic with their purchase. The Nizza is Adidas' modern take on a once archived 70s basketball shoe. It was reintroduced in 2017 with both low and high-top iterations.
The Nizza was recognized in the "100 best Adidas Sneaker of All Time" list.
A slip-on women's version is also available for $65.
It is crafted from a lightweight canvas upper and features a rubber toe bumper.
5. Adidas Swift Run
The first running-inspired entry in this list, the Adidas Swift Run took design inspiration from the 80s running models. Crafted with a Primeknit upper, it offers a snug, sock-like fit while Ortholite sock liners provide excellent in-step comfort and cushioning. This sneaker was introduced in July 2017 with an all-white colorway. More colors and prints were eventually released.
This shoe acts like a slip-on kick due to its one-piece upper while a lace-up closure system provides an adjustable fit.
With its lightweight comfort, breathability, and modern and versatile style, the shoe's $85-dollar price tag is considered by most a steal.
6. Adidas Stan Smith
Initially, a tennis sneaker called the Adidas Robert Haillet, Stan Smith is recognized today as one of the most iconic lifestyle sneakers. This shoe has been released in countless iterations and colorways throughout the years, but it has remained virtually simple and straightforward in design with the same, well-loved comfort.
With a wide range of designs, the Adidas Stan Smith is also offered in an array of retail prices. According to the brand's US site, this shoe's current highest rate is $300, but more affordable options from $75 to $90 are also available.
7. Adidas Samba OG
The Samba OG was a soccer-centric sneaker when it first debuted, but today, like most popular retro styles, this shoe had successfully crossed over onto the lifestyle sneaker scene. This iteration from the Samba legacy sets itself apart via its shorter tongue and slimmed down upper design. However, it remains faithful by retaining the suede T-toe overlay and ripped midsole aesthetic.
Depending on the color scheme, the Adidas Samba OG's upper can be made from nubuck, premium leather or nylon. With this, prices also vary, but affordable ones are priced at $80.
The Adidas Samba model is said to be the second best-selling Adidas sneaker of all time.
8. Adidas Sleek
This cheap Adidas model is a women's exclusive shoe that debuted in an all-white number. Its smooth leather upper displays a nostalgic retro charm that pays homage to the brand's tennis silhouettes. It is purposefully stripped down in width to cater to the woman's narrower foot shape.
More colorways are on its way, based on the brand's information on their site.
The Sleek from Adidas currently retails for $80 and belongs under the Adidas Originals collection.
The sneaker features a pull-tab on the tongue that is bizarrely placed off-center.
9. Adidas Gazelle
First introduced in 1966, this shoe was marketed as a training shoe and is the brand's first sneaker with suede uppers. Just like most of the iconic sneaker silhouettes we know today, the Gazelle was also adopted by youth subcultures from the 70s, 80s, and 90s. It is best known today for its contrasting tongue and retro yet classic style.
Original color schemes of this shoe were the blue and red, and then more classic hues such as the black and white became just as much popular as the OG colorways.
·This sneaker is currently offered at either $80 or $90, depending on the colorway and materials.
10. Adidas Continental 80
This model is a rework of an '80s Adidas sneaker called Continental, which is obviously where the new moniker got its name. Apart from its retro looks, the Continental 80 gained traction among sneaker fans because of its resemblance with a very hyped shoe called the Yeezy Powerphase.
This cheap Adidas shoe is available for men and women. It is reported to fit a bit narrow on the toe area.
The Adidas Continental 80 is part of the brand's Yung collection and is offered at a budget-friendly price of $80.
Top cheap skateboarding-inspired Adidas shoes
1. Adidas Matchcourt RX and Adidas Matchcourt Slip ADV
Sneakers from the Matchcourt collection are considered budget-friendly and stylish, and two of the most affordable models in their current offerings are the Matchcourt RX and Matchourt Slip ADV.
The Matchcourt RX is an iteration of the original and featured updates such as getting rid of the rubber toecap and replacing it with suede for excellent board control and more minimal aesthetic. This kick retails for $70 and is available in numerous colors. The Matchcourt Slip ADV, on the other hand, retained the rubber toecap but tweaked it via the slip-on feature. It is available for $60.
The Matchcourt silhouette was first introduced in 2016, but skate sneakers were not as prevalent back then as it is today.
With the help of several pro skaters, Adidas has been steadily rising in the skate shoe game, and of their most popular silhouettes is the Matchcourt.
2. Adidas Busenitz collection
This selection of skate-centric footwear designed by German pro skater Dennis Busenitz is generally budget-friendly and well-received by consumers. Models such as the Busenitz, Busenitz Pro, Busenitz Vulc, Busenitz Vulc RX all come in a price range of $70 - $90 except for the Primeknit version which sells for over $100.
Sneakers from this group are inspired by the pro rider's obsession with football.
Both the Busenitz and Busenitz Pro have a cupsole construction, but the former is crafted from nubuck while the latter is made of suede.
The Vulc version features Adituff on the toe overlay for added durability while the Vulc RX iteration comes with reinforced stitching.
3. Adidas City Cup
The City Cup is recognized for its two-part midsole design. The shoe debuted in January 2018 and is inspired by Scott Johnson's use of double cup midsole which offers support, unique look, and stability.
It is offered in numerous colorway options and retails for $80.
The upper is made from heavy-duty suede upper.
4. Adidas Lucas Premiere collection
Another assembly of skate models brought to reality with the help of the brand's pro riders. Lucas Puig, who joined Adidas' roster in 2010, designed the shoes in this collection. The design came from an Adidas archival volleyball shoe which fused board feel and protection. The two most affordable models are the Adidas Lucas Premiere and Adidas Lucas Premiere Mid.
The Lucas Premier is priced at $75. It is a low-top kick made of suede and knit upper that incorporates the Adituff technology on the toe area.
For better ankle support a mid version was released with a moniker aptly named the Lucas Premier Mid. It retails for the same price of $75.
5. Adidas VRX Cup Low
The VRX Cup Low's design specifically looked to basketball silhouettes for inspiration, but its durable leather upper and thick cupsole points to the sport of skateboarding instead. Priced at $75, this sneaker might have the bang for its affordable bucks.
Reviewers say that it has a true to size fit.
Skaters have praised this shoe's quality, board control, and board feel.
6. Adidas Adiease collection
The Adiease line was added to the Three Stripe's skateboarding line and looked back on archived indoor soccer shoes for its design. Equipped with skate-centric features, the shoe grew popular and garnered several iteration and collaborators. However, the most affordable ones are the Adidas Adiease at $60 and the Adiease Premiere at $70.
The Adiease model is made with a lightweight canvas upper and a vulcanized sole.
The Adiease Premiere sports a suede-crafted upper and features Adituff in the toe area. It debuted in early 2016.
7. Adidas Suciu ADV II
This shoe's predecessor was the brand's first signature skate shoe entirely designed by a pro skateboarder. The Suciu ADV II is an updated version of the original, and it displays a slimmer silhouette, enhanced seamless toe construction, and improved ventilation. This kick retails for $80.
The Suciu range is the brainchild of Mark Suciu who's a big fan of history and science. He integrated inspiration from both of these passions which resulted to the shoe's aesthetic and technical design.
This shoe is crafted from all-leather durable suede upper with abrasion-resistant Adituff toe.
8. Adidas 3MC collection
Generally, the 3MC model is one of Adidas' newest skate models in their skate category. Some of the shoes in this range include Adidas 3MC Vulc, a Beavis and Butthead collaborative 3MC Vulc model, and 3MC Vulc Evisen.
Models from this collection have a retail price between $65 and $70.
The Adidas 3MC Vulc has a canvas upper and vulcanized rubber outsole.
Frequently Asked Questions
Where to buy cheap Adidas shoes online and physical stores?
Whether it is online or in the actual mall consumers could get their hands on Adidas sneakers with marked down prices. Sale geeks shouldn't have to wait for holiday sales or other sale seasons as the Three Stripes brand almost always introduces a pair that retails for a lower price.
Generally, buying from established online sneaker stores are best recommended to avoid purchasing replica models. Most online stores have a whole section of kicks on sale. Adidas, Zappos, 6 pm, Lyst, and Foot Locker are a few online sites you can check. Moreover, department stores and retail stores carrying Adidas merchandise also usually offer discounted shoes.
Do cheap sneakers have mediocre quality, comfort, and good value?
Most consumers naturally have a preconceived notion that if a shoe is cheap, it shouldn't be long before it wears out or it automatically is uncomfortable. However, there are a select few sneakers (in this case Adidas) that offer adequate comfort and quality.
Each shoe, no matter its cost, is crafted differently compared to the next shoe in line that is why it is always a wise idea to check reviews of a specific cheap shoe first before purchasing.
Are Adidas sneakers cheaper than Nike?
This question, in general, is a relative one as sneakers from any brand could be released at any given price point. Even if Adidas had the cheapest sneaker out as we speak, Nike could be releasing a cheaper one next month. But just to put things into context, as of this writing, Adidas has the lower introductory price of shoes out of the two brands while Nike has bigger discounted prices off of their models.
Are there any cheap Adidas shoes that are high-top?
With its taller silhouette and a more considerable amount of materials being used, high top sneakers are commonly pricier than the other two lower silhouettes. But with Adidas' efforts of continually providing market demands cheap Adidas high-top sneakers are a possibility. Here are some of them:
*Note that this list is just for reference because these models are currently limited in sizes or sold out due to its affordability. Nevertheless, be on the lookout for newer releases.
What are some of the cheap white Adidas shoes?
Being known for their classic and simple styles, Adidas mostly offer their sneaker models in a white colorway. With that being said, almost all affordable Adidas shoes mentioned above are available in white. For an overview, below are some examples of affordable white Adidas sneakers:
Adidas Grand Court
Adidas Court Adapt
Adidas 3MC Vulc Elvisen
Adidas 3MC Vulc
Adidas ZX Flux
Adidas Samba OG FT
Adidas Continental 80
Adidas Stan Smith
Are there cheap models of Adidas Boost / NEO / Shell Toe shoes?
Due to its modern, advanced, and well-received cushioning technology, Adidas Boost sneakers are usually priced above $100, but discounted models offer a chance to snag a pair with a more affordable price.
Adidas NEO, now called Adidas Essentials, houses the brand's most budget-friendly shoes as the collection is aimed at teens and pre-teens. Check out the Grand Court ($65), Advantage ($65), and Questar Flow ($75) models for modern classic pairs at a budget-friendly price.
The Adidas Shell Toe or officially named the Adidas Superstar is included in our list above. The cheapest Adidas Superstar shoes is available at $80 depending on its material and colorway.
How to know if a particular cheap Adidas shoe is durable?
Check for quality of craftsmanship such as stitches and glue marks. Stitches should look consistent and smooth without any loose-looking thread while glue marks should be as much as possible non-existent. Materials should also feel soft and durable by taking the shoes for a brisk walk around the store. Another wise step to take is checking shoe reviews online which offers expert reviews and save you time and effort in personally going out to check for shoes.
What are examples of budget-friendly Adidas shoes that will never go out of style?
Most shoes included in the list above display timeless designs that could transcend trends. Crafted with simple lines, plain aesthetic, and classic silhouettes, most of these sneakers are usually retro model reissued from the past or inspired by retro silhouettes. Below are a few more cheap Adidas shoe models to check out:
Adidas Samba ADV - $80 / $85
Adidas Half Shell Vulc - $80
Adidas Run 70s - $70
Adidas Hoops 2.0 Mid - $65
Adidas Court 70s - $70
Doesn't cheap prices equate to mere replicas of Adidas shoes? How do I know if a pair is authentic?
The idea that cheap branded sneakers are fake apply mainly on hyped/collaborative models, but brands such as Adidas are now offering shoes as low as $60 and figuring out if it's fake or not could prove to be more challenging than the hyped ones. However, small signs and details of low quality work usually give it away. Here are a few things to look for in a fake shoe:
Logos doesn't look crisp, well printed or well stitched. It could also show some inconsistencies compared to Adidas' two official logos: the Trefoil and the Three Stripe.
Real Adidas sneakers display two different serial numbers for the left and right shoe. If both shoes display the same number, then it is most probably fake. Also, check if the shoes match the ones on the box.
Messy stitches, glue marks, and construction are the most common things people look at first when checking if a pair is fake or not. Attention to detail on the craftsmanship is almost always missing if the shoe is inauthentic.
Which cheap black Adidas shoes have excellent reviews?
Aside from white sneakers black is the next most coveted classic shoe colorway of all. With the desire for versatility and getting the best value for their money, consumers have been on the search for the best cheap black Adidas shoes. Based on RunRepeat and Adidas' official site reviews, here are the best cheap Adidas sneakers bathed in the black colorway.
Adidas City Cup
Adidas Samba OG
Adidas Samba OG FT
Adidas Half Shell Vulc
Adidas Lite Racer Reborn
Adidas Asweego
15 best Adidas cheap sneakers
Adidas 8K
Adidas Grand Court
Adidas Lite Racer Adapt
Adidas Sabalo Slip-On
Adidas Seeley
Adidas 3MC Vulc
Adidas Lite Racer CLN
Adidas Adiease
Adidas Cloudfoam Advantage
Adidas Cloudfoam Ilation Mid
Adidas Cloudfoam Advantage Clean
Adidas VS Pace
Adidas Cloudfoam Race
Adidas Hoops 2.0
Adidas Archivo
This shoe has recently been added to RunRepeat. There are still not enough reviews for us to assign it a
CoreScore
.
CoreScore
A score from 1 to 100 that summarizes opinions from users and experts. The average CoreScore is 78.
More...