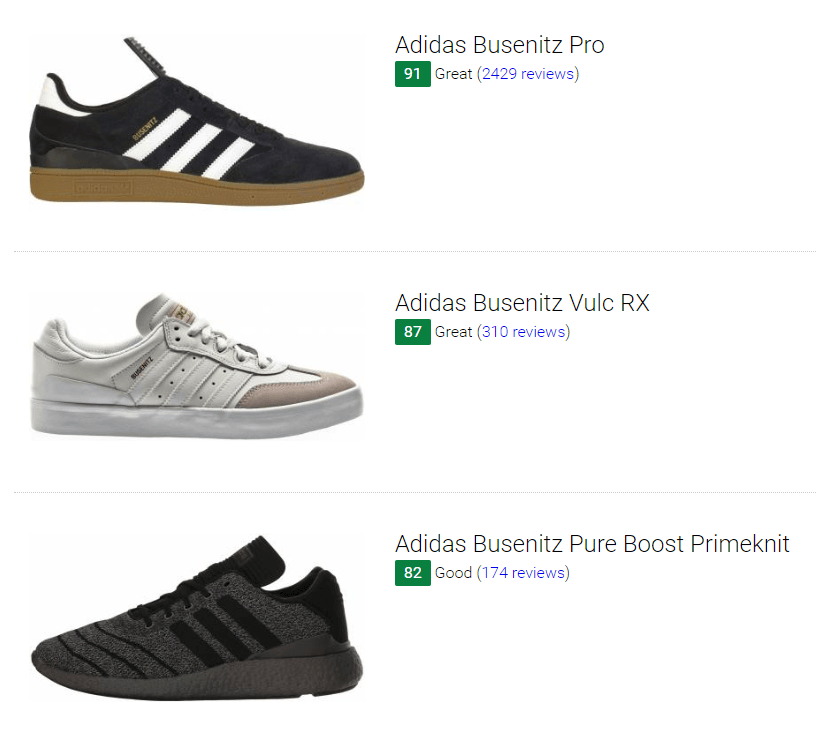 Best Adidas Busenitz Sneakers - August 2019
Like many other big footwear brands, Adidas has ventured into the sport of skateboarding. The Adidas Skateboarding line was launched in 1998. Some of the most well-known skaters at the time were tapped by the brand, enabling it to develop an influential presence in the sport quickly.
Such well-known skateboarders as Mark Gonzalez, Matt Beach, Tim O'Connor, Marc Suciu, and Lucas Puig have all joined forces with Adidas for the brand's Skateboarding team. Another skater who joined the label is Dennis Busenitz, his first shoe being the Adidas Skateboarding Busenitz Pro.
He started skating in Germany before moving to the United States when he was 15. His collaboration with Adidas, which began in 2006, has since celebrated more than ten years of popularity. Today, the Adidas Dennis Busenitz signature collection continues to hold influence over the world of skateboarding, with several updates and additions added to the series.
Top Adidas Busenitz shoes
There are several models in all in the Adidas Skateboarding Busenitz line, available in a wide range of colorways that can suit different tastes. Here are the best editions from the collection, with some additional information about colorways, sizing, and prices.
Adidas Busenitz Vulc
Adidas approached German professional skateboarder Dennis Busenitz for the brand's Skateboarding or SB line. He entirely dedicated himself to the creation of his signature shoe, launching the Busenitz series. His favorite football cleat, the Copa Mundial, became the basis for his street-ready design.
In 2013, Adidas released a vulcanized version of Busenitz's first signature shoe, which was previously built with a cupsole. Apart from the different outsole design, the Busenitz Vulc shoes are also considered to be technically advanced in comparison with the original.
The Nano Heel Cushioning delivers shock absorption and comfort.
It has many color options, including Black/Running White/Black, Crystal White/Black/White, and Collegiate Navy/White/Dark Blue.
The model is priced at a budget-friendly $70.
These Adidas Busenitz sneakers come in men's sizes 4-14. A few buyers grabbed a full size up due to the shoe's small and narrow design.
Adidas Busenitz Pro
The Adidas Busenitz Pro skate shoes launched the Busenitz collaborative line. It's a football-inspired skate sneaker built for Dennis Busenitz's famous all-terrain skating style. Among its many notable features are the cupsole construction, which differed from a lot of skate kicks, the Geofit collar for ankle stability, and the durable upper.
Busenitz came up with an arrow-shaped toebox and stitch detailing on the forefoot area, features that are taken from the Adidas Copa Mundial, his favorite classic football shoe. Its upper is made up of high-quality suede, while the external heel offers additional stability.
There are lines on the inner side of the long tongue to guide users on where to cut it, allowing them to personalize the length.
One of its colorways is Core Black/Cloud White/Gold Metallic.
The Adidas Skateboarding Busenitz Pro is relatively cheap at $80.
Men's sizes 4-14 are offered. The brand has noted that the model runs small, advising buyers to go at least a half size larger.
Adidas Busenitz Vulc ADV
Further updating the vulcanized Busenitz edition is the Adidas Busenitz Vulc ADV. It's made up of a one-piece nubuck suede upper along with a protective rubber toe cap. This model was particularly lauded for its excellent board feel, which offered confidence to skaters in gliding and performing kickflips.
This enhanced model is a reflection of Busenitz's trademark breathtaking flips. The rubber outsole is vulcanized, offering flexibility and an excellent grip. Its upper is constructed with high-grade suede leather, which adapts to the hard-wearing activities of skating.
The toe area is made to be hard-wearing, courtesy of the Adistuff technology.
There are many colorway options for this model, including Solid Grey/Core Black/Gum and Crystal White/Black/White.
These Adidas skate shoes from the Busenitz line are easy on the pocket at $69.95.
It's offered in men's sizes and reputedly has a narrow and small fit.
Adidas Busenitz Vulc RX
Released in early 2017, the Busenitz Vulc RX by Adidas paid tribute to the 10th anniversary of the partnership between Dennis Busenitz and Adidas. It was upgraded to suit the occasion, featuring details that were inspired by the legendary football shoe, the Adidas Samba. The iconic model was reimagined for skateboarding, resulting in this model.
This shoe retains the long striking tongue that has made the Busenitz line stand out from other skate collections. Another classic styling is the T-toe detail, which comes from the Samba, made up of pigskin suede. Meanwhile, the upper of these Adidas Busenitz shoes are in leather material. It has a vulcanized outsole rather than the cupsole usually featured in the series.
The outsole also has an enhanced durometer for longer endurance.
Its colorways include Charcoal Solid Grey/Core Black/Cloud White and Collegiate Navy/Cloud White/Gum.
It has a highly affordable price of $75.
Sizes 4-14 are available for men. According to several wearers, the sizing is small. A half size up is recommended.
Adidas Busenitz RX
The Adidas Busenitz RX was also part of the "10 Years Anniversary" pack of the Busenitz series. It was released in the middle of 2017, featuring a minimalistic design along with enhanced durability and optimized fit. On the upper is a tonal pig suede material, complemented by the fresh-looking midsole.
This model also features the iconic Busenitz tongue, but Adidas has also made it more streamlined to keep with the updated look. Reduced paneling and stitching were done in order to create a nearly seamless appearance. On the sides are perforations instead of the usual stitched-in Three Stripes.
This Adidas Skateboarding Busenitz shoe has a cat-tongue lining that offers a locked-in fit.
The color selections include Core Black/Footwear White/Bluebird and Scarlet/Footwear White/Bluebird.
At $84.95, these Adidas Busenitz sneakers are budget-friendly.
The sizes offered are in men's 4-14. It fits true to size.
Adidas Busenitz Pure Boost
Upgraded with a full-length Boost midsole, the Adidas Busenitz Pure Boost is built for comfort. The use of Pure Boost technology on the sneaker was first done in 2015. It was the first skateboarding shoe from the brand to utilize the Boost innovation. A year later, it was released in a distinctive black and gold colorway in anticipation of the 10th anniversary of the series.
The seamless upper is made up of premium suede, with embroidered detailing on the sides and toe cap. Other noteworthy features include the grippy rubber outsole and metallic gold accents.
This model's 10th-anniversary edition features the number "06" and "16" on the heels to commemorate the occasion.
Among its few color options is the Scarlet/Scarlet/Cloud White.
It's a reasonably priced sneaker at $130.
Men's sizes from 5-14 were released for this Adidas Busenitz Boost model. In general, it fits as expected.
Adidas Busenitz Pure Boost Primeknit
The Adidas Busenitz Pure Boost PK was released a year after the Pure Boost model was launched in the collection. It replaced the usual suede material on the upper with the brand's Primeknit technology. The result is a modern, lightweight, and breathable sneaker that combines two of the most popular Adidas innovations.
Compared to other kicks in the series, this sneaker does not bear the gold-lettered "Busenitz" label on the side. Another missing detail is the dotted line on the tongue that serves as a guide for customization. There are also wavy Three Stripes on the toe that resemble water ripples.
While the toe box and upper is completely made up of Primeknit material, the midfoot is supported by a glued Three Stripe detail.
There are many colorways offered, such as Charcoal Solid Grey/Core Black/Trace Grey Metallic, Collegiate Burgundy/Mystery Ruby/Cloud White, and Collegiate Navy/White.
Sizes run from 7-13 for men. Many reviewers attested that this Adidas Busenitz Boost shoe runs narrow, suggesting that one size bigger fits better.
Adidas Busenitz Indoor Super
While a football sneaker inspired the original Busenitz signature model, the line turned to indoor squash court for the creation of the Adidas Busenitz Indoor Super. It's inspired by 1980s squash court footwear styles, retaining some classic details with minor differences, such as the pig suede upper. These Adidas skate shoes from the Busenitz series also have nylon overlays, a canvas tongue, and lining made up of breathable mesh.
Designed for the riding style of Dennis Busenitz, this model is also geared towards lifestyle use. It has a tough patterned gum sole that offers superb grip on and off the board. Meanwhile, the serrated Three Stripes branding is color blocked to boost the sneaker's modern appeal.
There is a synthetic patch at the heel for additional styling and durability.
It comes in a Cream White color with red and blue details and a gum outsole.
It has a $100 price tag, offering value for the money.
The shoe is available in sizes 6-13 for men. This Adidas Busenitz model on feet reputedly fits narrow. Grabbing a half size up may be more optimal.
A brief history about the Busenitz kicks from Adidas
In 2016, Dennis Busenitz celebrated his 10th anniversary of working with Adidas, releasing such editions as the Adidas Busenitz RX in tribute. With the partnership lasting so long, it's clear that he and the brand are doing something right. Skaters and shoe lovers alike still love the shoes in the Busenitz collection, as they skate good and look good, with affordable prices to boot.
Even though Busenitz himself has been an iconic figure in the skateboarding world, he has remained to be something of an enigma. Apart from the interviews that he has done, little is known about the man's preferences when it comes to clothing and footwear. This air of mystery about him makes him an even more fascinating figure.
The Adidas skate program
It was skate photographer Bryce Kanights who first approached Busenitz for the Adidas Skate program in 2006. He was in charge of assembling a new skate team. The pair have been friends for some time. At the time, Busenitz had to be convinced by Kanights, as Adidas wasn't very popular for skating back then.
The brand was viewed as a big corporation at the time who was out to get the skate world. It was a stigma that slowly changed as time went by, enabling Adidas to become accepted in the sport.
Inspired by football
Busenitz was out to make a skate shoe with Adidas, and he turned to another sport for inspiration – football. As a kid, he played football a lot and always wore the Copa Mundial, an Adidas model that was first released in 1979. The name is Spanish for "World Cup." The result was the Adidas Busenitz Pro skate shoes.
According to Busenitz, he liked the way football shoes fit snugly, with a locked-in feel. He wanted to replicate it for a skate shoe. Although people were hesitant at first at the time, he and the brand pulled off the design with success.
People liked the design as it was different at the time. It was very notable for having a cupsole and a structure inspired by football. It was released at a time when most skate kicks were vulcanized, making it forever memorable and unique. This was later remedied with the release of such editions as the Adidas Busenitz Vulc and the Adidas Busenitz Vulc ADV.
Frequently Asked Questions
Where to buy Adidas Busenitz shoes?
Adidas men's skateboarding shoes, such as the Busenitz sneakers, can be bought at the different Adidas stores and outlets all over the world, depending on the availability. The brand also has various online shops servicing different countries. Many models are also available at such footwear sites as Zappos, Amazon, Nordstrom, and more.
Department stores, shoe retailers, and small sports and lifestyle stores could also carry kicks from the collection. As Busenitz shoes are also used for skating, they can also be found at skate or action sports shops, both in-store and online, including such websites as Tactics.
How to style the Busenitz sneakers from Adidas?
The classic skate appeal of Busenitz kicks, such as the Adidas Busenitz Vulc shoes, make them highly versatile and ready for street style. There are also a lot of colorways available for many of the models, enabling wearers to have more choices. Here are some pointers for everyday styling.
Wide-leg or straight-cut jeans, pants, and cargo shorts will emphasize the sneakers' timeless skate design. A t-shirt, sweatshirt or hoodie will complete the urban vibe.
The sports-inspired style of such models as the Adidas Busenitz Vulc RX could also be worn with athleisure clothes such as track pants or suits, sports shorts and shirts, and more.
These kicks could also be worn at parties or the office, where they could be paired with pants and a shirt.
How do the Adidas Busenitz models fit?
Adidas Dennis Busenitz shoes are offered in men's sizes, typically ranging from 4-14. While they generally fit true to size, some reviewers have found that several of the models run narrow or small. In that case, sizing up may be necessary.
It's best to look at the reviews for each sneaker to know more about other wearers' experiences with the fit. To find the best fit, one could also fit the shoe in person at a store.
What is the price range of the Adidas Busenitz collection?
Most of the sneakers in the Adidas Skateboard Busenitz collection are within the budget-friendly range, with prices set from $69.95 up to $84.95. Higher-priced models are still within the reasonably priced range, with rates of $100 up to $130.
Are there any tips to follow in taking care of Adidas Busenitz footwear?
Any footwear needs to be taken care of for it to last longer. The same principle applies to Adidas men's skateboarding shoes like Busenitz sneakers. Here are some tips on how to clean them properly and maintain their quality.
As most of the models in the collection are made up of suede or leather material, they can't be directly washed or applied with water for cleaning. Instead, a leather polish or a suede brush may be used to remove dirt.
Shoes with knit material, such as the Adidas Busenitz Pure Boost PK, can be gently cleaned with a solution made up of mild detergent and water. Apply the mixture using a bristle brush then use a piece of cloth to wipe away any remaining soap.
Air-drying is recommended for these kicks. Also, after using them for the day, it's best to air out the sneakers first before storing them to avoid any odor or moisture.
Machine drying and washing are highly discouraged.
Laces can be soaked in soap and water and then air-dried.
Knock the soles of the shoes together to shake out any dirt or pebbles.
Shoe trees can be very useful in maintaining the shape of the footwear.
Are Adidas Busenitz shoes popular?
Adidas Busenitz skate shoes are very popular among skaters. However, the kicks are also sought-after for casual wear. They are known for being durable due to the skate construction, and they are also offered at budget-friendly prices. Hence, these sneakers are popular for many types of shoe fans.
Even after more than a decade, the sneakers are still popular among shoe lovers and skaters. It's because the kicks are still known for offering excellent features for performance. They are also continually updated to fit modern innovations, such as the release of the Adidas Busenitz Pure Boost and the Pure Boost Primeknit.
Are there any well-known people who have worn Adidas Busenitz sneakers?
Adidas Busenitz shoes have been worn not just by skaters but by well-known figures in the entertainment industry as well. Music artist, producer, businessman, and style icon Kanye West was seen sporting the shoes in a burgundy colorway. Rapper Wiz Khalifa also wore a pair of white ones during a performance.
Where does Adidas manufacture Busenitz models?
The fastest and easiest way to find out where a pair of Adidas Skateboard Busenitz kicks were made is to take a look at the "Made In…" label. This is usually found on the back of the tongue or on the box the sneakers came in with.
Adidas, while a German brand, has long since outsourced its manufacturing process. The brand is known for having thousands of factories scattered in such countries as Turkey, China, India, Thailand, Indonesia, and Vietnam. This strategy has been employed by many brands to save on costs for production.
Is Adidas Busenitz footwear vegan?
As Adidas Busenitz models mostly have leather or suede materials on the upper, they are not vegan. The construction of the shoes also involves synthetic materials and processes that have not been noted as vegan products. In fact, many skate kicks are not known for having a vegan classification.
However, the brand has made efforts to commit to a sustainability program and has also been known for releasing vegan shoes in the past. In 2018, the brand collaborated with fashion designer and lifelong vegetarian Stella McCartney to release a vegan version of the iconic Stan Smith. The sneaker is made up of vegan leather.
Are Adidas Busenitz shoes good for skating?
Busenitz kicks are signature models designed by skater Dennis Busenitz himself. They are built specifically for his style of skating, which is why they have excellent grip and durability. Adidas Busenitz skate shoes have been lauded for their high-performing quality along with their stylish appeal. They are also laidback enough to transition into casual activities. Here are some more points that skaters have noted.
Skaters who tested Adidas Busenitz shoes on their feet reported that they had to be broken in for 4-5 days due to the stiff heel.
After breaking in, the kicks are said to offer an excellent fit and a supportive feel.
The blocky heel, in particular, was very useful for heelflip tricks.
They reportedly hold up really well and only show minor scuffing in high wear areas.
It was found to have a lot of support and protection for jumping down gaps or stairs.
Overall, skaters recommend Adidas Busenitz shoes for high impact skating activities, especially those that need more of a push for heelflips.
3 best Adidas Busenitz sneakers
Adidas Busenitz Vulc
Adidas Busenitz Vulc RX
Adidas Busenitz Pure Boost Primeknit
This shoe has recently been added to RunRepeat. There are still not enough reviews for us to assign it a
CoreScore
.
CoreScore
A score from 1 to 100 that summarizes opinions from users and experts. The average CoreScore is 78.
More...