Our reviews
If I had to pick the coolest logo of any sports brand out there I would have to pick Puma. Just by looking at it while wearing it makes you want to start running and jumping... it's timeless.
Puma is an old company with lots of history tightly connected with Adidas. It was founded by Rudolf Dassler who was an older brother of Adolf Dassler (founder of Adidas) after a family feud.
I highly recommend to all sneaker lovers to check out some interesting documentaries on this subject and also there are some interesting articles.
Now to get back to the subject, this is not my first pair of Puma running shoes. I had a pretty nice pair 10 years ago. I was impressed with their design and comfort in the heel area, the fit was great but the foot cushioning was bad.
It seems that for years Puma is struggling to produce a good running shoe. They always somehow fail. With this model, it's the same thing. Some parts are really good and others are not.
Puma just fails to catch up to the competition and I think that's really bad because of their long history and beautiful design.
This model is named Hybrid because they merged fashionable sneaker with a futuristic running shoe. Design-wise, they succeeded but performance-wise, they failed. So instead of a Hybrid, we can call them a mixed bag, depending on the price you pay.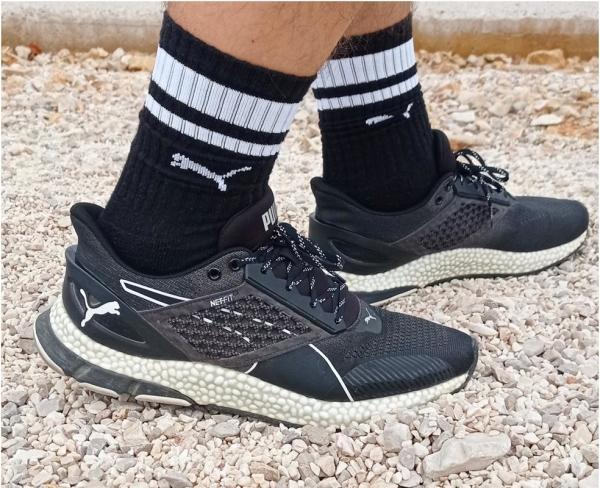 Design
Design is excellent and it is the biggest selling point of these shoes especially if you are a Puma fan.
It manages to combine retro elements with cool new features like sock-like construction and molded PU heel piece to keep the shoes stable and lock your foot in.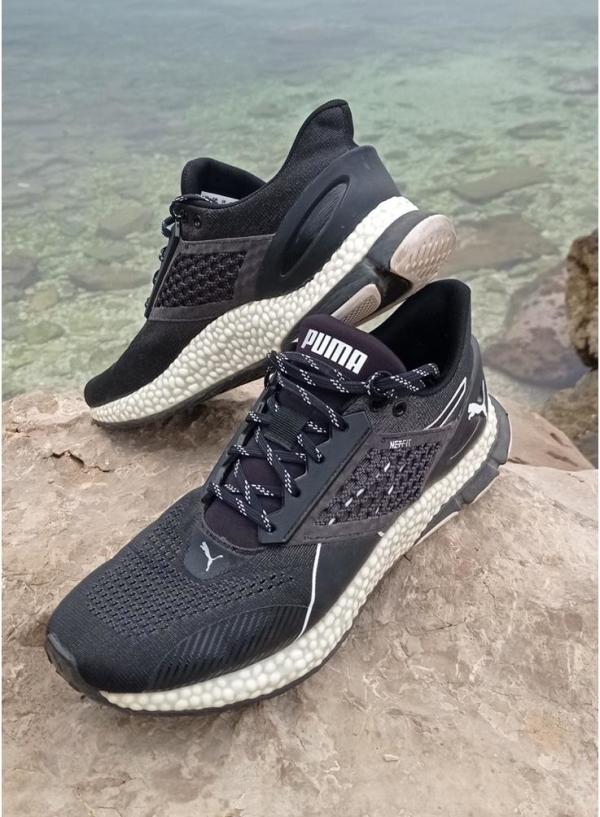 It's a sleek-looking shoe that looks good with sweat pants and jeans and can be used while doing daily chores, going to the gym, and running.
When it comes to design, it is opposite to the latest horrific trend of bulky, cheap-looking 90's retro shoes.
Upper
The upper is good but designers did not manage to combine fashion with utility, to simply put it they sacrificed toe room for looks.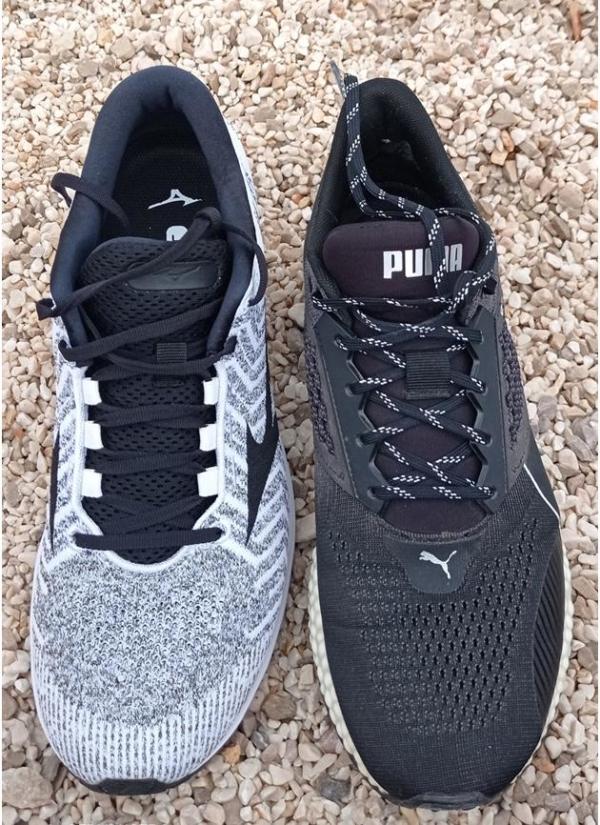 What I find great is the fact that the shoe has sock-like inner construction combined with Molded PU heel piece which solves the problem of locking your foot in.
What I don't like is the cramped toe box and the fact that it takes time to adjust the shoe to fit properly. I would say they are ideal for people who have narrow feet.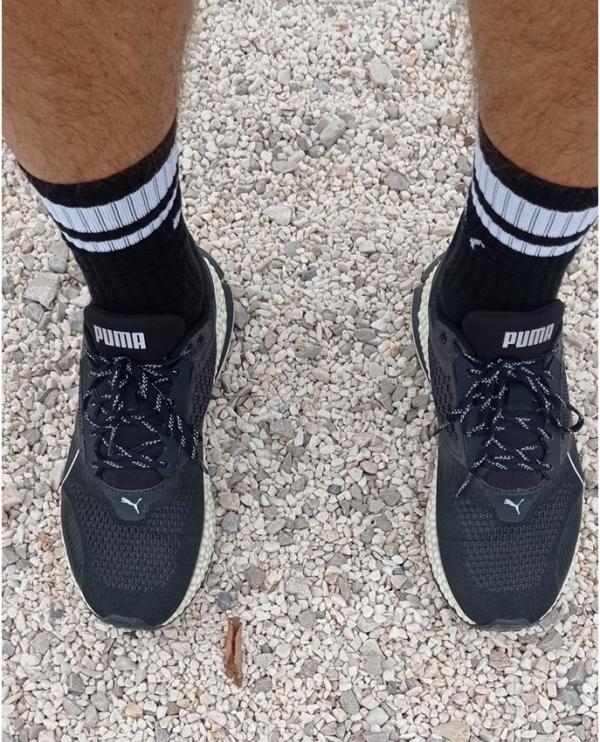 Sole
The sole is kind of disappointing. When you look at the pictures it seems like Adidas boost sole only softer but in reality it is not.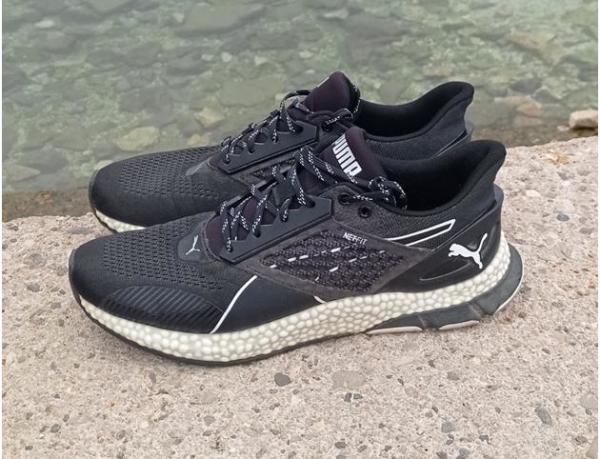 The sole is a mixture of beads and some type of foam that keeps them together.
It's good enough for exercising in the gym or casual walking but it is definitely not for running if you do long runs. There is not enough protection and rebound.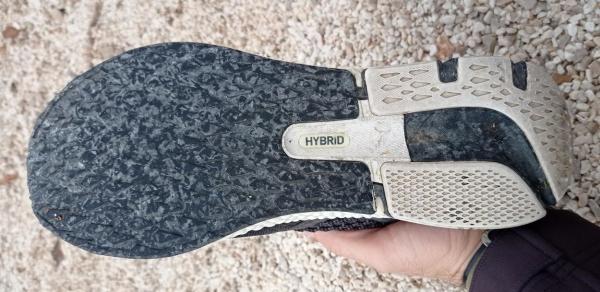 Fit
The fit is quite good but not good enough to take the shoe out of the box and start running. It took me some time to adjust them because they are narrow.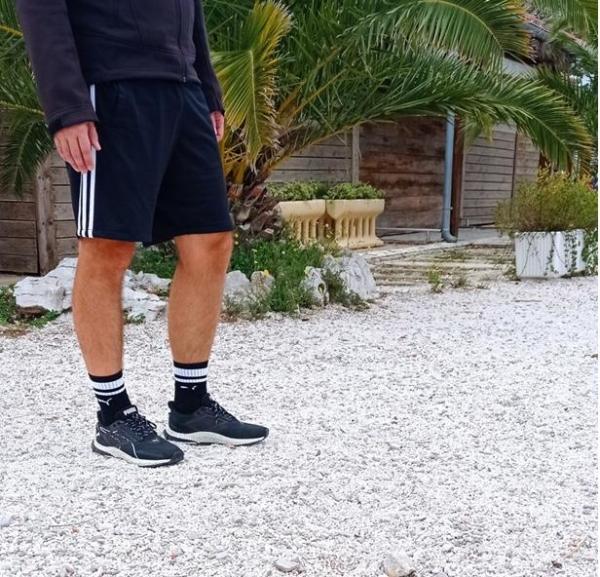 In theory, since they are like a sock and on the outer parts they have a plastic cage that locks your foot in they should have a great fit. Nike does a much better job in that area.
Geometry
Shoes have 10 mm heel to toe drop which works well. They do not take some special time to get used to.
I like the sock-like feel on any shoes but this model has a hard and unforgiving sole with a tight upper that causes pressure on the upper parts of the feet so all in all, it's not very good.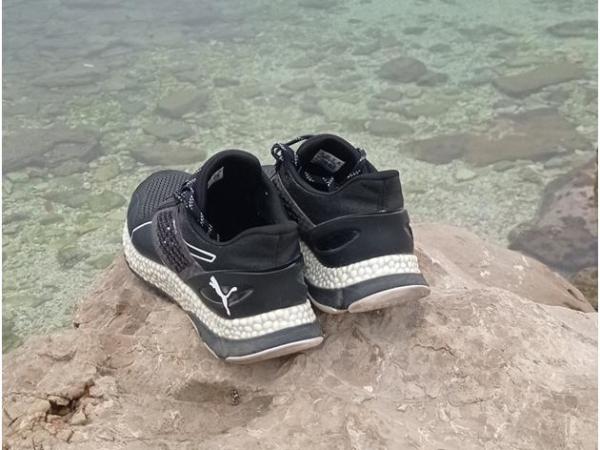 Price
These are nice looking high-quality shoes with great design and the price is more than fair if you get a discount like I did.
Pros
High quality
Price
Versatility
Design
Cons
Tight toe box
Hard sole
Weird fit that takes time to adjust
Conclusion
Puma Hybrid is a nice looking versatile shoe that is more of a looker than a performer.
If you need a shoe for short runs (up to 5k), exercising in the gym, or for doing daily chores that look great and doesn't cost much than these shoes are great for you but if you need something for a bit more serious running, I suggest you look elsewhere.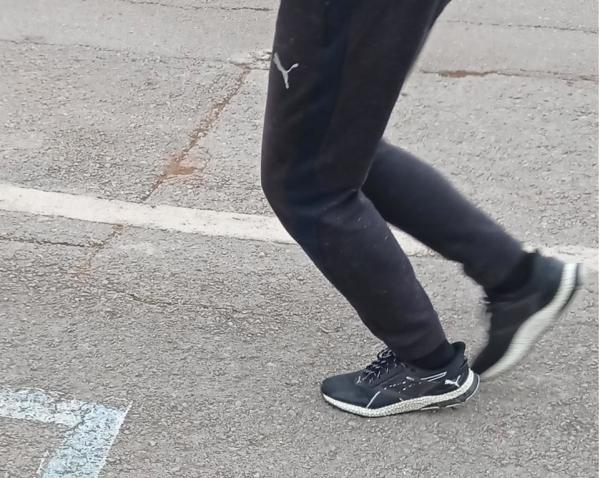 Puma Hybrid Runner v2: Basic, not boring
The exceptional performance of the original Hybrid Runner goes up a notch in the second iteration of this Puma running shoe. This version retains the "hybrid" midsole that combines two of their well-known technologies: the NRGY beads and the IGNITE foam.
Who is it for? The Hybrid Runner v2 works best with neutral pronators, as well as runners with moderate to high arches. Despite being available only in men's sizes, the Puma Hybrid Runner v2 is versatile enough to suit both men and women.
What is it for? This running shoe is perfect for everyday use. Its plush, comfortable cushioning also makes it suitable for marathons. In addition, the functionality of the Hybrid Runner v2 extends beyond running, as it is a remarkable casual wear.
Puma Hybrid Runner v2 vs. Puma Hybrid Rocket Runner
One of the most popular shoe models in the Hybrid collection of Puma is the Hybrid Rocket Runner. While both running shoes feature the unique composition of NRGY and IGNITE in the midsole, they do have significant contrasts:
While the Hybrid Runner v2 comes in a traditional shoe structure, the Hybrid Rocket Runner features a deconstructed platform. This might be more appealing to wearers who want more flexibility in their step.
The Hybrid Rocket Runner is a slip-on shoe, but it has two sets of laces that run across each side of the shoe, aiming for a more secure hold. Meanwhile, the Hybrid Runner v2 retains the classic lacing system to support the foot from the upper.
Compare popularity
Interactive
Compare the popularity of another shoe to Puma Hybrid Runner v2: