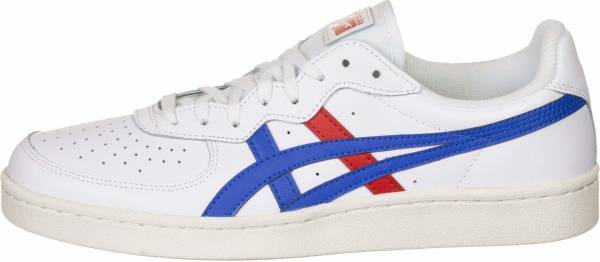 The Onitsuka Tiger GSM low-top sneaker is an old school tennis classic spun with modern touch ups. Those who are craving for authentic vintage footwear for daily wear or dressy affairs are captivated by its high-quality leather and velvety suede options. The sneaker has a go-to style that's breathable, flexible, and ideal for year round use.
---
Verdict from 100+ user reviews
10 reasons to buy
Compared to the Rotation 77 sneaker, the Onitsuka Tiger GSM has more space in the toe box.
The perforated front and sides deliver added breathability and keep the feet cool inside, state some people.
A couple of reviewers think that the Onitsuka Tiger GSM is underrated yet it's classy and comfortable.
The nubuck suede material used on this sneaker is of premium quality, some have noted.
Several consumers have shared their happiness that this sneaker lasts a long time.
Many reviewers have given a five- star rating to this sneaker as it is good value for money.
An interesting shoe with awesome retro styling that blends well with jeans and shorts.
Easy to match with a casual garb that some buyers have opted to include this in their sneaker rotation.
This sneaker is perfect for everyday use, many have stated.
Its rubber outsole offers a good amount of flexibility.
2 reasons not to buy
The tongue on the Onitsuka Tiger GSM slips to the side all the time, a reviewer has complained.
Not as durable as its vintage versions, a few reviewers have noted.
Bottom line
The Onitsuka Tiger GSM low-top sneaker is an old school tennis classic spun with modern touch ups. Those who are craving for authentic vintage footwear for daily wear or dressy affairs are captivated by its high-quality leather and velvety suede options. The sneaker has a go-to style that's breathable, flexible, and ideal for year round use.
Best price from 50 shops
We earn affiliate commissions at no extra cost to you when you buy through us.
79% say it's true to size.








Size and fit
The low-top Onitsuka Tiger GSM is built with a customary lace-up feature with eyelets forming a unique wavy stroke. The flat laces can be loosened or tightened up depending on one's desired fit. The lining is either made of soft fabric or smooth leather that's moderately cushioned. The tongue is also fairly padded, which remits comfort on top of the foot.
Since this sneaker is either made of leather or suede, it tends to feel narrow in the beginning. Thus, it requires some break-in time. Inside is a full-length cushioned footbed which increases the level of comfort under the foot.
Onitsuka Tiger GSM Style
New trends emerge every season, but one style persists to have a continual positive effect among consumers. It's the vintage look. The spending public nowadays has become accustomed to seeing obscure designs, particularly in sneakers, resurfacing with a splash of modernity. This is relatively the objective of the Onitsuka Tiger when it formulated the Onitsuka Tiger GSM, a reflection of the 1982 Lawnship Prestige tennis sneaker.
The strict dress code in tennis during the 1980s pushed brands to adhere to the standard all-white tennis shoe, free of any colored embellishments. Such modest look is replicated in the Onitsuka Tiger GSM where its colors are made in monochrome or dual tone. This recalibrated mold is cloaked with layers of leather or suede, or both. Some of its varieties are made with white sole while the rest took advantage of grippy gum sole.
Styling up with this vintage shoe is uncomplicated as there are over two dozens of color combinations available. As with any classic court style sneaker, this one puts a classy tone to a pair of straight, cropped, or tapered denim harmonized with crisp polo, monochromatic tees, or turtleneck top. Its strong palette options are suitable for spring, fall, and winter seasons.
Notable Features
A mixture of class, function, and comfort is the winning approach of the old-school tennis silhouette, billed as the Onitsuka Tiger GSM. The use of leather and suede on the upper alludes to a sense of sophistication, which makes this sneaker appropriate for dressier styles or for upscaling one's look above the typical casual getup.
The quality of materials and manner of assemblage is well-thought-out and well calculated that users can't help but be amazed with the kind of comfort it gives their feet. Onitsuka emphasized comfort and breathability in the low-top Tiger GSM by applying micro holes on the forefoot and sides and by adding sufficient padding around the collar, under the tongue, and on the footbed.
Onitsuka Tiger GSM History
Onitsuka Tiger is one of the top-of-the-line brands when it comes to performance footwear since it stepped into the game in 1949, founded by Kihachiro Onitsuka. Onitsuka Tiger's products, which echoed high-quality Japanese workmanship, was adored not only by local athletes but by professional sportsmen from neighboring Asian countries and across the Pacific as well.
In the 1970s, Onitsuka Tiger grew larger and transformed into ASICS Corporation. The grander enterprise, particularly formed in 1977, is an amalgamation of Onitsuka Co., Ltd., sportswear label GTO Co., Ltd., and knitwear maker Jelenk Co., Ltd. ASICS continues to embody the brand's philosophy and rich heritage by producing technical footwear that matches the specifications and needs of athletes from various categories.
The demand for the familiar vintage cuts pushed the brand to re-launch the Onitsuka Tiger back in 2002, with greater concentration of its products leaning towards fashion footwear, while the active performance line were left with the ASICS brand.
Classic silhouettes were refashioned and retooled, which paved the way for the reintroduction of its most recognizable models utilizing new materials, colors, textures, and cuts. Recently, Onitsuka Tiger revisited its 1980s archives, pulled out an inspiration from its vintage match court classic, and retailored it into a fashionable footwear to address the desires of the brand's loyal supporters.
The Get Set Match
The completely overhauled model, branded as the Onitsuka Tiger GSM (short for Game Set Match), is made to look smart and fresh using modern niceties while maintaining hints of an authentic old-school tennis shoe.
The reimagined version was drawn from the innovative Lawnship Prestige tennis veteran from 1982, which had a cup-shaped toe and heel and supportive cushioning on the arch. This was the first tennis shoe in the Onitsuka Tiger's vault that received an EVA foam for its midsole.
In reference to its tennis roots, the low-top Onitsuka Tiger GSM preserves the original version's modest DNA with a few tweaks to make it more useful as an everyday wear. Its façade is made of different hues which are not too showy and flamboyant, conserving its authentic classic form using Nubuck and leather.
Additional Info
This 1980s tennis-inspired Onitsuka Tiger GSM low-top sneaker is available in a variety of colorways.
Those made of polished rawhide covering are complemented by smooth leather collar lining, while the nubuck suede GSM varieties have soft terry collar lining.
In 2016, Onitsuka Tiger and Packer collaborated for the launch of Onitsuka Tiger x Packer GSM. This sneaker, which is a throwback of the vintage court classic Lawnship, was unveiled in time for the 2016 US Open Tennis Championship.
The Japanese sneaker brand teamed up with Copenhagen retailer for the launch of Onitsuka Tiger x Naked GSM "Cotton Candy" in 2016. This refreshing feminine sneaker is covered in light pink and white fabric with a touch of the 1980s summer vibe.
Rankings
How Onitsuka Tiger GSM ranks compared to all other shoes
Popularity
The current trend of Onitsuka Tiger GSM.