On Cloudventure Waterproof review
The Cloudventure Waterproof is the latest top-of-the-line trail shoe from On Running. It is somewhat of an anomaly having a stiff and at times unforgiving ride with little of the cloud-like cushioning the brand is known for.
Nonetheless, it is a hardy trail shoe with good rock protection which performs best on softer ground particularly on ascents and downhills.
You know the type of advert where a well-groomed architect steps out of a mid-century modern house into a German engineered car before driving up a twisting road to a grassy mountain pasture for a quick 20k before breakfast?
Well, he's wearing a pair of On Running Cloudventure Waterproof trail shoes, and you can bet he didn't pick his matching running gear off the floor and give it a surreptitious sniff before putting it on for a second day.
The Cloudventure Waterproof looks classy
The attention to detail puts other shoe manufacturers to shame and will make the sort of people who post unboxing videos on YouTube get their knickers in a twist. For instance, an asymmetrical gully lacing system comes complete with a metal eyelet which echos the brand logo.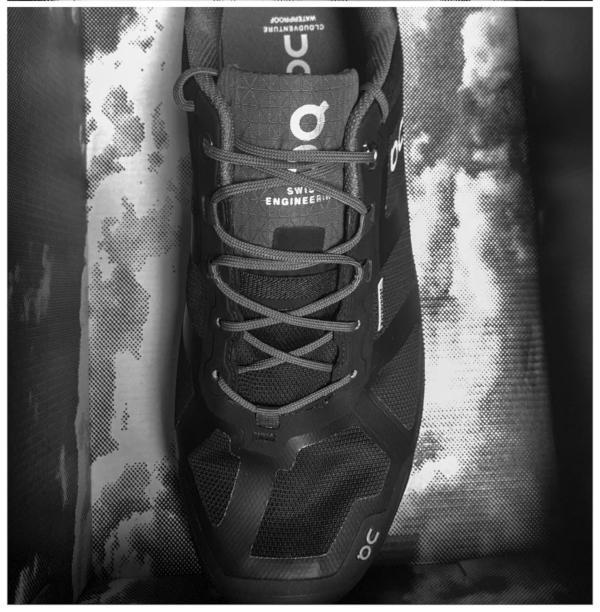 Thin laces
These laces are however very thin, and although I had no breakages, they don't inspire a lot of confidence. Due to their nature, they are difficult to cinch tight, especially with cold or gloved hands. It is hard to get a good tight fit without the lacing feeling uncomfortable across the top of the foot, something that is exacerbated by the thin tongue.
I love the gusseted tongue
Nonetheless, the gusseted tongue successfully keeps debris and water out. On Running use a membrane within the shoe's upper rather than an external coating to ensure a waterproof finish. My highly scientific test of standing in a mountain stream for 3 minutes can attest to its effectiveness.
I am however in two minds about waterproof shoes as once ankle deep, water seeps in over the top and the shoes hold it inside. The Cloudventure does come in a non-waterproof version, so the choice is yours.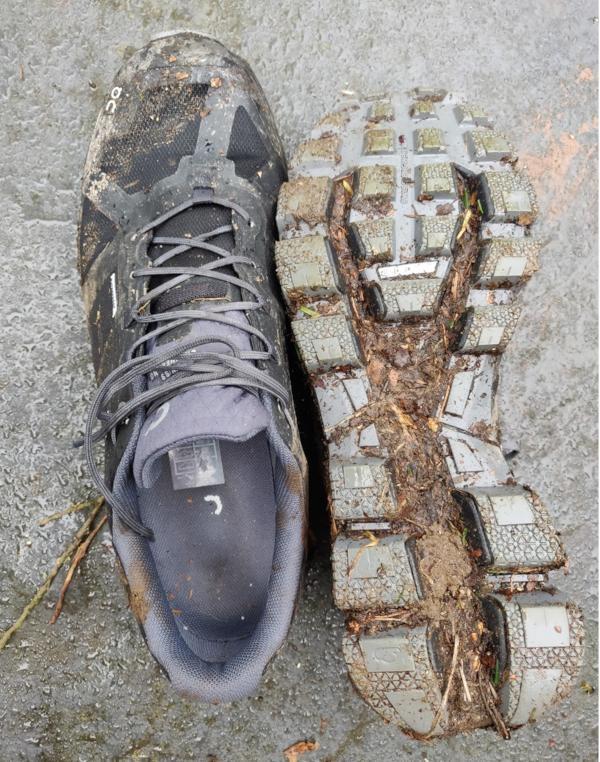 Waterproof without compromising breathability
The upper is a two-layer mesh which I found to be breathable especially given the excellent waterproofing.
On Running suggest that their shoes don't correct your movement instead the sole reacts to your running motion, I'm not sure I agree but suffice to say the upper is supportive and the arch support is well placed.
The Cloudventure Waterproof is marketed as a "lightweight" trail shoe, however at 385g for my UK 9.5 (US 10, EU44) they are far from it. This is over 10% heavier than the waterproof version of the Brooks Cascadia, a sturdy workhorse of a shoe and 20% more than the high spec, the Innov-8 Roclite 315 GTX.
Roomy toebox
Good looks count for very little in trail shoes if they don't fit well. Unfortunately, this is where the problems begin.
First the good news, the toe box is surprising wide with plenty of room to splay out your toes. There is a sturdy toe bumper that affords excellent protection against rocks and roots on even the toughest trails.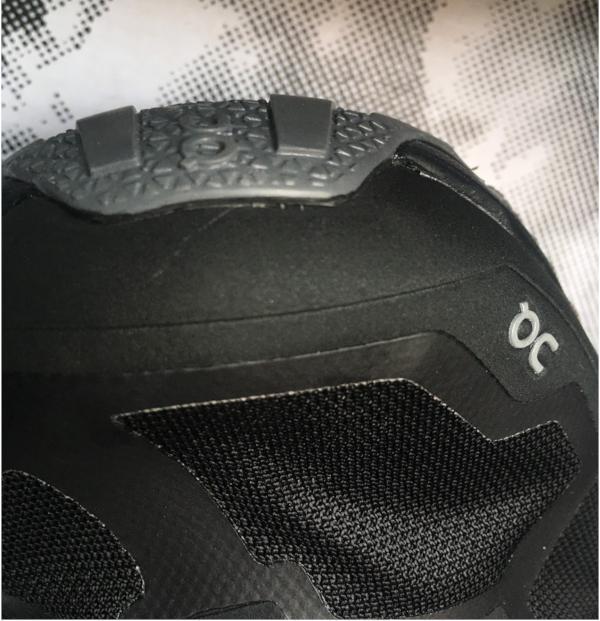 Loose fit in the Cloudventure Waterproof
On Running have a handy chart on their site to find the right sizing based on other running brands. Despite this, I found the shoes loose around the midfoot and more so the heel. It's difficult to pull the lacing in tight enough to address this. Even with heel lock lacing my foot was moving about especially on uneven terrain.
Heel collar feels very stiff
The heel collar although seemingly moderately padded is very stiff, as is the heel counter and area around the Achilles. This caused considerable discomfort, especially when running on a camber or if the ankle rolls (more on this later).
I had to cut a number of runs short due to ankle and heel pain and blisters on the Achilles. In the end, I admitted defeat and took a few days off to recover. Now, this may just be me, and although I'm usually pretty hardy, I had problems with the similar Salomon Speedcross which was generally well-received.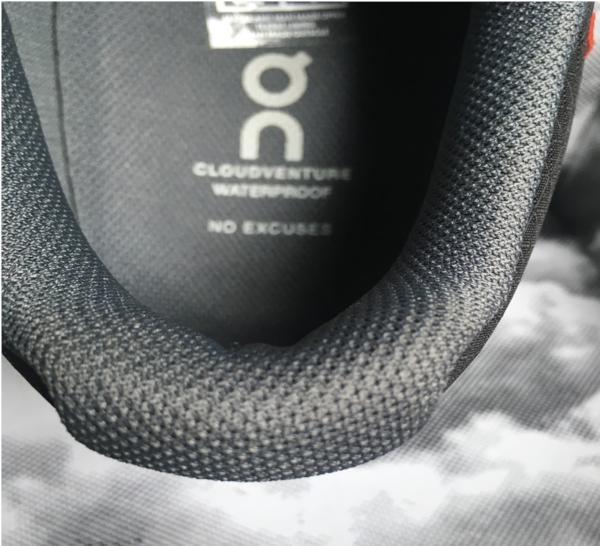 Midsole and outsole
The previous iteration of the Cloudventure Waterproof had issues with the longevity of the Cloud Pods. There are pictures online of them shredded after only a few runs. On Running seem to have taken this feedback on board; the outsole has been completely rethought and beefed up.
The pods are much more substantial; I would be very surprised if you could destroy them. This seems a departure from the original 'Cloud-Tec' system whereby the pods compress then lock into the midsole with each foot strike. Instead, the Cloudventure employs Zero Gravity Clouds with the midsole extending into the pods making them much less compressible.
The midsole lies over a "liquid-injected plate of thermoplastic polymer" something On-Running call a speedboard, essentially this adds stiffness, providing a propulsive springboard effect as well as good protection against rocks.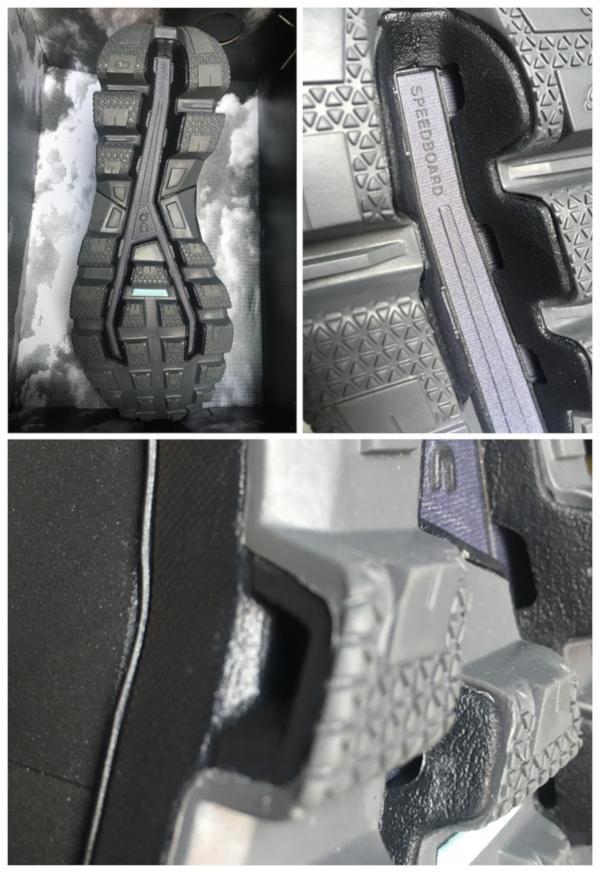 Even allowing for the central cut out channel, the sum product of all this 'engineering' is a heavy inflexible shoe which lacks any of On-Runnings trademark cloudlike cushioning. The Cloudventure seems at odds with their whole philosophy of adaptive, responsive shoes.
A trip to my local running shop to acquaint myself with the rest of On-Runnings range confirmed this anomaly. All their other shoes are light, flexible yet springy.
The surface of the outsole is covered in "Mission Grip." A tiny triangular 'micro-engineered protrusions made of sticky rubber. This provides good grip on smooth and loose surfaces although was somewhat lacking on a wet stone.
By 20km, I was already seeing some wear with the surface flattening off. This seems a common occurrence in softer stickier rubbers.
Fast on soft, even terrain
On a positive note, the stiffness and torsion of the midsole excel when ascending or descending especially in soft mud where it provides a firm platform to push off against. This lends itself to faster running on soft, even terrain.
On harder surfaces, however, I found them to be very unforgiving. This is bad news for those of us that combine a stretch of road running to get to the trails.
The arrangements of the pods provide a deep, stud-like grip. Again, this is good in the mud; however, the zigzag central channel and pods quickly clog up with muck and debris which doesn't disperse easily.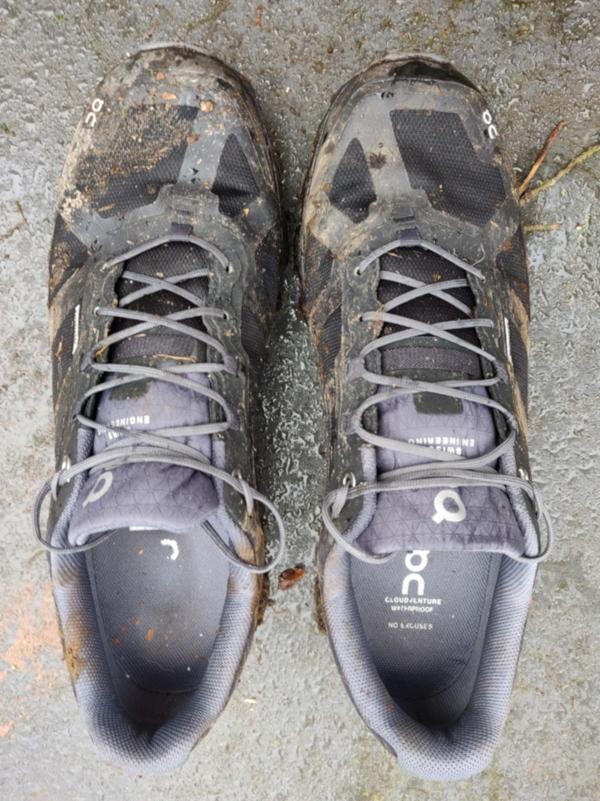 The heavily structured mid and outsole distinctly lacks a ground feel. Consequently, a misstep can cause the ankle to roll. In a more flexible shoe, I would have been able to correct this, instead of the stiff heel collar of the Cloudventure jams into the malleoli or Achilles.
Obviously, On-Running isn't going to dispense with the USP of their novel mid and outsole but if anything the modifications made to improve durability render the Cloud Tec more hindrance than a help.
You're left wondering whether this shoe would perform better with a traditional mid and outsole, why reinvent the wheel? All this engineering will set you back £150 which puts the Cloudventure firmly at the top end of the market.
I tested the On Running Cloudventure Waterproof over 50+ miles in the Snowdonia National Park including some night running on the wonderful trails shown above.
Compare popularity
Interactive
Compare the popularity of another shoe to On Cloudventure Waterproof: