Verdict from 9 experts and +100 user reviews
5 reasons to buy
Various consumers were amazed at how lightweight yet cushioned the On Cloudrush
The upper had a glove-like fit, according to many commenters.
Some users thought the midsole was responsive.
One reviewer said the Cloudrush was the fastest shoe they have ever worn.
The CloudTec pods worked well in enabling a soft landing and an energized toe-off, a runner stated.
4 reasons not to buy
A few reviewers thought the shoe did not look durable and felt that it might not withstand long runs.
The Cloudrush was not as comfortable as it claimed to be, a customer said.
One runner mentioned it was too firm despite the CloudTec pods on the outsole.
Another user reported suffering from foot fatigue after wearing the shoe for an entire day.
Bottom line
The On Cloudrush received mixed reviews from consumers. Many were satisfied with the performance of the shoe, and some were impressed with the features. However, there were a few complaints regarding the comfort. Overall, the Cloudrush proved to be a reliable footwear that delivered a responsive ride and efficient technology.
Tip: see the best running shoes.
Our reviews
I've been doing a lot of road running in On shoes for the past 12 months and was seeking a race shoe alternative to the Cloudflash, a great shoe that I've had significant sole durability issues with.
The combination of 220g/7.8oz in sample size (UK 8.0/US 8.5) and 5mm drop looked like it would work well for me, but more importantly, the heavier duty Rebound Rubber used on the Cloud Pods was very appealing considering sole issues previously.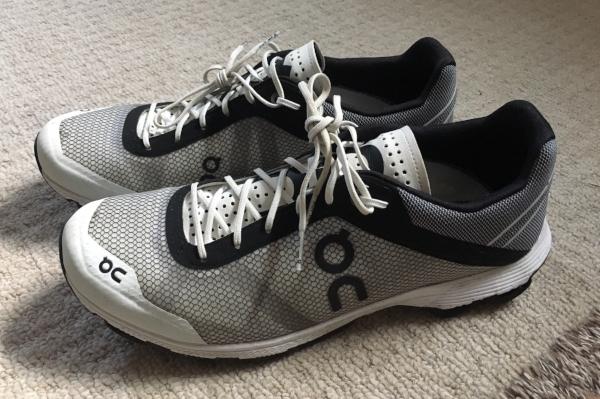 The following review is based on 65 miles of running. This includes two 5km parkrun events (low 6:00 min/mile pace), a 12.1m club relay leg on an undulating course (6:30 pace) and a mixture of speed sessions including tempo runs and short hill intervals — all mileage on roads or pavements.
Fit
I typically wear a UK 8.0, and the sizing is perfect. Despite the sleek, lean profile of the shoe, there is plenty of room for toe splay and to account for foot swell over longer runs.
The upper is lightweight and clean; as someone with slightly wide feet, I find the fit is accommodating but secure. There's a slightly heavier black overlay that the laces run through; it gives a great hold and hasn't caused any hot spots.
The mesh layer that covers the majority of the upper has proved sufficiently durable for road running and reminds me a lot of early versions of the Salming Distance (which had a super durable upper in my experience).
Midfoot and heel lock down very well with no sensation of pinching or heel slippage. Note that I use the lock lacing method with most of my shoes, including the Cloudrush.
Performance
Coming from the Cloudflash (which weighs 10g lighter), I was curious to see whether I'd notice this when running at pace.
After putting the shoe through a range of events and paces – from short hill intervals up to a 12m undulating relay stage, ranging between 5:00 to 7:30 min/mile pace, I've not noticed the extra weight, and it certainly hasn't compromised performance.
For anyone unfamiliar with the way On construct their shoes, they use a firm plate ('Speedboard') that runs from heel-to-toe through the midsole. This gives the shoe a smooth, sharp, responsive feel.
But to keep that Speedboard from becoming too harsh and abrasive (particularly during longer runs or at a lower intensity) the Cloudtec midsole (those pods on the bottom) balance out the ride by locking together on ground contact for a soft impact, and firming up on toe-off to power through the stride.
As a distance racing shoe, I feel like On got the balance just right on the Cloudrush. It feels very fast and smooth at a range of paces with enough cushioning underfoot for longer runs or races.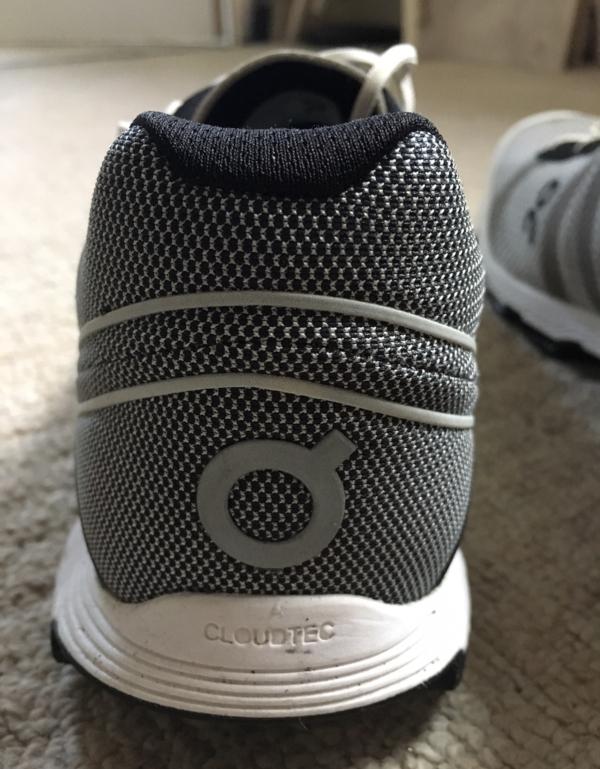 If you have less experience with firmer shoes or generally prefer softer shoes, I'd advise taking your time to build up the distance.
Although I believe they are sufficiently cushioned enough to handle up to a marathon, they may feel overly firm at even half that distance to someone who has run in shoes with a softer midsole (e.g. Adidas Boost or Saucony Everun). There are no stability elements or medial posts in the shoe, but a non-intrusive heel counter does provide some structure to the rear of the shoe.
The bottom of the shoe consists of 18 cloud pods. Rather than the Zero Gravity foam that has been used in most of On's more recent offerings, the Cloudrush uses the older Rebound Rubber pods.
It's a slightly heavier and firmer feel, but it gives the shoe a bit more response and (more importantly) a lot more durability (more on this later). The 18 pods are arranged in three columns rather than two, which I feel gives the shoe a smoother, more balanced transition.
One of the criticisms some people have with On's design is that the channel that runs through the middle of the sole can pick up rocks and gravel easily and that you can sometimes 'feel' the pods underneath your foot in a negative way (as in harsh or abrasive).
Having three columns of pods reduces the size of this channel so you're not going to collect debris as easily, and three columns of pods make the sole feel a bit more 'traditional' if you're concerned about feeling each individual pod under your foot.
Durability
See photos of the Cloudrush after 65 miles below. My first pair of Cloudflash after 185 miles and my second pair of Cloudflash after 63 miles (mud on both Cloudflash photos from easy cool downs on-field post-racing).
These images, particularly the Cloudrush at 65 miles and the second Cloudflash at 63 miles, to me, illustrate the superior durability of the Rebound Rubber.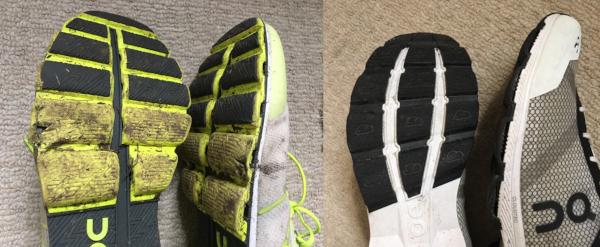 Shoe wear is such an individual thing and can factor in stride, body type, and the surface you're running on (to name but a few). I tend to land around the middle of the foot as you can see on the photos, but the difference in durability here is huge.
For a pair of racing shoes, I'd expect to get 300 miles before any significant wear or breakdown. It's still early days, but the state they are in after 65 miles gives me a lot of confidence that I'll get fair wear from them.
All other elements of the shoe – upper, laces, etc. – are holding up great. Considering this is designed as a road racing shoe, I won't be taking this off road so can't envisage any scenarios that would see the upper taking a battering.
Any other highlights? Any other issues?
My first use of the shoes caused a minor, low irritation blister on the arch of my right foot. Keep in mind that (stupidly) this first use totaled 18 miles, including a progressive 6 miles starting at 6:44 pace and finishing at 6:24 pace.
I've not had any issues with blisters or skin irritation in the slightest since then. This includes a couple of very warm 5kms and the 12m relay leg that was in very rainy conditions: wet and sweaty socks but no issues after that initial use.
What is this shoe best suited for?
I'd recommend it primarily as a racing and speed work shoe. For most people, the sweet spot is probably going to be 10km to a half marathon. I'd need more time in the shoe first, but it will be a consideration for my next marathon.
You'll want to keep it on the roads (or for track workouts). It grips tarmac really well, flat or undulating, wet or dry. At a push, firm forest paths and trails will be fine. Stay away from excessively gravelly paths (you'll pick up a lot of it) and very wet and soft surfaces (you'll have no traction).
Pros
Fast, smooth, responsive
Signs suggest it will prove durable for a speed shoe
Cons
Some may find it a touch heavy for shorter races, or a touch firm for longer races
Only one colour option
So lately, I've been very cautious and careful in selecting the right pair of running shoes for me.
I recently suffered from ITBS due to (2) reasons – Reason #1, Lack of Training (HAHA guilty as charged) and Reason #2, the running shoes I used for my half-marathon run.
A little stretching and rest got my ITBS settled down. However, finding the proper pair shoes was yet another challenge.
Luckily, a friend mentioned purchasing a new pair of shoes (ON-Cloud), he said it felt amazing and he had that extra spring. So here I am, with my own pair, trying to find out if it's really like "running on clouds".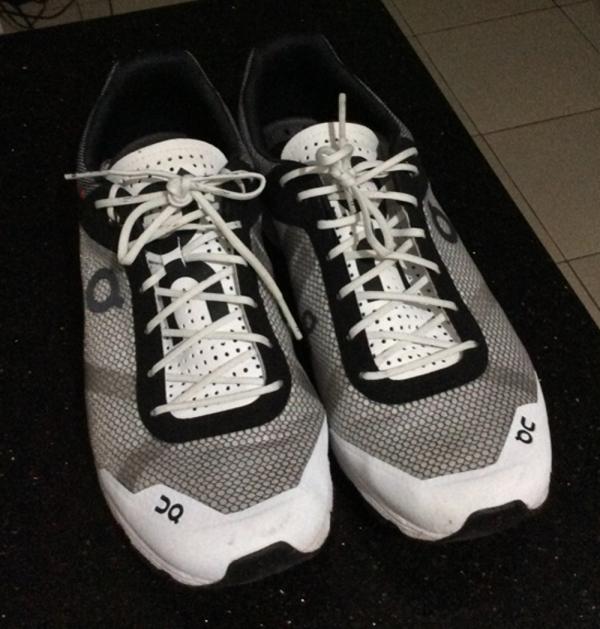 Colorway & Design
At first, the On Cloudrush looked like I was wearing a pair of golf shoes with the basic color of black & white. However, after actually wearing it with my running apparel, I must say the simple color-way kind of works with whatever you wear.
The Achilles & Collar Heel
This part actually varies based on the kind of socks you wear. I usually wear ankle socks, but I'm not totally against wearing mid & high socks.
During my initial run, I used a pair of ankle socks and had blisters starting on the back of my Achilles heel within the first 3km. A simple remedy for this was for me to switch to a higher length of socks.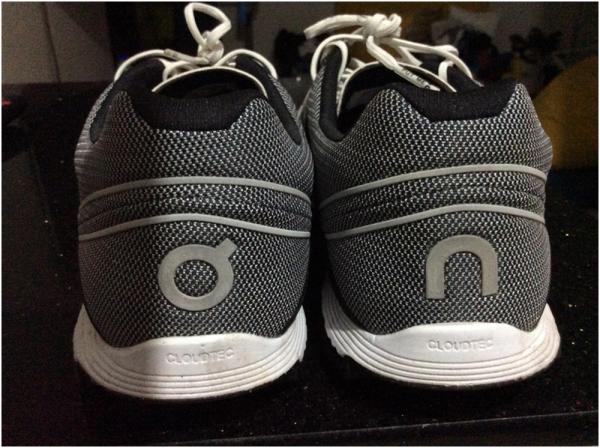 The Outer Sole
This was the so-called "Speedboard" or "Cloudtec' – this is where that spring comes into play. I must say, the product does not disappoint.
At first, I was skeptical and figured it might just be a placebo effect of marketing it as "running on clouds" but based on how it felt, I must say, running with these shoes felt pretty darn good.
It gave me an extra bounce during those uphill climbs and the cushioning was pretty good.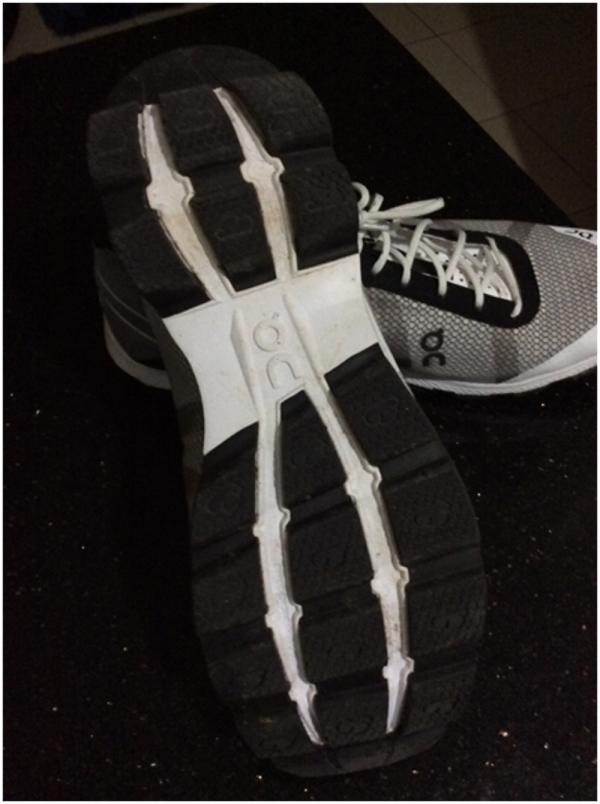 The Technology
So from the outsoles, it was these small multiple bumps that served key to that so-call "spring-like" bounce or effect.
My foot's landing felt good and well cushioned and my lift felt better than most.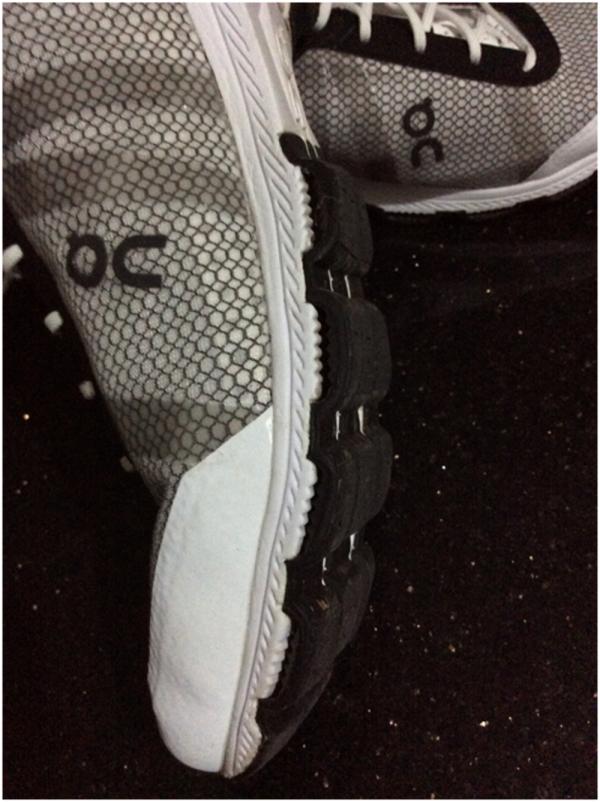 Pros
Design is pretty good & easy to pair with your running outfit
Light weight
CLOUDTEC – yes there's an extra bounce to it
Cushioning is great
Cons
Easily gets dirty ( Only 1 colorway for now)
Feels like there might be durability issues in the future
Must wear higher length of socks
For Triathlon races – the laces may become a problem
Price
Overall
I'd recommend purchasing the On Cloudrush if you had the budget. It's a good pair of running shoes and I've used it during one of my sprint events and it did not disappoint.
I love the shoes and I'm definitely a fan ON Running shoes after my experience with the Cloudrush.
Good to know
Inspired by a previous shoe – the Cloudracer – the Cloudrush was released by On as a gear that is not just for competitive racing, but also for road running and interval training. It features a variety of elements that were well-received in the Cloudracer, as well as improvements based on consumer feedback.
The On Cloudrush is ideal for well-trained runners who want to improve their technique and speed. It will fit best on neutral pronators, or runners who have a medium to high arch.
Made from thin, lightweight mesh, the upper supplies ventilation that assures maximum breathability, even during the hottest running day.
The midsole and outsole feature the On's signature design, including the CloudTec elements. These are EVA pods that supply adequate energy with each stride.
The On Cloudrush has a standard running shoe length and a variety of sizes available. The forefoot and midfoot construction will fit best for runners with a low to medium foot volume. Width profiles for both men's and women's versions are in medium.
The outsole of the On Cloudrush features a unique layout, which is an EVA layer that has a structure of 18 hollow pods, called the "CloudTec Elements." These pods compress upon ground contact and release energy at toe-off. This CloudTec element is also integrated in the On Cloud road shoe and all running shoes from ON.
There is a gap in the midfoot area, directly under the arch, that prevents the outsole from becoming full-contact with the ground. This is following the notion that having less surface area means less chances of deflection; therefore, there is a better concentration of energy on specific areas.
The midsole boasts an exceptionally slim design made from high-grade EVA. It is lightweight yet packed with features. It aims to deliver a dynamic stride by adapting to the running style.
Speedboard, a thin Pebax lining, is also present in the midsole. It works by helping the runner adjust accordingly with the pace.
The Cloudrush comes in a single colorway of black, white, and silver, and this permits the shoe to remain simple yet a standout. The upper is emphasized with reflective elements to enable visibility in low-light conditions.
The upper is made of lightweight mesh material which guarantees adequate air circulation. It keeps the foot cool, dry, and free of moisture.
There are exoskeleton strips that provide support and structure as they keep the foot secure.
The padded heel collar prevents the foot from slipping out of the shoe. It also protects the skin against abrasions.
An inner sock construction allows the runner to wear the shoe barefoot, without the risk of blisters, pressure points, or any other possible injuries.
Rankings
How On Cloudrush ranks compared to all other shoes
Popularity
The current trend of On Cloudrush.