Who should buy the Ocun Ozone QC
The Ozone QC has enough tricks up its sleeve to supply confidence in a variety of climbing scenarios. It is a solid option if you:
Prefer a climbing shoe that promises laser precision in pockets and on edge-type projections.
Prefer a climbing shoe that has a sticky yet responsive outsole.
Prefer a climbing shoe that is mainly made for intermediate senders.
Ocun Ozone QC notable features
The Ozone Qc is Ocun's response to the demands of senders who are part of the modern competitive scene. It promises laser precision in pockets and on edge-type projections.
It comes with two notable technologies—Vibram XS Grip and 3-Force. The former is the shoe's sticky yet responsive outsole. The latter, on the other hand, is Ocun's own randing tech, which reinforces the shoe's forefoot zone, all the while providing extra support at said region.
The Ocun Ozone QC's Profile
Downturn. This climb-specific piece has a highly downturned toe box, making it an aggressive rock climbing shoe. Heavily downturned offerings like Ozone QC favor barely-there footholds, the likes of which include crystals, micro-edges, and nubbins. Precision is one of the top highlights of kicks under this category.
Applications. The Ocun Ozone QC is mainly made for intermediate senders. Sport, trad, and bouldering are the types of ascents for which it was built. As it is an indoor-slash-outdoor climbing shoe, it may be used on man-made surfaces and rocky terrain alike.
Fit
The Ozone QC is a below-the-ankle rock climbing shoe for men and women. As a unisex offering, it requires female climbers to go down one full size from their actual street size to get a snug fit. Its toe box favors climbing enthusiasts with the Egyptian toe type—those whose digits taper starting from the big toe.
It has a high asymmetry, which means it will leave the foot in a bent position inside its confines. Stretch-wise, the shoe in question does not offer much. Its hook-and-loop closure promises a highly personalized fit.
Excellent surface traction
The Ocun Ozone QC is equipped with the Vibram XS Grip outsole to grant users ample surface traction where needed. Its engineers gave it a split construction for added mobility. This sticky rubber component is 4 mm thick.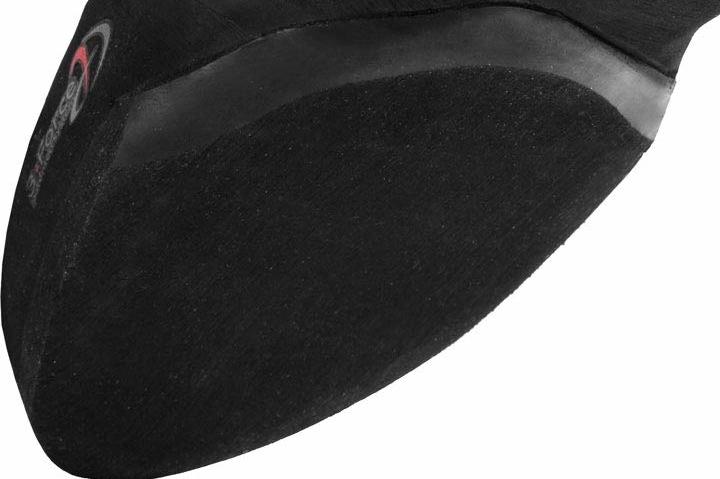 Excellent underfoot support
This aggressively downturned rock shoe comes with a proper midsole, called 3D Fit. Its rigidity translates to giving the wearer a supportive platform, particularly on ledges.
Easy to wear
The Ozone QC's synthetic upper is mainly made of microfiber. It has a perforated tongue for breathability. It also comes built with a pair of pull loops at the heel for on-and-off convenience.
Excellent heel-hooking capabilities
Its contact zones—heel, arch, and forefoot—are adequately randed to provide the wearer with enough upper-level friction, especially during hooking maneuvers. The 3-Force System doubles as the shoe's toe patch, which enables the climber to toe hook securely.
Adjustable closure system
Making the Ozone QC's upper come full circle is the rock shoe's Velcro closure. Two adjustable hook-and-loop straps and a pair of heavy-duty anchoring buckles make up its entirety.
Compare popularity
Interactive
Compare the popularity of another shoe to Ocun Ozone QC: