Who should buy the Ocun Oxi S
This aggressive climb-centric shoe is engineered mainly for sports climbing and bouldering. It comes with components that give wearers the ability to tackle steep overhangs and challenging vertical faces. It is both for indoor use and outdoor pursuits.
Who should not buy the Ocun Oxi S
The Oxi S is built with a highly downturned toe zone. Climbing kicks with this type of downward camber can get into slots with precision, as well as gain purchase on micro-edges with efficiency. If you are looking for a grippy, toe-hooking champ, you might also want to check the Scarpa Booster.
Updates to Ocun Oxi S
The Oxi S, the one-strap sibling of the

Ocun Oxi QC

, is aimed at climbers who need enhanced sensitivity in their steps. It promises improved mobility where hooking (both toe and heel) is a necessity.
This model has been revamped to keep up with the times and modernize its utility. Case in point: it now has an Ocun-owned outsole called CAT 1.5 for surface traction, replacing the old model's Grippin S outsole. It also now comes with a revised toe patch to give users an even more toe-hooking grip.
Fit
Ocun's Oxi S is a low-cut rock climbing shoe for men and women (unisex). Female senders are advised to go down a full size to get a snug fit in it. Its forefoot zone favors someone with an Egyptian foot type—a kind of foot whose toes taper from the big toe at an angle (usually 45 degrees).
Inside the Oxi S' highly asymmetric confines, the foot is expected to bend inward, which can cause pressure around the arch and forefoot. In the area of stretch, this shoe might not offer much. A personalized and locked-in fit in it is thanks to the shoe's single-trap Velcro closure.
Supplies enough surface traction
What supplies enough surface grip in the Oxi S is the Ocun-exclusive CAT (Climbing Adhesion Technology) 1.5 outsole. It is made of hard-wearing rubber, with a segmented construction. 4 mm is its overall thickness.
Renders underfoot support is made possible by its 3D Fit midsole
The Ocun Oxi S' underfoot supportiveness is bolstered by the 3D Fit midsole. It is built with medium stiffness to grant senders a combination of flexibility and sensitivity.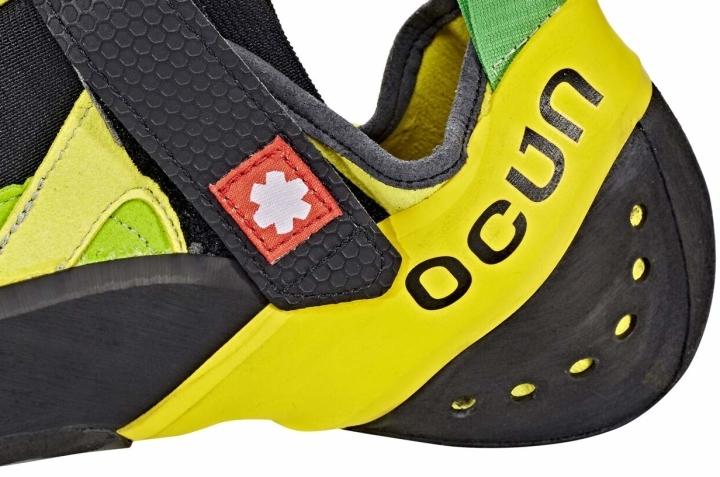 It is topped with a fuzzy footbed made of authentic leather for additional in-shoe comfort.
Provides assistance when wearing
This Ocun offering encases the foot in its low-cut microfiber upper. It has triple the synthetic pull loops to make on and off as quick of an affair as possible.
Excellent lateral and hooking grip
Every section of its lower perimeter—heel, arch, and forefoot—is with enough randing for lateral and hooking grip. The extension of its forefoot rand (a.k.a. toe patch) has holes in it to give the toe box extra flexibility.
Ocun Oxi S's fit management system
Its fit management system is a hybrid of sorts. It consists of a hook-and-loop strap and an elastic gore panel, which is common in slip-on climbing shoes.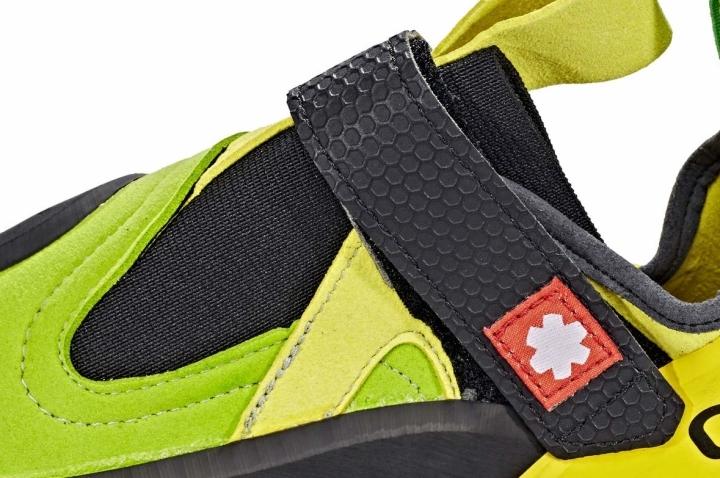 Compare popularity
Interactive
Compare the popularity of another shoe to Ocun Oxi S: