The Nike Zoom Victory XC 5 made us zoom through brutal races! It's everything performance-oriented, and it's here to make you win your next cross-country competition. It's featherlight, fast, and grippy, it's everything we wanted to run with speed! Even better, it's durable and will surely go through gnarly terrain with ease.
Pros
True to size
Super snappy
Stable
Anti-clog outsole
Flexible
Durable
Superb traction
Breathable
Lightweight
Good value for money
Nike Zoom Victory XC 5 review
These cross country spikes are great if you want the highest quality on the market and if you're ready to take your performance to the next level. They are durable, fast, extremely lightweight, and have great traction.
The Nike Zoom Victory XC line has been loved by cross-country runners for years. It's able to provide runners with a high-quality, lightweight cross-country spike with each iteration. For cross country performance, I'm giving it 97/100.
Nike Zoom Victory XC 5 spike was made for races
The ride of this spike has pleased me with pretty much everything I've done. I have run a total of:
nine 5k (3.1 miles) races,
one 3k time trial,
one 6 x 1k workout.
In terms of racing, which is what most people would use this for, I have no complaints at all. For my 5k races, I ran about 16:35 on average (5'20per mile/3'20 per km) for my races. During my 6 x 1000m workout, I was hitting times of 3:00 for each interval, and these spikes did great as well.
The shoe felt great at that pace, providing the right amount of cushioning and responsiveness while still staying extremely lightweight.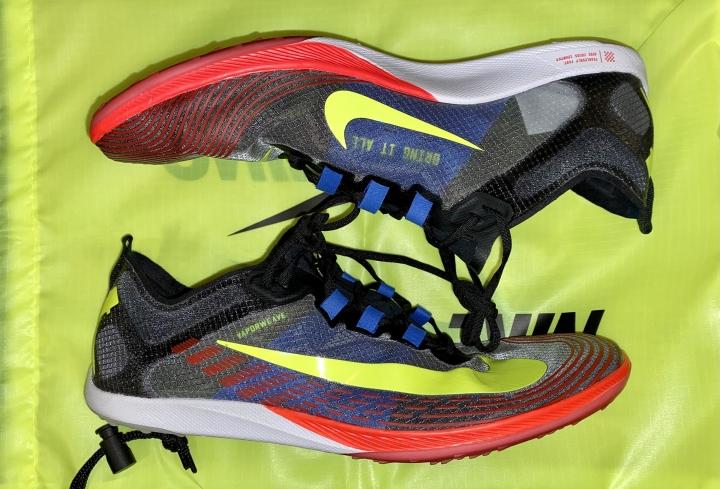 Disclaimer: I have never worn these for races on a track (except the last 200m of a race), but I know people that have. They said that they worked great, just for anyone who wants an XC/track cross-over spike.
They disappear under your feet
These spikes are extremely lightweight so they almost disappear under your feet and I really love the way they feel.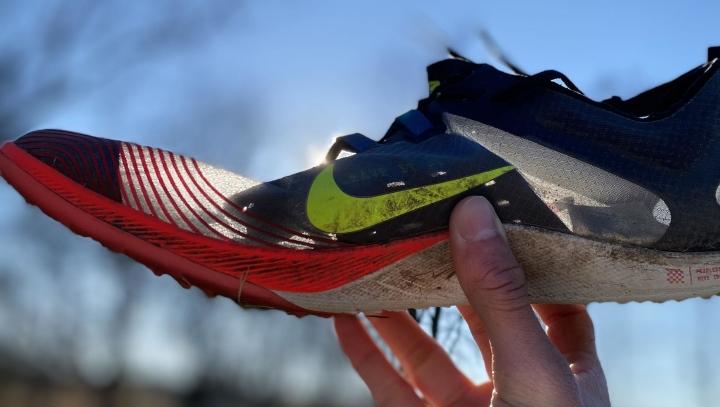 Even in muddy or wet races, because of the Vaporweave upper being translucent and water-resistant, they didn't feel heavy or sluggish as other cross country spikes would, with typical mesh uppers absorbing the water.
Perfect ride: super snappy and stable
Nike Zoom Victory XC 5 offers a really snappy, stable and responsive ride. Here's why:
a full-length Cushlon foam in the midsole,
just the right amount of foam to protect the legs and provide comfort
a horseshoe-shaped carbon fiber plate in the foam of the forefoot.
How does this midsole feel during the race?
it provides extra responsiveness and snappiness in the toe-off,
it provides stability and support on uneven surfaces
a carbon plate helps with extra snappiness in the last sprint of the race and with extra stability, especially on tougher courses where there are rough patches of holes, loose ground, wet ground, uneven ground, etc.
Overall I was super pleased with the midsole.
Victory XC 5 Spikes are pro at shedding mud
In all honesty, I thought that the whole Anti-Clog Traction thing was just a marketing thing and wouldn't actually help, but I can say I was surprised when I went through an entire cross country season, with almost no dirt or mud stuck on the lugs after some pretty brutal races.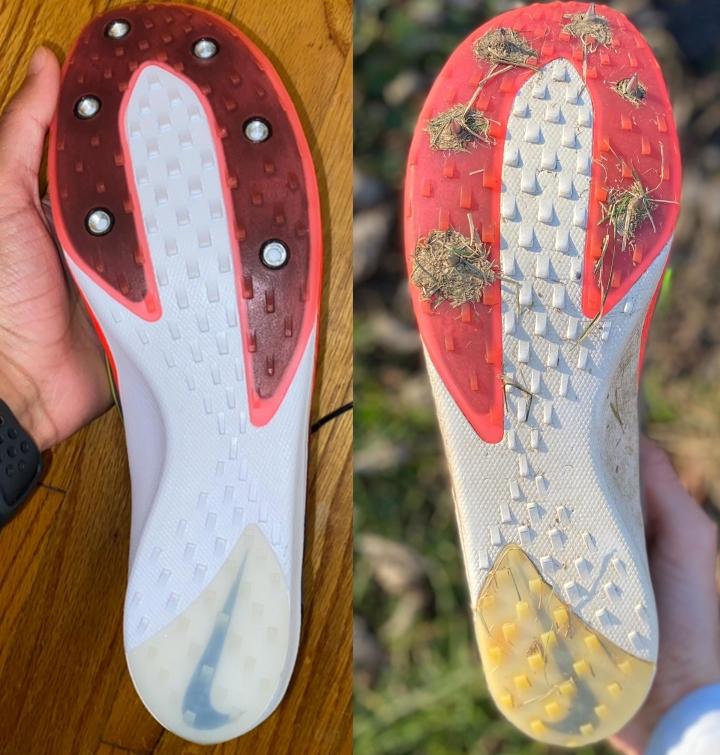 Left is right out of the box
The right picture is after an entire cross country season; 9 5ks, 2 workouts; Grass, Dirt, Mud ~~ Not cleaned at all before the right picture; shows how well the anti-clog traction pattern worked.
The outsole of this spike consists of rubber pods/lugs on the heel and forefoot area that provide multi-surface traction and durability. They use these various-shaped and sized lugs that prevent the clogging and build-up of mud, dirt, grass, etc.
Also on the outsole are 6-spike pins, which add extra grip and help evenly disperse pressure.
Mud, dirt and grass tests passed with flying colors
I really enjoyed the traction of these sikes, it almost surprised me how good they were. The lugs are aggressive but not very deep in terms of actual mm depth. They are placed only in the forefoot and heel which I thought would cause loss of some traction in muddy or loose conditions.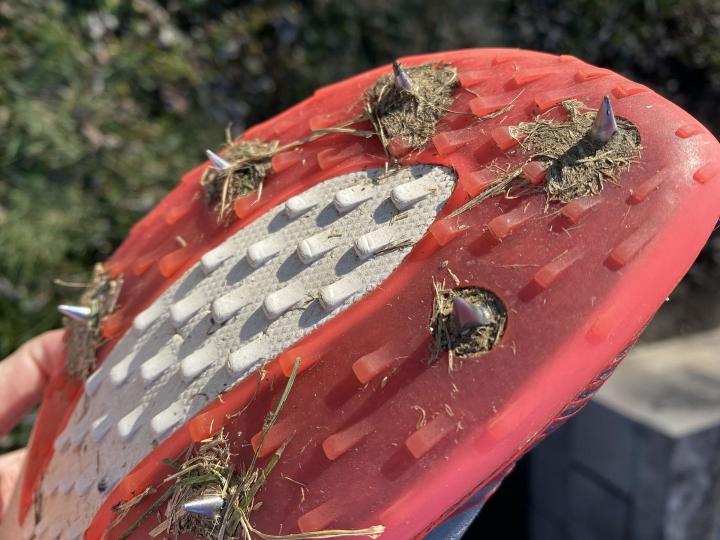 BUT, through mud, dirt, and grass, I never experienced any kind of issues with traction. Overall I was super happy with the traction.
Perfect score for flexibility
For a long-distance spike, whether it's cross country or track, you want a spike that is fairly flexible (too stiff of a spike can leave the feet very beat up and in pain after a race) while still being snappy. This is exactly what this spike is: flexible but snappy.
The midfoot area is exposed foam so it is able to bend the shoe with the foot. Then, the carbon plate adds a snappy feeling during the the toe-off.
True to size, but really narrow
The upper of this spike is a three-layer translucent woven upper Nike calls Vaporweave. It is very snug, narrow and has a race-type fit. It is really narrow and fairly difficult to get on foot, but I don't mind it as it just ensures it won't fall off during races.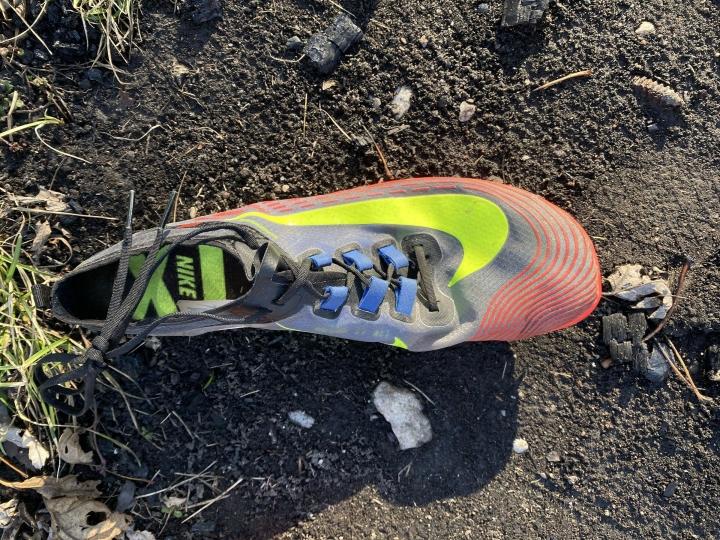 I can foresee people who don't enjoy a real snug fit not liking this spike. It does fit true to size in terms of length, it's just very snug and narrow.
Race-type lockdown
It's so snug it won't fall off during the races. What plays a great role in the lockdown is a midfoot band that the laces also loop into. It also provides lateral support on turns. I really enjoyed the midfoot band and felt it provided such a great lockdown and was a great choice on Nike's end.
Victory XC 5 spikes look fast!
In terms of looks, I really enjoy how this spike looks. It is limited in colorways but it looks very fast and nice. The upper area also looks (and is) breathable as well.
It looks overall very high quality in terms of the build quality. Mine are dirty after months/whole season of wearing them; some photos are from after season, some are right out of the box.
Very well worth the investment
The price of this spike is $110 which I feel is great for an elite cross country spike. It can be pricey for some but I feel it is worth it for the quality it provides. It is durable, fast, extremely lightweight, and has great traction.