Verdict from 3 experts and 100+ user reviews
5 reasons to buy
The upper of the Wild Trail is made up of leather and soft textiles for support and breathable coverage.
Most reviewers welcomed the trail-ready upper, which composed of a gusseted tongue and the Ghillie lacing system for staving off debris.
The heel and toe areas have been reinforced to improve protection and durability against debris.
The mid-sole features dual-density Phylon, which is a premium cushioning system that can function well for trail runners.
The outsole unit has flex grooves and gripping lugs, which are able to provide flexibility and grip onto the surfaces, respectively.
2 reasons not to buy
Some runners thought that it was a bit too narrow for their feet.
A few noticed that the sides of the upper began to peel off after a few uses.
Bottom line
The Wild Trail from Nike has been tested and appreciated by many a trail runner and hiker because of its robust midsole, reliable outsole, and comfortable upper. It's a trail shoe that can do a lot of service for its wearer for many hiking and running sessions.
Tip: see the best trail running shoes.
Our reviews
Nike Wild Trail: you have probably never seen these shoes in a store nor on Nike's website. They were made and designed for small, third-world markets. A few online thrift stores have these shoes, but they are few and far between.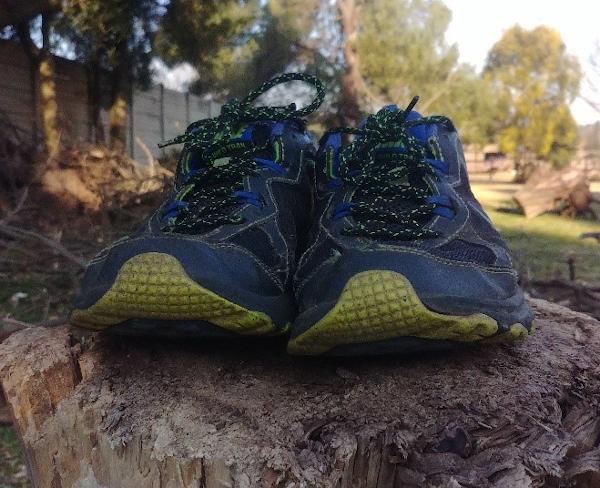 They come from a campaign of Nike's called "Better World'. They are cheap, relatively speaking, options for $97,61. But, wow, do they get the job done!
Shoe overview
They have good all-round cushioning using good old fashioned foam. No high-tech airbags or multicolor beads, just sticking to the basics. The cushioning works very well on dirt or pavement but noticeably better on dirt/offroad, which is what one would expect as they are trail shoes.
The shoes are very strong and held up well for a good 350 km. This might not be a lot compared to other big shoes, but considering their price, it is pretty good.
Usage and running
They have a satisfying bounce to them that pushes you to every stride. They are hard on pavement and concrete, and you will feel every foot strike and step.
On dirt is where they shine. They are soft and responsive and keep your foot in place, as well as feeling strong. As a trail running shoe, the grip is good in dry and damp conditions. You rarely feel a slippage.
If you find yourself running in the rain though, you better prepare for wet feet, and plenty of traction loss as the upper of the shoe is a light breathable mesh. These are good for running in most dry, hot conditions but bad when the rain starts to pour.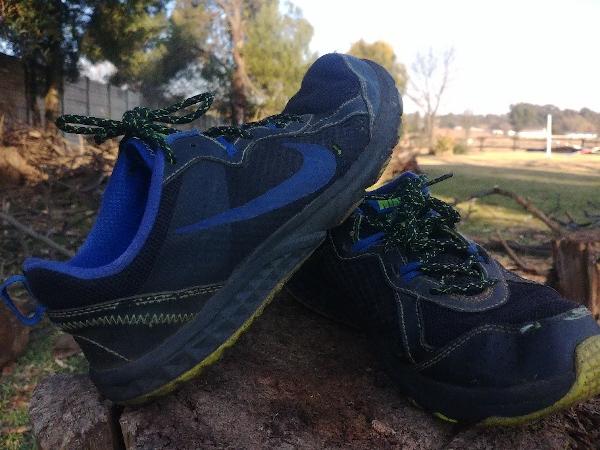 These shoes can even be used for hiking. And in my testing, they faired better than actual hiking shoes on small hikes. It is mostly down to the fact that they were super light and agile, as well as breathable.
For larger, longer hikes, they aren't good as they have zero ankle support, and large sharp rocks will go straight through. Your feet and socks will get very dirty with these shoes as they are very open shoes.
Look and feel
They have a high arch and ended up correcting my flat feet, which at first was cramp inducing. But after 10 to 20 km, it was fine.
The laces are intuitive and easy to use. They lasted very long, but as they got older, they lost their grippy properties, causing them to become undone very easily. Looks-wise, after 350 km they are still holding up, few scratches and cuts but nothing detrimental to the shoes.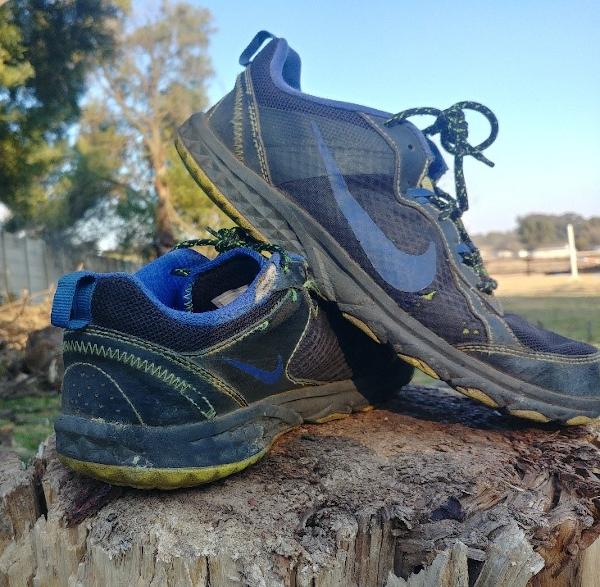 The sides of the shoes are strange. They have what looks like a breathable mesh, but it is solid—kind of like the fake air vents on some cars—so you do find your feat borderline overheating.
They are strangely shaped shoes. The heel is normal then they drastically narrow in the middle them suddenly open up a lot at the toes. The rock guard at the front is really good and held up to many blows.
The toe part of the shoe doesn't touch the ground at all. At first, I thought that this wouldn't last long, and they would bend down. But they never did, and this drastically improved the front rock guard as the sole of the shoe took a lot of the lows.
Conclusion
So, after 350 odd kilometres, they worked really well for inexpensive, entry-level, all-round running shoes you can use anywhere. More than 350 km is not recommended, as the cushioning and inner sole has collapsed causing a lot of strain on your legs.
The grip of the shoes have also literally gone smooth, so they have lost their trail running abilities. I recommend these shoes for parents looking to introduce running to their children or need good inexpensive run-around shoes.
Good to know
Lightweight cushioning and traction are what the Nike Wild Trail offers. This is a trail running shoe that has reinforcements in the toe and heel areas to make the outdoor adventures more agreeable to the foot of the wearer. High quality technologies and components ensure the longevity of this product, while also keeping the runner confident during the treks.
The upper unit of this cheap running shoe uses breathable materials to provide a well-ventilated environment in which to rest the foot. Synthetic overlays have been stitched onto the upper to provide a snug and secure fit. A gusseted tongue protects the interior from any invading debris.
The mid-sole unit uses a proprietary dual-density foam in order to provide a well-cushioned and long lasting underfoot experience for the trail runner. It is strong and reliable, and it doesn't lose structure, even after a long time.
The outsole unit of the Nike Wild Trail has been optimized to function well on the trails. This trail-specific design allows the runner to grip onto many types of surfaces. The rubber material used here is flexible, but very durable. Surface control is superb with this trail shoe as a running partner.
The Nike Wild Trail follows a standard running shoe length. It is available in sizes that adhere to the regular measurements for men and women. The available with is medium, so it accommodates those with medium sized feet. Its semi-curved shape allows the natural shape of the foot to acclimate well to it.
A flexible rubber material covers the sole unit and protects it from wear and abrasion. It delivers sure shielding from any jagged surfaces and other trail debris.
Wide, self-clearing gripping lugs are placed in such a way that the outsole doesn't retain any mud or dirt. These gripping lugs provide sure surface control, especially when it comes to traversing the upward or downward paths.
The dual-density Phylon is the mid-sole foam used in the Nike Wild Trail. It is lightweight, responsive and it doesn't wear off easily. It is made from EVA pellets that have been molded to make an entire unit. Comfortable cushioning is superb when it comes to this material. It doesn't even sag easily, allowing more adventures with a plush and dependable underfoot foam system.
A breathable mesh is used in this running shoe. It provides a dry and cool interior for the foot, thus keeping it comfortable at all times. It doesn't tear off easily, so it stays intact and efficient even after many outdoor adventures.
Lightweight synthetic overlays provide a taut yet customizable fit to the runner. Directly connected to the lacing system, they cause the upper to follow each adjustment made to the shoelaces.
The interior sleeve uses a breathable fabric to maintain a well-ventilated interior. It doesn't retain moisture or sweat, so the foot stays comfortable with the cover system that hugs it.
A molded foam insole provides additional cushioning and support to the contours of the underfoot. The heel, arch and forefoot sections are well-supported by this added layer.
Rankings
How Nike Wild Trail ranks compared to all other shoes
Popularity
The current trend of Nike Wild Trail.