Nike Debut Waffle has a tasteful mix of edgy style and bang-on comfort. This Nike Waffle puts a fresh and somewhat futuristic spin on the old-school trainer using modern cushioning and playful colors. It's a budget sneaker you can easily pull off with many outfits. And you can keep it as a staple in your wardrobe rotation for a good stretch of time.
Pros
Chicly modern
No break-in needed
Well-cushioned
Ideal for all-day use
Fitting for long walks
Superb traction
Long-lasting
Very light
Dirt cheap
Great quality
Cons
Tight toe space
Unsuited for wide-footed
Wrinkles easily
Who should buy the Nike Waffle Debut?
You wouldn't want to let this pass, especially if:
you're a big fan of the Nike Waffles
you're pennywise and want a cheap yet stylish sneak
having a well-cushioned sneaker is a big plus for you
running-inspired suede Nike kicks get you
you want hip-looking kicks that are comfy from day one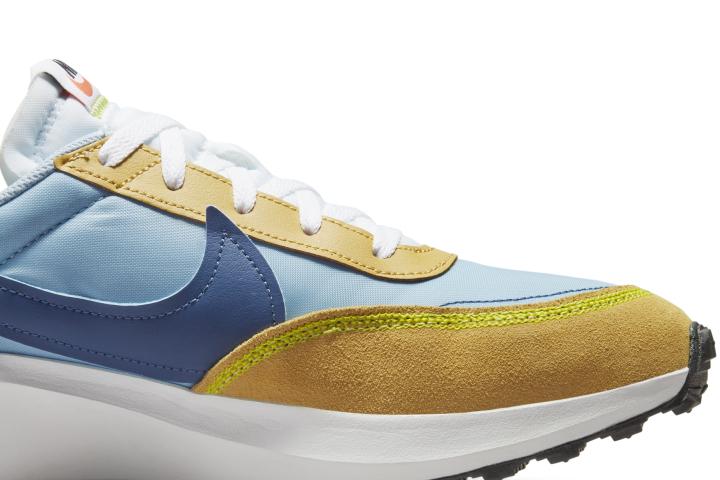 Who should not buy it?
If you love Nike Waffles and prefer the forefoot area to be roomy, drop this and check out the Nike Waffle One. Or try the Nike Daybreak, as it's considerably broader than the other Waffle-soled options.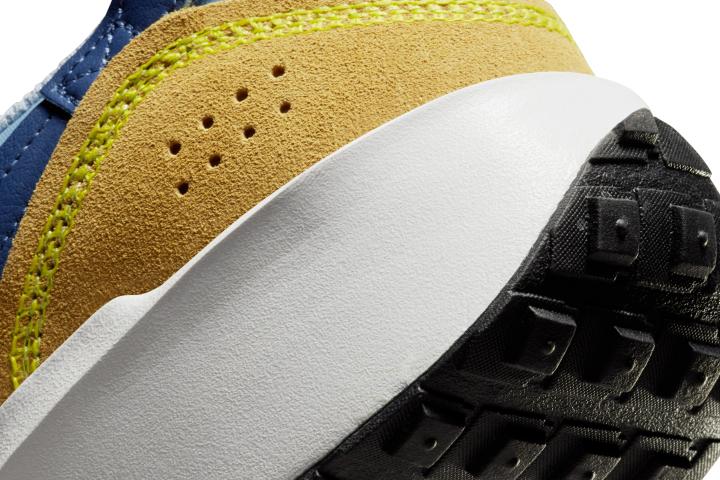 If you're wide-footed, you might fancy the Nike LD Waffle Sacai as it's perfectly fitted. Your toes won't feel cramped as the forefoot is wrapped in pliable mesh. If this Waffle choice doesn't suit your taste, you might find the perfect match from other wide sneakers options.
Not wide foot-friendly
Waffle Debut runs on the narrow side. But, according to one sneaker tester, it isn't as cramped as the SB Blazers such as Nike SB Blazer Low GT and base model SB Blazer Low. Wide-footed reviewers particularly pointed out that it feels tight around the toes. As a remedy, some individuals went for a half-size larger to achieve a better fit. Some users loosened the laces a bit to improve the feeling around the forefoot.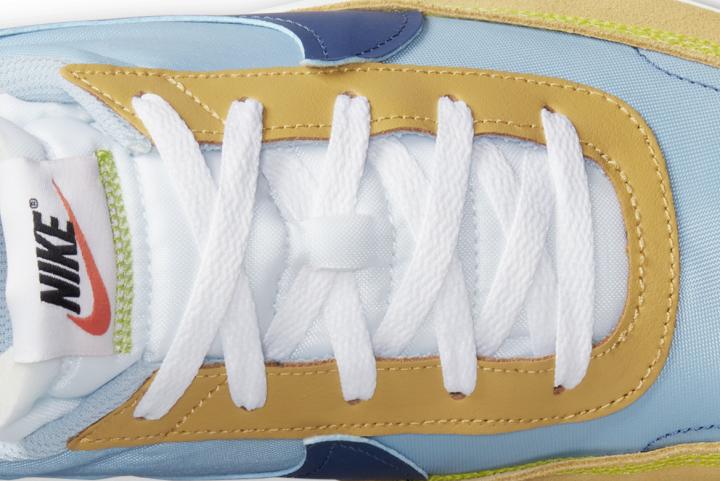 Comfy from day one
"Incredibly comfortable!" This is how a first-time Nike sneaker reviewer described this shoe. It's a kind of sneaker that's "comfy enough to wear right out of the box." It got a soft suede and nylon top that, according to another user, "didn't require any breaking in."
Undeniably plush!
The wedge-resembling bottom has a lot of padding that's "neither too soft nor too hard." Complementing this feature is a "great soft insole." With these two elements combined, you can expect a higher level of plushness from this sneaker compared to the original Waffle running shoe.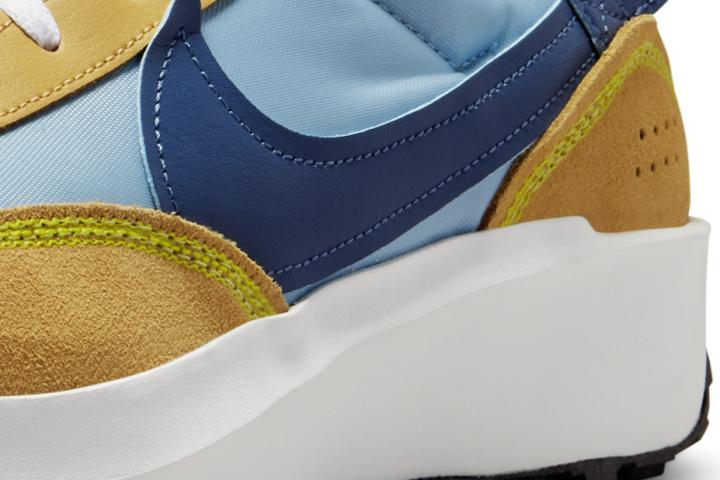 Makes the feet smile the entire day
You can wear them all day without getting bothered by foot aches. A medical practitioner who worked for hours in the hospital didn't have any complaints about wearing this. A city traveler who wore this immediately fresh from the box for a whole day zoo tour had nothing but praise by how it keeps the feet tamed inside.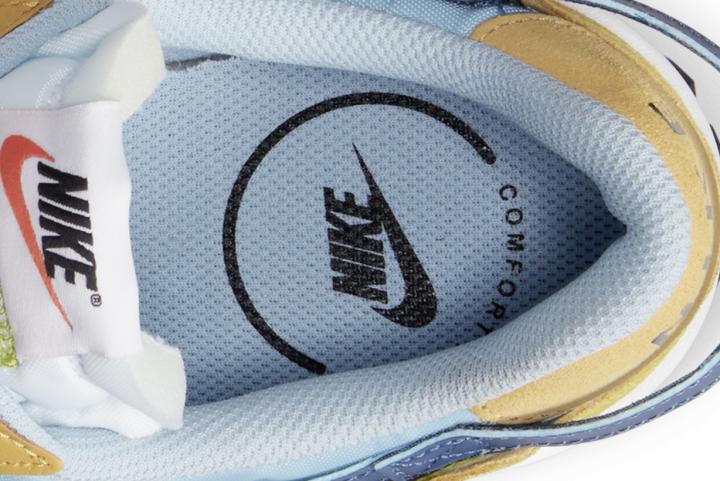 Suitable for multiple activities
As expressed by a sneaker critic who's always on the go, Nike Waffle Debut "feels just right" for walking, running, and exercising. It's the sneaker of choice by another wear tester when running errands as it's "just that comfortable!"
Summer ready colors
Nike Waffle Debut comes in neutral colorways that are great for summer.
Let's you be playful with your daily wardrobe
Appearing like a cross between the Waffle One and Waffle Trainer 2, this shoe wins the hearts of reviewers for the following reasons:
"very clean look"
"pretty cool design"
"very versatile style"
"neutral colors that work with any outfit"
A grab-and-go type
Its easy-to-wear design makes it a "very good 'by-the-door' pair of shoes, which you can hurriedly slip on when heading for quick trips out.
Attention-grabbing
The oversized Swoosh that extends to the back and exaggerated heel are the biggest attention-grabbing elements that make the shoe pop while you wear them. The heel pull tab has a polarizing design. Two sneaker admirers find this kick "pretty cool" and "very unique without looking flashy," while another user thinks it "a bit odd on-foot." Either way, it's functional as you can use it to hang your shoe.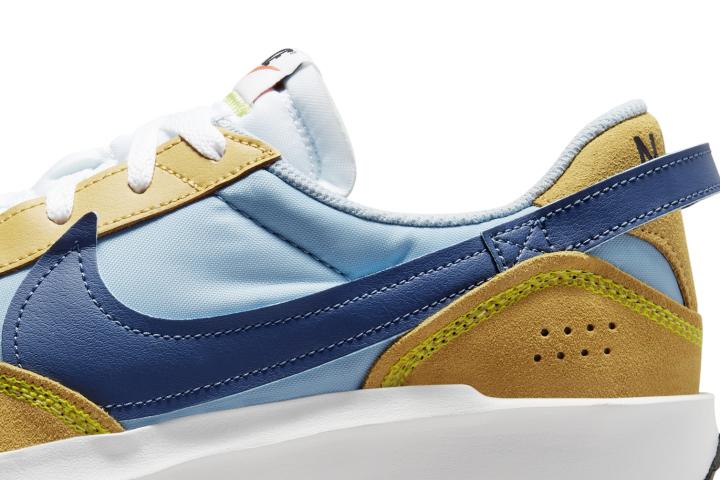 Trendy without going pricey
A Nike sneaker devotee says this a "great shoe for the price." Some went to purchase multiple pairs. One of them said the price on this is unmatched.
Cheap but not sloppy
It's cleanly wrapped in nylon and suede with stitches that aren't haphazardly done. Those who have tested this think it's solidly made. Someone said that the waffle pattern that extends to the toe from the outsole is "great at preventing the suede from getting scuffed."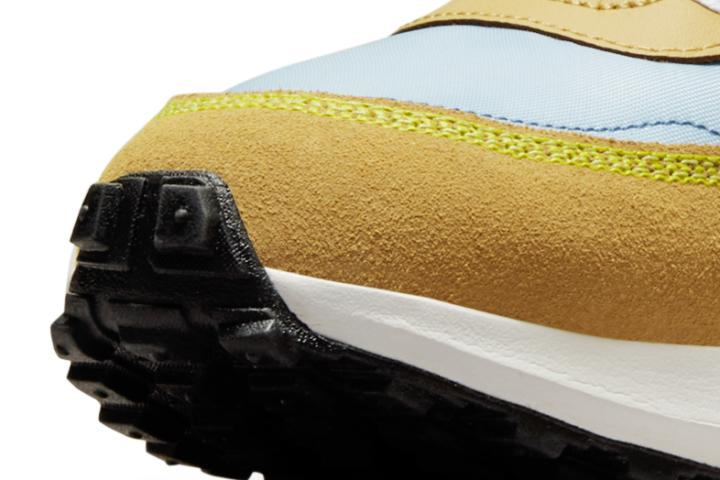 Creates crease marks quickly
The nylon upper wrinkles up too soon. But it's an issue of the shoe that can easily be forgiven since it's packaged at an extremely affordable price.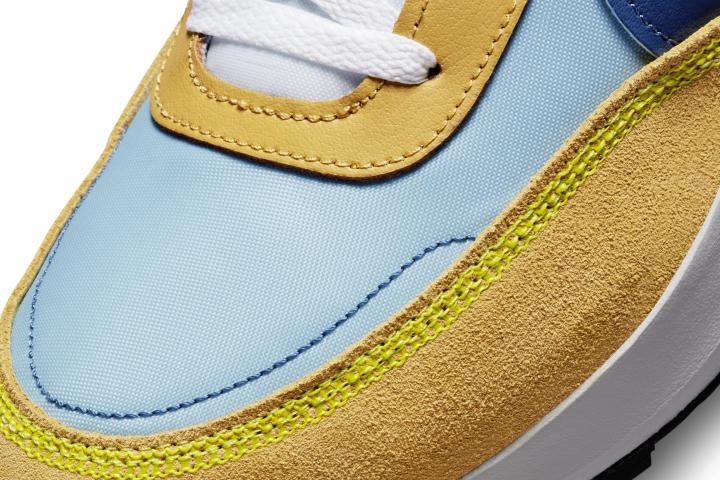 Very good grip
It's been reported that the shoe's thick waffle-like outsole has "amazing traction on grass and concrete." It also looks cool.
Simply unheavy
Compared to the Nike Daybreak, a reviewer noted that this kick is biggish because of its significantly carved midsole. Nonetheless, this sneaker is lightweight.