Verdict from 2 experts and +100 user reviews
10 reasons to buy
Most of the reviewers are almost unanimous in reporting that the Nike Tanjun sneaker is superbly comfortable.
Many buyers are impressed by the lightness of the Tanjun, just like most running sneakers.
Several users have noted how well-ventilated this shoe is.
It is among the Nike sneakers that are available in multiple color variations.
Among the Nike Tanjun collection, this shoe is out-of-the-box comfortable, according to some purchasers.
More than a handful received compliments while wearing this shoe.
A few reviewers like the shoe's combination of support and flexibility.
Some of the users who have wide feet found the fit just enough for them to be comfortable.
The style is an easy match for a variety of outfits, as reported by a handful of Nike Tanjun reviews.
The cushioning is surprisingly very good since it comes from a very light shoe, according to several users.
2 reasons not to buy
Several buyers have complained about the lack of durability coming from the different parts of the shoe.
A handful of users are slightly disappointed that the Nike Tanjun lacked the midfoot hold they need.
Bottom line
True to its Japanese name that means "simplicity," the Tanjun is a no-fuss sneaker that handles performance and style with aplomb. It is a very affordable shoe that still shines where comfort and looks go.
For anyone who is looking for a simple, yet still, quite catchy sneaker that can also double as a performance trainer could scarcely go wrong in this shoe. The very affordable price is clearly an icing on the cake for the Nike Tanjun.
Tip: see the best sneakers.
Our reviews
I went to the Nike outlet looking for a reasonably priced new pair of running shoes. I decided to stick with Nike because I have had good luck with their shoes in the past.
After spending an hour in the store, I walked out with the Nike Tanjun SE.
There are many things that I love about these shoes. One of these is the color! Despite the fact that there were not a lot of colors to choose from, Garnet is one of my favorites!
So, without further ado, let me get down to my review.
Tight toe box but with a purpose
When I first tried them on, I went with a size 7. I usually wear a 6.5, but in the past, I always had to go up a size when wearing a Nike shoe.
I walked around the store in them a little worried because they felt tight in the toe box, but fine everywhere else! So, I decided to try on a 7.5 just to see if the toe box still felt tight.
I could tell right away the size 7.5 were too big because the toe box was puffy and loose! I ended up purchasing the size 7.
I got them home, and I was extremely anxious to go for a run. But, I decided to wait until in the morning when my legs were fresh.
As soon as my eyes opened the next morning, I was out the door! Excited, however, I still had that concerned feeling about my toes feeling pinched!
After about ¼-mile, my fears were gone as it felt like the toe box loosened up significantly, which in turn provided enough breathability!
Not your typical sole
Another area of concern for me was the sole. Other Nike running shoes that I have tried have had a sole that is higher in some areas and flatter in others.
This sole, however, has more of a uniform look all over.
I'm a hugger, not a fighter
Ever feel like your running shoes are fighting a battle with your feet? Not so with these! The shoe is just awesome and feels like you are running with clouds on your feet!
The heel cup provides a "hug" for your heel. It's not constricting or pinching, like a comfort measure built into the shoe.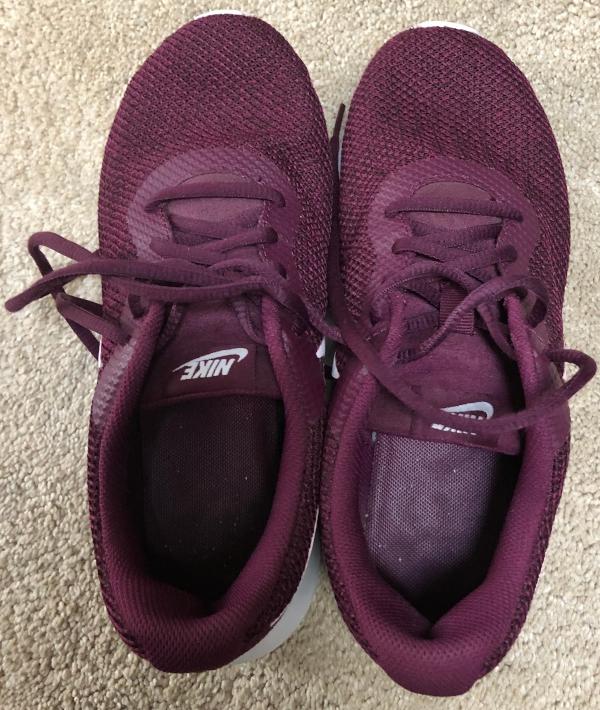 The laces are the perfect length and not the type of slick nylon ones that come untied every ½ mile or so!
Pros
The price is right! I got mine at the Nike outlet, and while they were considered to be "last year's model", they were just what I needed.
And even if they had been the most expensive shoe in the store, I still would have bought them. You just can't put a price tag on a comfortable and durable pair of running shoes!
I almost cried when I had to "retire" them.
Cons
For the life of me, I just can't think of any! I should have bought every size 7 in every color they had!
My score
In conclusion, if I were to score this shoe I would say it deserves 95.
Buy them. You won't regret it!
The Nike Tanjun SE is a comfortable, lightweight, breathable, extremely durable, and have a price that fits!
But most importantly, as a runner, I love them! The pictures below are after about 80 miles on the shoe. I had them for six months and ran my first half marathon in them.
The only evidence of wear and tear is on the inside of the shoe ( I wore the NIKE right off!) and on the sole of the shoe.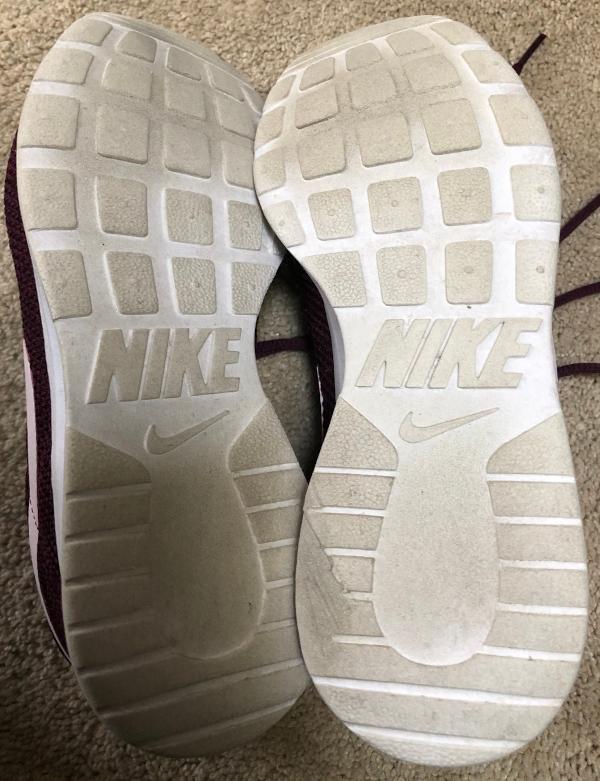 The tread at the back inner heel and the forefoot show signs of distress. That's probably because I ran the last month in them with a hamstring strain and a partially torn meniscus.
It's often said that you get what you pay for—some people live life as if this is an axiomatic truth. They'll opt for expensive brands over generic ones even if the products are essentially identical; they'll zero in on all that shines and miss much of the beauty that lays growing in the dirt.
These same people would probably skip over the Nike Tanjun specifically because of its low price and the blandness of its reputation. It's true that it doesn't have a special look that's specific to it, that differentiates it from other shoes; and it's true that it's not made specifically for running, or, really, for any other activity.
But for me, it was a great purchase, and I'm definitely going to be purchasing a backup pair.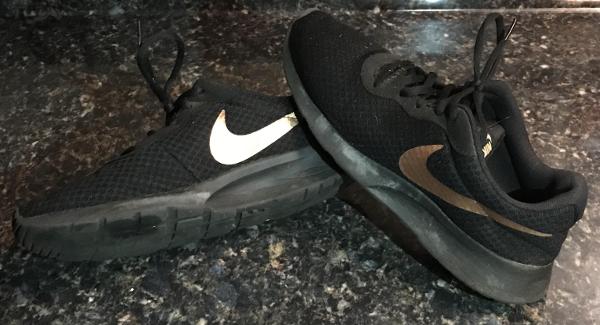 Comfort
This is where this the Nike Tanjun absolutely excels. Like I said, it's not specifically a running shoe, but it can very easily be used as such. Personally, I use it for walking—especially if I'm going to be on my feet for long periods of time. It's incredibly lightweight. It's also well-ventilated, making it very breathable. On top of this, the fabric with which the insole was constructed is super smooth.
The inside heel and the tongue are padded too, making this shoe comfortable enough to wear even without socks. On top of this—and the reason this shoe is perfect for me—the bottom insole is actually removable, so it can be replaced with an orthotic insole. This is important for me because I have to be on my feet all day sometimes and that really puts a strain on my lower back.
Style
This is actually the one thing that made me sort of hesitant to buy these initially. It's not at all that they're ugly—they're not. Quite the contrary, actually. It's just that they're not anything special, and there are plenty of fancier options on the market, options that are more aesthetically pleasing to me.
These are more low profile than I usually prefer. They feature just two solid colors; no special design, no tags, no additional logos besides the signature Nike swoosh, nothing.
I did a little research and it turns out that the "Tanjun" in the Nike Tanjun is actually a Japanese word meaning "simplicity." As soon as I learned that, I was hooked. The meaning behind the design made it purposeful, made it unique. And it made me make a purchase I'm happy with.
Durability
Here's a very important factor to consider. When I go running, I usually like running outdoors. These shoes, however, don't seem to be able to withstand rough terrains or uneven planes. They aren't constructed with a sturdy rubber outsole which could protect the foam midsole.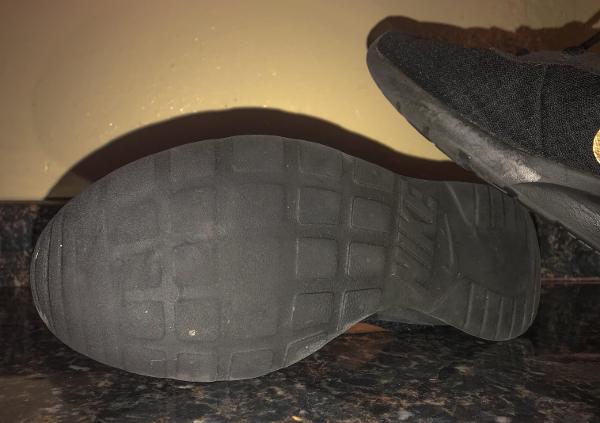 This was obviously done intentionally, so as to keep the Nike Tanjun as lightweight as possible. In that, they succeeded. Unfortunately, this means that durability suffers. If I run on these—and I probably won't—it'll only be on a treadmill.
Like I said at the beginning of this review, I'm buying a backup pair. That's only because of the reasons just detailed. Personally, I think it's worth it, but your mileage may vary.
Conclusion
The bottom line is that these shoes are not at all a good purchase for a serious runner. The positive aspects of these shoes—it's comfortability, simplicity, and the fact that it's lightweight—all come at the expense of functionality.
That is if you need a pair of shoes to take you the distance over and over again, look elsewhere. These will wear out quickly if you work them too hard. But if you're looking for something to stand for long periods in or something to ease the physical stresses of walking, there are very few options as effective as the Nike Tanjun.
Good to know
The Nike Tanjun is available in men's and women's sizing. It has a lace-up closure that provides an adequately secured fit despite its very minimal upper construction. It is equipped with a Dual Ride System footbed that offers all-day underfoot comfort.
Wearers can enjoy the flexibility that comes from the Nike Tanjun because it has flex grooves at the heel and forefoot areas for a smoother ride. For a sure-footed grip, the Phylon traction outsole is installed. It also has a foamed collar and a textile lining for additional comfort.
Everyday comfort with the looks to go with it is the idea behind the design of the Nike Tanjun. Because of the shoe's multi-faceted appeal, one can dress up or dress down in this shoe. It is best used for casual looks and an active day out attire.
Since the Tanjun's release, the shoe has been a summer and springtime staple among fans of the Swoosh brand and sneaker fans in general. The vibrant colors and well-ventilated interior makes it an ideal complement during hot-weather months. Some of the suggested ways on how to stylishly wear a pair of Nike Tanjun sneakers are.
Women
A perfect travel outfit during the spring season, the Nike Tanjun in black can perfectly work well with skinny black jeans along with a white striped t-shirt and a long black cardigan.
The Nike women's Tanjun sneaker can match sophisticatedly with a graphic t-shirt and a bomber or leather jacket, together with black jeans.
Another street style outfit that oozes chic vibe is when ladies wear the Tanjun of Nike with grey leggings along with a white long-sleeved shirt, a puffer vest, and a grey or white scarf.
For an ultra-comfortable outfit, the Nike Tanjun women's running shoes can match grey skinny jeans along with a black shirt and a bomber jacket.
Spice up your look with a white dress with the Nike Tanjun sneaker as well as a leather jacket, creating an edgy style.
Ladies may wear their lace-up top with a studded leather jacket and skinny jeans to match their Nike Tanjun shoes.
The Nike Tanjun women's athletic shoes can stylishly match a high-neck mesh sports bra and a pair of stripe Capri pants, offering a chic look with a sportier vibe.
Men
The Nike Tanjun men's athletic shoes can look great when paired with grey wool dress pants along with a black turtleneck and a bomber jacket, providing a classy look with a sporty vibe.
When it comes to fashion, and you want to dress practically yet stylish, you can rock the Nike men's Tanjun sneaker with skinny black jeans, a charcoal crew-neck sweater, and an olive camouflage parka for a kick-ass combination.
The Nike Tanjun in grey can complement black chinos, a black turtleneck, an orange windbreaker, and a grey plaid overcoat, providing a casually elegant getup without requiring much effort.
A pair of Nike men's Tanjun shoes can round off well with grey sweatpants and a mustard hoodie for a comfortable outfit from head to toe.
If wearers are searching for an ensemble that creates a smart casual look, they can match their Nike men's Tanjun sneakers with blue jeans along with a black turtleneck, a black hoodie, and a charcoal overcoat.
Simplicity at its best is indeed embodied in the design and style of the Nike Tanjun. The Swoosh typifies the simplicity is more attitude in this sneaker as it unsurprisingly lives up to its Japanese name's origin. With a very modest upper that is mainly accented by the large Nike logos on both sides of the shoe, this vividly monochromatic approach certainly stands out in an almost unassuming way. Sneaker lovers who go for a low profile kind of approach should greatly appreciate the design and style of the Tanjun.
Decades have passed yet Nike continues to wow its fans with their head-turning, tech-filled creations. Their success can be accredited to two resilient and ambitious sports fanatics whose story is definitely worth talking about.
Nike's beginning
In the 1960s, Puma and Adidas sneakers dominated the global market. Phil Knight believed that to compete with the German brands; he must introduce shoes from Japan that are high quality and yet affordable, but he does not have enough money to achieve this goal.
In 1963, Knight went to Japan and was able to close a deal with Tiger, one of the subsidiaries of Onitsuka Company. After cresting $1 million in sales, Knight, together with Bill Bowerman, launched Nike in 1971 and the rest is history.
Initially, Phil Knight started to sell his merchandise using the trunk of his car. From this inauspicious beginning, his company began to grow and succeed. He was operating under the name of Blue Ribbon Sports company before and then later became known as Nike which was founded on January 25, 1964.
For so many years, Nike has been releasing a myriad of footwear that has become the favorite of men and women of different generations. Some of Nike's famous shoes are the Air Force One, Waffle Racer, Air Max 93, Air Max 95, Air Max 97 and Roshe Run, among others.
The Nike Tanjun sneaker
One of the notable footwear of Nike is the Tanjun. The word Tanjun is translated in Japan as "simplicity." One can unequivocally say that the word fully encapsulates what the shoe brings to the table. It is made of a very simple mesh upper and very prominent Swoosh on both sides of the shoe. Despite this unassuming approach, sneaker fans were quickly impressed by the understated appeal and maximum comfort of this shoe.
In so many ways, the simplicity of the shoe is its very own identity. Nike is already such a top favorite among sneaker fans when it comes to technology and sophistication. By somehow relying on the essentials and a little twist of a trendy sneaker, the Swoosh has come up aces yet again in the Tanjun.
Nike Tanjun vs. Nike Roshe One
In 2012, Nike created a sneaker that was universally lauded – the Nike Roshe Run. It was a minimalistic sneaker that was inspired by Zen elements. Thus, it was named Roshe after the Zen master Roshi. Featuring a low price point and a versatile style, the Roshe Run proved that simplicity and practicality is the way to go.
The beloved sneaker became a modern classic, and Nike set to work on building a collection around it. It was eventually renamed the Nike Roshe One when its successor, the Roshe Two, came on the horizon in 2015. During the ensuing years, the shoe was considered number one, until the Nike Tanjun came along.
After the successful debut of the Roshe Run, Nike came up with the silhouette of Tanjun that is eerily similar to the sought-after sneaker. When the Nike Tanjun was unveiled in 2015, sneaker fans were very much interested and intrigued as the new design largely took its cue from the Roshe. However, in just a span of a few years, the former successfully established itself as a force to be reckoned with in the sneaker world.
Both kicks have breathable mesh uppers and no-sew toe boxes. Their lightweight design can be attributed to the cushioned Phylon midsole. However, the Tanjun has a seamless construction, while the Roshe One has several stitched panels, making the former look more minimalistic.
Regarding the Nike Tanjun vs. Roshe differences, the former showcases eye-catching metal eyelets. Furthermore, the Roshe's Swoosh logo is on the mesh material itself, while the Tanjun sports a leather Swoosh. Another dissimilar feature is the presence of pull tabs on the Roshe.
Finally, the Roshe has a slightly higher collar height, giving it an almost boot-like look. Taking these features into consideration, it's clear that the Nike Tanjun has a more straightforward approach, while the Roshe One keeps an edgier vibe.
Nike Tanjun vs. Nike Tanjun SE
People often look for the differences between the Tanjun and its successor, the Tanjun SE. The truth is, they are basically the same, with the same silhouette and material. However, the Tanjun SE is the special iteration of the original model, with some upgraded details thrown in for a fresh style.
For one thing, the Tanjun SE was released in sharper colorways. The color options emphasize mesh construction, creating an appealing heathered look. Some details are also upgraded for a sleeker flair, such as the glossy Swoosh logo.
Overall, the Tanjun SE doesn't differ much from its predecessor. It complements the details that made the original so well-loved and tweaked them a bit for a subtle upgrade. Moreover, it offers the same comfort and lightweight feel that the Tanjun is famous for.
A fixed insole in the Nike Tanjun adds a little more cushioning.
The no-sew upper is tailor-made for those who wear their sneakers without socks.
Rankings
How Nike Tanjun ranks compared to all other shoes
Popularity
The current trend of Nike Tanjun.