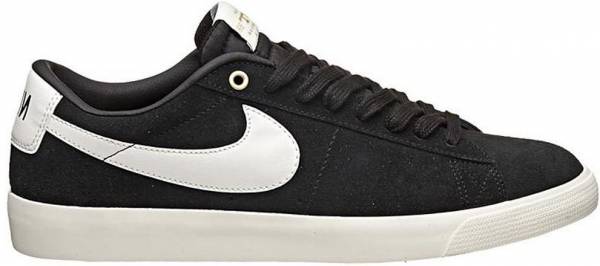 For most of those who have tried on a pair of the Nike SB Air Zoom Blazer Low GT, it is one of the best Nike SB shoes ever produced. It has a classic and stylish design which makes it an easy shoe to dress up with, but on top of that, it performs well as a skate shoe. Overall, the Blazer Low GT is commended by many for its comfort, style, and affordability.
---
Verdict from 1 expert and 99 user reviews
10 reasons to buy
The Nike SB Blazer Low GT is a great shoe according to a vast number of wearers.
It is very comfortable when worn, as commented by most reviewers.
Several reviewers also mentioned that the shoe provides great boardfeel without hurting the feet.
The shoe is budget-friendly.
According to some buyers, the shoe is great not only for skateboarding use but also for casual use.
Many buyers, specifically skateboarders, appreciated that the tongue of this shoe stays in the middle and does not slip in the sides.
The Blazer Low GT is a durable skate shoe, as stated by a number of reviews.
There were also reviews saying that the shoe fits as expected.
The overall design and style of the shoe are well-appreciated by the majority of buyers.
Some reviewers stated that they received many compliments on this shoe.
2 reasons not to buy
One reviewer said that the elastic mesh underneath the tongue of the Blazer Low GT makes the shoe a bit hard to put on, but it provides a snugger fit nonetheless.
Several buyers commented that the shoe is somehow narrow and tight.
Bottom line
For most of those who have tried on a pair of the Nike SB Air Zoom Blazer Low GT, it is one of the best
Nike SB shoes
ever produced. It has a classic and stylish design which makes it an easy shoe to dress up with, but on top of that, it performs well as a skate shoe. Overall, the Blazer Low GT is commended by many for its comfort, style, and affordability.
Best price from 50 shops
We earn affiliate commissions at no extra cost to you when you buy through us.
89% say it's true to size.

Our reviews
The Blazer was first introduced in 1972 by Nike basketball, and since then, they transformed into a modern style staple. Classic profile is mainly designed for skateboarding, including shock impact system, which felt great in everyday usage.
Thanks to its popularity, this shoes has been made in many color options - from low to high cut models and different materials. On the top of the shoe, we have nice white suede, with ''trademark'' red Nike swoosh. The vulcanized construction of this model, makes this model nice and flexible, reducing braking time.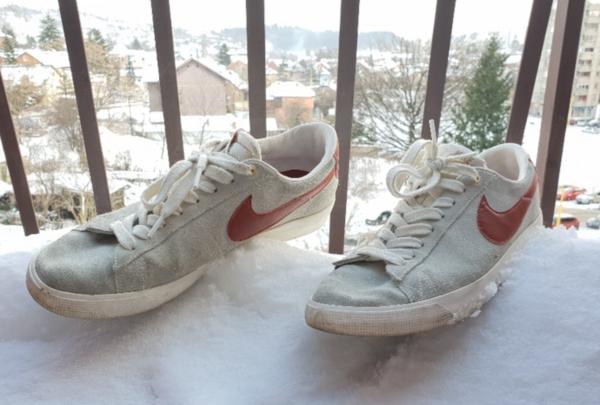 Looks
The blazer looks great. I fell in love with them on the first sight, and just after I showed them to my friends, I get many compliments instantly. That only confirms their "premium shoe model" status.
With this flat outsole, my parents are worried about possible pain in the back, posture problems, etc. but I never had any, even the smallest complain when it comes to this shoe comfort.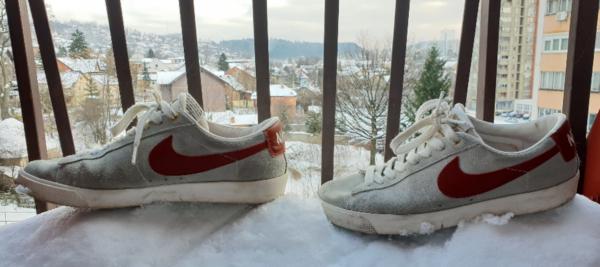 I used to spend all day in them. After I come back from school and take them off, I don't feel any discomfort which felt great compared to some stylish, more expensive shoes.
Also, even if this is based on old design, it still manages to look modern enough. It might be a little bit tricky to put them on, but after 10 seconds, that is how much you need to untie them, your foot slips into them, and everything is perfect.
Upper & comfort
We have a tongue with centering strap, with which I never had problems. I don't have any complaints, nor spots that could give me discomfort.
The positive thing on this model is a Nike Label which says that this model is engineered to the exact specifications of championship athletes, which always makes me feel good.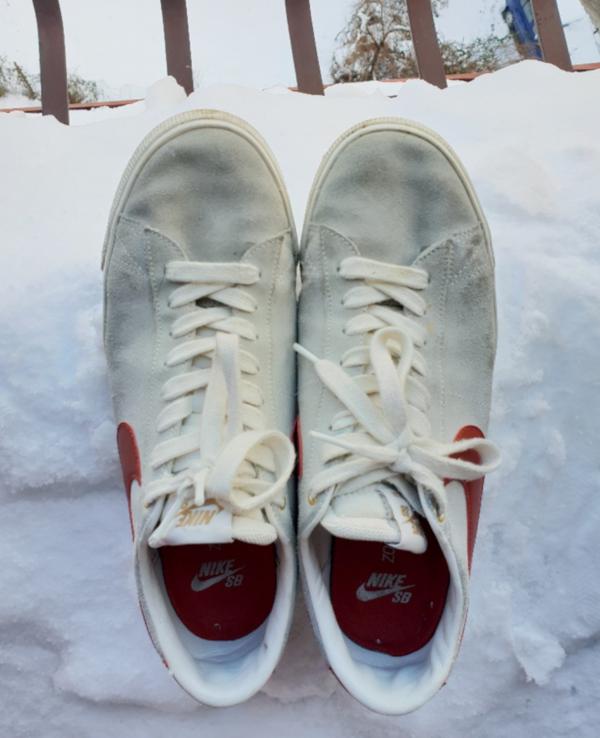 When it comes to upper, this white suede will not stay clean so long. And due to cleaning, it will lose that brand new look, and it won't be as nice as it was before.
The inside of the shoe is characterized by elastic bands which provide super comfort and lockdown which impressed me. Also, there is the Zoom Air insole with Zoom Air Bag heel protection.
For the laces, there are a couple of positive words I need to say about the ties. As you can see, we have many of them on this model. It is like that, because of past standards, which have been followed while designing these shoes.
The thing is, I don't remember a moment when I needed to retie them which is not case with similar shoes. I would definitely go with this model than Vans or Converse.
Outsole
The outsole has a basketball shoe design. It is made out of quality rubber and provides great grip. I never drove skateboard, but I can tell that they are pretty grippy on a normal sidewalk.
One thing I noticed is that many times I had a small rock stuck in the outsole, in this small rubber grip dents. Also, I could say that they are pretty much true to size.
Final thoughts
This is a lovely pair of shoes. It looks nice and is durable enough. The price is reasonable, and you can pair them with many pants which means they are stylish enough as well.
It is the only shoe for nice weather, and since this is suede, it will not stay clean for a long time, so if you like, you can go for darker colors.
Lastly, the fit and lockdown are both great and are true to size. I can tell you that you can use them daily, without problems.
Size and fit
The Nike SB Air Zoom Blazer Low GT's vulcanized sole allows maximum flexibility and more board feel. The tongue is also designed with an underneath mesh lining to provide a more secure fit and an added lace loop in the middle for additional support. It generally fits true to size.
Nike SB Blazer Low GT Style
The Nike SB Air Zoom Blazer Low GT is a low-top skate shoe that features a classic silhouette with a suede and leather upper. On and off the skate court, it looks great when worn with any casual pants, jeans, or shorts.
Notable Features
The Nike SB Air Zoom Blazer Low GT features special removable Velcro heel Nike patches and a removable insole with built-in Nike Zoom unit in the heel. The tongue label includes the "Grant Taylor" name and there are star-shaped vent perforations below the Swoosh to allow ventilation. The tongue also features a thin elastic strap and an added lace loop in the middle.
Nike SB Blazer Low GT History
The Nike Blazer was first released as a basketball shoe in 1972 and worn by basketball superstar George "The Ice Man" Gervin. It has become widely popular that even skateboarders considered it a must-have shoe during the '80s skateboard craze.
In 2002, Nike launched the Nike SB as one of its sub-brands. It was the brand's second attempt to get into the skateboarding scene which eventually turned into a success. Then formed was the Nike SB Team, which is comprised of professional skateboarders. One of the Nike SB Team members is Grant Taylor, a professional American skateboarder and a son of former professional skateboarder Thomas Taylor. He began skateboarding at the age of six and started joining competitive skateboarding amateur contests in the early 2000s. He gained professional status in 2009 and in 2011, he won the Thrasher Magazine's "Skater of the Year" award.
In 2005, the Nike Blazer was re-released in a skate shoe version under the Nike SB sub-brand and named the Nike SB Blazer. It was based on the original Blazer, but with additional features such as the padded collar and Zoom Air insoles.
In 2014, Grant Taylor finally got his signature model from the Nike SB - the Nike SB Air Zoom Blazer Low GT (GT means Grant Taylor). It was a hybrid between two of Taylor's favorite Nike models, the Blazer Low and the Bruin.
Additional Info
Recent releases of the Nike SB Air Zoom Blazer Low GT feature removable Velcro Nike patches which were lacking in the earlier releases.
The Nike SB launched a collaboration with New York-based skateboarding shop and clothing brand Supreme on the Blazer Low GT in 2016. The Nike SB x Supreme Blazer Low GT was released in three colorways (tan, teal, and pink) and features a suede upper, a leather Swoosh and heel panel with "FTW" label in gold, and an embossed gold foil Supreme logo at the heel.
Popularity
The current trend of Nike SB Blazer Low GT.