Verdict from 4 experts and 14 user reviews
8 reasons to buy
The Nike MagistaX Proximo II Indoor cleat uses a Flyknit upper which is deemed by a majority of its users to be very comfortable.
The bumps featured in the upper gives the player a better ball touch, several users expressed.
A significant number of reviewers expressed that they are very satisfied with the price given the quality of the Nike MagistaX Proximo II Indoor shoe.
Ball control is great with this football model, one user said.
With a nylon stitching connecting the forefoot to the toebox area, this shoe aims for durability.
The Nike MagistaX Proximo II Indoor cleat provides a decent amount of traction, said a number of reviews.
This cleat features a non-marking outsole for gym floors.
2 reasons not to buy
The Nike MagistaX Proximo II Indoor shoe does not feature the All Conditions Control (ACC) technology like other Nike models - this technology aims to maintain control in both wet and dry conditions.
This Nike cleat runs a half-size smaller than the usual size, an expert reviewer informed.
Bottom line
For those looking forward to a smooth Five-A-Side indoor court game, this soccer cleat will be a perfect partner. The Nike MagistaX Proximo II Indoor shoe brings the best of both worlds in terms of price and quality. Its only minor flaw is that it runs a half-size smaller than the usual size, which can be fixed by going for a half size bigger.
Tip: see the best soccer cleats.
Our reviews
A good athletic shoe is like a good referee; If they are doing their job well, you forget they are even there. The Nike Magista X Proximo II is a near-perfect futsal/indoor soccer shoe.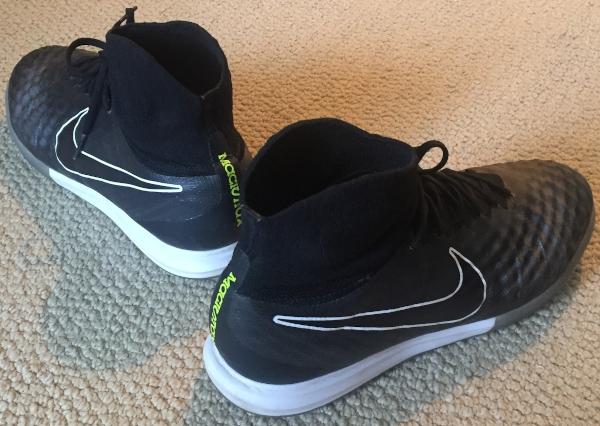 It's an ideal balance of lightness and support, as well as flexibility and stiffness. I believe that in most cases, a soccer shoe has minimal impact on a player's ability.
After all, the best players in the world grew up mostly in bare feet kicking a bottle down a dirt road or cobbled street. The MagistaX Proximo II has me second-guessing myself.
Touch
Your touch on the ball is the most crucial aspect to consider when choosing a soccer shoe. I'm here to say, "Nike's Flyknit technology is the future, boys and girls."
The synthetic/flyknit blend on the top of the foot has me thinking, "I can't believe it's not leather".
That combined with the "golfball" texture, makes me wonder if this shoe should actually be made illegal because of the control one can have on the ball.
Support
For anyone who has rolled an ankle, hyper-extended a knee or stubbed a toe, this shoe is for you. The dynamic collar fits anatomically around the ankle.
This fit creates a sock-like sensation that blends you into the ground. It gives you valuable feedback every millisecond about where your ankles are in relation to your soles.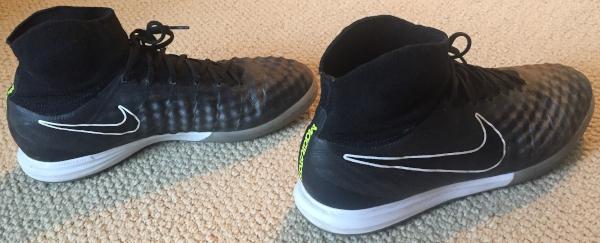 Working in conjunction with the grip system inside the shoe, slipping prevention is at an all-time high with these boots.
Together, your foot and the shoe feel like one—an inseparable, unprecedented, juking, goal-scoring machine.
Style
These are clean and simple. They look more like slippers than traditional clunky soccer boot, which is a little far out. But, if you get the all-black ones, they still look classy.
As per usual, they come in a wild range of colors for those adventurous type of people.
Quirks
I just can't decide whether to wear high or low socks with these. The former looks goofy, and the latter makes you feel naked. A small aesthetic issue that each player must deal with on their own.
Also, the pattern on the bottom of the shoe, however great for traction, is a magnet for small bits of rubber, rock, plastic, or whatever else is knockin around on your imperfect playing surface.
This shoe is definitely designed for the cleanest court in the neighborhood. If you accidentally wear them to an outdoor sports turf field, be ready to spend a solid hour picking rubber bits out.
Lastly, they can be quite difficult to get on and off. This proves how well these shoes form to your foot and ankle. Get ready to have a quick wrestling match with these babies the first couple times.
Conclusion
When it's all said and done, the Nike MagistaX Proximo II is more than worth the $150 (USD) for any soccer player. The performance on the court is out of this world.
In addition, you can even keep them on after a session and head to the pub. They look and feel that good.
Good to know
Using the same upper as the Nike Magista Obra II, the Nike MagistaX Proximo II Indoor shoe uses Flyknit technology. A bit different from the usual design, the Flyknit construction featured in this soccer cleat comes with a 3D texture; these bumps on the upper are especially prominent in the areas of the foot that are often used during play.
Flywire cables are incorporated into this cleat with the wires connecting the base of the sole to the lacing system to provide structural support.
For the collar, this model utilizes a different cut. Using a Scalloped Dynamic Fit Collar that links the lower leg to the foot, it creates a sock-like fit.
The soccer cleat has a removable insole with a mesh liner on top with perforations throughout.
The Nike MagistaX Proximo II Indoor soccer cleat utilizes a Lunarlon foam for cushioning in the midsole. Considered as a high-end material for Nike, this type of foam creates a springy and responsive ride.
This model also uses a circular traction pattern on a rubber outsole for enhanced traction especially during fast play.
The Nike MagistaX Proximo II Indoor shoe has a sock-like fit. However, this model runs a half size small so, it is recommended to go half-size up the usual size for the best fit. The lacing system is similar to that of the Adidas Predator 19.1 Trainers as well as the Adidas Mundial Goal.
Men and women's version of these cleats is produced by the brand. Men's sizes range from 6 to 12.5. On the other hand, sizes available for women are from 7.5 to 14.
The Nike MagistaX Proximo II Indoor outsole uses a rubber material with a circular traction pattern. This outsole is engineered for quick turns and agile play.
For durability, a layer of Nike Grind rubber on the toe has been added as well as a nylon stitching connecting the toe box and the forefoot.
An added feature for this soccer cleat is a non-marking outsole for gym floors.
Nike incorporated a Lunarlon foam into the midsole of the MagistaX Proximo II Indoor. It is designed to deliver a more responsive and springy ride while playing on the court. It efficiently delivers durable underfoot protection.
The upper of the Nike MagistaX Proximo II Indoor shoe uses Flyknit with a 3D texture. The Flyknit upper is lightweight while ensuring maximum comfort and breathability.
Incorporating a 3D texture in the upper with a thickness of 4.5 millimeters at its highest point, this design creates a dampened effect and cushioned sensation when in contact with the ball sans the bulk. It achieves this while still maintaining responsiveness - it creates a 'ping' sensation when kicking the ball.
A Scalloped Dynamic Fit collar is used to link the lower leg to the foot. This feature creates a sock-like feel to the soccer cleat.
The Nike MagistaX Proximo II Indoor cleat is available in several colorways including Heat Map (Volt/ Black/ Total Orange/ Pink Blast), Black Out (Black/ Gum Light Brown/ Black), Triple Volt (Volt/ Barely Volt/ Electric Green) and Heritage White (White/ Challenge Red/ Hyper Blue).
Rankings
How Nike MagistaX Proximo II Indoor ranks compared to all other shoes
Popularity
The current trend of Nike MagistaX Proximo II Indoor.