Verdict from 5 experts and 90 user reviews
6 reasons to buy
A good number of users recommended the Magista Obra II DF Elite FG to players with wide feet.
A lot of users felt this cleat allowed them to change directions smoothly.
Many reviewers noted the cleat's excellent ball touch.
Numerous reviews stated that the shoe feels comfortably nice due to the padded sensation brought about by the FlyKnit upper.
There were a couple who have testified that the Nike Magista Obra II DF Elite FG was easy to break in.
One user favored this shoe to be fit for midfielders as it provided ball contact that is especially good for passing.
3 reasons not to buy
Sole separation is one of the most commonly mentioned durability issues, by many users.
One user thinks that the Magista Obra II DF Elite FG is expensive given that it showed wear and tear after a few months of using it.
Some players noted the painful sensation they felt due to the stud pressure of the Magista Obra II DF Elite FG.
Bottom line
The Nike Magista Obra II DF Elite FG is praised for its comfort fit and outstanding ball touch were frequently brought up by several reviews. However, durability issues were quite apparent.
These varying opinions from actual experiences tell us that buying the Magista Obra II DF Elite FG should be done carefully.
Tip: see the best soccer cleats.
Our reviews
This is the second time I am wearing this model from Nike. First one was Nike MagistaObra 2015 Intense Heat Pack.
I remember two things: (1) I was the first one who had them in my team, and (2) I was definitely a most noticeable player on the pitch with two intensive oranges on my feet.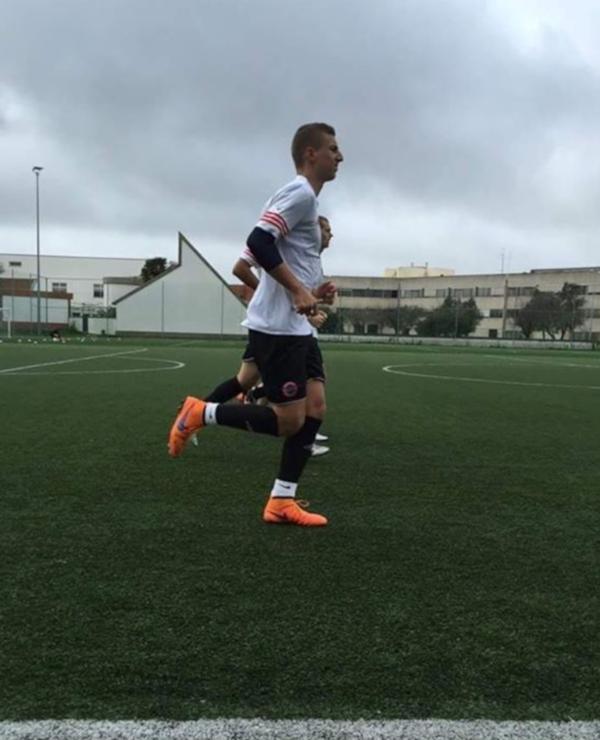 Three years later, after a lot of models from different brands, they came up to me again as a second generation (I've seen a lot of changes in three years). One of which is my behavior due to puberty. I calmed down a little bit, so as the color of my shoes from Heat Intensive pack- from vibrant color to colder Ice Pack (colder colors).
But, another thing that made me noticeable on the pitch is my performance. This is supported by Nike's extraordinary engineering which we will discuss down below.
Introduction
From the first moment I tried them on, I said: "wow, what a relief!" After a long usage of the Adidas Ace 17.1 FG/SG (wherein its stiff and I got a lot of blisters) this was a real refreshment. I could not wait for my next training!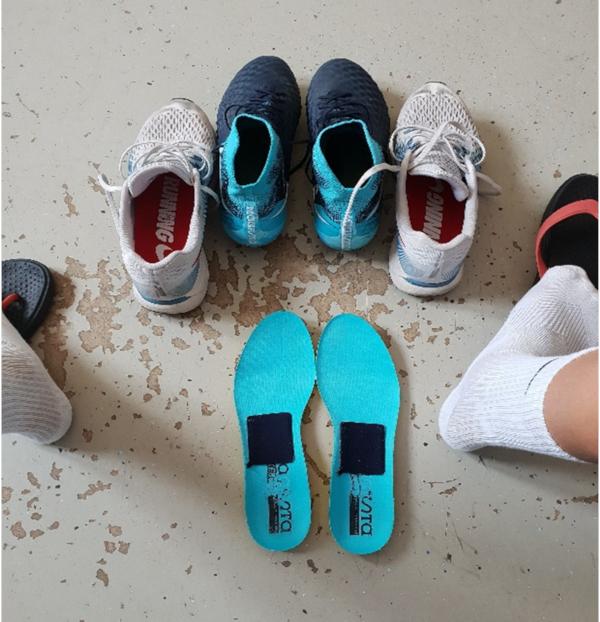 First training in them was more than good. I understand I was hyped because of fresh new cleats on my feet, and I was instantly in a better mood, but all that had to be supported by quality, and that is precisely what the Magista Obra II FG offers.
Mid-cut collar
I will start with mid-cut collar since I wore X15 with low cut collar. From Nemeziz 17.1, Adidas X17.1, Ace 16.1 laceless, Adidas Ace 17.1, Mercurial victory DF/FG, Magista Obra I, I can say that Magistra Obra II works best for me.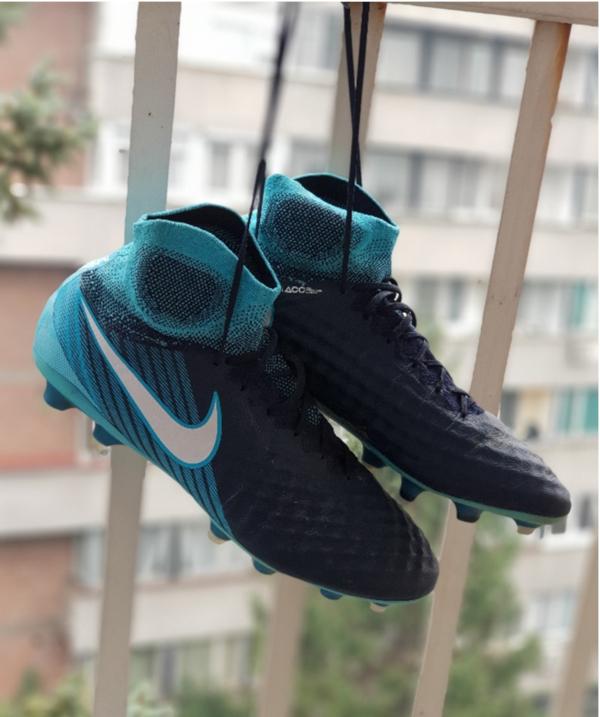 Comfort
I had zero issues when it comes to comfort. After putting the shoe on, there is no need for extra fixing. It holds everything in place and gives you a secure lockdown sensation.
Also, I really like the "futuristic shape" mid-cut collar white socks. You have probably read already that this latest model is made by latest, high-tech material, that will boost your performance, give you extra feel, etc.
As a player, these words on paper means nothing to me. When I am looking for a new pair of shoes, all I want is a good fit, good traction, and the ability to break-in quickly. I can tell you firsthand that this boots can provide all things mentioned above to you.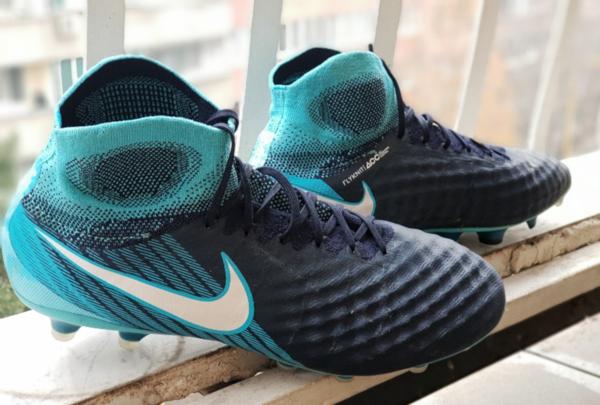 Comfort is really great. After training and proper drying Magistas always waits for me soft and ready. The most important thing for me is that they are true to size.
They completely hug my feet and gives me full lockdown with no extra space, unlike Nemeziz 17.1 or X17.1 which felt great on trying, but after in training or game, I felt discomfort, extra space, and low level of lockdown, which put my question what size do I actually wear.
To be honest, you will not feel this fly-knit system. You don't even have time to look at your shoes and think about it too much. Nike made it so good, that when you finish your action or after the game you will say wow, I felt comfortable.
Even in bad conditions, from soleplate to upper material, you will never be disappointed. Fit and touch is always great. Of course, you need to train these things, but in shoes like this it will only go faster and more comfortable
Soleplate
The thing I especially like about this shoe is soleplate. Nike did a really good job. When I first tried Nike Tiempo Elite 7 FG, I said wow, this is really good.
Since I had training on a pitch, it was really hard to feel comfortable. If it's rainy, you could not wear SG studs, because it would be too hard and painful for feet but also in FG I founded myself very often lying in the mud.
With Tiempos 7 Elite FG I felt big improvement but I did not have the chance to feel them as best as possible because they were a half size bigger. When I tried Magistas, it is pretty much similar soleplate.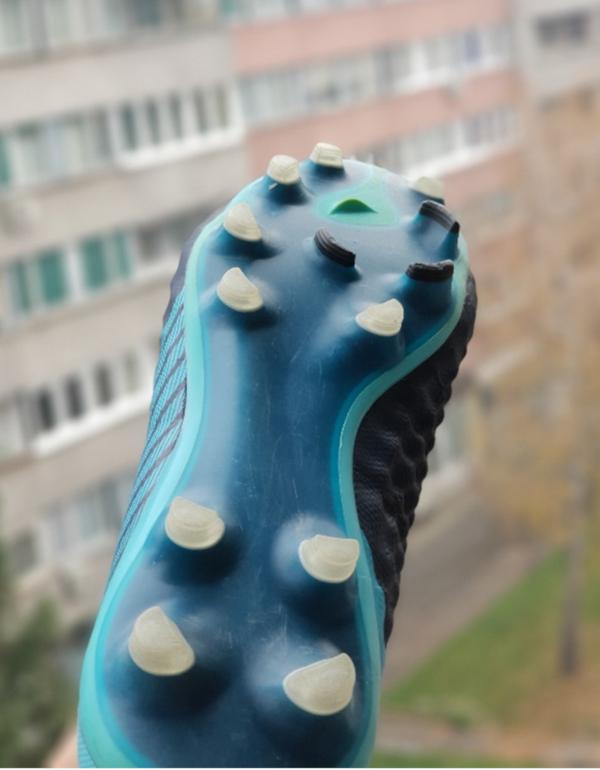 I had excellent traction, felt very comfortable in zig-zag running, and I realized my traction problems are now fixed. It is very soft, explosive and sharp so it doesn't hold as much mud as other models like ACE 17.1, Nemeziz, X17.1 etc. Obviously it is not good as Nike Anti-Clog models but improvement is noticeable.
Lacing system
Lacing system also got improved - combined with brilliant engineering and a true to size model, this is only cream at the end of the cake. With Nemeziz 17.1 and X17.1 I felt discomfort. I ended up trying to fasten my laces more than I should which ended with poor circulation and pain in my feet.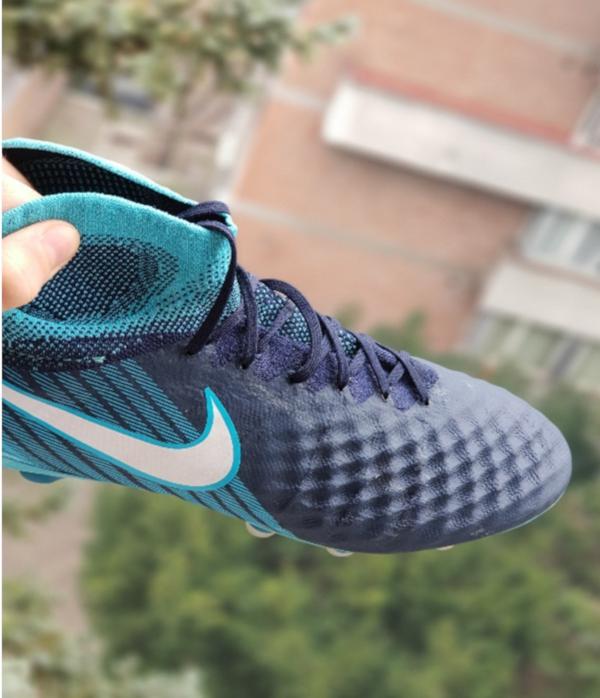 Lightness of the boots which is 280g is also noticeable and very welcoming. Again those are only words on paper and means nothing until you find yourself in situations and put them on real test.
It is very satisfying to wear them and you definitely won't go wrong with them. It's worth to praise these boots. They managed to successfully pair comfort, lightness, touch, traction. I can only say ''good job Nike''
Final thoughts
My final statement is that these boots can find themselves very high on the top boots list. After so many models that I tried, I can say that these are really something else.
From the first moment you try them, they already feel like part of you. Comfort, traction, feel, lockdown, everything is on point. They are so complete, that today we can see different players wearing them, from defense to attack.
I hope my review can answer you some questions that you were wondering about, and I wish you luck in purchasing new boots.
Good to know
With the advent of the FlyKnit technology in the soccer world, Nike has transformed firm ground cleats, such as in the Magista series, into elements of optimized fit and ball touch. The Magista Obra II DF Elite FG, for one, has been a great example of cleats with enhanced comfortability. The said technology has made this cleat a powerhouse of breathability and support.
With its stretchable feel strengthened by All Conditions Control (ACC) technology, the second version of Magista Obra DF Elite FG is another Nike innovation suit to withstand wet and dry conditions but still guarantees superb ball control. The same protective technology is found in the Nike Mercurial Superfly 360 Elite CR7 FG and Nike Mercurial Superfly 6 Elite Firm Ground.
Its Dynamic Fit Collar is interestingly one of the outstanding features of this soccer cleat. Visually, the mid-cut collar is enhanced with an embossed ankle support with a thick stretchable knit material and is shaped to provide more coverage.
Another upgraded component to this soccer cleat is the stud. The dual pattern stud system is apparently setting the stands much higher for the soleplate stability. It is coupled with an internal heel counter and removable mesh liner insole for a perfect lockdown fit.
The Magista Obra II DF Elite FG is available in sizes 4 to 14 for men's version and sizes 5.5 to 15.5 for women's. The stretchable FlyKnit upper of the soccer cleat makes it a perfect fit for both narrow and wide-footed players.
Apart from the fact that the Magista Obra II DF Elite FG is much lighter compared to its predecessor, traction has also been one of the greatest improvements for this version. A new rotational forefoot system is applied to aid in quicker pace especially in changing directions. Indeed, another update intended for agility.
The stud length is noticeably shorter for firm ground cleats. Its pattern is a combination of half circular studs and chevron-shaped studs. It is functionally, a merger of stability and acceleration.
The soleplate is made from a stiffer (Thermoplastic Polyurethane) TPU construction compared to other Nike soccer cleats. Its firmness is not restrictive at all. It is simply meant to balance durability and flexibility.
Consistent with its predecessor, the Magista Obra II DF Elite FG still utilizes a FlyKnit upper in a tongue-less mid-cut design. What sets this model apart is the remarkable innovations done to level up the performance of the shoe apparent with its novel look. The knitted texture that looks like bumps is seen forming the upper in a very fancy yet functional way.
Thicker padding is observed in the midfoot, and the lateral side of the forefoot as these are the areas that are frequently touching the ball. It is intentionally constructed to enhance ball control and sock-like sensation. The padded textured feel does not in any way lessen breathability. In fact, the FlyKnit upper is designed to improve that aspect.
The FlyWire cables are also visible and are attached to the off-centered laces. It brings comfortable fit and internal support.
Another similar feature to its original version is the Dynamic Fit Collar, but this time, it is revamped to provide more benefits. The rounded shape is contoured to support the ankles and connect the foot to the lower leg smoothly. The back area is dipped lower to allow more fluid movement of the foot. Overall, the coherent elements in Magista Obra II DF Elite FG have brought a powerful upper that is made to amplify playmaking, as what its tagline suggests.
Nike Magista Obra II DF Elite FG is available in the following colors: Light Armory Blue/Armory Blue/Armory Navy, Laser Orange/White/Volt/Black, Black/Cool Grey/Stadium Green/White
Radiation Flare and Motion Blur Pack are some of its design variations.
This soccer cleat is formerly known as the Magista Obra II FG.
How Magista Obra II DF Elite Firm Ground compares
Corescore: 59-61
1 shoes (0.53% of shoes)
Corescore: 62-65
6 shoes (3% of shoes)
Corescore: 66-68
4 shoes (2% of shoes)
Corescore: 69-72
17 shoes (9% of shoes)
Corescore: 73-75
17 shoes (9% of shoes)
Corescore: 76-78
20 shoes (11% of shoes)
Corescore: 79-82
45 shoes (24% of shoes)
Corescore: 83-85
36 shoes (19% of shoes)
Corescore: 86-89
33 shoes (17% of shoes)
Corescore: 90-93
11 shoes (6% of shoes)
Price: $25 - $57
12 shoes (6% of shoes)
Price: $58 - $89
36 shoes (19% of shoes)
Price: $90 - $122
26 shoes (14% of shoes)
Price: $123 - $154
20 shoes (11% of shoes)
Price: $155 - $187
9 shoes (5% of shoes)
Price: $188 - $219
18 shoes (9% of shoes)
Price: $220 - $252
31 shoes (16% of shoes)
Price: $253 - $284
19 shoes (10% of shoes)
Price: $285 - $317
13 shoes (7% of shoes)
Price: $318 - $350
6 shoes (3% of shoes)