Our reviews
To win a battle, you depend on your "soldiers" and these shoes indeed, will not let you down.
The silhouette looks familiar with no laces and velcro straps, however, some minor adjustments in design make this Lebron a new all-time favorite. And if you know about previous Lebron shoes, you don't take for granted the ease of putting on and taking off of a shoe.
Straps are secure, let's dive in.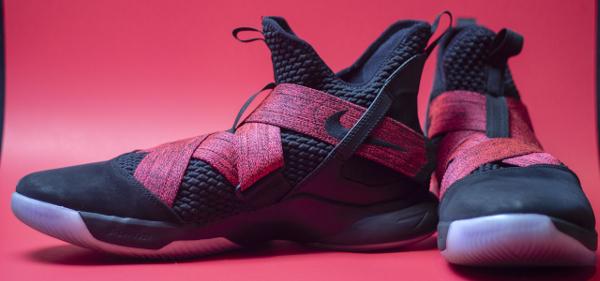 Traction
I exclusively played with the Lebron Soldier XII inside. These shoes will give you the brakes to cut when you want. I will admit there is a sense of 'drift' which some might consider a slide but after playing in them a few days in a row, it was not even noticeable.
It's not the absolute best I've ever experienced where every step gives me that squeaking sound, but they are pretty good.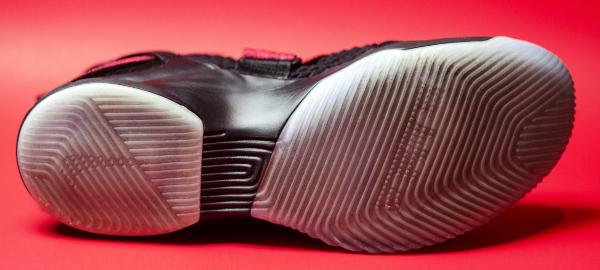 Fit
The fit with the Lebron Soldier XII is good.
When I wore them the first time and walked around, I had to adjust the straps. I like the new cross foot design and it is quick and easy to readjust in a game versus dealing with shoelaces!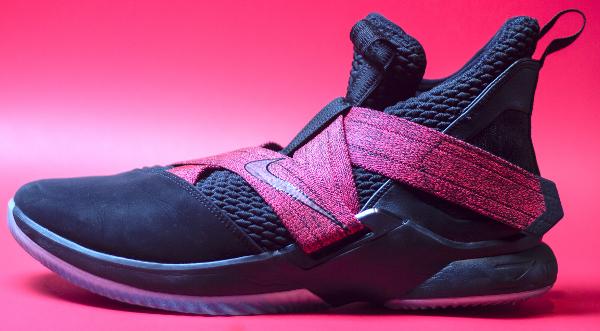 After wearing for a prolonged amount of time, the tightness around the sides of my mid-foot was noticeable. When playing you forget about it, but in between pickup games you may adjust them for comfort.
Also, around the toe areas, it's somewhat loose, not to the extent that my feet slip when I plant but there is some wiggle room. All of the things I've mentioned aren't really complaints, just observations while playing. They fit and feel good overall.
Weight
I have no complaints with the Lebron Solder XII as far as weight is concerned. I could easily make quick steps, recover on defense and explode to dunk the ball whenever I wanted.
Materials
The durability of the Lebron Soldier XII is a concern in the toe area. While the shoes felt great, breathable and look really good when wearing them, I've noticed blemishes on my toes when I used them for 4 consecutive days.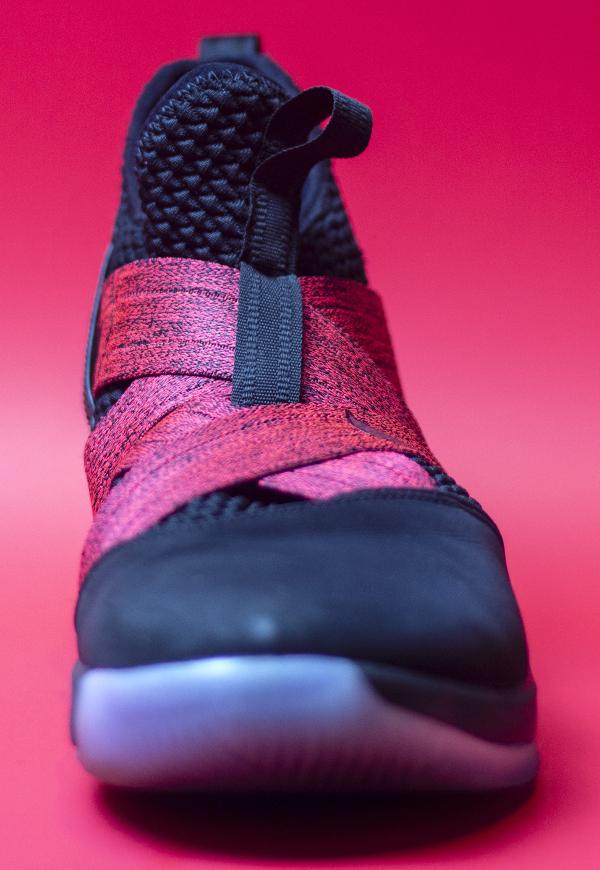 I'm hoping this doesn't wear away so soon. The darker shoes obviously also do hold dust, so in gameplay, if someone steps on them, this pair will require some wiping to maintain a clean look.
Cushion
The cushion in the Lebron Soldier XII felt good. My last workout involved a lot of driving to the basket and finishing with dunking the ball. Landing felt great for the entirety of my workout.
Support
Probably the best feature of the Lebron Soldier XII is the support. I got full support in these shoes in my ball handling drills and in pick up games. I felt completely confident doing anything and everything I wanted to with no slippage at the ankle when planting, exploding or landing.
Conclusion
The Nike Lebron Soldier XII offers value and comfort.
This shoe will be very popular amongst all age groups of basketball players and for good reason. The plethora of colorways will offer good value propositions when they go on sale. No shoe is perfect and for the Lebron Soldier XII that I tested, the wear and tear on these shoes may become evident if you play hard in them.
They are extremely comfortable, with great support and again, are easy to take on and off without help for those shopping for elementary age players. These shoes are a great buy, even better if you can catch a pair you like on sale!
Profile of the Nike LeBron Soldier 12
In the second quarter of 2018, Nike released another shoe model in the LeBron Soldier line. At $140, the Nike LeBron Soldier 12 comes with a Phylon midsole with Zoom Air units. Its circular-knit textile upper gives wearers a comfortable and flexible ride. The multidirectional traction pattern on either solid rubber or gum delivers a reliable court grip and control without attracting dust and debris. The signature shoe features two hook-and-loop straps for easy and secure lockdown.
The Nike LeBron Soldier 12 is also praised for its versatility. The textile upper brings comfort to the foot with just enough space for the toes to wiggle. With all these attributes, the Nike LeBron Soldier 12 is indeed a sure win for your foot.
Performance
Cushion. The Nike LeBron Soldier 12 features a Phylon midsole with Zoom Air units at the forefoot and heel. The Zoom Air units absorb impact and provides energy return. A comfortable ride is afforded by the soft Phylon carrier. The midsole is slightly curved to deliver arch support.
Traction. Depending on the colorway, the outsole of the Nike LeBron Soldier 12 comes in either solid rubber or gum. It boasts a multidirectional traction pattern that is great for both lateral and linear footwork. The spacious and deep grooves provide a secure grip on court floors, effectively preventing slippage.
Fit
Length and Width. The LeBron Soldier series run long and narrow according to most reviewers. They say wearers with average-sized feet can go true to size or half size down if they want a snugger fit. However, it is still best for them to try the shoe on before purchasing. As for those with wider feet, they can opt for a different shoe.
Lockdown. The one-bootie construction of the Nike LeBron Soldier 12 ensures a one-to-one fit. To keep the foot in place, the signature shoe has two criss-crossing Velcro straps. The straps are stretchable, making it very easy for wearers to make adjustments.
Material
The upper of the Nike LeBron Soldier 12 is made of circular-knit textile. The engineered fabric is durable and flexible like the Battleknit upper of the Nike LeBron 15. This one-bootie signature shoe also has neoprene in its construction for a more stable and comfortable fit.
Style
The Nike LeBron Soldier 12 is available on NikeID. Wearers can customize the shoe model to match their personal style. Colors of the entire shoe can be modified; wearers can particularly play with the colors of the speckles, callouts, and the Swoosh.
Like other LeBron signature shoes, the Soldier 12 can be paired with either long or short pants. Though they look great for casual use, the Nike LeBron Soldier 12 best attracts eyes on-court.
Special Colorways of the Nike LeBron Soldier 12
The Nike LeBron Soldier 12 comes in basic colorways as listed below:
Anchor
Land and Sea
Provence Purple
Red Straps
SFG
Soft Pink
Nike LeBron Soldier 12 Agimat
LeBron James has dedicated the Agimat colorway to his fans in the Philippines. These entirely blue Nike basketball shoes are accented with gold detailing and sits on a translucent outsole rubber. For the Filipinos, Agimat means amulet and charm that translates to LBJ's capabilities on court. The LeBron Soldier 12 has callouts of "Mula Mandirigma Sa Mandirigma," "MNL," and "330."
Nike LeBron Soldier 12 Bred
The "Bred" colorway is a regular colorway for LeBron James basketball shoes such as the Nike Air Zoom Generation, LeBron Soldier 11, LeBron 4, and LeBron 8 just to name a few. The colorway has a black base with white and university red accents. The Bred colorway retails at $140 and was released on May 18, 2018.
Nike LeBron Soldier 12 Camo
With a black base, the heel and toe of the LeBron Soldier 12 come with camouflage overlays. This camo goodness is also called the Hazel Rush colorway. Released on April 26, 2018, the Nike LeBron Soldier 12 Camo retails at $130.
Nike LeBron Soldier 12 Light Bone
The "Light Bone" colorway has a neutral upper with hints of red at the ankle collar and outsole. The Swoosh comes with a gold detailing. It features a gum outsole that matches the upper nicely. Some reports say that the LeBron Soldier 12 Light Bone almost resembles the Air Yeezy 2. The Light Bone colorway becomes available on May 31, 2018 at $140.
Nike LeBron Soldier 12 OG 25 Straight
The OG 25 Straight colorway of the Nike LeBron Soldier 12 comes with a white upper with midnight navy straps and rear panel. The blue midsole and outsole have specks of mineral yellow so that they match with the mineral yellow LeBron logo and Swoosh. A "WITNESS" callout is on the pull tab. The Nike LeBron Soldier 12 OG 25 Straight is made available on May 31, 2018.
Nike LeBron Soldier 12 SVSM
The SVSM colorway honors of St. Vincent–St. Mary High School, LeBron James's alma mater. The shoe is dressed in white with green stitches and a green ankle collar. The rear half of the white midsole has green speckles to match the entirely green outsole. A green 'IRISH" callout is found at the midfoot. At $130, the SVSM colorway is released on May 5, 2018.
Nike LeBron Soldier 12 Zero Dark Thirty
The LeBron Soldier 12 Zero Dark Thirty is also dubbed as the "Zero Dark Thirty, 23 Activated" by some reporters. This colorway honors the dark times when LeBron James shut himself out of social media to focus on his game. Its entirely black upper is made of a combination of mesh and suede. It has a reflective Nike Swoosh. It is released on April 25, 2018 at $140.
Compare popularity
Interactive
Compare the popularity of another shoe to Nike LeBron Soldier 12:
Nike LeBron Soldier 12 video reviews