The Kyrie Low 4 is a solid performer for its splendid traction, fit, and stability, but is weighed down by its minor heel slippage and minimal cushion. The other minor area of warning is ventilation, as although the upper material is rather thin and light the breathability of the material is mediocre.
Pros
Top-tier traction
Quick responsiveness
Lightweight
Very comfortable
Stable
Supportive
No break-in time
Good lockdown
Cons
Minimal cushioning
Heel slippage
Not for outdoor play
Mediocre ventilation
Nike Kyrie Low 4 review
Kyrie Irving's main signature line has consistently performed as one of Nike's top-selling lines through the past several years, but his low-top basketball shoe has steadily grown to be very popular as well. The shoe plays best for guards looking for a low to the ground, light feel, and is best suited for hardwood surfaces.
Overall, I really enjoyed hooping in Nike Kyrie Low 4 and understand the decision by many NBA players to go with this low profile, steady performer!
Who should buy it
Do buy the Nike Kyrie Low 4 if you are light on your feet perimeter player looking for a minimalist fast shoe that plays extremely low to the ground and has instant responsiveness.
Who should NOT buy it
Consider other models if you:
are a player who prefers a hefty cushioning setup (the Nike Cosmic Unity has cushioning that offers plenty of impact protection)
prefer a pair with strong outdoor durability (the Lebron 18 is worth checking out)
Minimal but noticeable cushioning
The cushion on the Kyrie Low 4 is very minimal - one small forefoot Zoom unit in the forefoot that was felt but not huge with a full-length Cushlon that covered the rest of the foot. While this is not my preferred setup, it was still an enjoyable ride with some existent cushioning and the tradeoff provided is the lower to ground responsive ride.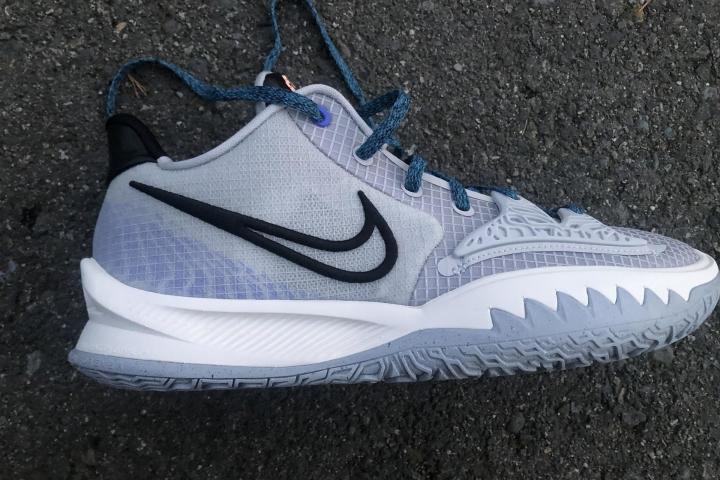 The forefoot cushioning provided decent impact protection, but was on the firmer side and may not be for players who desire a near-maximal cushioning setup or need very strong impact protection.
Tricky fit, consider going half-size down
When I detected the minor heel slippage in my normal size, I decided to go down a half size which ended up being the correct call. Although the forefoot feels like a normal true-to-size fit, the heel slippage was noticeably mitigated from going down half a size without much-added tightness in the forefoot from this tradeoff.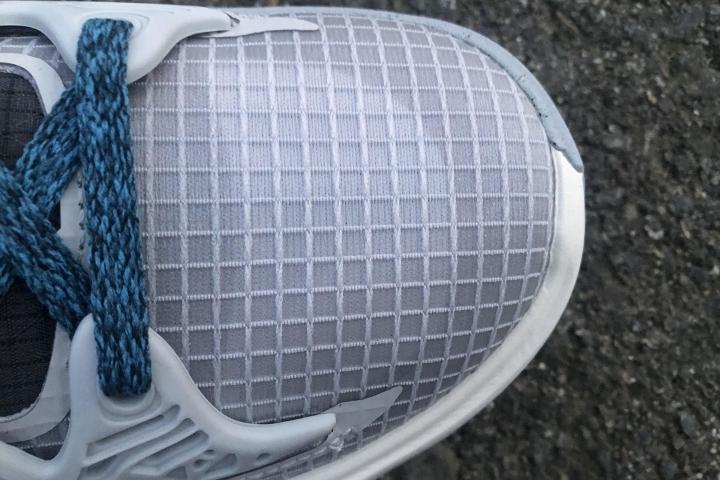 Top-tier traction
The Kyrie 4 Low has fantastic multidirectional traction based on its outsole pattern, which is nearly identical to the outsole of Kyrie's previous Nike Kyrie 7 model. The bite is really hard on all surfaces with good consistency and only minimal wiping is needed.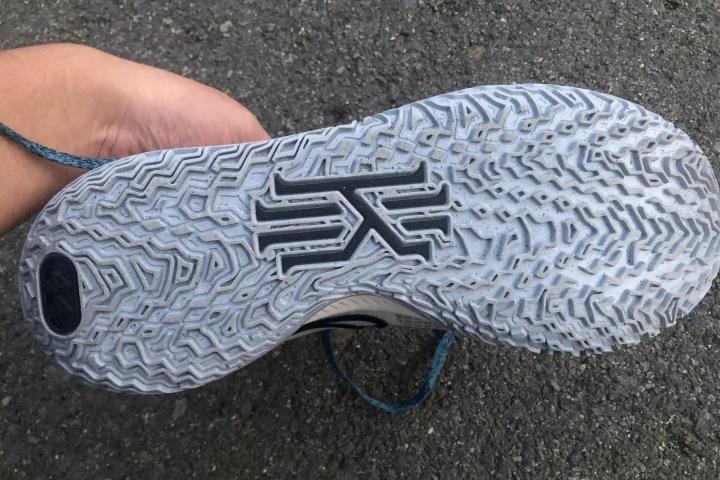 The only knock is that the design may not be uber durable to last a hooper over a year of consistent play, so do look elsewhere if you are seeking a shoe to last year for the long haul forward.
No break-in time is needed
The responsiveness, comfort, lockdown, and traction all worked well right away and felt the same in subsequent hoop sessions.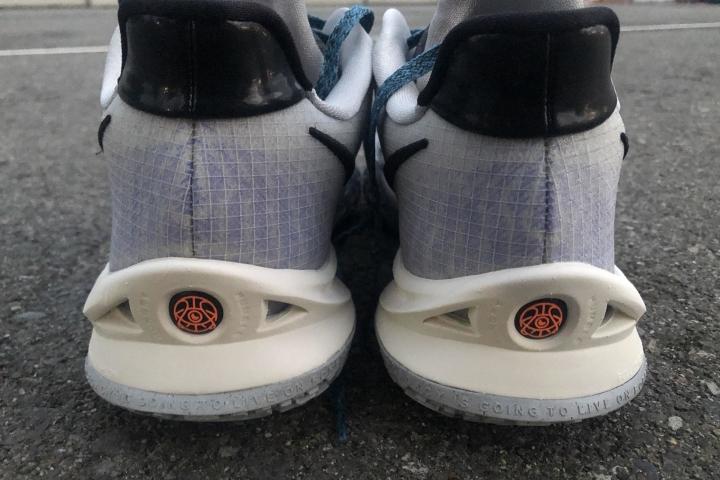 The Kyrie 4 Low is not suggested for outdoors
Do not take the Nike Kyrie Low 4 for some outdoor sessions unless you want to risk wearing down the outsole pattern within a few uses - I repeat, do not take these outdoors. The traction, while being very good outdoors still, is made of very soft materials and the grooves are not uber sturdy either, providing for a very fragile outdoor durability combo.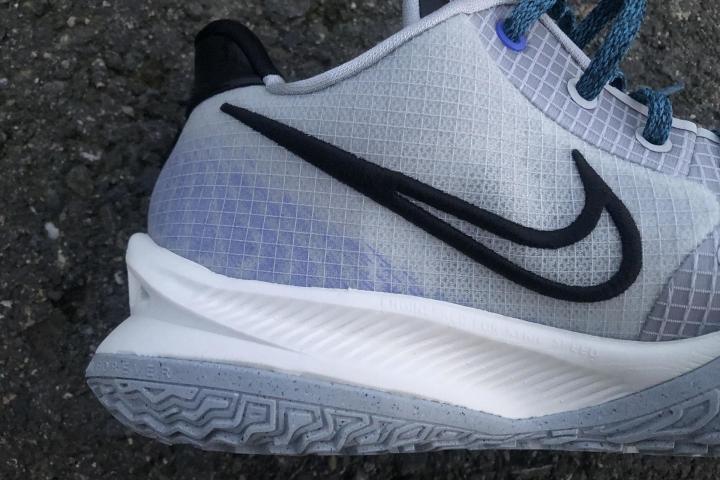 Weighs light for a basketball shoe
The Kyrie Low 4 weighs (11.9oz/337g) on the light end for basketball shoes. This was no surprise with its minimal cushioning and thin upper setup and felt very light while playing. Its weight sits just lower than the popular Nike KD/Nike PG/Adidas Harden releases.
Ventilation is mediocre
The upper of the Nike Kyrie Low 4 uses a woven mesh-like upper which was awesome in the domains of weight, flexibility, and comfort, but only underperformed in breathability.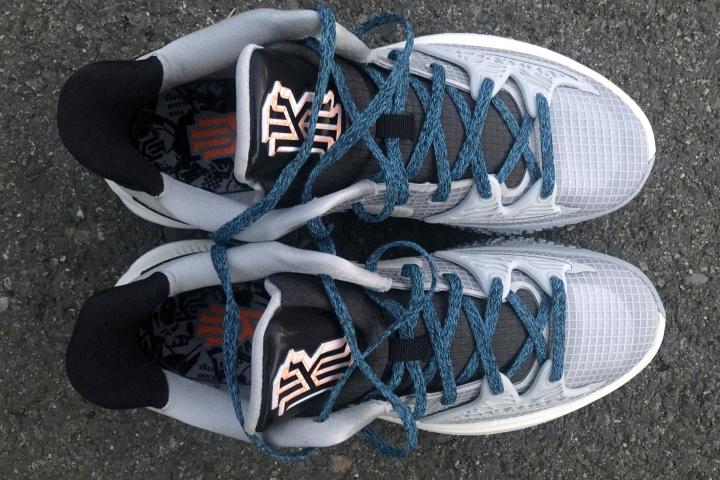 The material did not feel very breathable and despite its thinness, my foot got a bit heated, but not to the point where there was any uncomfortable rubbing. I was also able to notice a small amount of sweat buildup but nothing to the point where it affected performance to any degree.
Stable and supportive for lateral positions
Lockdown for me was another one of the high points of the shoes. Great lateral foot support with no foot slippage during hard slides and stops, and the upper wrapped around the ankle area nicely where it did appropriately loosely hugged the ankle for good support.
The plastic outsole extended up the heel area to act as a heel counter which sufficed well to help keep my heel and foot in place.
Conclusion
The retail price for the Nike Kyrie Low 4 is $110. For the price, they're a great get if you're in the profile of a speedy player who values traction and responsiveness and wants a minimal, low to the ground cushion setup.