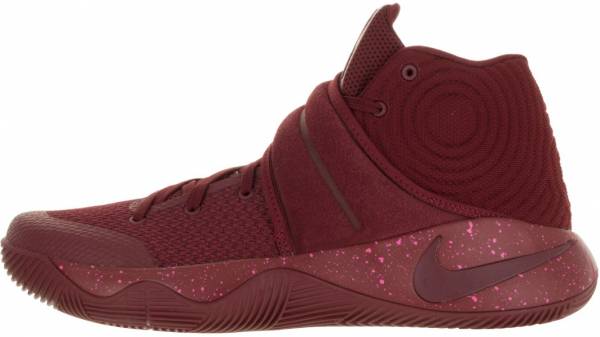 Designed for Kyrie Irving's style of play, the Nike Kyrie 2 best suits light, quick, and agile guards. The shoe's rounded outsole, excellent traction, and low-to-the-ground cushioning are all engineered to compliment Kyrie's movements on the court. Overall, the Nike Kyrie 2 is a solid basketball shoe for a specific type of player. It performs just the way it's intended to. Most casual wearers will also enjoy the shoes since it just looks beautiful.
---
Verdict from 27 experts and 100+ user reviews
10 reasons to buy
Most buyers are saying that the Nike Kyrie 2 is a great shoe. They say it has amazing features at a great price.
Several appreciate the shoe's unique design. It's very stylish and receives a lot of compliments.
Almost all wearers claim that these Kyrie Irving shoes are extremely comfortable. It's perfect for basketball and feels great to walk in.
The Kyrie 2 has excellent traction on any surface and court condition, a lot of players observe.
Like the Nike Kyrie 5, most testers note that the curved outsole makes it easier to perform cuts.
A significant number of purchasers note that the fit is true to size.
Some claim that the shoes fit like a glove and conform to the contours of the feet.
These Kyrie shoes feel light on your feet, many users remark.
Lockdown and support are great according to many. The strap does an excellent job locking the foot.
These Irving shoes are easy to break in and doesn't crease, several declare.
5 reasons not to buy
Several wide-footers have an issue with the shoe's narrow front. They complain that the shoe is uncomfortable and painful to wear.
Almost all testers comment that the shoes do not have enough cushioning. They say that the cushion feels hard and stiff.
Some buyers report that the Nike Kyrie 2 requires some break-in time. They state that it takes a few games for the materials to conform to your foot.
The shoes should have more basic color options, several assert.
A handful of buyers claim that their ankles feel sore after playing in the Kyrie 2. Users also experience the same feeling after playing in the Nike Hyperdunk X.
Bottom line
Designed for Kyrie Irving's style of play, the Nike Kyrie 2 best suits light, quick, and agile guards. The shoe's rounded outsole, excellent traction, and low-to-the-ground cushioning are all engineered to compliment Kyrie's movements on the court. Overall, the Nike Kyrie 2 is a solid basketball shoe for a specific type of player. It performs just the way it's intended to. Most casual wearers will also enjoy the shoes since it just looks beautiful.
Best price from 50 shops
We earn affiliate commissions at no extra cost to you when you buy through us.
80% say it's true to size.







Profile of the Nike Kyrie 2
Kyrie's speed and agility allow him to break down defenses game after game. The second coming of his signature shoe is a reflection of his unpredictable playing style. With lighter-than-ever cushioning and a newly rounded outsole, the Nike Kyrie 2 is the only shoe Kyrie trusts to elevate his filthy handles.
Combining lightweight and zonal support with responsive cushioning, the Kyrie 2 gets you covered every time you step on the court. The shoe's unique design is built for forward motion; ideal for players like Kyrie who are quick off their first step.
Performance
Cushion. In the heel, a Nike Zoom Air unit is utilized for faster heel-to-toe transitions during acceleration and effective impact protection during deceleration. This lightweight Zoom Air unit gives responsive cushioning to every step.
A synthetic forefoot frame with minimal cushioning provides court feel while a lightweight foam midsole offers impact protection.
Traction. The Nike Kyrie 2 features a first-ever rounded outsole that enables smooth lateral transitions required for fast and fluid play. The rounded geometry allows Kyrie to redistribute his weight and cut on a dime without slapping his foot and decreasing his power output.
Nike also wrapped the herringbone pattern around the curved sidewall. This feature provides dynamic traction when attacking at all angles. A large pivot circle on the forefoot allows Kyrie to pivot, switch directions, and pull off his signature spins.
Fit
Length and Width. The Nike Kyrie 2 fits true to size. However, it runs a little narrow. Wide-footers are advised to go up half a size.
Lockdown. The Kyrie 2 has a Hyperfuse construction that provides lockdown support. A unique midfoot strap design helps keep the foot locked in while adding stability in the heel.
The strap is designed to suck the heel back into the shoe, keeping it secure whether you are accelerating or decelerating. It wraps over the top of the foot instead of around the ankle.
Material
Nike Hyperfuse construction offers durability, breathability, and support. This durable mesh upper is designed with molded channels that allow the shoe to flex with the foot. These molded regions also increase breathability and stability.
Style
Boasting a mid-top silhouette, the Kyrie returns with a new look. Its innovative curved outsole and outlandish colorways make the Nike Kyrie 2 a popular choice among hoopers and sneaker enthusiasts. It is also available to customize on NIKEiD.
The Kyrie 2 solidified itself as a memorable silhouette with the 2016 NBA Finals' defining shot.
Story
Kyrie Irving pushes the boundaries of Newton's laws of motion. The way he moves can look like he's defying physics. The science behind these movements inspired the unique architecture of Kyrie's second signature shoe.
Kyrie can complete his killer crossover dribble in less than 0.33 seconds. To change direction quickly, he has to move at low angles that the sides of his shoes engage the floor. Leo Chang, Nike Basketball's designer, decided to get rid of the edge that separated the soles to the sides of the shoes and an innovative rounded outsole was born.
Special Colorways of the Nike Kyrie 2
With more than 30 colorways to select from, including NIKEiD and PEs, Kyrie Irving fans will surely find a pair that will suit their style.
All-Star Celery/Varsity Maize-Black 'Northern Lights'
Black/Green Glow 'Kyrie-Oke'
Black/Metallic Silver-Bright Crimson
Black/Reflective Silver-Game Royal 'Duke' PE
Black/Reflect Silver 'Triple Black'
'Blue Velvet' Finals PE (Game 2)
Bright Crimson/Atomic Orange-Black 'Inferno'
'Hardwood Classics' PE
'Hot Lava'
Hyper Cobalt/Metallic Silver-Black 'Brotherhood'
Light Bone/White-Reflect Silver 'Summer Pack'
Midnight Navy/University Gold-University Red-Midnight Navy 'Cavs'
Multicolor/Black-Sail 'Effect'
'Navy Gold' Finals PE (Game 1)
Red/Black/Orange 'Dream'
Red Velvet Finals PE (Game 4)
Team Red/Pure Platinum-Black 'Red Velvet'
Tour Yellow/Black-White 'Australia'
University Red/Metallic Gold 'Gold Medal/Unite'
White/Black-Multi 'The Academy'
White Gold Wine Finals PE (Game 3)
White/Hyper Jade-Urban Lilac-Bright Mango 'Easter'
White/Metallic Silver-Tour Yellow 'Silver Speckle'
White/Obsidian-Blue Lagoon-Orange Blaze 'Christmas'
White/University Red-Black 'Crossover'
White/University Red-Deep Royal Blue 'USA'
Wolf Grey/Dark Grey-Omega-Cool Grey
Wolf Grey/Metallic Silver-Racer Blue 'Blue Speckle'
Nike Kyrie 2 'BHM'
Nike celebrates Dr. Martin Luther King's birthday by launching their annual Black History Month Collection. Inspired by the "power of one" philosophy, the Nike Kyrie 2 features a multi-colored pattern to celebrate the global bond that sports bring about.
Nike Kyrie 2 Doernbecher X Andy Grass
In 2014, 10-year old Andy Grass was critically injured while he was on the beach. A sneaker wave rolled a log onto him, leaving him with fractured bones, collapsed lungs, and a lacerated liver. He spent almost a month recovering at Doernbecher Children's Hospital where doctors tirelessly worked to stabilize his condition and then get him back on his feet.
The Nike Kyrie 2 Doernbecher pays tribute to everyone who helped him get better. "I wanted to make my shoe to honor the people that helped me during my recovery," Andy told Nike.com. "I tried to make the shoe blue and white because that's my basketball team's colors. The 'GRASS STRONG' part is the tagline that people use to remember me. It was made as an encouragement to my parents and my family."
Nike Kyrie 2 'EYBL'
This limited edition Nike Kyrie 2 was specifically made for the participants of Nike's Elite Youth Basketball League 2016. The Nike Kyrie 2 'EYBL' is dressed in predominantly black with a speckled midsole and strap. A marble outsole and special EYBL logo complete the shoe's summer look.
Nike Basketball 'Four Wins Pack'
To celebrate the Cleveland Cavaliers epic comeback in the 2016 NBA Finals, Nike released the 'Four Wings Pack' that include shoes worn by both LeBron James and Kyrie Irving. This two-shoe set is limited in number and comes in a specially designed box.
Nike Kyrie 2 'Grape Jelly' Custom
Created by Mache Customs, these one-off Kyrie Irving basketball shoes draw inspiration from New York's Jelly Fam crew. The Nike Kyrie 2 'Grape Jelly' Custom features a black upper with vibrant purple accents. Graffiti-like words such as "Kyrie," "NYC," and "Just Jelly" are written all over the shoe while a grape logo on the tongue completes the grape jelly theme.
Nike Kyrie 2 'Ky-Reer High'
On March 12, 2015, Kyrie put up a career-high 57 points en route to a 128-125 road win against the San Antonio Spurs. To commemorate the best game of his career, Nike launched the 'Ky-Reer High' colorway almost exactly a year later. Dressed in the same colors as the Kyrie 1 he wore that night, the Nike Kyrie 2 'Ky-Reer High' features the Cavaliers Navy alternate team colors. These Kyrie Irving basketball shoes were made available through NIKEiD.
Nike Kyrie 2 'Ky-Rispy Kreme'
The Nike Kyrie 2 X Krispy Kreme collaboration is inspired by Kyrie's love for doughnuts and his rookie year tradition of buying these sweet treats for his teammates. Inspired by the Krispy Kreme box, the Kyrie 2 'Ky-Rispy Kreme' comes in a combination of white, bright red, and green. To keep up with the theme, these Kyrie basketball shoes were sold in a special Nike Ky-Rispy Kreme truck and packed in a windowed box.
Nike Kyrie 2 'Kyrache'
Kyrie Irving was born on March 23, 1992. In the same year, Nike launched the Nike Air Flight Huarache. To honor the birth of two icons, Nike created a Huarache-inspired colorway of the Kyrie 2. Borrowing elements from the iconic Air Flight Huarache, these Kyrie basketball shoes feature a mix of black, white, and bold berry.
Nike Kyrie 2 'Parade'
Kyrie was instrumental in the Cleveland Cavaliers first NBA Championship. To celebrate, Nike outfitted Kyrie Irving with a 'Parde' colorway during the Cavs Championship motorcade. These basketball shoes feature a white and black upper with a unique graphic on the strap.
Nike Kyrie 2 'What The'
The Nike Kyrie 2 'What The' tells the story of Kyrie Irving's memorable 2015-2016 NBA season. It features three-dimensional elements that capture each magical moment. "It wasn't about trying to be flashy by having multiple colors all over the shoe, it was more about the subtlety of integrating Kyrie's stories through unique 3-D textural graphics carefully molded on both shoes," designer Meline Khachatourian told Nike.com.
These Kyrie Irving basketball shoes are available in two tonal executions. The Nike Kyrie 2 'What The' comes in a monochromatic white (sail) and green glow colorway. "To make it even more special, the sail colorway will be exclusive to North America and the green glow colorway will only be available in the rest of the world," color designer Tara Onishi explained.
Rankings
How Nike Kyrie 2 ranks compared to all other shoes
Popularity
The current trend of Nike Kyrie 2.