It's fast, and it can rake up miles! The Nike Air Zoom Tempo Next% is everything we can ask for in a dedicated tempo trainer. It's comfortable and it's loaded with bounce, springing you forward in each stride! After putting it to the test, it's safe to say that it suits middle to long-distance runs best. And 100 miles after, we still don't see any significant wear from the shoe.
Pros
True to size
Fast
No break-in period
Super breathable paper-thin upper
Remarkable durability
Very comfortable
Sleek design
Pushes you forward
Best for fast long runs (~10 miles)
Cons
Unstable at sharp turns
Not for slow runs at all
Poor traction on wet surfaces
Nike Air Zoom Tempo Next% review
The Nike Zoom Tempo Next% is a remarkably well-put-together tempo shoe. It looks great and is very durable. If you're looking to up your pace, log a decent amount of miles, and do so with minimal discomfort, then this is the shoe for you.
If you're looking for something to race in, or something to log a couple of casual miles in, well this ain't it chief.
Who should buy it
The Nike Tempo Next% is perfect for runners who are looking for a comfortable running shoe that offers a fast, spring-loaded ride for mid to long-distance runs.
Who should NOT buy it
Look away if you need:
a race shoe (the Nike ZoomX Vaporfly NEXT% 2 is praised for being fast, bouncy and responsive)
a shoe with lower stack height for daily, easy runs (the Pegasus 38 is a comfortable trainer with cushion for slow days)
a stability shoe (in this case, consider a pair from the Nike Structure line that offers a supportive and firmer ride for both easy and fast-paced long runs)
Order half-size up if you want some room for your toes
However, this shoe fits as you would expect. Order true to size, or go up a ½ size if you want some breathing room for your little piggies!
The Nike Air Zoom Tempo Next% lacks ankle support
If you're looking for a super-secure lockdown, look elsewhere. This goes doubly for ankle support. I urge you not to take corners too aggressively in these shoes. You're gonna have a bad time.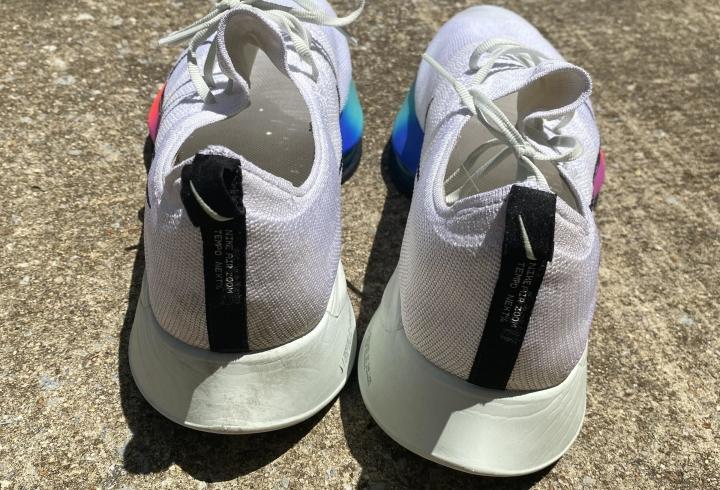 Speed is the name of the game
Speed is king for the Tempo Next%. It is not a shoe for your casual run. The spring-loaded feel of the toe-off makes moving at slower paces feel odd and unstable. The shoe offers an almost see-sawing ride. It wants you moving forward.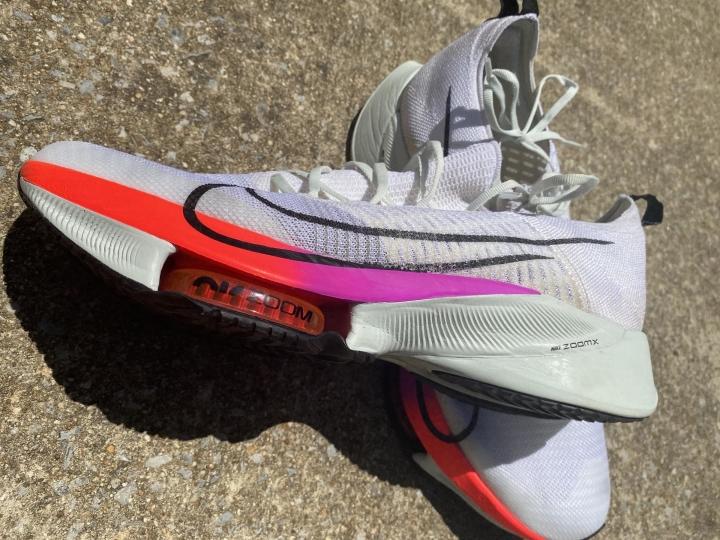 Committed for the long haul (7-13miles), not for short bursts
Along with the "need for speed" feeling this shoe engenders, it also begs you to take it for a longer ride. The shoe isn't a partner for short bursts nor quick training sessions. You will not be running wind-sprints with these things. They are amazing for setting a pace, a quick one at that, and commit to it for the long haul. The optimal running distance, in my humble opinion, is between 7-13 miles.
There's no denying the shoe is comfortable
After all those miles, I never once felt the ache in my knees or the tightening in my back. It glides at optimum speeds, allowing for ZERO recovery time in the interim between runs. The mix of foam and the Zoom Air pillow make for a bouncy ride, giving you a sensation akin to "energy return." This makes for a diminished impact during each stride. You certainly do not clomp around in these shoes. The run feels like a breeze.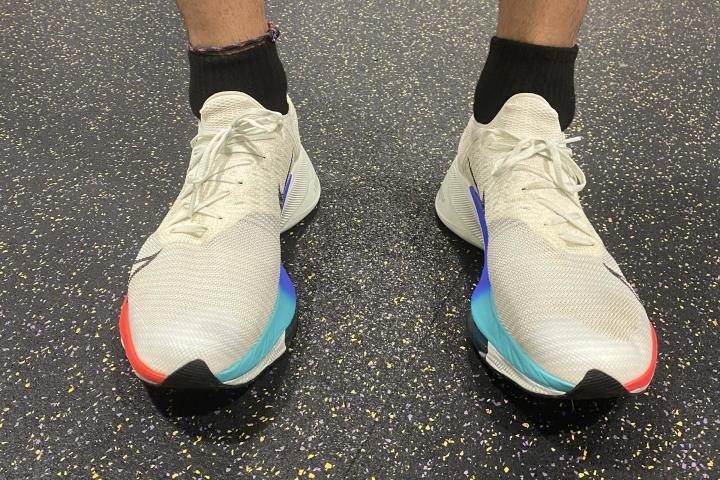 Ready to rock and roll right out of the box
Pleasantly enough, the shoe is ready to go right out of the box. No break-in time is needed to get these things feeling the way you want them to. That said, there is no benefit of breaking the shoe in either. It never starts to feel like "more of your shoe" the longer you run in it.
Breathable, paper-thin upper
The upper is thin. How thin? Paper-thin. There really isn't much to the Nike Zoom Tempo Next% upstairs. This is fine, and almost desirable, given the utility of the shoe. The upper wraps the foot nicely, and the tongue and ankle do not produce any unwanted friction.
The shoe is super breathable. No overheating whatsoever.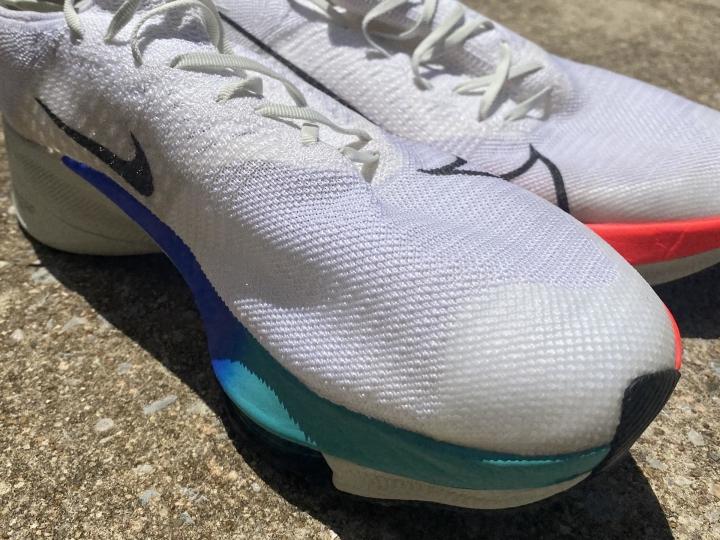 Remarkable durability
For what it is, the shoe is very durable. Given how thin the upper is, you would think wear and tear got the best of it after 2 straight weeks of daily wear, logging just north of 100 miles. The shoe has held together remarkably well, even though I can feel it losing the spring in its step. This is par for the course however with tempo shoes.
What's cookin' good lookin'?
Sheesh, these shoes are pretty. It's almost criminal to run in them. Nike, again, is at the top of the food chain when it comes to designing a great-looking shoe. Although, with enough wear (and subsequently enough sweat) the shoes may start to "yellow." That brilliant white upper loses its sparkle 2 weeks in.
Traction is not for wet surfaces
Now, this may be a dilemma that is specific to me, but it bears mentioning. The shoe will lose its traction in the presence of any water. It goes without saying that no shoe is ideal in the rain.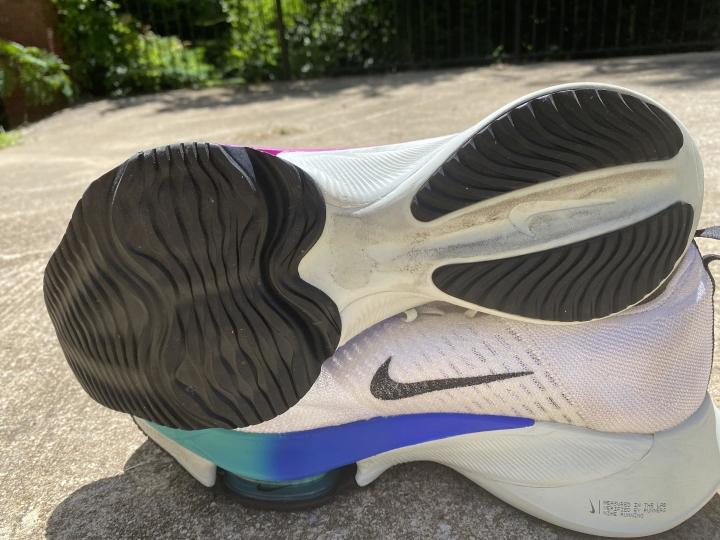 The Tempo Next% is insanely expensive
This bad boy is gonna cost you a solid $200, which is very expensive compared to other road running shoes (the average price is $127).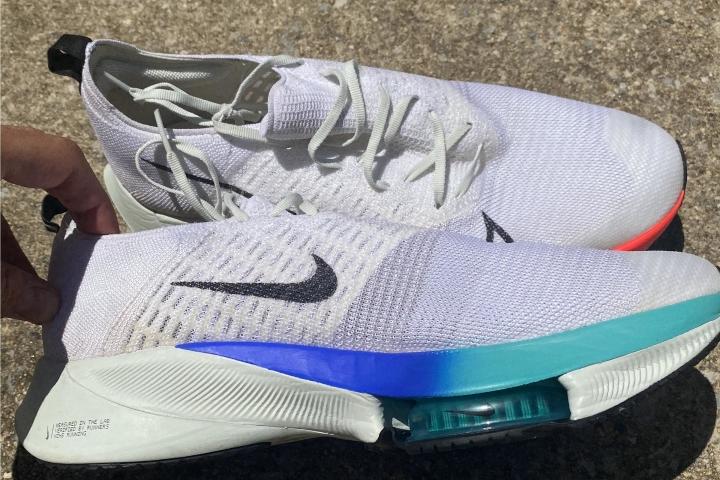 Now, is the shoe worth that kind of money? I guess it depends on who you ask. As previously mentioned, the shoe is specific. It fits comfortably in a very defined niche, right between daily trainer and race-day shoe. That said, if you are someone who is inclined to rotate between a daily, tempo, and race shoe, this may fit the bill… it just may increase the size of that bill significantly.
Conclusion
At the end of the day, only you know if you're looking for a shoe that fits this specific purpose. This shoe has purpose and focus. Something that I actually appreciate about it. We are now in an era of running, where one shoe cannot do it all, nor should it.
Furthermore, running shoes are becoming more and more specialized. This is one of those specialized shoes. If you have the extra cash to snag you a pair, then I highly recommend it.