Verdict from 5.9 hours of research from the internet
6 reasons to buy
The majority of the consumers said that the Nike Air Zoom Pegasus 35 Turbo is comfortable.

A lot of users mentioned that the shoe is lightweight.

A good number of testers commented that the running footwear has excellent cushioning.

Based on the reviews, the running shoe is fast.

It is a nice-looking shoe according to those who have bought it.

The shoe is best suited for easy and long runs as well as walking and marathon training.
2 reasons not to buy
The Nike Air Zoom Pegasus 35 Turbo lacks heel support, as noted by some users.

Several buyers commented that the running shoe is not durable. The sole started to wear off after several uses only.
Bottom line
The majority of the consumers welcomed the Nike Air Zoom Pegasus 35 Turbo with so much joy and pride. They agreed that the shoe is suitable for both indoor and outdoor running and walking activities. They were contented with this running shoe's lightweight structure and excellent cushioning. Most of the testers were made happy, satisfied with the combination of all the materials and technologies employed to the outsole, midsole, and upper area of the shoe. It's fantastic construction and performance prove that this shoe is a successful release from Nike.
Tip: see the best running shoes.
Our reviews
The Nike Air Zoom Pegasus 35 Turbo is an upgraded version of Nike Air Pegasus 35. It is significantly lighter and more breathable. So, all the good things I wrote about 35s, apply here too.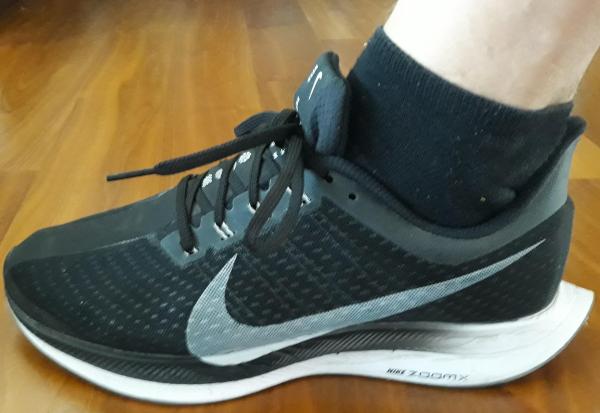 Now, I will focus more on the differences between these two shoes.
Fit
Both the fit and feel is quite similar to Pegasus 35. Actually, it is because of these shoes that I decided to purchase the Turbo. The fit was true to size for me.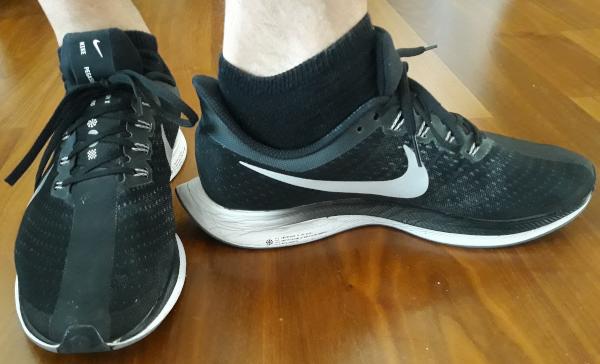 The heel is properly and securely locked—something that I think is very important and was struggling to find in other shoes. Flywire laces work well, too.
Comfort
Yes, this is why you wish to try these shoes. This shoe is for runners who prefer a very soft and squishy ride. I'm pretty sure many people will be genuinely impressed after a few steps.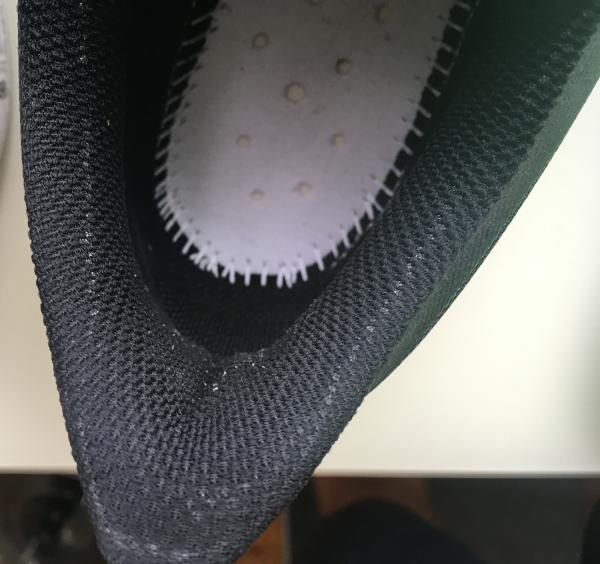 High flexibility and cushioning come at a price of lower responsiveness. Some serious runners will prefer a stiffer shoe for their races. Nonetheless, I'm not a professional athlete, so I'm good with that.
Weight
How much lighter are they compared to the Pegasus 35? There is about 30g difference for 42.5EUR sized single shoe, so you can definitely feel it. At approximately 225g, this is a very competitive weight.
Usage and durability
For me, it is more like a race type of shoe. But, often, I cannot resist to put it on even when not racing.
Are you chasing a Strava CR or some hard intervals with a friend? Then it is time for Turbos. So far, I have run 230km.
In the beginning, I already thought it would not last very long; everything went fine, but then the soles started to separate.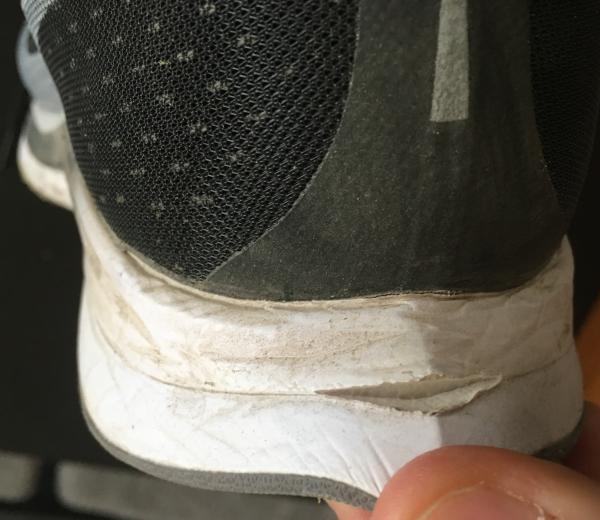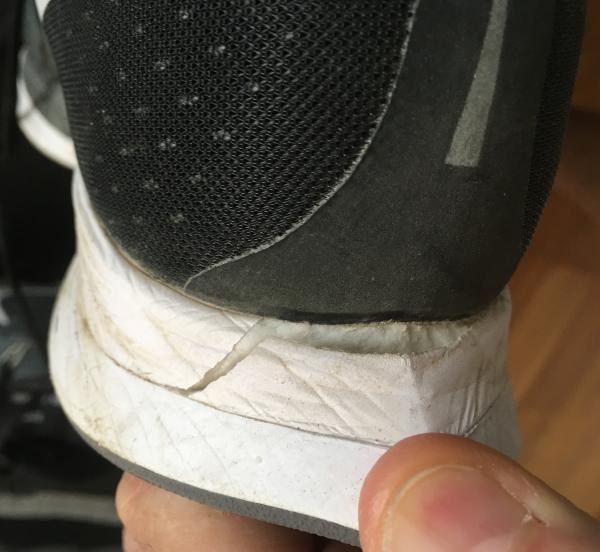 This seems to be a common problem, and I've learned that many people have had the same issue.
Luckily, I was given a new pair, as these shoes were bought from a reputable shop—still, I'm not impressed.
Upper
The upper of Turbo is more breathable as compared to the Pegasus 35. These are much better!
Sole and traction
Much of the sole is exposed foam, so I would not recommend using these shoes for trail running. Although there are some wrinkles on the sides that showed after a first run, the outsole, after 230km, looks very good.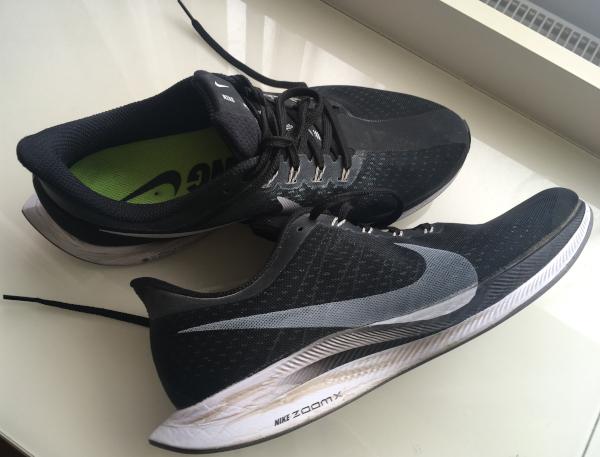 It has this ZoomX type of foam that is found on the crazy expensive Vaporfly 4% shoes paired with React foam, which makes it a lot more durable.
Still, it feels a bit less durable than the regular Pegs (400km but almost in a pristine condition!).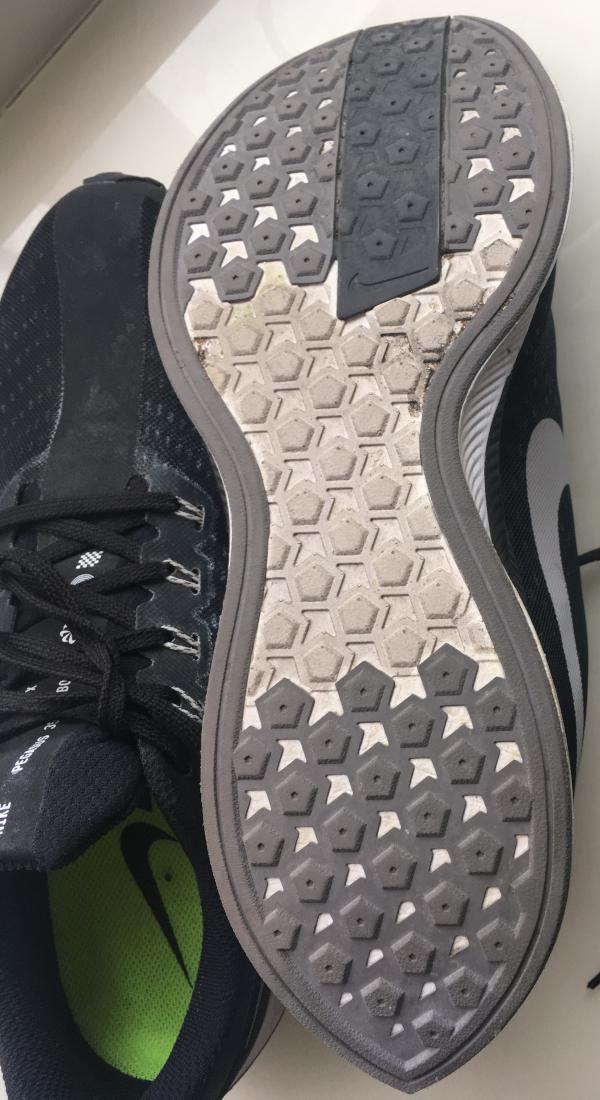 Nonetheles, I have not had any issues with traction, but I mostly ran on hard surfaces.
Price
They are more expensive, but is it worth the price? You may get it for around 100€ (vs 80€ for regular Pegasus), so I think it is. Is it worth the RRP? No, but very few shoes are.
Summary: Would I recommend it?
Well, yes and no.
I feel this is an ideal shoe for a road running enthusiast. The very soft and plush ride allows a runner to go very hard.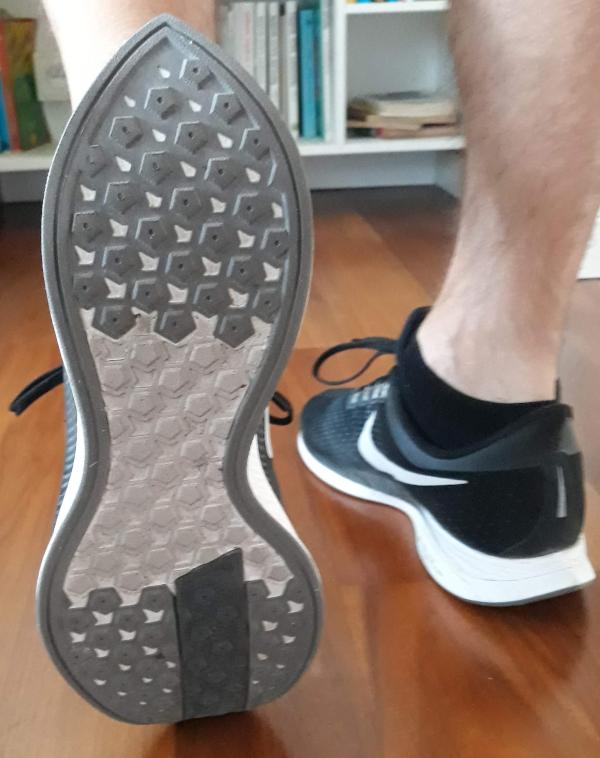 While some serious runners may prefer a stiffer shoe for their race days, these are pretty much the best 5k, 10k, and half-marathon race shoes for me.
But, given that the soles separated after 200km, I don't know I can recommend them. These are by far the most comfortable and lightweight shoes, but they should definitely last longer.
I want to believe that this replacement pair will be better. But, at least, I can enjoy a new pair.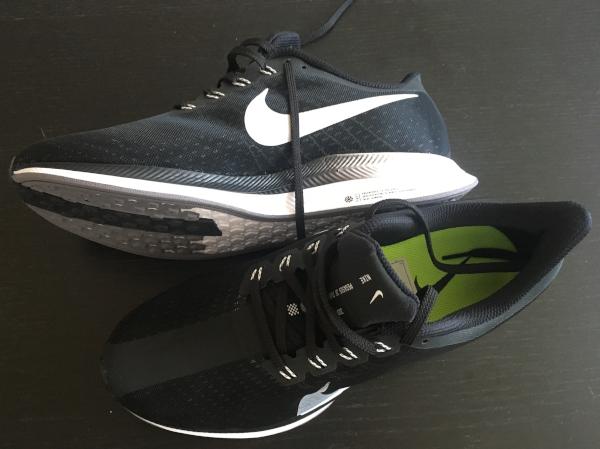 Having owned Pegasus 35 and Pegasus 35 Turbo made me buy Pegasus 36 Trail shoes. I'm curious to see if this will be a similar success.
Size and fit
True to size
based on 46 user votes
How Air Zoom Pegasus 35 Turbo compares
Corescore: 58-61
2 shoes (0.22% of shoes)
Corescore: 62-65
7 shoes (0.76% of shoes)
Corescore: 66-69
9 shoes (0.97% of shoes)
Corescore: 70-73
38 shoes (4% of shoes)
Corescore: 74-78
75 shoes (8% of shoes)
Corescore: 79-82
96 shoes (10% of shoes)
Corescore: 83-86
192 shoes (21% of shoes)
Corescore: 87-90
255 shoes (28% of shoes)
Corescore: 91-94
223 shoes (24% of shoes)
Corescore: 95-98
27 shoes (3% of shoes)
Corescore: 99-99
0 shoes (0% of shoes)
Price: $40 - $70
112 shoes (12% of shoes)
Price: $71 - $101
265 shoes (29% of shoes)
Price: $102 - $132
270 shoes (29% of shoes)
Price: $133 - $163
167 shoes (18% of shoes)
Price: $164 - $194
62 shoes (7% of shoes)
Price: $195 - $225
35 shoes (4% of shoes)
Price: $226 - $256
9 shoes (0.97% of shoes)
Price: $257 - $287
1 shoes (0.11% of shoes)
Price: $288 - $318
2 shoes (0.22% of shoes)
Price: $319 - $350
1 shoes (0.11% of shoes)
Weight: 3.5oz - 4.7oz
6 shoes (0.77% of shoes)
Weight: 4.8oz - 5.9oz
18 shoes (2% of shoes)
Weight: 6oz - 7.2oz
46 shoes (6% of shoes)
Weight: 7.3oz - 8.5oz
142 shoes (18% of shoes)
Weight: 8.6oz - 9.8oz
210 shoes (27% of shoes)
Weight: 9.9oz - 11oz
219 shoes (28% of shoes)
Weight: 11.1oz - 12.3oz
101 shoes (13% of shoes)
Weight: 12.4oz - 13.6oz
25 shoes (3% of shoes)
Weight: 13.7oz - 14.8oz
4 shoes (0.52% of shoes)
Weight: 14.9oz - 16.2oz
5 shoes (0.64% of shoes)