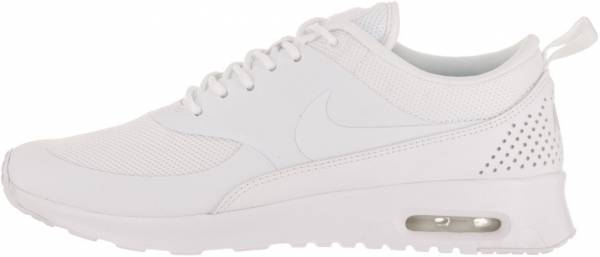 Hailed for its minimalist and sporty aesthetics as well as its lightweight cushioning, this sneaker instantly became a hit among many Nike sneaker queens. This shoe, however, despite its popularity, has notably earned various negative feedback. The Air Max Thea retains its prominence in the market. Its style, as well as the Nike brand's favorable reputation, clearly outweighs the shoe's imperfections.
---
Verdict from 100+ user reviews
8 reasons to buy
The Nike Air Max Thea makes the feet of its wearers look smaller, some have observed.
"Clean", "simple" and "cute" are the words that are commonly used by the majority of Nike fans to describe the shoe's silhouette.
Several users feel that this sneaker is comfortable.
Those who have tried this sneaker for work, for casual walking, and for traveling are happy that the shoe holds up.
Nearly all commenters are pleased with the shoe's lightweight construction.
Many favor this sneaker for its vibrant colorways.
The shoe cleans up easily, more than a handful has expressed.
This versatile sneaker goes well with various types of clothing, a couple of wearers have remarked.
4 reasons not to buy
A significant number are disappointed with the Air Max Thea's narrow build.
Its upper feels stiff and takes a long time to break in, several have disclosed.
A small number have noted that the shoe fails to provide adequate arch support.
Due to its narrow opening, some users say that the shoe is difficult to put on.
Bottom line
Hailed for its minimalist and sporty aesthetics as well as its
lightweight cushioning
, this sneaker instantly became a hit among many Nike sneaker queens. This shoe, however, despite its popularity, has notably earned various negative feedback. The Air Max Thea retains its prominence in the market. Its style, as well as the
Nike
brand's favorable reputation, clearly outweighs the shoe's imperfections.
Best price from 50 shops
We earn affiliate commissions at no extra cost to you when you buy through us.
39% say it's too small, 58% say it's true to size.
Size and fit
With a running-shoe inspired silhouette, the women's Air Max Thea sneaker ensures to surround your feet in comfort all day long without compromising support. Depending on its colorway, this sneaker's upper is made of textile/mesh with synthetic overlays. Regardless of material, expect the shoe, designed with a narrow forefoot to provide minimal toe space.
Nike Air Max Thea Style
Workout in the gym and walk in the streets in style without much fuss when you choose to wear this highly-fashionable sneaker. Arguably one of the most famed women's Nike lifestyle shoes in the market today, these kicks look great whether you're wearing cocktail dresses or baggy pants, leggings, or skinny jeans.
The women's Nike Air Max Thea, with its lightweight cushioning, also promises to provide superior comfort. Thus, many sneaker addicts consider this shoe as reliable everyday footwear.
Along with being a reliable pair of everyday footwear, the Nike Air Max Thea also delights wearers and sneakerheads with the array of colorways that the shoe comes in. There is definitely a sneaker color for everyone and anyone in the Air Max Thea. Here are a few of our classic favorites that we think you should check out.
Nike Air Max Thea "White/Black"
The sneakers come in a mostly white upper with black accents breaking the monotony of the white. Take for example the Swoosh logo of Nike being done up in black. Together, the black and white colors make for a shoe that embodies the sporty persona perfectly.
Nike Air Max Thea "Rose Gold"
These have been hailed to be the queen of pink sneakers. A lot of sneakerheads really appreciate this variant and the women just swoon over it. It's got a beautiful metallic shine to it that captures and commands attention from passerbys. It's also a great pair to style with and go great with the casual outfit.
Nike Air Max Thea "Green"
For this Nike Air Max Thea, green takes center stage but not in the way you'd imagine it to. It's not overly bright nor too dark to just blend in with everything else. Think of something along the lines of olive green. Subtle yet still able to catch the attention you want, the green Theas go great with simple tees and joggers. You'll want the shoes to stand out though so make sure your color coordination don't clash.
Nike Air Max Thea "Black"
A classic color combo, this variant of the Air Max Thea sneakers are sought out by many sneakerheads from both genders, and it isn't hard to see why. One look at it and you'll be wanting to get your hands on a pair, too. There are white tones that accentuate the sneaker and we think that it makes it look even better than it already does.
Nike Air Max Thea "Grey"
Another classic color that Nike likes to incorporate in most of its sneakers, the Thea gets dressed up in grey. Nike officially calls this color "wolf grey," and it's a pretty popular choice. For this, white and black help give the grey the pop that it needs without invading the primary color of the sneaker. These are a great in-between shoe for those who can't decide if they want the white variant of the Nike Air Max Thea or the black one.
Nike Air Max Thea "Red"
If you're looking for a sneaker that wows, then the nice red-colored Nike Air Max Theas are a good bet to buy. If a pop of color is what is needed to change up your outfit, then the "university red" that this sneaker has is a sure pop! Playing nicely with the red upper are the black accents that you can observe on the laces, the Nike Swoosh branding, as well as the tongue and collar of the shoe. Meanwhile, the white midsole evens it all out rather nicely.
Now that we've gotten the enticing yet straightforward colored Nike Air Max Thea sneakers out of the way, we move onto colorways that are unique, attention-grabbing, and simply, a rarity to own. Here are some of those Theas that you just have to own or at least check out.
Nike Air Max Thea "Flash Lime"
When the Air Max Thea in flash lime comes in to play, it's really hard not to be attracted to it. First off, it's bright. Insanely bright. It's an intense lime green that just screams attention. Yet, it works. You can observe some prints on the shoe's upper at a closer look. Meanwhile, the white midsole, as well as the white Nike Swoosh, provides a nice contrast to the flash lime color that Nike has going on.
Nike Air Max Thea "Bright Melon"
Bold colorways are the way to go with the women's Nike Air Max Thea. Keeping things exciting, Nike introduces the "Bright Melon" colorway to discerning fans of both the shoe and the color. Pink is in, and this color makes for a nice pair of Air Max Theas. From the laces to the upper all the way down to the heel counter, the "Bright Melon" color looks great. A white midsole keeps it classy though. Meanwhile, you can notice the mudguard having a croc skin-like texture to it.
Nike Air Max Thea "Cyber"
Considered to be Nike's dopest colorway-ed Air Max Thea, this pair of sneakers sees itself absolutely doused in what we can only describe as a blindingly bright volt hue of a color. It easily garners attention and would make a great addition to any sneakerhead shoe collection.
Notable Features
Aside from its visually attractive upper that comes in a variety of neutral and bright colorways, one would instinctively notice this shoe's heel that is highlighted with big perforations for added breathability. The women's Nike Air Max Thea running-inspired shoes also feature the iconic Air technology unit that provides maximum impact protection.
Nike Air Max Thea History
The Air Max, launched on March 26, 1987, is among the most coveted Nike creations. It was and is still is considered revolutionary. Its groundbreaking silhouette, which featured an unconcealed air unit, was conceived by famous designer Tinker Hatfield.
The shoe's design was inspired by the controversial yet must-see inside-out structure in Paris called the Centre Georges Pompidou. This building's functional parts, which include the steel supporting frames and the pipes, were exposed and highlighted in bright colors. Initially, this concept was disapproved by the public, however, it soon became renowned for its uniqueness.
Similar to the inside-out building in Paris, Hatfield's idea was at the onset rejected by the brand's marketing team. However, he proved them wrong as this sneaker's never-before-seen design was later on perceived by both athletes and sneakerheads as high-tech and fashionable.
Made specifically for the ladies
For the past 30 years, this famous silhouette has been revamped and outfitted in various colors and materials. Every new version was enthusiastically welcomed by most, if not all, Nike fanatics around the globe. With all the many iterations, the brand did not fail to recognize its female consumers' needs and demands. And thus, the Air Max Thea was born.
When the Thea was introduced, it reached so much prominence that despite the shoe being a women's footwear, the men were never reluctant to get a pair. The unbelievable popularity of the shoe prompted Nike to produce a male version of the Thea. Thus, the Nike Air Max Tavas was unveiled to the sneaker world.
Crafted with a refined breathable upper and a slimmed-down sole, the Air Max Thea women's shoes have received the same royal treatment its siblings have enjoyed. A variety of versions have also been introduced since its inception as proof of its continuous popularity. This includes the Air Max Thea Flyknit, Ultra, and Premium.
Nice to know
The sneaker's insoles are removable.
Height can be boosted with the women's Nike Air Max Thea's 1 ¼ inch heel.
The weight of this shoe in size 8, Medium B width is 227 grams.
Celebrities that have worn the Nike Air Max Thea include the model siblings Hailey and Bella Hadid, Kendall Jenner, Halsey, Rachel Bilson, Bella Thorne, and Vanessa Hudgens to name a few.
Popularity
The current trend of Nike Air Max Thea.