The Vazee Rush 2 just feels fast. It's difficult to put a finger on it, but as soon as I put it on, it felt like a snug, comfortable fit; not loose, and not too tight. That was before I'd even tied up the laces.
Right from the first run, these became my favorite racing shoe.
I'm not sure why, but I just feel faster in these shoes. In the couple of months since buying these shoes, I've raced 5k, 10k and Half Marathon distances, and they felt great.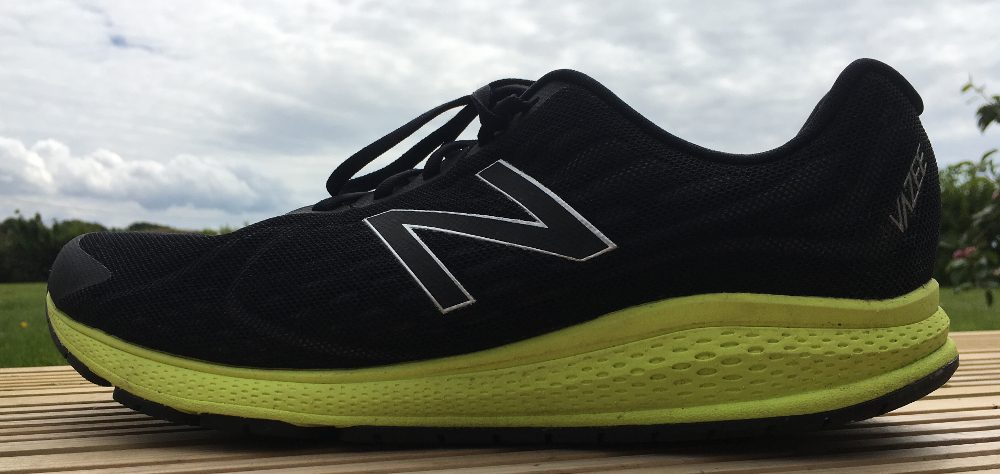 I'm not quite sure why these shoes feel so good to race in. I usually run in the heavily cushioned New Balance shoes, most recently the 1080 v6, which I continue train in.
Perhaps the difference lies in the effect of the lower profile "Rapid Rebound" cushioning as compared to the blown rubber or "foam" of previous models.
Appearance
To be honest, I was very surprised when the Vazee Rush V2 was first delivered. At first glance, they somehow didn't look like a "proper" running shoe.
The shoe does look as if it would be just as much at home matched with a pair of jeans on the local high street as it does pounding the roads at 6am on a rainy Tuesday.
For this reason, I'm pretty glad that my remote location (and large shoe size) means that I have to order online – if I'd seen them in a shop, I'd almost certainly not have bought them, and then I'd have missed out on the experience of running in these shoes.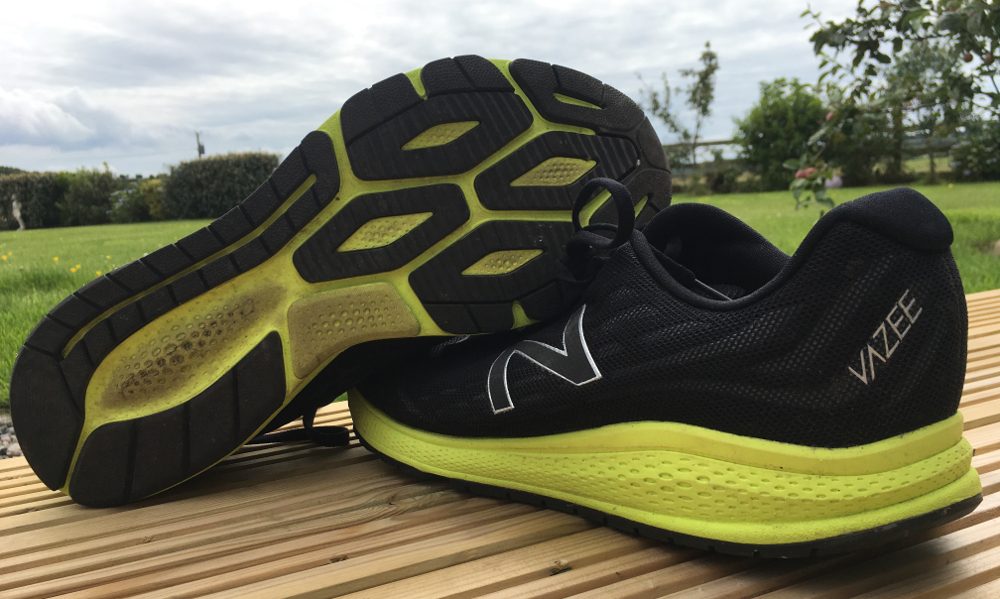 Weight
The Vazee Rush v2 is listed at 274g, which certainly isn't the lightest shoe on the market. Once again though, it feels lighter than this, and much lighter than my 1080's which are listed as just 20g heavier.
I actually chose to weigh the two types of shoe for comparison.
I believe that the listed weight is based on a size 9, but was surprised at how much heavier my size 13.5 (UK) shoe weighed in at: 330g (1080v6 was 366g).
Fit
As with all New Balance shoes, I find that I need a ½ size larger than would be my "normal" size. The shoe then fit snugly right out of the box.
New Balance uses the term "sock-like fit", and that does feel like the right description. There's no excess of material at all around the shoe, which feels as if it moulds to the foot without feeling tight, and also provides sufficient room in the toe box.
There's no "breaking in" of the shoe required. I tried a 3 mile test run on the day they arrived, and they felt so good that I wore them in a 10k race the following day.
With a "one piece construction" to the upper, there are no seams to rub the foot; the shoe is also comfortable for running without socks, which may be worth considering for runners who also enjoy triathlons.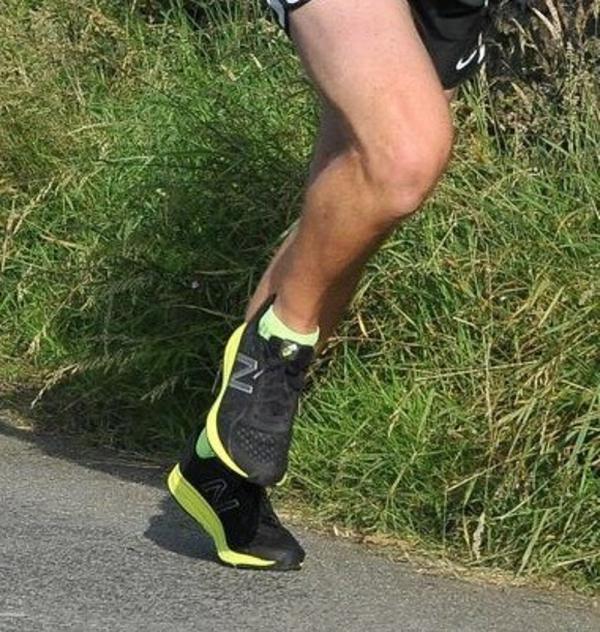 Construction
I can't pretend to be a sports shoe design engineer so won't try to explain the characteristics of New Balance's "Rapid Rebound" and how it provides the claimed 17% extra bounce back.
My own experience is that the shoe provides a cushioned ride, whilst feeling firmer and therefore more responsive than the heavily cushioned shoes I have previously worn.
I haven't yet used it for the long mileage associated with marathon training, but have been more than happy with the feel and cushioning up to the Half Marathon distance.
Sole
The sole itself is well suited to road running, as well as light trails. It is not designed for rougher terrain.
It appears to have a good covering of hard rubber, especially at the heel, which should provide good durability, especially for a heel striker such as me.
It is however too early to comment in detail on the durability.
Upper
The upper is comprised of three layers of mesh. As well as providing a good fitting, as described above, this also gives good ventilation to the feet throughout even the hottest of runs.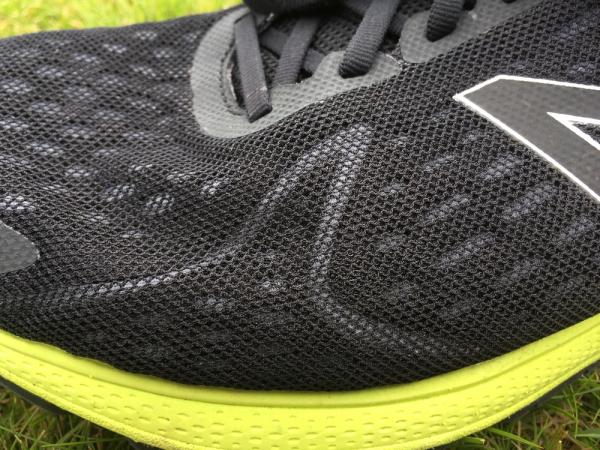 Water will of course get into the shoe on wet days, but it's hardly a surprise to any runner that your feet will get wet when it rains!
More importantly, the water can easily get back out again, and the shoe does not feel as if it absorbs too much water, and so continues to feel light despite the heaviest downpour.
Performance
As mentioned in the overview at the top, I found that these shoes just "feel fast". They mould to the foot in a way that makes them feel part of you, and feel great to run in.
At the same time, the shoe doesn't seem to compromise on cushioning in the way that some shoes designed for racing can do (especially for heavier runners), I didn't feel the impact through the foot as you land.
The shoe manages to do this without the sponginess that some well-cushioned shoes can provide, especially those which are built on thick foam soles.
The shoe is obviously designed for road use, and is very much at home on the roads, but can also perform on light trails too; one of the 10k races I used the shoes for in the second week of wearing included a couple of miles of stony trails which the shoe handled with ease.
The shoe is cushioned enough to run on reasonably large stones without feeling them through the sole.
Summary
The shoe looks great, fits like a glove and feels fast. It provides more than sufficient cushioning, even for the larger runner, without ever feeling "spongy".
These shoes are now widely available for under £60 and at that price, I'd highly recommend the shoes. Definitely worth picking up a pair to keep for races!