When I was looking to purchase another pair of shoes to work into my rotation, I was looking for a shoe that was lightweight, a little bit of stability, and, most of all, cost effective.  I have been training for ultra- marathons over the past few years, so my shoes see many miles.  With the cost of the newest shoes, my idea was to go with shoes that aren't this year's release in order to save money. I found the New Balance Vazee Prism that seemed to meet my needs.  These shoes were to replace my Nike Lunaracer 3 for faster speed workouts and interval workouts.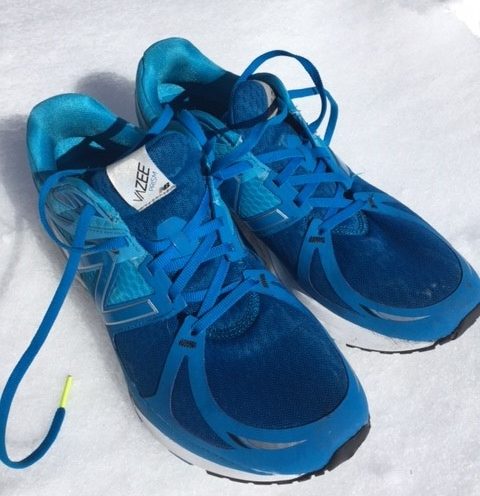 The Fit
I wear a 9.5 US for casual wear however, I always order up in my running shoes to make room so that my toes don't bump the ends of my shoes. I made no exception with the Vazee, as I ordered them in size 10.  The shoe fit as I would expect it to in length and matches up to a size 10 in both my Brooks and Adidas.  What I found interesting is that I have a normal medium arch and forefoot and I found that the shoe lacked enough arch support.  Also, the toe box was too roomy.  This caused me some initial pain in my arches and blisters on my forefoot due to slipping.  The laces allowed for a snug lace up, and I have never had the shoe come untied during running.
Engineering
The shoe specifications say it has an 8 mm drop, synthetic /mesh upper, medial post to help prevent over-pronation, and a weight of 9.9 ounces (probably of the size 9).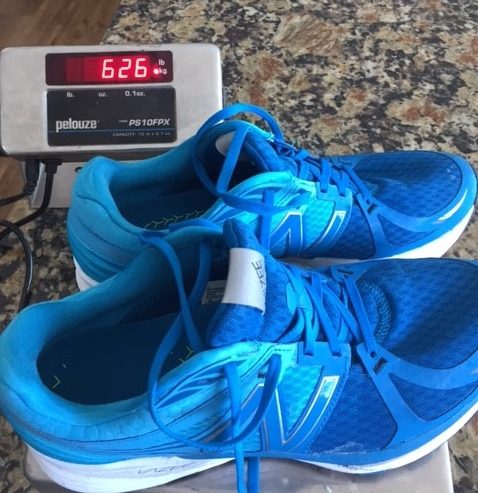 That's 22.08 ounces for both or approximately  11.04 ounces per shoe. These are size 10, but heavier than I would have expected.
Experience
Here is my take on what works and what doesn't:
The synthetic/mesh upper didn't breath well at all, my feet were always sweaty, and all too often, the mesh is ringed with white salt stains.
The midsole of the shoe is very stiff which causes my feet to go to sleep after a short 10-15 mins on every run. I don't have this issue with any other shoe that I am currently running in.
The traction seems to be adequate, although these shoes have only seen 2-3 runs outside due to weather. Unfortunately, we have had record snow fall this winter which has forced me to run on the treadmill far more than I would ever want to.
The medial post that helps prevent over-pronation works well. I have a slight over-pronation issue though nothing that causes me to seek out a shoe to correct it. Since I log so many miles, I thought that this might be a bonus for me in this shoe. I have found that the support is really good, however the back of the shoe has a hard plastic piece that I assume helps with the medial post. The extra support causes some serious pain during full heel flection in speed workouts or anytime I'm running 6 minutes per mile pace or quicker.
Durability
While I started to use this shoe for my fast workout runs, I have ultimately had to change my plans and figure out what the shoe works best for.  Thus I have run some 20 mile runs in them.  I have run fast runs in them as well.  The shoe has shown little to no breakdown of the support or tread through approximately 250 miles.  I fully expect the shoe to hold up for another 250 miles.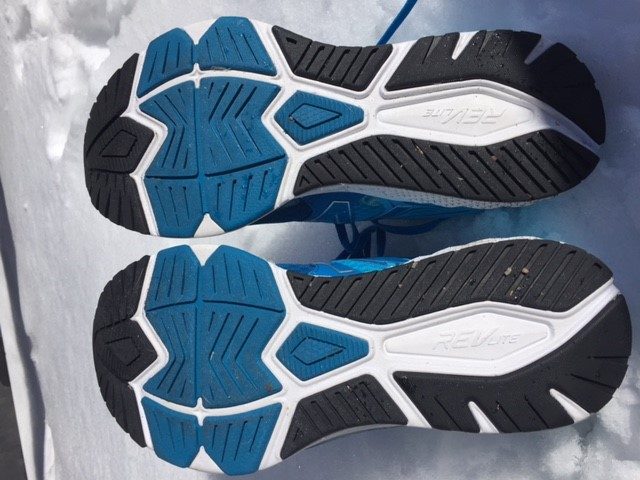 Pros:
Durable
Cheap
Roomy toe box
Cons:
Stiff
Clunky feeling
May cause foot nerve problems
Conclusion
I haven't found a comfortable place for these shoes in my running.  The shoes are stiff, not comfortable, and not responsive enough for speed work.  I do think that shoe will last a long time and, given the price, is a good buy.  However, just because the shoe is cheap, you should not have to be concerned that you might end up with some foot and/or toe problems.
These are not the worst shoes that I have ever worn, but compared to the Nike Lunaracer 3 that these shoes were to replace, there is no comparison.  The Lunaracer 3 won't last for as many miles, but it is a faster, lighter shoe that you'd be much happier with. In the end, I cannot recommend these shoes.