The New Balance Nitrel v4 is hands down a great budget-oriented off-road shoe that packs a whole lot of performance despite its traditional and straightforward design. Given the price of elite model shoes easily entering the triple figures, it is nice to see something as versatile as the Nitrel line at less than $100. If you are looking for a shoe that can handle the road, dirt, mud, and gravel that you can run in then I would highly recommend checking out the Nitrel v4 for your go-to budget running shoe.
Pros
True to size
Supportive
Secure fit
Cushioned
Quick break-in period
Durable
Affordable
Cons
Not responsive
For short distances only
Slightly warm
New Balance Nitrel V4 review
New Balance released has built a shoe considered now to be a great crossover fit for everyday athleisure and the occasional trail running escapes. With a conservative price point in the double digits, you will be hard-pressed to find a more versatile shoe at this price point that performs the running basics.
The Nitrel v4 has grown into a nice crossover shoe where it fits well wearing it for casual use. However, don't let its subtle aesthetics fool you. The off-road tread is enough to take off the tarmac and will get the job done on the trails.
Who should buy the Nitrel v4
This running shoe is for
new to-be runners and occasional trail seekers looking for affordable shoes
runners looking for versatility in athletic and leisure are both important
inexperienced runners needing an upgrade from cheaper 'box store" shoes
Who should NOT buy it
Consider other running shoes if you are:
True to size fit is a plus in the Nitrel v4
The New Balance Nitrel v4 is true to size with just the right amount of toe box space that did not feel restricted. Overall length was consistent with just enough room in the toe box and no slipping in the heel. The width is moderate from heel to toe without any excess room for slipping.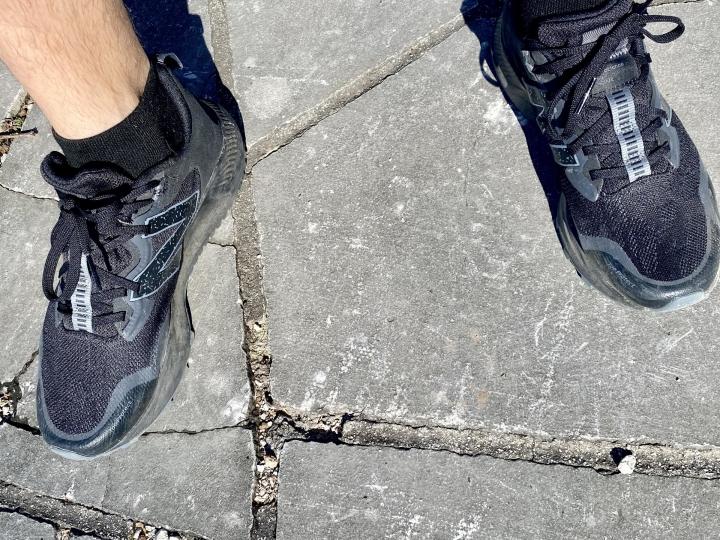 Supportive and secure
It's a wrap! And it feels good on the foot. I especially enjoyed the height of the upper surrounding the ankle which offered great support on the trails and reduced the potential for rolling ankles where the terrain got loose.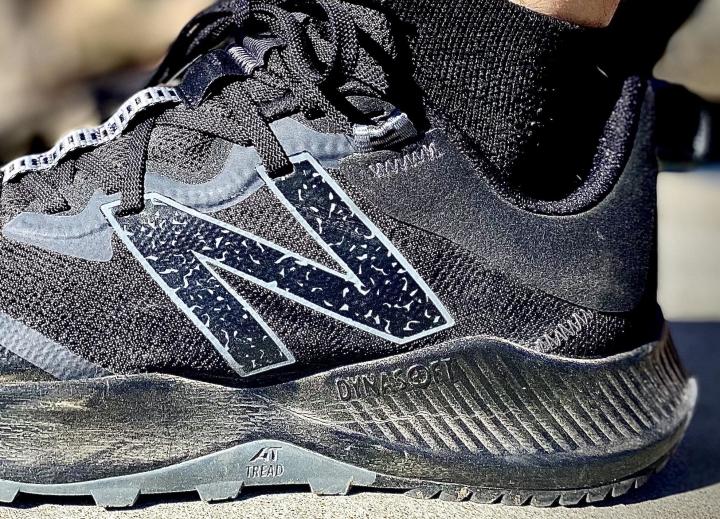 Plenty of cushioning
New Balance's Fresh Foam technology was not carried over in the Nitrel v4. Instead, runners will get Dynasoft midsole which is far from super soft as the name suggests. It does offer plenty of cushioning over moderate terrain and for casual walking.
This midsole feel works well in off-road situations where a bit more stability aids in foot control on uneven terrain. On the tarmac, however, the Dynasoft foam was not forgiving and was especially noticeable while testing on concrete floors over multiple hours. If one limits his or her use to a few hours per outing with this shoe it will wear properly.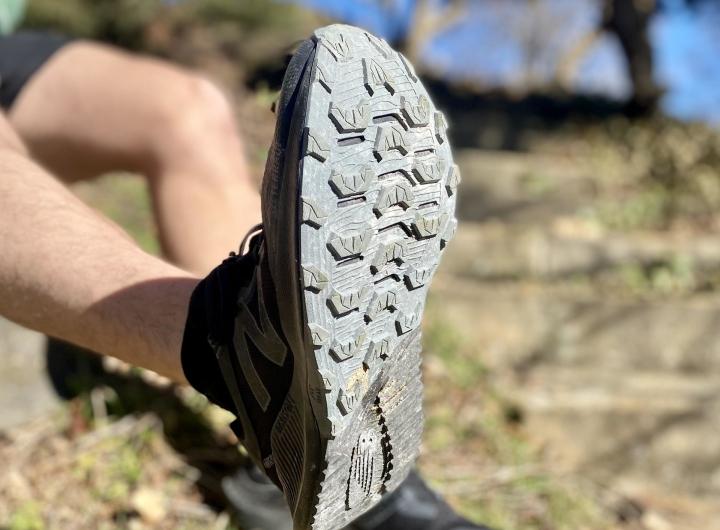 The idea behind this shoe is that you can wear it out in public without looking as if you're lacing up for a track meet and also have the ability to hit your local recreation trail the same day, but don't go through the start line in an ultramarathon with this shoe by all means! Its simple design allows you to go out and give some albeit not all of your efforts. Overall, for the price, you cannot go wrong with this shoe and I highly recommend it as an off-road capable shoe for everyday wear.
Firm, dull ride
The full rubber outsole worked well over loose rocks and even avoided getting mud stuck between the tread pattern. Steep climbs and roots were fine and I had no slipping in the Nitrel v4 occur. The Dynasoft midsole offered some feel of the ground although the cushion was minimal at best. Shoes above the Nitrel v4's price range should offer more responsiveness and energy return., however, New Balance has cut some costs with this cheaper foam and therefore you will have a pretty dead feel underfoot for the price you'll have paid.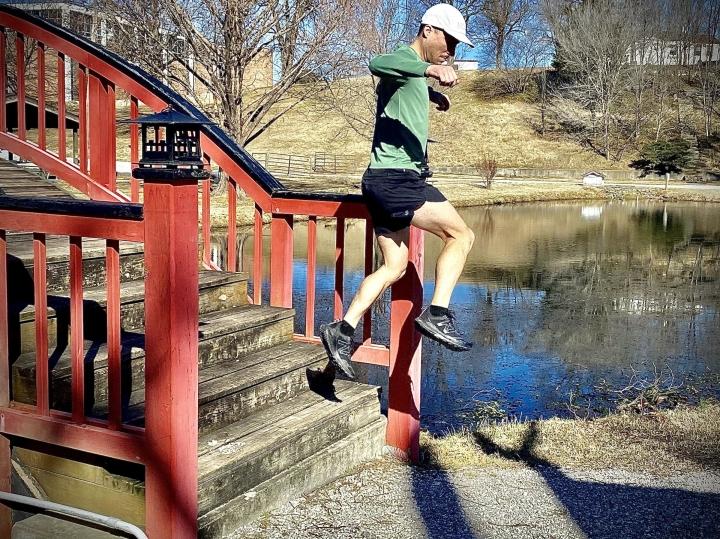 Quick break-in period
With the firm ride described previously, I did not find this shoe to break in and get any softer than its first day running. Don't get bogged down, however, because a firmer shoe like this is not always a negative point. For starters, the upper material is more protective than breathable with added protective welds along with the high wear areas (i.e., lateral forefoot, toe box, eyelets) which is a big advantage for off-road use.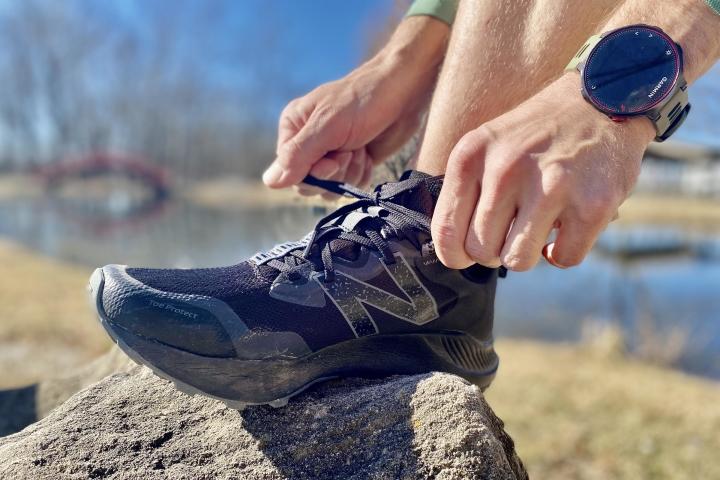 Best used on short runs (less than 5K)
I tested on a variety of run distances from 5k to 25k with cushioning remaining the same under the foot but best used on shorter 5K runs. I would definitely switch out the insole to one with more arch support or simply use your orthotic as the one provided in this shoe is completely flat and does not offer any stability to the foot itself.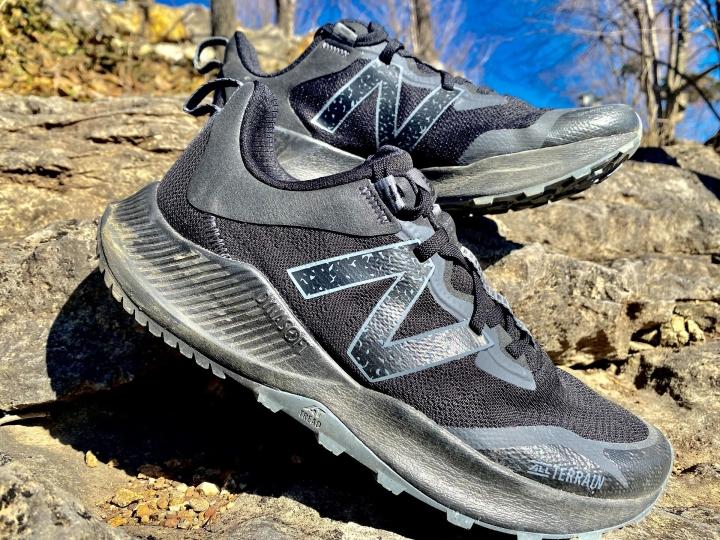 This shoe is wonderful for slow and steady training periods and anything else you want to use in your day. Given the price and quality of materials in its construction there really is nothing to complain about here.
Less breathable design
The Nitrel v4 did run slightly warm although less breathable material comes with added durability in my opinion. The tongue is a medium-thickness like that of most casual tennis shoes. The upper is minimal with few mesh areas offering ventilation, however, the durability is great and performs well around loos debris due to its tightly bonded construction.