If you're looking for an authentic trail-to-road crossover shoe, then definitely take a look at the New Balance FuelCore Nitrel v3. On its 'home-ground' of light, dry, non-technical trails, the Nitrel v3 felt like a shoe that could go as far as your legs could take it. It is also impressively light for the amount of cushioning and protection it offers.
Pros
Solid 'crossover' everyday shoe
Great for the price
Perfect fit
Great cushioning-to-weight ratio
Sustainable support
Excellent durability after 200 miles
New Balance Nitrel v3 review
For me, the New Balance FuelCore Nitrel v3 became a great addition to my shoe collection. I felt New Balance had produced a very 'honest' shoe—one that delivered on what it is designed to do.
Remember, it's not a specialist shoe but is a shoe that you can just pull on and go out for a run. You'll be secure in the knowledge that your feet will be fine, and it will handle all the terrains you present it with.
New Balance FuelCore Nitrel v3 – Overview & specifications
The New Balance FuelCore Nitrel v3 is designed as a 'crossover' trail shoe. This means it's a shoe that can take you over both light, non-technical trails, and roads.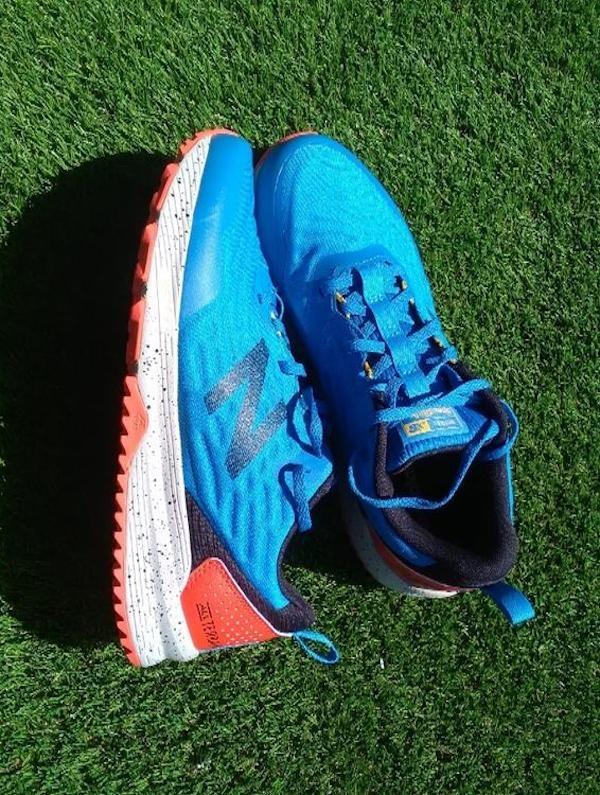 It will handle mud, wet trails, and technical trails (at a level); but it's not a specialist shoe for those terrains—it's at its best when on light, non-technical trails.
The uppers of the Nitrel v3 consist of an unusual mesh
It's a breathable mesh upper, but with what appears to be 'wave-like' dimples that have no obvious ventilation holes.
At first glance, I was concerned that the level of ventilation needed to keep my feet from overheating wouldn't be enough—especially on those hot/long days out.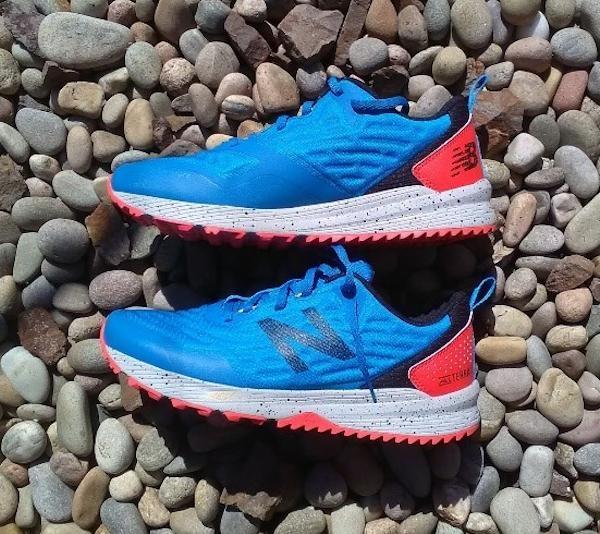 The upper does have a no-sew material. This provides that seamless comfort that we all like and that reduces the chances of any awkward rubbing.
The Nitrel v3 also comes with a very padded collar and tongue
This will provide added support and comfort around the ankle and allow you to 'dial-in' the laces to ensure a secure fit. But as you can see, it is not a gusseted tongue and therefore could potentially let in debris.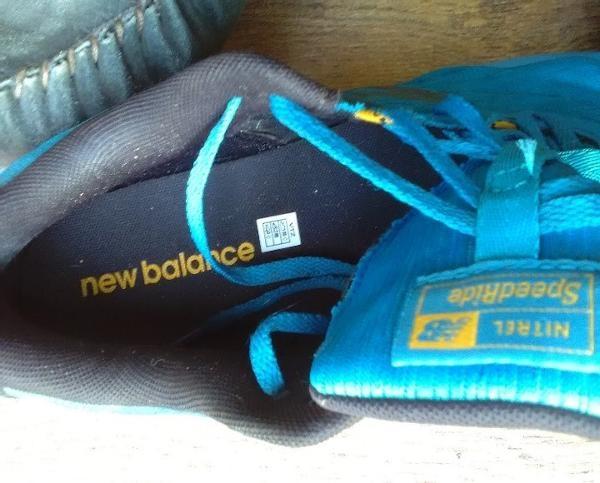 New Balance has given the Nitrel v3 a Toe Protect to protect the toes against loose or sharp stones and a Pull Tab to assist with easy on/off.
The midsole is a REVlite Midsole aimed at providing a lightweight experience without sacrificing the underfoot cushioning.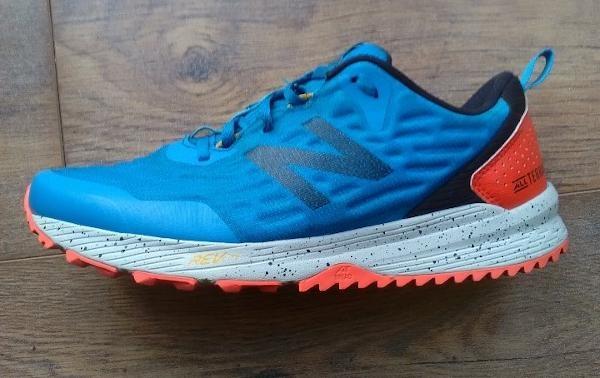 The outsole is made from durable rubber
It provides traction across a variety of terrains and keeps your feet protected when traveling over sharp stones and roots etc. There's no rock plate in the Nitrel v3, but then for what the shoe is designed for, it probably doesn't need one.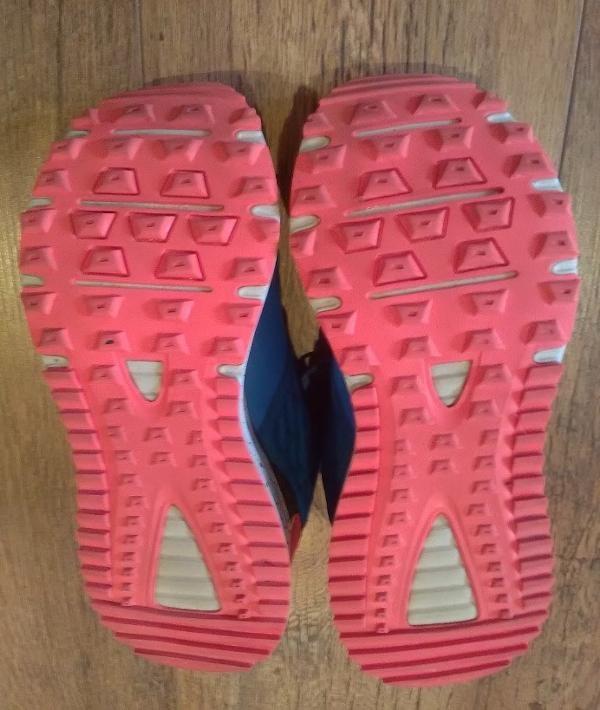 New Balance doesn't state the size of the lugs, but I would suggest they could be about 4 mm—this would mean good traction on dry, light trails but not so great on wet, muddy ground.
The Nitrel v3 comes in weighing 274 grams
But, remember, the stated weight is the average weight across all the sizes and is not necessarily the actual weight of the specific shoe you're buying. I'm a UK size 9, and as the picture shows you, when I weighed the Nitrel v3 on my scales, it came in at 299 grams.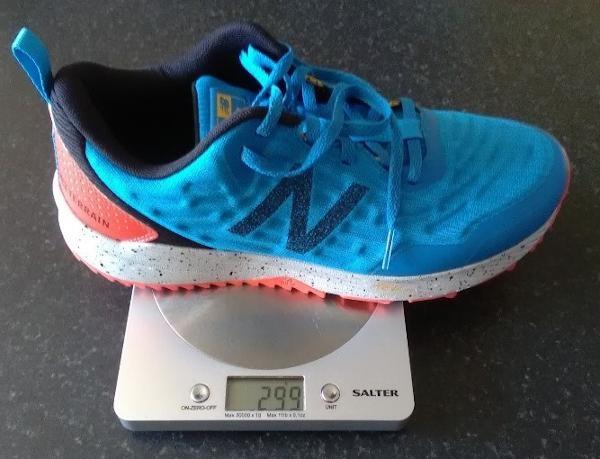 An 8 mm drop enables you to run further
So there you have it—the New Balance FuelCore Nitrel v3. Nothing flamboyant or fancy; just what sounds like a good old authentic and honest shoe.
But how would it perform?
Would it be a 'do what it says on the tin' type shoe? Or would it be one of those shoes that take you by surprise and perform at levels you didn't expect?
New Balance FuelCore Nitrel v3 – How they performed
The first thing I noticed when I put on the Nitrel v3 was that the fit felt very much true to size and it actually felt very comfortable.
I aimed to test the Nitrel v3 for 200 miles (about four weeks) and on a variety of terrains, including tarmac, light trails, sand and technical ascents and descents; both in dry conditions and wet conditions.
I also intended trying the shoe out over a 35-mile run, which for me averages out at about 7 hours. This would give me a sense of whether the Nitrel v3 could be the shoe I use to undertake the G2E later this year.
So, after wearing the Nitrel v3 around the house for the day, I went out on a 6.5-mile run that mainly consisted of tarmac and light trail. The shoe performed well. It was very comfortable and secure on my foot.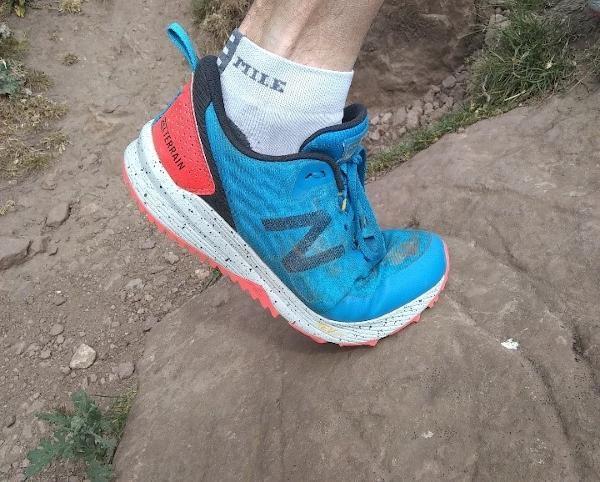 The underground feel was also good—I've had shoes that gave me a better underfoot feel of the ground and at the same time provide cushioning, but these shoes were way more expensive.
The Nitrel v3 performed well and gave me the feeling this was the start of a long and meaningful relationship!
The next outing was 18 miles and this time also included some ascents and descents on rocky sections—not too steep but steep enough to test the flexibility of the shoe and how well it gripped the surface.
As you can see from the picture, the shoe does flex well going up hills, and it also provided a secure grip on the dry rocks.
Throughout the 18 miles, the Nitrel v3 performed really well. The shoe was very comfortable and secured my feet well. I had no 'hot-spots' whatsoever, and the 'relationship' was growing stronger!
As I pressed on with the mileage, the Nitrel v3 never once let me down. It got to the place I could just put the shoe on and forget about any feet worries. It became a very much 'go-to' shoe and handled all the terrains well.
It was by no means a specialist shoe in any one specific area, but if you were to go on holiday and could only take one shoe; the Nitrel v3 would be a great one to take.
Even in wet conditions, the Nitrel v3 performed well. It doesn't have any sticky type grip like some of the more expensive trail shoes, but it still provided a reasonable amount of grip.
I was now ready to try the Nitrel v3 over the 35-mile distance. This run would also include a steep technical ascent and descent of just over 500 feet.
When I went on this run, the conditions were dry and (for me) warm (22 degrees Celsius). I wondered how well ventilated the shoe would be and whether my feet would overheat?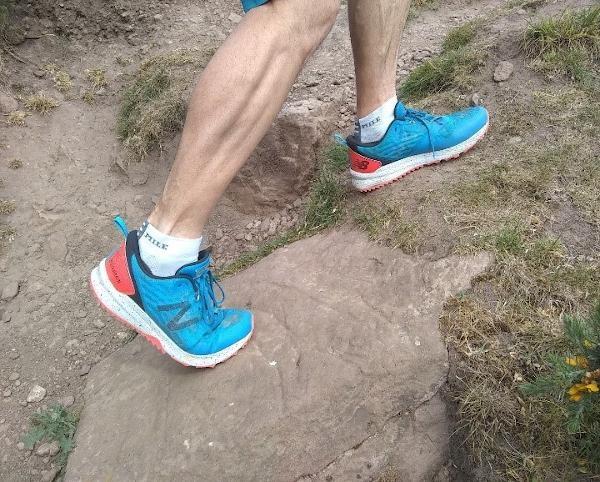 I always prefer to do this run 'self-supporting', which means I carry everything and no shops allowed! This means extra weight to carry but is good preparation for the G2E.
The Nitrel v3 absolutely smashed it!
There were no issues whatsoever, and my feet didn't overheat—I was very impressed. Throughout the run, my feet felt comfortable, secure, and well-supported—No painful parts whatsoever.
However, in saying all that, there are two small downsides that I feel I should mention.
I did have to stop and take one shoe off to remove some debris—nothing too drastic, but I think a gusseted tongue would help prevent this kind of thing.
The laces are quite long for a trail shoe, and on one occasion the loop of the lace caught a twig, and I nearly went down—again not a big deal, but shorter laces or laces that can be hidden away would make the shoe even better.
My background with New Balance shoes
I have to confess; when it comes to New Balance running shoes, I'm a bit of a fan.
I've always had good experiences with them, and some of the running shoes I've had, have gone way beyond my expectations. To date, I've done six reviews for RunRepeat, and three of them have been on New Balance shoes—and here comes the fourth.
I'm a passionate runner, albeit it an ageing passionate runner, and love everything to do with running. As well as running for the sheer joy of it, every year I run one event for a local charity and to date have raised over £25,000.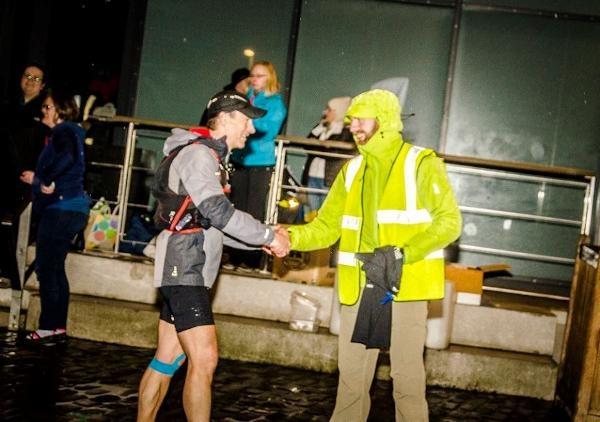 Being able to help others through running is not just a great thing to do; it also brings a deeper sense of meaning to your running—try it and see!
About six years ago, I stepped into the world of ultra-distance running and have never looked back. The challenge of time and distance on your feet, the comradery, and both the external & internal journey you go on, is simply amazing.
And that brings me to the New Balance FuelCore Nitrel v3.
I have a race coming up that is 55 miles and is mainly canal pathways from Glasgow to Edinburgh—you may have heard of it; it's called the G2E.
I've finished this race twice before, but never under 11 hours. So, I was looking for a shoe that could potentially take me the whole distance and even to a new personal best (rather than a personal worst)!
Now I know what you're thinking. "The New Balance FuelCore Nitrel v3 is not designed for that kind of distance". And, you're right; but does that mean it can't take you that distance?
For example; I got the lightweight New Balance Gobi v3 up to the distance of 35 miles and used them in a 50k race.
So, if that principle was to translate into the slightly heavier and more cushioned New Balance FuelCore Nitrel v3, then 55 miles becomes very possible!
But, before I give you my experiences and views on the New Balance FuelCore Nitrel v3, let me first give you an overview of the features and details of those all-important specifications.