Verdict from 4 experts and 100+ user reviews
8 reasons to buy
A handful of runners really like the comfortable fit of the Hanzo S.
It is very light.
It is quite flexible.
The 4mm drop is welcomed by a good number of competitive runners as a great option within the New Balance arsenal.
A few reviewers have used the Hanzo S for fast racing and even half marathons.
There were more than a few runners who were impressed by the shoe's performance, even just out of the box.
The traction is superb, based on some comments.
A small number of reviewers took notice of the snappy ride.
2 reasons not to buy
Several runners wished for a lower price tag.
One reviewer observed that the outsole showed some early signs of wear.
Bottom line
The Hanzo S is a racing flat with a 4mm heel differential. It is ideally suited for 5Ks and marathons. The shoe has a really minimalist feel, quite aggressive, and very responsive. It also brings really good wraparound fit and security that should be needed when trying to lower personal best times.
Tip: see the best running shoes.
Our reviews
The road race style running shoes that weigh 6.6 ounces for men's and 5.4 ounces for women's.
They have a heel to toe drop of 4 mm. They were released last January 2017.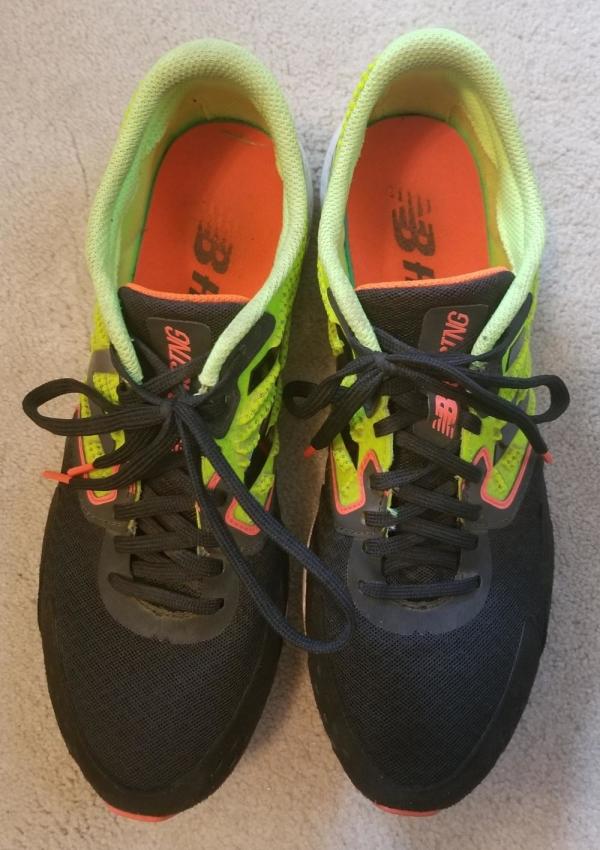 Comfortability
They feel comfortable but if you have flat feet you might not feel exactly what I feel since the arch is low.
The first time I put them on I felt a little discomfort in the upper foot because the edges of the tongue keep folding inside the shoe. You need to break them in before it stops.
Besides that, the shoe feels great. It hugs my heel perfectly which avoids slipping.
The flexibility in the toes also allows for a smooth ride. These are also extremely light so you don't even realize you're wearing them!
The only time I start to feel any type of discomfort is when I'm running on uneven terrain like trails. These are definitely not meant for trails! It destroys the shoe if you do!
Durability
These shoes have okay durability as long as you take care of them.
That means running on trails minimally and not doing anything stupid with them. The part that is going to start to fade first is the outsole.
But you can get a decent amount of mileage on these from 5ks to half marathons.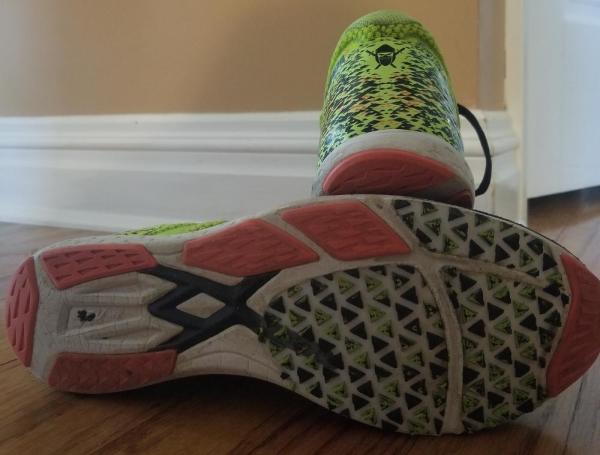 What I'm starting to see is the soles starting to peel off a little but it's not that noticeable.
Also in the front part, the grips stand out and they start to fade and get less grip.
Looks & Design
These things are flashy. It just looks like a fast shoe.
They only come in neon/black so you don't have any other selections but the neon/black really look cool. Really cool design. Probably one of the best looking shoes I've seen for the price.
Performance
There is a reason these are meant for racing. They will make you fast.
They provide a nice smooth bounce off pavement, track, and treadmill surfaces but I wouldn't recommend running on trails.
You will definitely have no problem reaching for those extra miles. From those fast-paced track workouts to half marathons you will always be happy.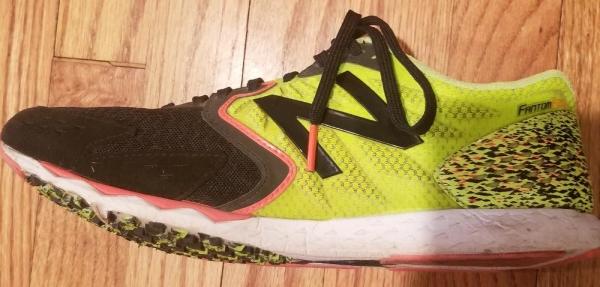 The New Balance Hanzo S breathes very well since the shoe is so thin. They are so thin that it might even become a problem if it is cold out.
Your feet start to freeze up a little if it is windy. It literally goes right through the shoe. It is perfect for those very hot summer days though.
The way the shoe is built, it actually makes it slightly easier to keep a good running form too. These might be good for people starting out in long distance running.
Pros
Super lightweight
Minimal heel slips
Flexible
Nice bounce
Extremely nice breathability
Perfect for runners of all skill levels
Available in both men's and women's
Cons
The tongue folds in and can cause discomfort for some runners
Terrible for running on trails or any other rougher terrains
The outsole tends to start to fade fast
Only 1 design so if you better like how it looks
Might not be the best on cold weather due to it's thinness
Verdict
Overall, I would recommend the New Balance Hanzo S if you are a newer runner and you are going to road race.( Not trails!)
The shoe is fast but not that durable on its outsole. You will NOT get as much life out of the shoe than you would like!
Nevertheless, the New Balance Hanzo S is a fast, comfortable shoe which is great for racing.
Good to know
The New Balance Hanzo S uses the combination of REVlite cushioning and Rapid Rebound that delivers reliable cushioning and high energy return for a smoother, responsive ride.
In the outsole of the Hanzo S is the sticky Dynaride compound that is formulated to provide high traction and durability especially in high wear areas.
The upper of the shoe features the Fantom Fit technology that offers lightweight support and fit.
With the presence of the Fantom Fit Technology, the Hanzo S delivers a comfortable fit in the heel, midfoot and forefoot area. The shoe accommodates runners with medium foot measurements. The shoe is available in standard widths for both men's and women's.
The outsole of the shoe utilizes the Dynaride outsole, a sticky rubber compound that delivers impressive traction while running on the road. The outsole comes with durable rubber zones that are strategically placed in high-abrasion areas for maximum durability.
To provide an impressive racing performance, the blend of REVlite cushioning and Rapid Rebound is found in the midsole of the New Balance Hanzo S.
The REVlite cushioning provides durable underfoot cushioning while keeping the midsole light. This cushioning material is lighter than the usual New Balance foams and it is specifically designed for a lightweight ride. This material is also used in the midsole of the New Balance 990 v4 and other well-known New Balance running shoes.
For a smoother and extra-springy ride, the Hanzo S utilizes the Rapid Rebound technology that offers more energy return than the traditional performance foams from New Balance.
The upper unit of the New Balance Hanzo S utilizes a synthetic mesh for maximum breathability and it also features the ultra-light Fantom Fit Technology. Made from two thin materials fused together in a no-sew construction, the Fantom Fit delivers lightweight support and fit.
The upper of the Hanzon S is not completely seamless, but with the Fantom Fit technology, padded tongue, and collar, the shoe should provide a comfortable fit and secure lockdown.
Rankings
How New Balance Hanzo S ranks compared to all other shoes
Popularity
The current trend of New Balance Hanzo S.