New Balance FuelCell Prism review
I can guarantee to all the neutral runners that the New Balance FuelCell Prism will perform as fine as any other neutral shoe, and with all mild pronators out there, you can go with this shoe with eyes closed.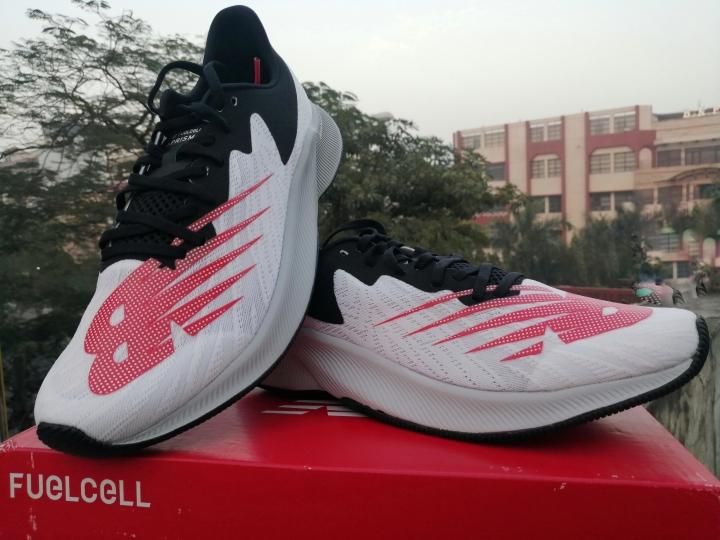 Lately, New Balance has become my favorite brand after trying Fuelcell Rebel and 1080 v10. I could not stop myself from trying this good-looking pair of shoes from New Balance.
Upper
Fuelcell Prism has an engineered mesh upper, but it does not feel scratchy. Unlike other mesh uppers, it has a pretty smooth feel.
The upper has a very huge New Balance logo instead of the traditional logo of 'N' on the lateral side of the shoe.
I did not feel any scrunching of the NB logo as I don't have thin feet, but runners with flat arch or thin feet will definitely feel scrunching of the upper and might cause some discomfort.
The red NB logo looks flashy on the white upper. It does not look as flashy in other colors.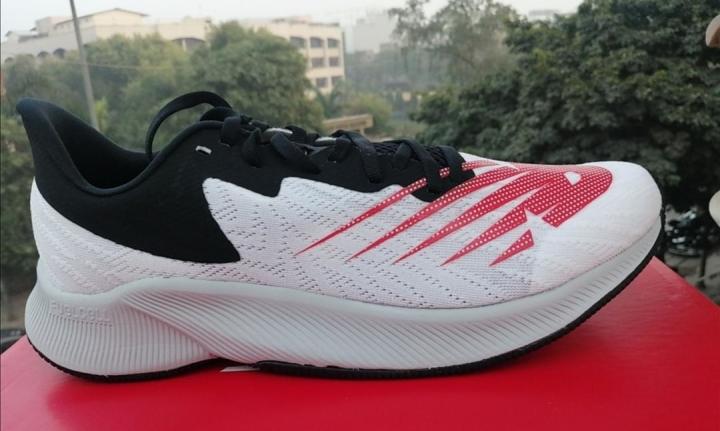 As always, New Balance did a fantastic job with this upper. It provides complete lock down around the midfoot and heel area. My feet always felt secure in it, like a baby in a mother's lap.
I have used this shoe for around 40 miles and used it on roads, a little bit of track, and some uneven paths. The upper kept my foot in place while taking turns, and I did not feel any heel slipping while picking up the pace.
Now coming on to the padding, I like shoes that have almost or very mild padding in the heel and tongue.
New Balance Fuelcell Prism is in the middle in terms of padding. It will not annoy runners who want no padding in their shoes; neither will it annoy those who want too much padding in their shoes.
Design
New Balance Fuelcell Prism is a beautiful looking shoe. I love the red 'NB' logo on the white upper - it just looks amazing.
The rest is pretty traditional, and it has the heel's outward flare, which eventually every new shoe in the New Balance lineup has.
Overall, Fuelcell Prism looks like a modern shoe.
Heel counter
It has internal heel counter, which is mildly padded and keeps the heel in place no matter how one is running.
It wraps the heel perfectly and does not exert extra pressure on the heel. Despite being a stability shoe, the heel counter is not stiff and flexes pretty easily.
Toe box
I have found New Balance shoes pretty uniform in sizing, but I found them half a size small this time.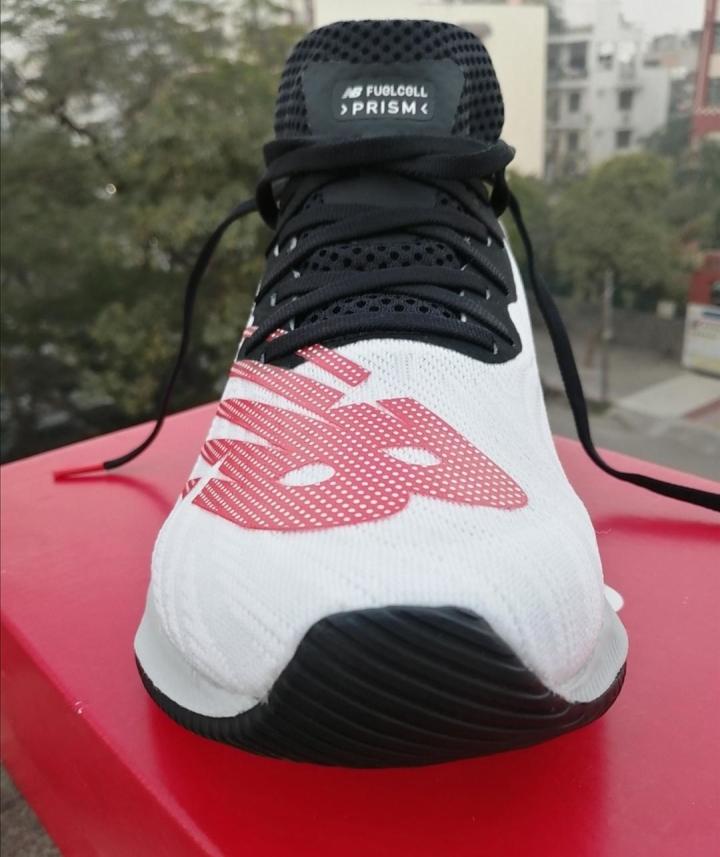 First, I ordered size UK9 or US10, which is my normal size. I found that my toe was touching the internal toe guard, and width-wise, it was fine but not comfortable.
Then I went up a half size and found that perfect enough toe space and perfect width. I would recommend trying normal size as well as half a size up.
Tongue & lacing
As I have mentioned earlier, the tongue's padding is enough to satisfy every runner's need.
However, the tongue of the shoe doesn't stay in place. After tying up the laces, the tongue kinda protrudes outwards. Fuelcell prism has a non-gusseted tongue, but it does not slide around.
Now coming onto the lacing, the Fuelcell Prism has a traditional one. It has many loops; one can easily get the custom fit. Laces are pretty elastic and do not get undone even after tying up one knot.
FuelCell midsole
The New Balance Prism has Fuelcell midsole, a nitrogen-infused midsole, and is far more responsive and durable than the EVA midsole.
As compared to Fuelcell Rebel, it has more stack height and a little softer. Personally, I prefer a little firmer feel under my foot, so I prefer Fuelcell midsole in rebel.
On the other hand, Fuelcell Prism's midsole will be better for long runs.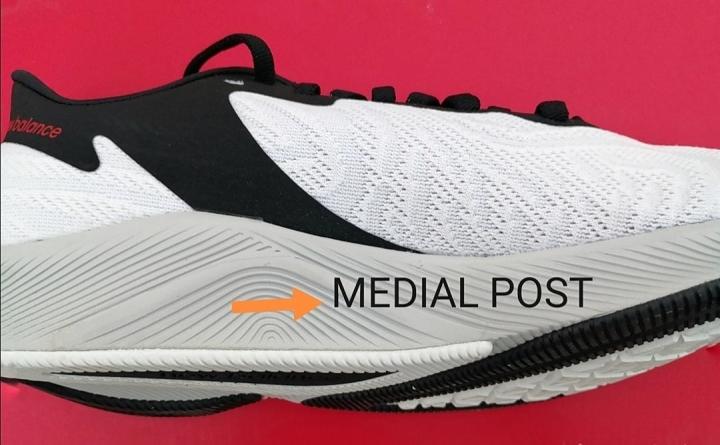 I love running in Fuelcell Prism. I find it more versatile than the Fuelcell Rebel.
Fuelcell Prism has more stack height. It can handle long runs as well, whereas only seasoned runners can run long distances in Fuelcell Rebel without injury. I found Rebel more like a racing shoe, whereas Prism is more like a daily trainer.
Prism has a softer midsole than Rebel and a firmer midsole than 1080 v10. I found the Fuelcell midsole very responsive at every speed.
The firmness of this midsole is perfectly tuned. It will not sink in, nor will it feel firm or harsh on long runs. The longest run I did in it was 15km/9.4 miles. I felt my legs pretty fresh.
After running around 40 miles, I did not find any loss in the responsiveness of the midsole. It does not give up on its responsiveness in long run.
I have tried different foams like New Balance's fresh foam, Brooks' DNA loft, and ASICS flyte foam, but this foam tends to feel dead around 15km or 10 mile mark.
Performance of the NB Prism
Mark as a stability shoe on New Balance's website, I was skeptical (I'm a neutral runner) in trying these out.
First impression? I was shocked to see how light they are compared to other stability shoes. It has an internal medial post, which is firmer than Fuelcell foam. I did not feel this medial post, though, as if I'm running in a neutral shoe.
As compared to other famous stability shoes like ASICS Kayano and Brooks Adrenaline GTS, they are much flexible and light in weight. I did not find any problem with the heel-to-toe transition. It was as smooth as a hot knife through the butter.
I think the medial post in these shoes will benefit only those who are mild pronator. Severe pronators will not find this shoe suitable, and they might get injured.
This shoe falls into the same category as ASICS DS trainer, but it is much better than that.
Outsole
New Balance Fuelcell Prism has ground contact blown rubber. This rubber has been strategically placed to keep the weight of the shoe as low as possible.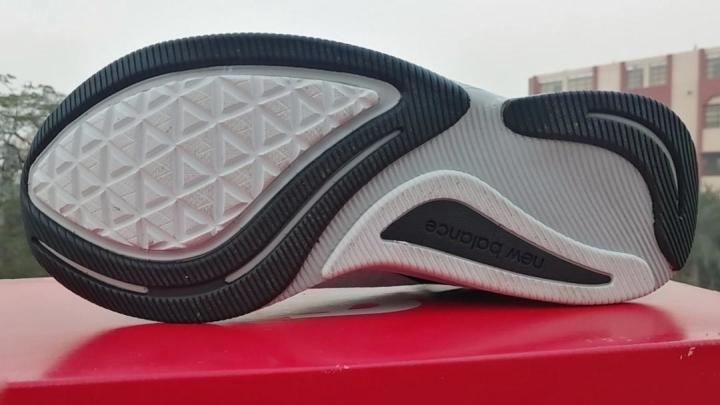 Traction wise, the outsole gripped well on wet road and pavements. I did not get a chance to run on trails, so I can not comment on that.
Durability is also good. I have covered almost 40 miles in them, and it is very difficult to find any wear and tear. The only place I found minor wear and tear is near the forefoot, which is almost unnoticeable.
I think treads on the outsole will easily last for around 350-400 miles.
Durability
This pair of shoes does not show any type of wear and tear... yet. The midsole is still as responsive as it was out of the box.
The upper is fraying, with no sign of premature degradation of outsole. I think these shoes will last for a standard amount of miles, that is 400 miles.
FuellCell Prism vs. Fuelcell Rebel
Fuelcell Rebel is a little bit more responsive, firm and has less stack height. Fuelcell Rebel is a kind of shoe that shines only above a certain pace and is suitable only for up to half marathon.
Whereas Fuelcell Prism is more versatile and can handle various runs. If I have to go for fast 5k or 10k, I will pick Fuelcell Rebel, but if I want to go for a run without any target pace and need extra support, I will pick Fuelcell Prism.
FuellCell Prism vs. ASICS DS trainer
I tried ASICS DS trainer 24 last year, an average shoe and not as responsive as Fuelcell Prism. It has a lower stack height than Fuelcell.
Here again, Fuelcell Prism is the clear winner.
Compare popularity
Interactive
Compare the popularity of another shoe to New Balance FuelCell Prism: