Advertised weight: 10.6 oz (size not specified)
Real weight: 10.6 oz (M's 9.5)
Drop: 4 mm
Distance logged: 350 km
Tagline: "The men's Fresh Foam Vongo delivers a smooth, supportive ride mile after mile."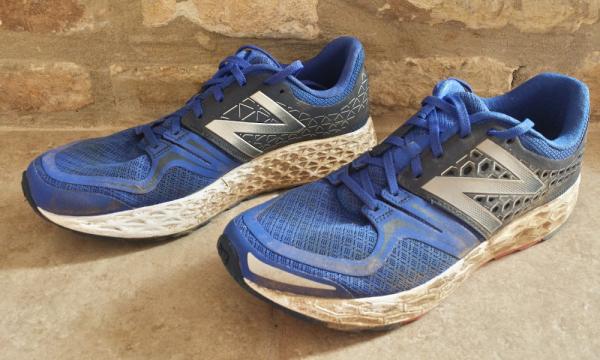 Fit
The Fresh Foam Vongo fits a little large. Unless you prefer that, you might consider going down half a size.
Other than that, the fit is mostly standard. It seems a little wide in the forefoot, going along with the recent trend of wider toe boxes. I'm not a big proponent of this trend, but evidently, others are.
In this regard, I've seen worse; the front of the shoe is noticeably wide, but it doesn't appear to affect your stride like some clown shoes out there. I wish there were more arch support, but I say that 50% of the time. If you're flat-footed, you might love this shoe.
Cushion
This is one of the cushiest shoes I've worn, which is sort of impressive for its moderate weight.
At times, you feel like you're sinking into the shoe, but when you run, it doesn't feel like you've got pillows strapped to your feet. Instead, there's more of a bouncy feel, springing you forward.
Stability
New Balance calls this a stability shoe, then at the same time refers to the shoe as "mild stability" and also calls it "a greater level of support." In any case, this certainly isn't a neutral shoe.
It's not the most flexible shoe either; when you corner, the shoe "wants" to make full, balanced contact with the ground, rather than sticking to one edge. At the same time, your stride mostly feels natural, so "mild stability" isn't the worst description. It's only when cornering that you and your shoe might get into an argument.
The heel of the shoe has a noticeable slope to it, probably to correct for pronation. As a mild pronator myself, this is welcome.
Tread
Perhaps my favorite feature of this shoe, the tread pattern works for many uses.
My training runs are evenly split between road and trail, and the conditions on both of those vary. Concrete, asphalt, "roads" in various states of repair, grass, gravel, dirt, woodchip trail.
These are possibly the best door-to-trail shoes I've worn, and they're not even intended as such. When you're on road, you feel like you're wearing road shoes, and the grip on trail rivals that of dedicated trail runners.
Oh, and they didn't make the outsole white, thank goodness. At least not the bottom of it, like half the shoes out there. Shoe designers who use white must have never tried running.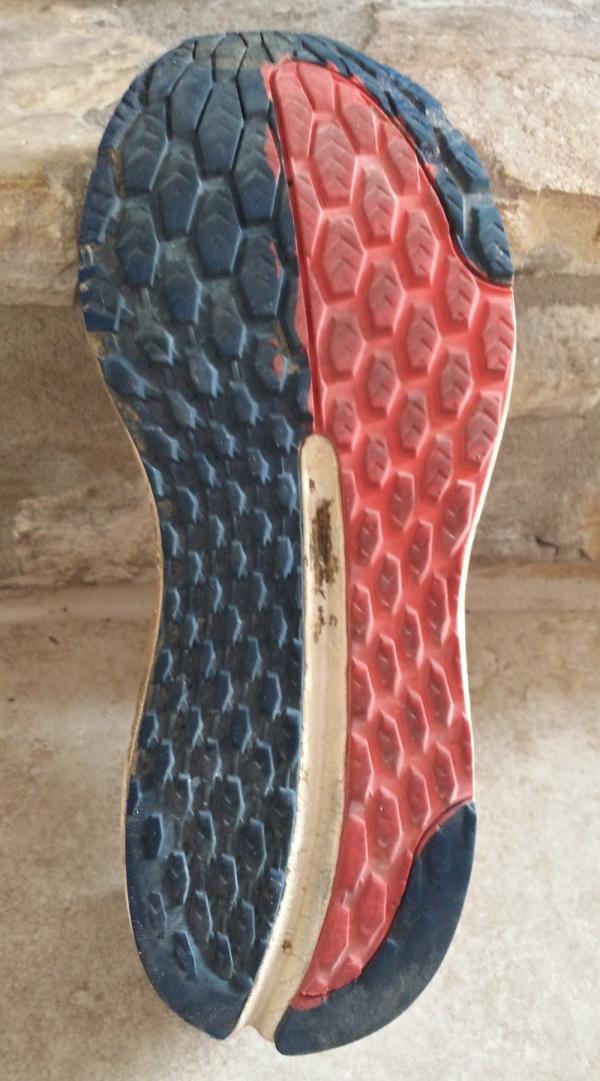 If I were going on vacation for a week and could only bring one pair of running shoes, these are the ones I'd bring. If I were re-designing this shoe, I'd size it down half a size, shrink the toebox (personal preference), and raise the arch. That's about it.
Pros

Versatile tread

Good cushioning

Comfortable
Cons
Low arch support

Sizing is a little big
Best Use
Everyday trainer
Long distance
Door-to-trail