Verdict from 6 experts and +100 user reviews
6 reasons to buy
Some consumers felt that the New Balance Fresh Foam Gobi Trail v3 worked well as a casual sneaker for their daily walks.
The façade of this trail companion was considered to be appealing to the eyes.
The Fresh Foam midsole compound was lauded by several testers for being comfortable, even during extended running sessions.
A lot of purchasers stated that the outsole was versatile enough to handle both trails and roads.
The capacity of the outsole to grip the ground was deemed as highly reliable, many runners commented.
The Toe Protect feature on the upper was appreciated for being able to guard the toes against the sharp objects on the trails.
2 reasons not to buy
Some users claimed that the wide version of the width wasn't enough to accommodate broad foot dimensions.
The heel part of the upper didn't seem able to hold the foot in place and prevent wobbling.
Bottom line
A lot of consumers were taken with the New Balance Fresh Foam Gobi Trail v3. They liked this running shoe's outward aesthetics as they felt that it looked more like a casual shoe than a bulky and unappealing trail companion. The Fresh Foam platform and the versatile outsole were also components that received high praise from neutral runners. On the other hand, several people didn't like the apparently too-snug width profiles while others lamented the not-too-secure upper.
Tip: see the best trail running shoes.
Our reviews
The Gobi v3 is a light and fast trail shoe from New Balance. Not only is it light, but it has the versatility to handle nearly any trail and work for miles on the road.
Lightweight
This is outstanding for a trail shoe. In my opinion, many trail shoes are overbuilt and cumbersome. The Gobi v3 has none of that, this shoe was designed to be lightweight and nimble, and it indeed is.
I was pleasantly surprised by the grip of this shoe. My local trails are varied, and I have no trouble finding roots, rocks, dirt, mud, and hills. The Gobi v3 performed well on all of these surfaces except mud.
The grip was great in wet and dry conditions which were surprising as I find many of New Balance's road shoes lacking grip on wet pavement. These shoes inspired confidence, I was able to bomb the downhills and fly around corners without worrying about traction.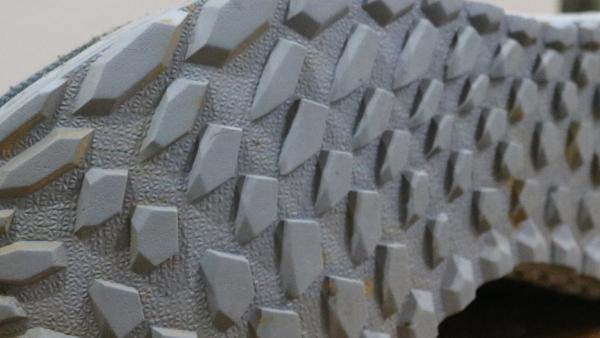 Upper construction
The upper is well constructed and well fitting. I found the mesh to be supportive and breathable.
Many shoes don't do well at both, but the Gobi v3 did well here. I find many shoes either overbuild and ultimately hot, or too thin and lacking any structure or support. The Gobi v3 get high marks for both.
The upper also seems quite durable at 100 miles at the time of this review. There are no signs of fraying or tearing. Although the upper is great in many ways, it is far from perfect. More to come in the "Why Not" section.
Overall performance
I found these shoes to be one my favorite trail shoes, right up there with Nike's Kiger 3. They feel fast and confident on the trail. The shoes were gripped, cushioned, and responsive on every run; truly everything I want in a trail shoe.
They even performed well on the road in terms of cushioning and easy to run at a high cadence. I am not sure how the outsole would last on the road, but I like these shoes a lot.
I didn't want to tear up the lugs with a bunch of extra road miles, so I have only had them on asphalt a few times. However, they do still feel fast on the road.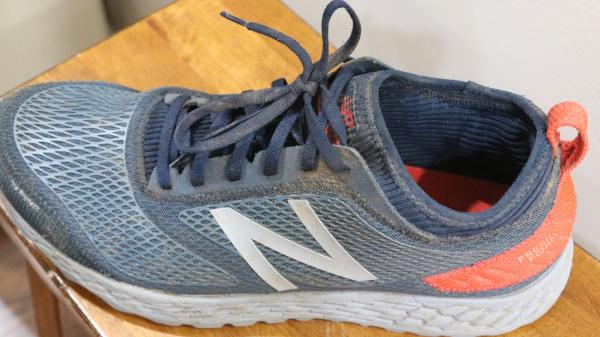 During my last training cycle, I was feeling particular fast, so I decided to try for a mile PR one day after work. The only shoes I had with me were the Gobi v3, which I had left in the back of my car from the previous weekend's trail run.
So, I laced up the Gobi v3 and headed to the track behind the school I teach at. After a quick warm-up, I threw down a mile PR.
I was impressed not only by my effort but also by the shoes. Trail shoes that can handle some quick track work, that's what I call versatility.
Why not?
No rock plate
This isn't a deal breaker for me. I generally don't enjoy trail shoes with a rock plate as they lack the flexibility and responsiveness I enjoy. That being said, If you run on super rocky terrain, these might not be the shoe for you as they lack good underfoot protection.
Gusseted tongue
I wish these shoes had a traditional tongue with a bit of padding. I found the laces to be a little uncomfortable when I tighten them up. This would be fixed with a more traditional tongue.
Muddy mess
The Gobi v3 does handle most surfaces well beyond expectations. However, in the mud, they are a little lackluster. They are not the worst trail shoes in the mud, just average at best.
If you live in a wet climate with constant muddy trails, you might want to look for a shoe with more aggressive lugs.
Conclusion
These shoes are really, really good.
✅ Versatility
✅ Comfortability
✅ Inspire confidence
I enjoyed the Gobi v3 quite a bit and will definitely buy another pair when my current pair wears out. These are one of my favorite trail runners with just a few improvements with could be great.
Another Christmas is gone and another pair of new running shoes from Santa. This year I went for a shoe I've never had before, the New Balance Gobi v3 and like Christmas, they came with a few unexpected surprises!
But, before I tell you why I decided on this shoe and what those surprises were, let me first give you a brief rundown on the shoe, and how New Balance and some of the main retailers describe the New Balance Gobi v3.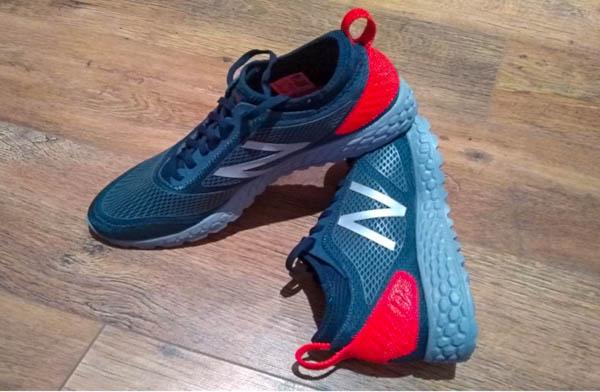 The New Balance Gobi v3
The New Balance Gobi v3 is a third-generation shoe designed for the runner who likes to mix it up from trail to road. The Fresh Foam midsole is a single piece of foam that brings a plush, lightweight and cushioned natural ride.
The Gobi v3 Fresh Foam design enables the runner to enjoy the comfort and cushioning whether on the trail or road. The shoe has an aggressive "Hydro Hesion" rubber outsole that helps deliver a superior grip on wet surfaces.
The shoe has a 'Toe Protect' reinforced toe tip and a removable insole to help provide additional support and protection. The Gobi v3 also has a gusseted tongue and a sock-like bootie that helps keep debris out and comes with a robust synthetic/mesh upper for durability and breathability.
The shoe is designed for the neutral to under-pronator runner and has a 6mm drop from heel to toe. Designed as a trail/road hybrid, the Fresh Foam Gobi v3 seeks to inspire performance in a cool and casual package and retails from about £70 up to £90.
Sounds great - but could it live up to these claims?
Well, I'll give you my thoughts on how the shoe performed against these claims in a minute. But first, let me tell you why out of the countless range of trail shoes, I decided to buy this particular running shoe.
I initially took up running to lose a bit of weight and get into some kind of healthy lifestyle. I would run a few miles, a couple of times a week. But then, probably like most of you, that highly infectious, running bug bit me and life dramatically changed, for the better!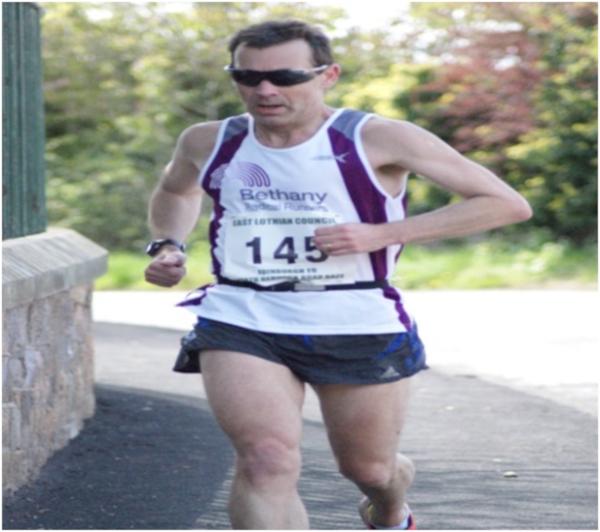 Now, some 15 years later, I've ran 12 marathons. My best is 3 hours 29 minutes and about 30 half-marathons. My best being 1 hour 28 minutes, and a few 10k's but never quite getting under that 40-minute mark.
To be honest, if I were ever to win an age group category, it would be because I've outlived everyone else. Once a year, I always dedicate a running event to raise money for charity.
It's a great way to give back and to deepen the level of meaning and satisfaction to your running experience. So far, I've raised over £25,000 for various charities.
The best tip I've ever had "Always stay in love with your sport," and that's what I've aspired to do. I've never got overly intense or competitive about my running, and I've always sought to run for the sheer joy of running.
These days, my passion is ultra-distance running, and my goal is to run 100 miles in 24 hours. Now, having read all that, I suspect you're asking, "Why would someone buy the New Balance Gobi v3 shoes for ultra-distance running when that's not what they're designed for?"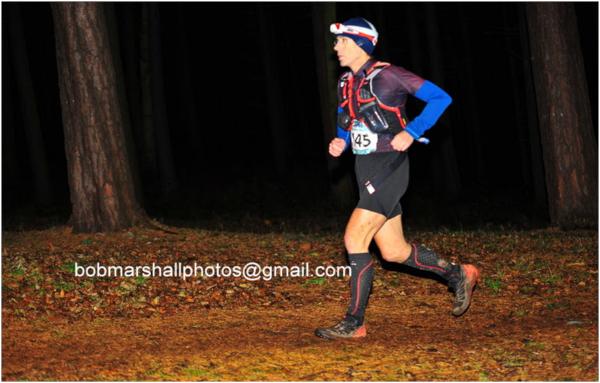 About 9 months ago I stumbled across the New Balance Zante v4, and I loved them. It was a shoe that did a lot more than I ever expected. I did a review on that shoe as well, which you can read here.
In that review, I said and I quote, "The shoe was that good, for on that type of terrain and distance that I'm now re-thinking my approach for a 100 miler I've got coming up."
Now you're asking, "That's interesting, but what has the New Balance Zante v4 got to do with the New Balance Gobi v3?" The New Balance Gobi is the trail/road hybrid version of the New Balance Zante.
So given my experience in the Zante, I just had to try the Gobi. And yes, I do have a 100 miler coming up. It's the Hobo Pace Robin Hood 100 on 14th September 2019.
With that race in mind, one of my primary goals is to find a shoe that can carry me through 100 miles (24 to 30 hours on my feet) in various terrains, including canal paths, forest trails, and road.
The unboxing ceremony
After the formal unboxing ceremony on Christmas day, as always, the first thing I did was put them on the scales. Now, confusingly, I've seen these shoes marketed at various weights, so I'm not sure exactly what weight they're meant to be.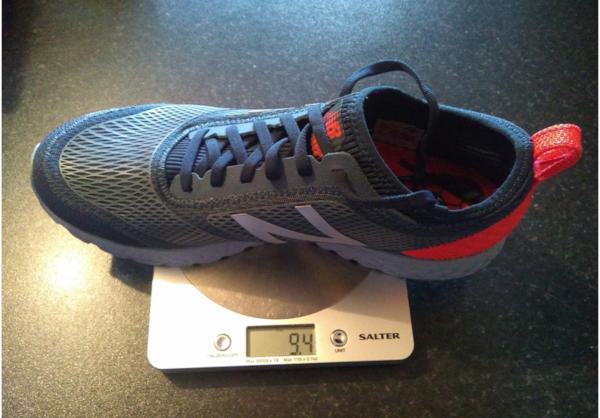 However, when I put them on the scales, they came out at 9.4 ounces. Heavier than the New Balance Zante v4 (8.4 ounces), but still, for a trail shoe with all the extra toe protection, the aggressive sole, and bootie, not too heavy at all (anything under 10 ounces is good for me).
First impressions
I actually liked the casual look of the shoe. They didn't look like a traditional trail shoe at all.
I also really liked the initial feel of the shoe. I'm a size 9 UK, and the fit was great. There was plenty of toe room to accommodate the foot-swell you'll get after lots of miles or running when it's warm.
The shoe was snug around the ankle without being too tight. You can see the sock-like bootie here (I'm not wearing socks). Putting them on, I had to pull them on using the loop located at the heel of the shoe.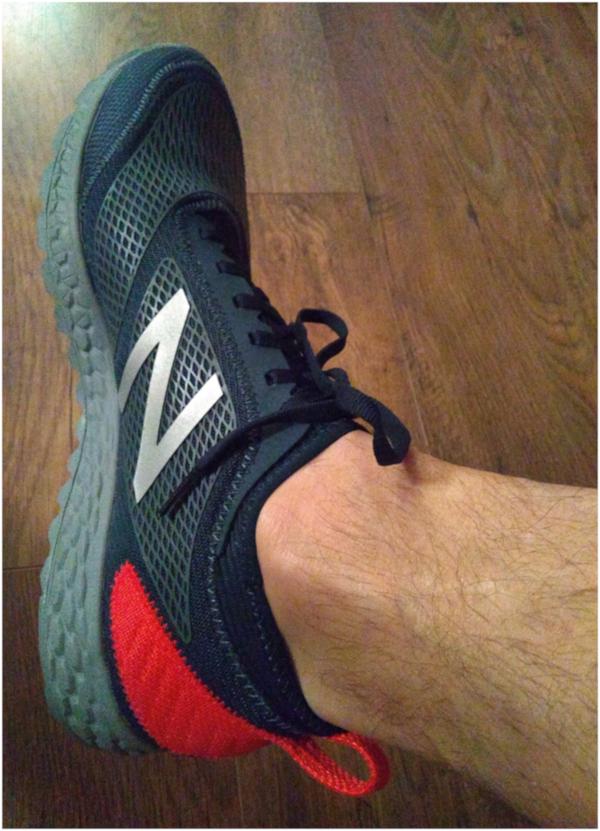 This is the only running shoe I've ever had to do this with. That's because of the bootie construction making it very tight to put on, but (as I say) not too tight when it is on.
What you can see (apart from the hairy leg) is a really snug fit round the ankle. I really liked this and was encouraged that this shoe would not let in debris.
I also like the look and feel of the 'Hydro Hesion' rubber outsole. They were fairly aggressive, but I wouldn't describe them or compare them to the aggressive outsoles you get in some other trail shoes.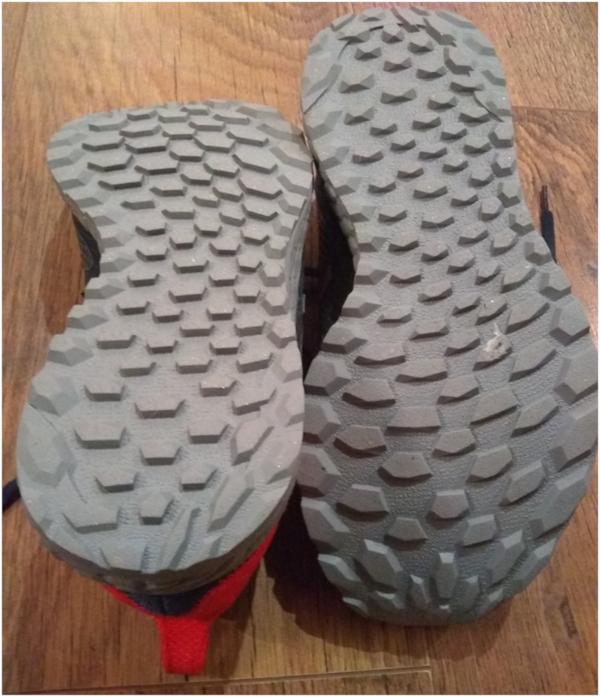 I have a pair of Salomon S-Lab Sense Ultras, and they're not as aggressive as those. I did find, when walking around the house on wooden floors, they felt fairly grippy. But again, not as grippy as the Salomon S-Lab Sense Ultra.
Looking at the removable insole, I noticed that it had some cushioning. But to be honest, not a great deal, I'll talk more on to this later. So first impressions were very good.
I really was looking forward to getting out on those roads and trails in these rather unusual trail/road hybrids. I know you runners will appreciate exactly what I mean when I say "I felt a good connection with this shoe!"
Some rigorous testing
Now, if you keep in mind that I'm looking for this shoe to deliver a lot more than it's designed to do, you'll appreciate the testing I've given them was a bit extreme.
Also, it's worth noting, that during this first month of testing, I ran exclusively in these shoes. I then went on to buy a second pair and used both pairs exclusively for 3 months of training (627miles) and one race (50k).
The first month of testing includes:
1/. Terrain Type
2/. Longest Run
3/. Overall Mileage
| | |
| --- | --- |
| Treadmill | 76.6 miles |
| Tarmac | 27.7 miles |
| Trail & mixed terrain | 148.4 miles |
| Total miles | 252.7 miles |
The next month (February) was very similar but with more runs on the trails and less runs on the treadmill (all my runs are recorded on Strava).
Breaking that down, on day one, I planned to go for a nice steady 6-mile run on a combination of light trails and some tarmac, but I actually ended up running almost 18 miles on a combination of light trails, beach, and tarmac.
The level of comfort and cushioning on this trail/road hybrid was so surprisingly good; I just had to keep on going. The shoe really took me by surprise.
Another thing I noted was that the shoe was very flexible. It's vital for those uphill sections as well as for the overall long-distance comfort.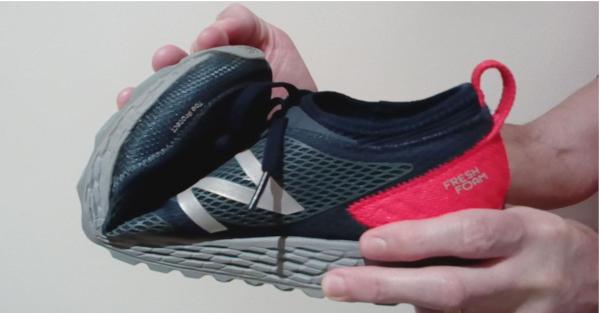 Insole
I have to be honest, the insoles that came with the shoe were a bit of a let-down. I've become used to the good quality Ortholite or cushioned insoles that come with many other shoes, and that definitely give much more cushioning.
The insoles in the New Balance Gobi v3 were really thin, and for me, just didn't give me enough cushioning. I like to feel the road/trail, but I also like to have a good level of cushioning.
The lower insole is the original that came with the shoe, and the upper insole is the one I used to replace it.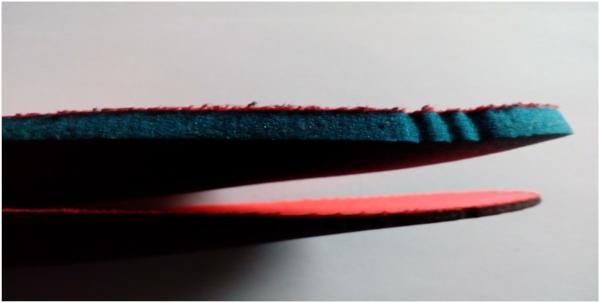 I have a tip. If you're going to be doing longer miles in these shoes or just want more cushioning, then replace the insole. However, if you are doing that, you may need to think about going up a half size.
I actually found the UK size 9 that I originally bought still gave me plenty of room. Even with an insole about 4 times the thickness of the original. It could be that New Balance is simply trying to keep both costs and the weight of the shoe down.
But for me, to get quality comfort and cushioning, I'd rather pay a bit more and if necessary have a slightly heavier shoe.
Another tip, don't throw away your old insoles if they're still usable. If you keep your old (good quality) insoles, you'll probably find them coming in handy. This isn't the only shoe I've had to do this with.
Performance
Let me give you a breakdown on the shoe's performance over the 3 different terrains I tested the shoe on.
Treadmill
I have to say, I was a bit nervous about using them on a treadmill. However, I needn't have been; they did great.
They easily coped with a treadmill, even when doing 18 miles at 6.2 mph. This really surprised me, and although I wouldn't recommend you buy them for this purpose, you definitely can use them on the treadmill.
Tarmac
Absolutely no problem on dry tarmac. Easily coped with a 16-mile run. However, I did find them quite slippery on wet tarmac. The shoe definitely didn't fill me with confidence when the roads were wet or damp.
Trail
The shoe absolutely excelled on light non-technical trails. This was definitely where the shoe was most at home. When I went on to more technical trails and rock, it was less at home but still coped well enough for me.
However, when I went on to wet rock, the shoe was not at home at all. In fact, when I was descending on wet rock, I was terrified. Yes, I did actually take a fall. Whilst descending on wet rock and wet grass, I found the shoes didn't grip at all.
I'm not the world's best descender, and I do tend to fall with alarming regularity. But as good as I am at falling, I do believe, that on this occasion, the shoes really did contribute to this one.
In saying that, don't let this shoe's performance on wet surfaces put you off. This a great road/trail hybrid shoe and it just means being careful when on wet terrain.
Is it a race-day shoe?
I can't imagine Killian Journet or Jim Walmsley racing the UTMB or the Western States 100 in a pair of New Balance Gobi v3 shoes. But could they be a good race-day shoe for an average runner racing an ultra-distance marathon on light trails?
Well, I decided to put them to the test in the 2019 John Muir Ultra-Marathon, which is 50k (31 miles) on light/sandy trails, forest trails, and tarmac.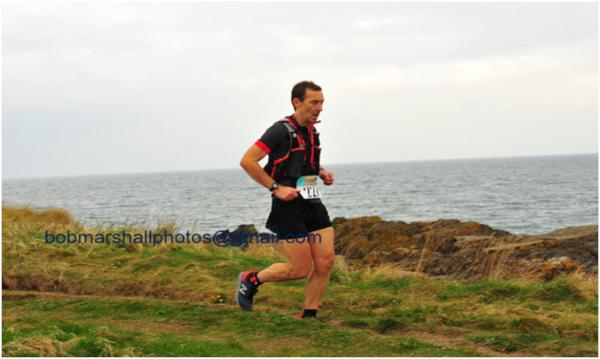 Not a huge ultra-marathon distance and although a few of my training runs had been slightly further, a race-day event is always different. You always want to push it that bit harder. I was curious to see how I would feel racing in these shoes.
I have to say, the shoe easily coped with both the distance and the terrain. I had no feet problems whatsoever. In fact, my feet felt so fresh and pain-free, that I was able to push for a negative split (a faster second half of the race than the first).
The sock-like bootie was sensational for keeping sand and debris out. I actually saw a couple of runners having to stop after the sandy sections to shake the sand out their shoes. Not with the New Balance Gobi v3 and its sock-like bootie fantastic addition to the shoe.
Overall, my race-day experience in these shoes was absolutely great. I know that this shoe could easily have taken me much further.
Durability
The shoes I used in this race had already done 300+ miles, and that's exceptional.
The cushioning, support, upper and tread were all still in great shape and easily got me through the race distance. But remember, I did have the extra-thick cushioned insoles. These shoes have still got plenty of life in them yet, and that's amazing value for money.
So what do the future hold for me and the Gobi v3?
Well, as I move through the spring/summer months towards the 100-miler in September, my plan is to keep with the New Balance Gobi v3 and see how far we can go together. I'm hoping, by using the cushioned insoles I can use these shoes as I build up to 100 miles per week and increase the long-runs to 12 and then 24 hours.
I also need to introduce some walking, because unless you're a top-level athlete you're not going to do 100 miles without periods of walking. My experience has been that not all good running shoes make good walking shoes.
Even although the New Balance Gobi v3 is not designed for ultra-marathon distance, in my mind, this could be the shoe I use for the 100 miler race in September. That tells you just how good this shoe is on dry light trails and tarmac.
Fit
I found this shoe a 'true' fit (for a UK size 9) with plenty of toe room in the toe box and a good tight fit around the ankle to lock the foot in.
Weight
For a road/trail hybrid 9.4 ounces is a very competitive weight.
Cushioning
The Fresh Foam midsole (which is a single piece of foam) absolutely enables me to enjoy mile after mile comfort and cushioning whether on the trail or road. It would have been perfect if the insoles had been more cushioned and better quality.
Durability
Amazingly durable shoe. As I write this review, the shoe has done 500+ miles and the upper material, tread, cushioning, and support are all still in excellent condition.
It's maybe worth saying that every few weeks or after muddy runs, I always hand wash my shoes and blow dry them. This definitely prolongs the life of a shoe.
Grip
Although on light trails and tarmac, the shoe was great, I'm afraid the shoe didn't perform well on technical or wet surfaces. Wet damp rocky descents, were actually quite treacherous.
On lightly packed dry trails and road, this shoe excels. If, however, you need a shoe for more technical trails, then this is probably not the shoe to buy.
Value for money
For a shoe that retails from £70 to £90 and can go for 500+ miles, this shoe provides exceptional value for money.
Bottom line
If you're looking for a good value for money, durable, go-to shoe for multi-terrains and even for the occasional run on the treadmill, then I would definitely encourage you to take a seriously good look at the New Balance Gobi v3.
Given my experience in this shoe, it's very likely I'll be doing a future review on a pair of New Balance Gobi v4 shoes (if/when they come out).
Happy Running!
I am living in Bavaria, Germany where my running tracks mostly consist of a mix between tarmac and gravel roads with some uphill and downhill sections.
Therefore, a pure tarmac or a pure trail shoe would not work for me. I found the Fresh Foam Gobi to be the perfect mix of both disciplines and enjoy running it a lot.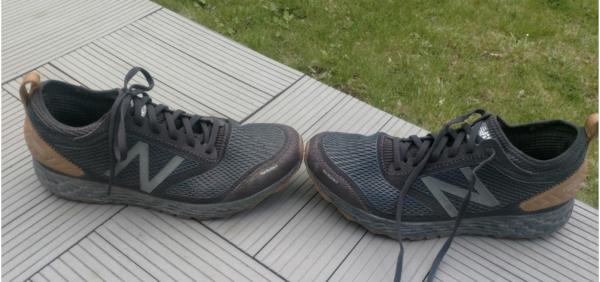 Appearance
Here is already one of the downsides of the shoes. With the mix of brown and grey color, it is not something to really look at fondly. Especially with all the very bright color mixes of the competitors.
I would have liked the shoe to have a more aggressive color scheme as often found in trail shoes.
Run and feel
The Gobi feels very lightweight for a trail shoe.
The 6mm drop is quite aggressive for that segment of shoes but this is what I like. It is not bulky but rather sleek and agile.
As long as you don`t run on larger pebbles you should be fine.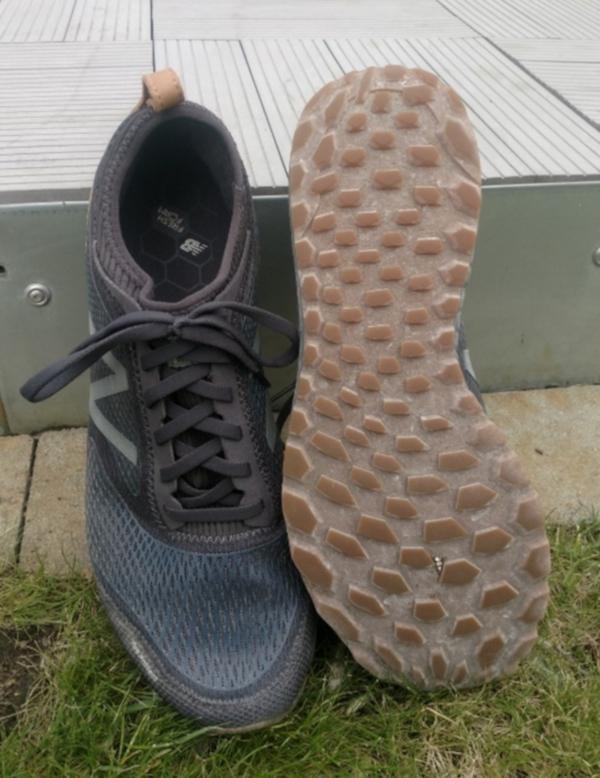 If the sole has no cushioning, you can feel the impact the stones whiles running over them. But this should be a surface not often encountered by the majority of the runners.
Traction
If you don`t enter really difficult terrain you should be fine on nearly all surfaces. Tarmac, gravel, rocks you name it.
The traction was always good enough for me. The shoe features no downhill studs like for example the Asics Fujirado but you should nearly never need that.
Innovation
Innovation-wise there is not much to tell in that section. It is one shoe among many but a very solid one.
New Balance claims that the HydroHesion rubber outsole should work especially well on wet surfaces but I guess this is marketing magic.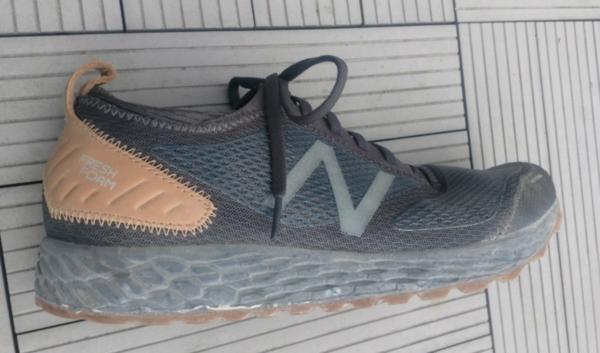 I had two runs on wet surfaces and found no big differences to other trail shoes I possess. Fresh Foam is not a new technology as it is some years old.
Protection
The Gobi features a toe protection box that suited me well in all my runs. If there is a weakness, it is the rubber outsole as it is not that solid and will not protect the upper from bigger stones.
Don`t get me wrong, for most of you, it will be more than enough. It is only for some hardcore trail runners that will find the sole protection lacking.
Tongue
You don`t have the normal tongue with the Gobi. Therefore you wear the shoe more like a sock.
As I like the easy lacing possible with the shoe, I miss the usual tongue as it enables me to enter the shoe more quickly and adjust it a little bit more to my needs.
The Pro here is that there is one less possibility for friction.
Weight
It took me some browsing the internet as the weight is not stated on the new balance homepage (Guys of New Balance please update the info as this is very import for buying your shoes!).
A German page says the weight is 258 gram which I tend to believe. For this multi-terrain shoe, this is a really nice setup.
Fit & size
I ordered these shoes the same size as all other running shoes and it worked.
For me, they seem to be true to size. The fit is not as loose as I encountered on other shoes but I don`t have any issues with friction.
Pros
Great versatility if you don`t want to buy shoes for every use case - tarmac, trail, natural running
Even if the weight is really low, the cushioning is fine
Moderate pricing with a retail price just above $100 and can easily be found below that on the web
Cons
A real trail runner would like to have more stability and choose a more heavy shoe
Nothing new from an innovation perspective
Summary
As I already wrote at the start of the review, I run those shoes mostly on mixed surfaces. Here is one of my runs I do typically wearing the Gobi Trail
For that kind of surface mix I really can only recommend the shoes. It is not a shoe for heavy trail running nor for pure tarmac running but it excels in the mix.
Recommendation:
Yes, I can only recommend getting a pair of those shoes. For me currently, I don`t see an alternative in the section "best allrounder".
The shoes are great to wear. Nevertheless, you should not be a novice runner when buying them.
Your muscles and tendons should be adjusted to running over some time already. Otherwise, the shoe will not provide you with enough stability.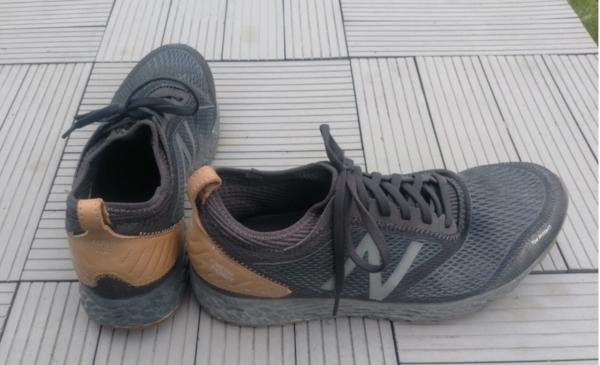 But if you want to run different surfaces and not buy different shoes for each, the Gobi v3 is the shoe of choice as it should be suitable for nearly everyone for up to 95% of all your running activities.
If you want to only have a small number of running shoes in the locker make sure the Gobi v3 is in.
Good to know
The New Balance Fresh Foam Gobi Trail v3 is a neutral running shoe that's designed for those who appreciate footwear that's designed for off-road adventures. It also serves as an update to the Fresh Foam Gobi Trail v2, a well-regarded update in its own right.
The upper unit of version 3 is made of engineered mesh that's shielded by printed overlays. Stitch-reinforcements adorn the forefoot, the instep, and the heel—gracing the façade with a bit of volume and sturdiness. A cleatie construction removes the traditional tongue unit from the design, replacing it with a one-piece opening for security.
Cushioning is provided by the full-length Fresh Foam midsole. This platform is also meant to help the foot in transitioning properly through the gait cycle. The external pad of the New Balance Fresh Foam Gobi Trail v3 is graced with HydroHesion rubber, a grippy compound that is able to handle wet, rocky and flat paths.
The New Balance Fresh Foam Gobi Trail v3 is a running shoe that's designed to be true to size. Runners can choose a pair using their usual sizing expectations. When it comes to width, the available options for men are D – Medium and 2E - Wide; for women, the variants are B – Medium and D – Wide. It welcomes those who have medium foot dimensions.
HydroHesion is a rubber compound that covers the entire external pad of the New Balance Fresh Foam Gobi Trail v3. It is tasked with protecting the midsole from wear-and-tear. It is also meant to provide traction over the surfaces. The HydroHesion name implies that it's designed to adhere to wet surfaces.
Trail-optimized gripping lugs pockmark the outsole unit. These nubs, though able to clamp onto uneven terrains, have flat edges to help with steadiness over even surfaces like asphalt.
Fresh Foam is a full-length cushioning unit that's designed to provide a luxurious yet lightweight underfoot experience for the wearer. It has small cutouts and grooves on the sides to emphasize bounciness and energized steps.
A cushioned insert is placed on top of the primary underfoot platform to put some more oomph to the perception of comfort. It can be removed or replaced with a new one.
The upper unit of this New Balance trail running shoe uses engineered mesh, which is a cloth-like textile that is meant to accommodate the natural shape and movement capacity of the foot. It has prominent breathing pores that welcome air into the foot-chamber, thus giving a cool and dry interior feel.
A grid of thin, printed overlays cover the sides and the forefoot. These layers don't hinder breathability because they have a web-like construction that still accommodates airflow. Their purpose is to help in providing a snug and secure fit.
A one-piece opening is used for this running shoe. The purpose of this articulate and unseparated foot-portal is to provide a snug yet sock-like hug, especially as it is made of a soft textile. The full embrace of this configuration as means that debris and other elements won't be able to invade the interior chamber, thereby ensuring a non-irritating and well-protected coverage.
The Toe Protect forefoot barrier, the instep, and the heel all feature stitching to reinforce them and make them more durable. The multi-weave design of the stitching also assists in the provision of a locked-in wrap.
A pull tab is added onto the back part of the shoe. This loop helps the runner when it comes to wearing and removing the Fresh Foam Gobi Trail v3.
Rankings
How New Balance Fresh Foam Gobi Trail v3 ranks compared to all other shoes
Popularity
The current trend of New Balance Fresh Foam Gobi Trail v3.