Verdict from 8 experts and 100+ user reviews
6 reasons to buy
A lightweight and supportive fit is provided by an engineered upper that has a no-sew process.
Runners appreciated the inclusion of the Toe Protect™, a rubber compound that protects the forefoot from debris and surface contact.
The modern design of this shoe allows the runner to wear it for trainings, as well as for casual purposes.
The upper coverage of the Fresh Foam Gobi Trail is essentially irritation-free, allowing sockless wearing experiences.
A comfortable and natural ride is provided by the Fresh Foam, a lightweight sole unit.
The outsole unit uses a design that allows it to function well on both the roads and the trails
2 reasons not to buy
A few runners thought that the New Balance Fresh Foam Gobi Trail wasn't as aggressive on the trails because it features some thin components and features.
A few noted that it didn't have a shielding mechanism that works against water infiltration, which is helpful when tackling the unpredictable trail conditions.
Bottom line
Trails and roads aren't going to be a problem for runners when they have the New Balance Fresh Foam Gobi Trail with them. This neutral running shoe was created to be versatile when it comes to its functionality and purpose, so it becomes truly helpful for road-and-trail adventurers and athletes.
Tip: see the best trail running shoes.
Our reviews
I fell in love with New Balance shoes with this model. It feels really light and comfortable. At the same time, it is very flexible and stable to run in. The foam makes hitting the ground feel very soft.
Despite the fact these shoes are trail running shoes, I feel more comfortable with these on road terrain. These are not very stable and also a little slippery when on trail.
Although you can not count on these on trail, New Balance Gobi Trail performed great on road. I've tried them on wet cobbles and road, and they were very stable.
Also, I ran half marathon with these, and I'm impressed with the shoes' softness, breathability, and lightness. I also use them for track sessions, and I'm satisfied.
So, you can easily use them for short sessions to long runs.
Size and width
What I love the most about New Balance is the fact they have width sizes. I have narrow feet, and these shoes were the first to fit me so perfectly. So before ordering, check their width size chart.
No matter if you have narrow or super wide feet, New Balance has your back. They fit perfectly.
Outsole
Gobi's aggressive HydroHesion rubber outsole deliver a superior grip on wet road and cobbles. I can not say the same about their performance on trail, though.
I prefer to run on road with these than on trail. But, on really light trail, they are fine.
Midsole
The fresh foam innovative midsole gives a smooth ride—a very soft and natural ride. The one-piece Fresh Foam midsole offers premium cushioning underfoot.
Upper
Toe protection is a plus for these shoes. It is not stiff. The material of the upper is great and feels very comfortable for the feet.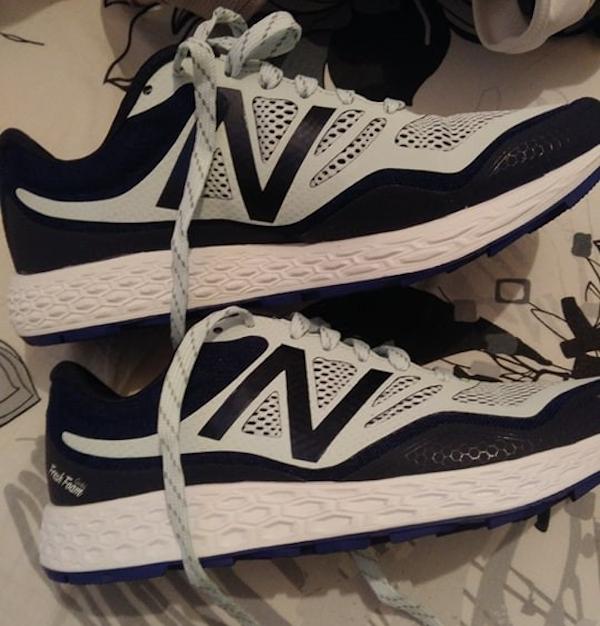 The thing I like the most about the upper is how breathable it is. The mesh gives a fresh feeling for the feet.
Flexibility
The Gobi Trail is the most flexible shoes I have ever had. The combination of flexibility and stability is excellent.
Weight
With their 220g for women and 262g for men, they give light and stable feeling at the same time.
Durability
They are not very durable because of the mesh used in the upper.
Use
You can use them daily. Personally, I use them both for trainings and competitions and from fast short sessions to long runs.
Terrain
Despite its description, do not mistake New Balance Fresh Foam Gobi Trail for trail running shoes. You can only run on light trail with them. They are slippery and not stable on trail.
But you can definitely count on them on road, most especially on wet road.
What I don't like
They are not durable. After around 80 km of running the mesh wore out. Everything else was like new—the outsole and the inside material.
I run with them only on road and track, so I guess if you run on, trail the mesh will wear out even faster. The price is high and does not compensate for the quality of the shoes.
Pros
It is comfortable and fit to wear that provides a smooth and light feeling.
Cons
The mesh wore out very fast; it is expensive, and it is not stable on trail terrain.
The most important qualities of New Balance Fresh Foam Gobi trail for me: (scores 0-10)
Stability: 10 (on road) and 7 points (on trail)
Durability: 4
Breathability: 10
Flexibility: 9
Lightness: 10
Comfort: 10
Conclusion
If you are looking for smooth comfort, natural ride, and light shoes, the New Balance Fresh Foam Gobi Trail is your shoe.
But you should know you won't run a lot with them as the mesh upper wears out really fast. Despite this, I totally recommend them.
Good to know
Comfort, protection and great performance on both the roads and the trails; that's what the New Balance Fresh Foam Gobi Trail is all about. This running shoe utilizes lightweight but efficient components and technologies in order to keep the wearer running at a steady pace and in an unrestricted manner. It's a reliable shoe for many activities.
The upper unit makes use of a no-sew construction that's helpful when it comes to keeping the foot comfortable and free from irritation. The fabrics are able to wrap around the foot with ease, making sure that the fit is as snug but unrestricting as possible. Protection from debris and accidental surface contact is also afforded to the wearer.
The mid-sole of the Fresh Foam Gobi Trail is lightweight and responsive. Made from a single-piece foam, this layer is able to cushion the foot well, keeping it safe from impact forces with every step. It doesn't have a stiff nature; so natural movement is given with ease.
A durable outsole tread is used in this shoe and it's crafted to be able to function well on both the roads and the trails. Whether the surface is flat or uneven, this layer is going to protect the rest of the sole unit from wear and tear. Traction is also reliable with this shoe.
The New Balance Fresh Foam Gobi Trail has a standard running shoe length. It comes in sizes that adhere to the regular measurements for men and women. The available widths are medium and wide, so runners are going to have a versatile choice depending on their personal preferences. Its semi-curved shape follows the natural curvature of the human foot.
The AT TREAD is a rugged outsole unit that's made from highly durable rubber. It is able to stay resilient against the rough nature of the terrains. Traction is afforded to the runner because of its sticky disposition.
The gripping nodes found on the outsole aren't as prominent as those typically seen in most trail shoes. This is a design choice that's meant to let this shoe function well on flat surfaces such as roads and building floors. Still, it's not going to be difficult when traversing uneven terrain.
The Fresh Foam is a mid-sole foam that's lightweight but responsive. It is able to cushion the foot responsibly with each step and give a natural underfoot feel. It is able to follow the natural bending of the foot, keeping the runner free to move their feet as they are able. This midsole configuration is also used in the NB Gobi Trail v3 and other popular trail shoes from New Balance.
The Fantom Fit is an engineered material that provides a comfortable fit. It only uses two thin fabrics, and it doesn't use stitching. The runner is going to be wrapped comfortably by a non-irritating cover system.
The No-Sew Cleatie Construction further enhances the comfort the foot feels while wearing the New Balance Fresh Foam Gobi Trail. The smoothness of the interior and the absence of stitched sections bring an optimum comfort that's great for long running sessions.
The Toe Protect is a thin layer of rubber that's placed in the forefoot area. It's meant to shield the foot from any discomfort, particularly from debris and other potentially injurious trail hazards.
Additional comfort and protection is afforded by a Traditional Sock Liner, which is also responsive.
Rankings
How New Balance Fresh Foam Gobi Trail ranks compared to all other shoes
Popularity
The current trend of New Balance Fresh Foam Gobi Trail.