Verdict from 28 experts and +100 user reviews
8 reasons to buy
A runner noted that the New Balance 1080 v6 kept their feet comfortable, even when they were using it all day.
The upper fabrics gained praise for its capability to wrap around the contours of the foot snugly and securely.
Several runners commented that the toe box was roomy enough to accommodate the natural splaying of the toes.
Its weight profile was welcomed by many because it felt agreeably light to them.
The underfoot experience felt responsive and springy to a lot of testers.
Even after many uses, the mid-sole unit of this model actually stayed efficient and robust for many of those who tried it.
Traction was reliable, according to users.
A reviewer stated that even though the New Balance 1080 v6 was expensive, its efficient components and features made it a great investment.
3 reasons not to buy
A runner observed that the instep had rough edges that cut through socks and caused some blistering.
The stitched overlays were too hard, according to several testers; they actually wrote that these add-ons caused the mesh to rub uncomfortably against the skin.
This model felt a little too tight for a few reviewers.
Bottom line
The 6th version of the New Balance 1080 was able to provide a great number of neutral runners with quality service and performance. They felt secure and comfortable when they wore it. Some of them even used this road shoe for long periods of time and they didn't report any issues. But such wasn't the case for some testers. For them, it was too narrow and some of its components rubbed uncomfortably against their feet.
Tip: see the best running shoes.
Our reviews
Looks wise, the 1080 v6 puzzles me. I'm not sure if it's the colors, or the way the sides of the shoe jut out, but I am not a big fan of how the shoe looks.
All of that combined with the very thick midsole make for a shoe that is strictly for athletic use. I got the black/red which in my opinion looked the best, but there's just something about that neon green they had to add with it.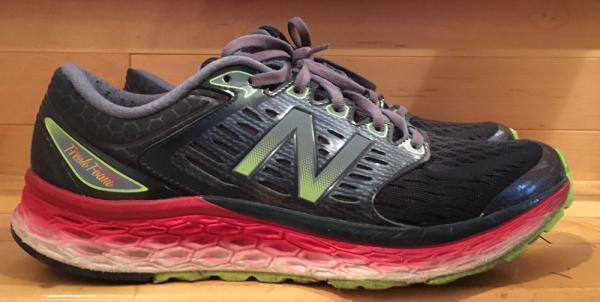 Fit
The 1080 v6 is a shoe that comes in a variety of widths, from 2A to 4E. It has a fairly wide mid-foot, which is great for my slightly wide foot. However, the front of the shoe seems to fit narrower due to the last that the shoe uses. I went for my true size in a D width and it has a very accommodating fit for the most part.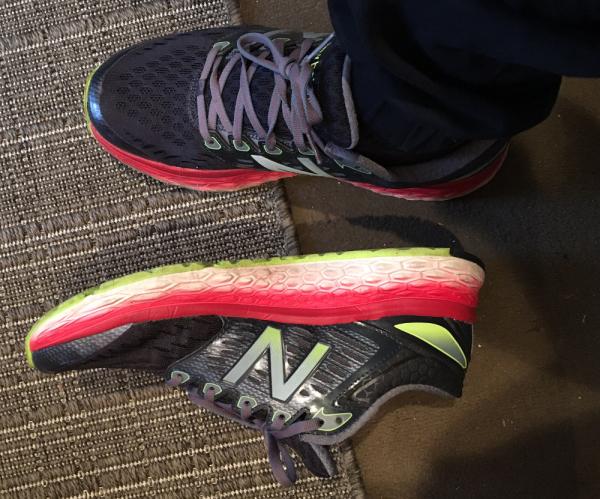 I had adequate room in the mid-foot, and the front of the shoe was a tad snug. Keep in mind, however, that the shoe does come in widths if your foot is different than normal. Overall, one of the rare occasions where a D isn't snug on my mid-foot.
Price
The 1080 v6 has great cushioning, but it comes at a price. At $190 CAD, it is one of New Balance's most expensive running shoes. That is a very high price for a running shoe, and one would expect a premium shoe at $190.
What is expected isn't exactly what you receive. For $190, this shoe isn't as durable as it could be. It also doesn't look like a shoe that would cost that much. Is it a good shoe? Yes. Is it $190 good? Probably not.
Performance
The New Balance Fresh Foam 1080 v6 comes with an abundance of cushion, and is a great neutral ride. While there is a lot of cushioning, the shoe isn't as "soft" as advertised. All that aside, it still surpasses almost every shoe out there in terms of cushioning.
The midsole uses Fresh Foam, which gives it that nice cushioned feel. Another thing that I personally found with these shoes is that the tread wears out fairly quickly. As you can see in my pictures, the tread has worn out considerably, and I have not worn them very much.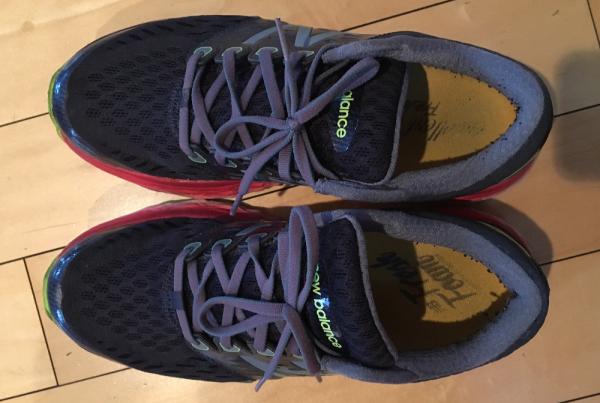 Finally, I feel like this shoe should have been given a different name. Old school 1080 lovers will find almost nothing similar to previous versions of the shoes, save for the neutral ride. All in all, a super cushioned and fairly comfortable shoe.
Conclusion
The New Balance 1080 v6 is a shoe that uses Fresh Foam cushioning to deliver a comfortable neutral ride. Although the Fresh Foam is nice, the price and looks of the shoe aren't so nice.
I recommend this shoe to anyone who loves a cushioned shoe, and has a big budget to work with.
Good to know
The New Balance Fresh Foam 1080 v6 features a major update in its midsole construction. The midsole from the older version was replaced by the new Fresh Foam midsole that delivers soft underfoot cushioning.
The upper was also improved. It used new materials and the tongue was totally changed. It was attached to both sides of the upper and has a lot of padding, as well as the collar.
The New Balance Fresh Foam 1080 v6 is still available in standard running shoe length. The midfoot, forefoot and heel provide a universal fit. This shoe is available in different widths – narrow, medium, wide and extra wide.
The Ndurance carbon rubber in the shoe's outsole gives durability while the enhanced blown rubber increases responsiveness and cushioning. The outsole also has flex grooves that gives added flexibility in the forefoot.
The midsole features the new Fresh Foam midsole that replaces the old New Balance midsole technologies. The Fresh Foam delivers a soft and smooth cushioning. This midsole is also used in the NB 1080 v9 and other popular NB shoes.
The upper covers of the shoe delivers maximum breathability and the cleatie construction of the New Balance Fresh Foam 1080 v6 delivers a soft, comfortable fit. Its seamless construction reduces blisters and irritation. The brand's Fantom Fit provides supportive fit without adding too much weight.
Rankings
How New Balance Fresh Foam 1080 v6 ranks compared to all other shoes
Popularity
The current trend of New Balance Fresh Foam 1080 v6.