Verdict from 16 experts and +100 user reviews
6 reasons to buy
A lot of testers said that the New Balance 890 v7 was comfortable.
According to those who have tried it, the shoe has excellent quality.
The majority of the consumers commented that the footwear was lightweight.
It was breathable, based on a review.
One of the users agreed that the shoe is best used for speed work or race day.
A reviewer admired the responsiveness of the shoe.
1 reasons not to buy
One of the users said that the insoles ride up the ankle area after a few miles of usage. Once it started, it continued until a half mile and needs to be adjusted back to its original position.
Bottom line
Many users were appreciative of the New Balance 890 v7. This running shoe received a lot of praise for its lightweight structure and comfort level. Although one user had an issue with the shoe's insole, others were still satisfied with its excellent construction and breathability. Overall, most of the shoe-enthusiasts who have tried the New Balance 890 v7 were happy with its quality and performance.
Tip: see the best running shoes.
Our reviews
New Balance 890 v7 is a complete revamp of the 890 v6. Someone who is new to the running game would not even be able to tell that 890 v7 is a successor of 890 v6.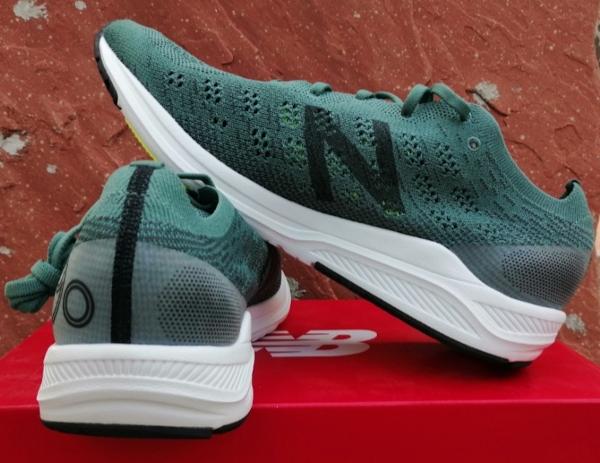 The only thing they have common is the model name, and the rest of the shoe is different. Mesh upper is replaced with knit upper, and instead of full-length rubber outsole, 890 v7 has ground REVlite outsole.
Let's dig deeper and see what this shoe has to offer.
Technology used
REVlite midsole
Knit upper
Ground REVlite outsole
Specifications
Pronation: Neutral
Cushion: Firm
Offset: 6mm
Weight: 204gm(7.2oz)
Surface: Road
Best use: Fast-paced runs
Fit: True to size
Upper
The 890v7 features knit upper unlike its previous version 890 v6, which had a mesh upper. On the upper's lateral sides is the 'N' logo.
This knit upper feels soft against the foot and does not cause any irritation or chafing. However, the knit is not as stretchy as the New Balance's hypoknit or flyknit.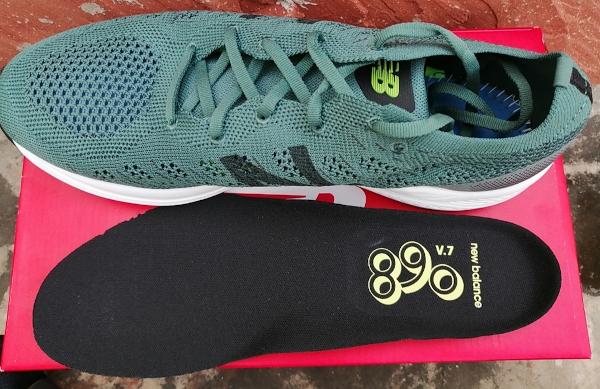 The upper has different patterns of different sized laser-cut holes all over the knit, which makes the upper super breathable. These laser-cut holes are so many that one can see his/her socks through it.
I have done a total of 30 miles in these shoes. Most of the runs were in hot weather, but the upper kept my feet dry. Also, the upper hugs the foot snugly and provides enough support while taking turns.
Toe box
Runners with wide feet will love the toe box of 890 v7. I have an average feet width, and I found the toe box slightly wider according to my taste. Thus, I doubt people with narrow feet will like the fit of the shoe.
Tongue
The 890 v7 has a gusseted tongue, which wraps around the midfoot and provides a very secure and snug fit. The tongue feels soft and fairly padded, which is according to what this shoe is meant for.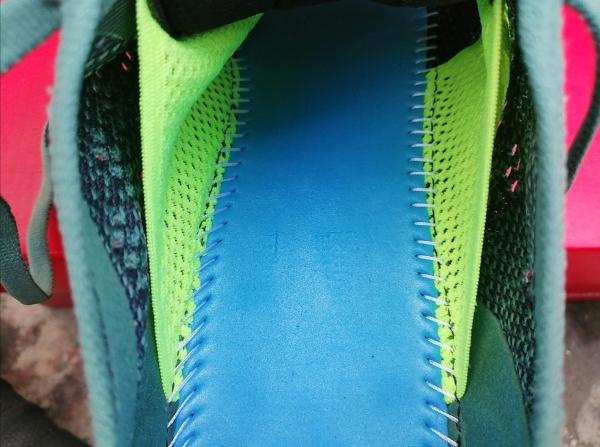 Heel counter
The 890 v7 has a very different shape of heel counter. New Balance has placed external plastic of very minor thickness for stability. They also wrote the model number 890 on the heel of the shoe.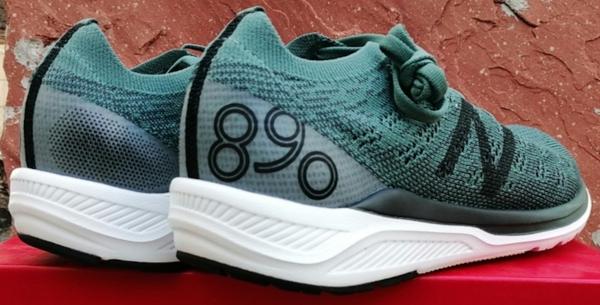 The heel counter kept the foot in place while running at faster paces and prevented riding up of heel. However, the curved shape of the heel counter, which is coming towards the heel, tend to cause irritation while running.
Regardless, the rest of the heel counter has no padding at all, but it did not cause irritation or chafing because of the soft knit material used for the construction of the shoe.
Midsole
The 890 v7 features the firm REVlite midsole. This midsole foam is an upgraded version of EVA foam. The REVlite is 30% lighter as compared to it's competitors.
Despite its lightweight feature, it does not compromise on the cushioning and stability. REVlite foam felt very responsive and provides a bouncy and energetic ride.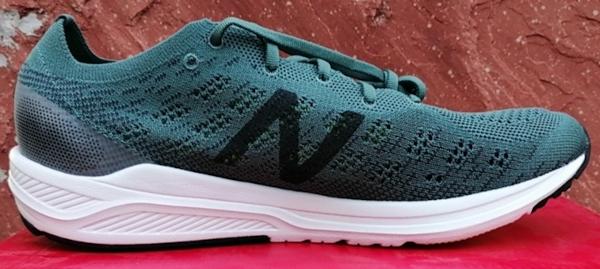 I have done 30 miles in this shoe and longest run was 8 miles, and the REVlite midsole felt responsive from first to the eighth mile. This shoe is best suitable for faster-paced workouts or for race day. I think this REVlite midsole can easily handle distances up to a half marathon.
Ride & performance
The 890 v7 has firm ride experience, much firmer than shoes like Boston boost or Kinvara. It has very thin sock liner, which adds very minimal softness to the shoe. Any distance above half-marathon will be harsh on legs in these shoes.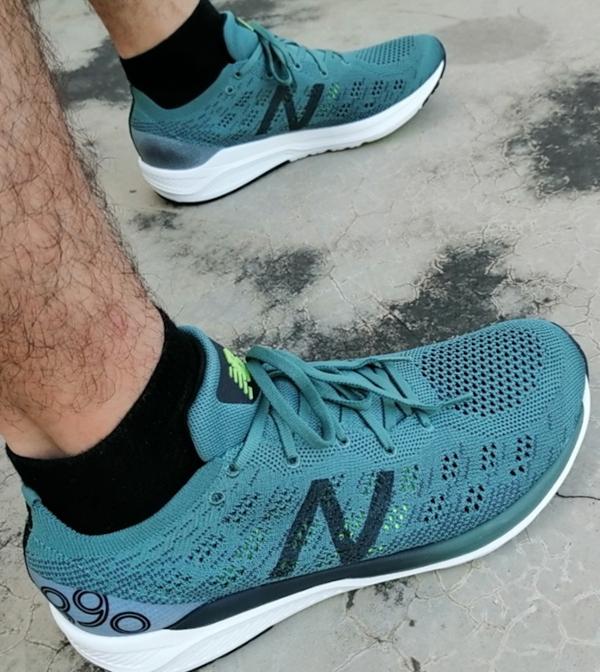 REVlite midsole is more responsive than Fresh Foam and does not lose its responsiveness over longer runs like the latter. I did three runs in them around 8 miles each and found it much lighter and lively than Zante Pursuit but less responsive than New Balance Fuel Cell Rebel.
REVlite outsole remains as responsive as it was from first to eighth mile. It is more resilient than any other foam and does not lose responsiveness easily.
The 890 v7 offers very smooth and responsive ride and will work up to its potential only when it is used for fast-paced runs.
Outsole
Unlike the previous version, this version has exposed ground REVlite outsole with rubber placed at strategic places. When I first looked at the outsole, I thought that it will not be durable.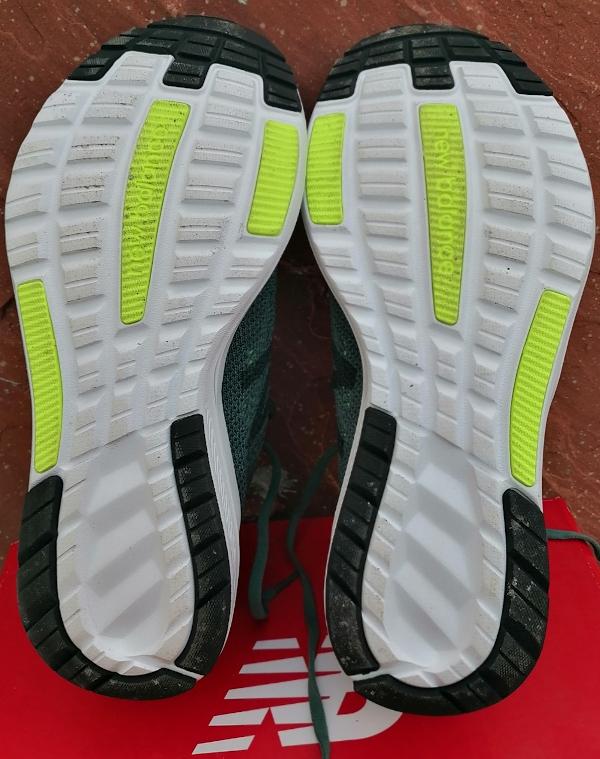 But, I was wrong. This ground REVlite midsole is very durable and will not wear down quickly. I have done 20 miles and did not find any premature wearing of the outsole.
However, I found the ground REVlite to be average in terms of traction. When I ran on dry roads, it did great job. But when I stepped onto wet surfaces, I had to run with caution.
The outsole was not providing much traction. I also think running on wet grass with them will be a really bad idea.
Fit
New Balance 890 v7 fits true to size. It offers a wide-foot-friendly fit, but runners with narrow width might have to struggle for the desired fit.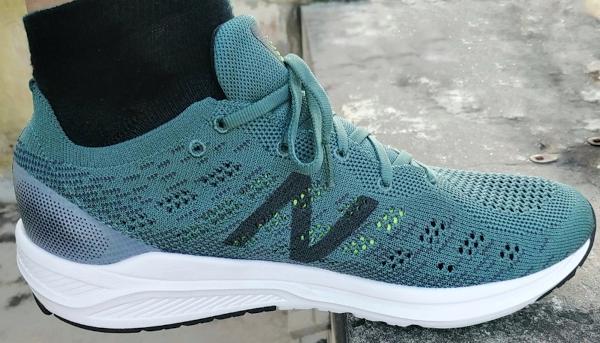 The forefoot is shallow but not uncomfortable. This shallow forefoot provides a more stable ride when running on uneven surfaces.
Earlier I have tried Zante Pursuit, which has a more restricted fit as compared to 890 v7. In my opinion, the fit of 890 v7 is much better for long-distance runs.
Support
I don't like too much support in my shoes, and this shoe fulfils my expectation. As mentioned, the knit upper is not as stretchy as Hypoknit but not stiff at all and provided a supportive and snug fit.
The gusseted tongue also helps in keeping the foot in place when taking sharp turns. There are also medial strips of EVA foam, which aims at providing more support and prevents foot to roll outwards when running on uneven surfaces.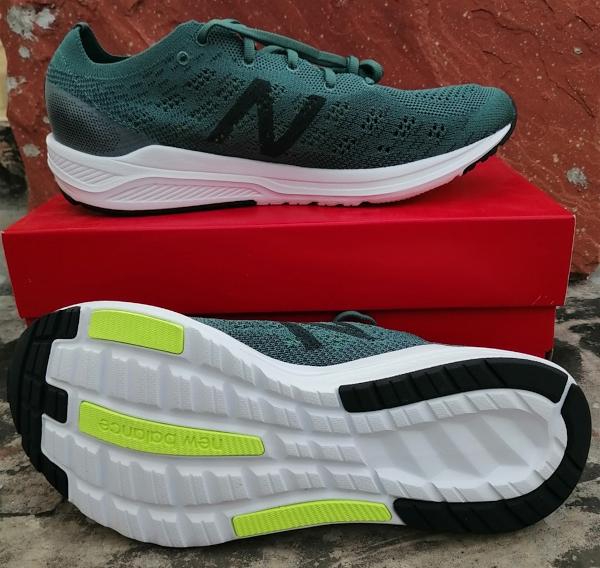 The forefoot of 890 v7 is shallow, increasing stability on uneven surfaces. It has an external heel cup, which is made up of very thin, transparent plastic.
At first, I thought this heel cup will not be efficient in keeping the heel locked in. But, again I was wrong.
This heel cup kept my heel locked in, but the only issue with this heel cup is, as mentioned, it caused chafing on the ankle because of the inward curve. But, this minor problem can be prevented by wearing high socks.
Overall, I was happy with the support provided by the 890 v7.
Durability
I love how New Balance provides such great built quality and uses premium materials in their shoes without charging too much.
The REVlite outsole held up quite well while the knit upper is also very durable. The upper has not shown any fraying at all. I think 890 v7 will last for 300 miles easily.
Pros
Breathable upper
Very lightweight
Responsive REVlite midsole
Snug fit
Great looks
Cons
Toe box might be too wide for some runners
Firm midsole
Bottom line
New Balance 890 v7 retails at 120$, and I found this shoe worth every penny. The built quality, quality of materials, and performance were all satisfactory according to the price tag.
The 890 v7 shines when it used for fast runs. It is totally different from the previous version but in good way.
REVlite midsole is much more responsive than the Fresh Foam. If any runner wants to add a fast shoe into their rotation, look no further and try the 890 v7.
The New Balance 890 v7 had plans of being my home-run go-to shoe for fast turnover with just enough cushion and protection. In the end, it is on my shelf, wishing for a second or third chance to impress me.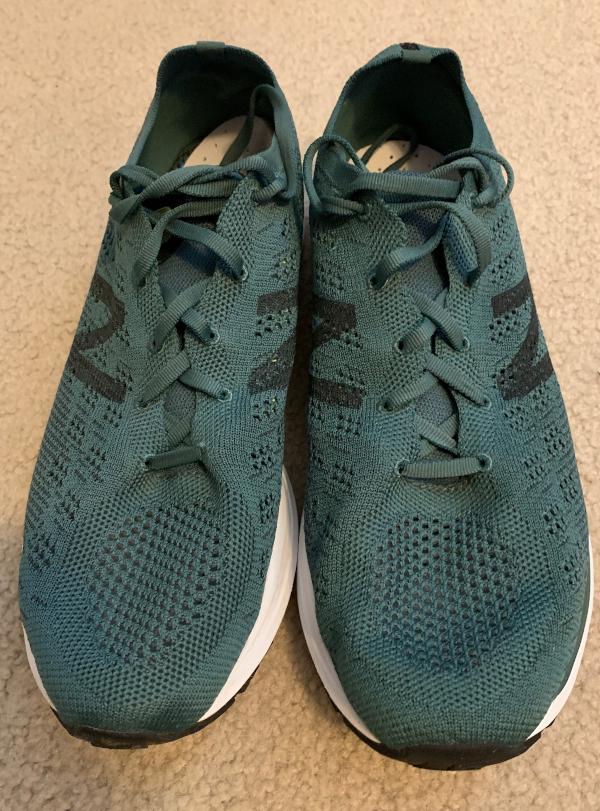 This was the first in this series for me. I started my journey in other brands and came over to New Balance a few months ago with the workhorse NB 1080 getting my attention.
I burned through several pairs of the 1080's before working my way down to less of a shoe. The 890 caught my eye a few months ago as squeezing in the lightweight division where there were many competitors.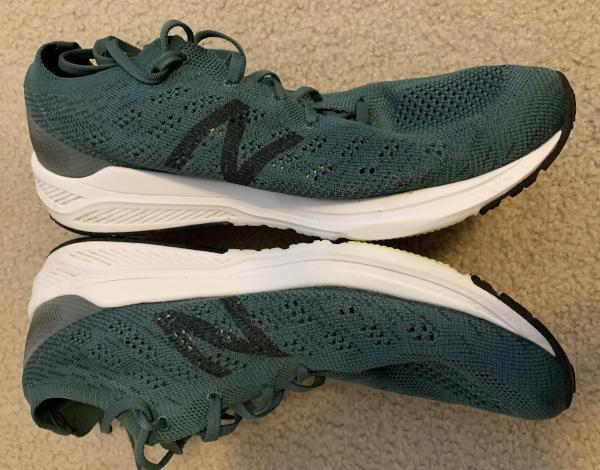 Having been well pleased with the 1080's and even some street time in the 1500's, I thought I would give the 890's a try.
I wear an 11.5 and prefer 2E. The NB 890 had even more appeal because they come in with the wide option. So, the specs spoke to me being lightweight but not too light.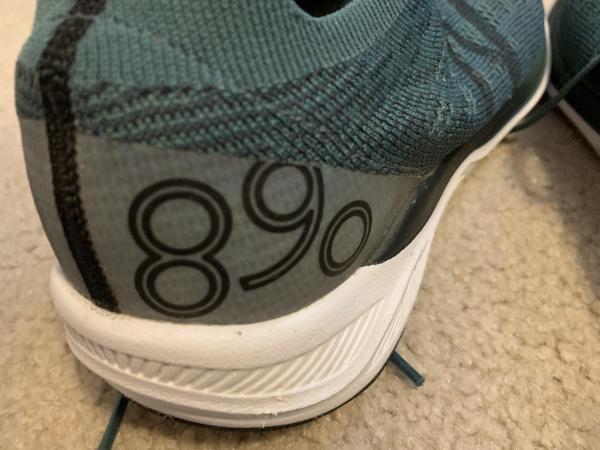 I have had issues with "bruising" the pad of my foot. I know—don't run so hard. It's not that—I believe gravity is a lot stronger where I run than where you run (smiles).
So, lighter weight and wider size, this is worth an unboxing. I read lots of reviews, and most were trashing the insole. Wow! How could something so simple cause such destruction people?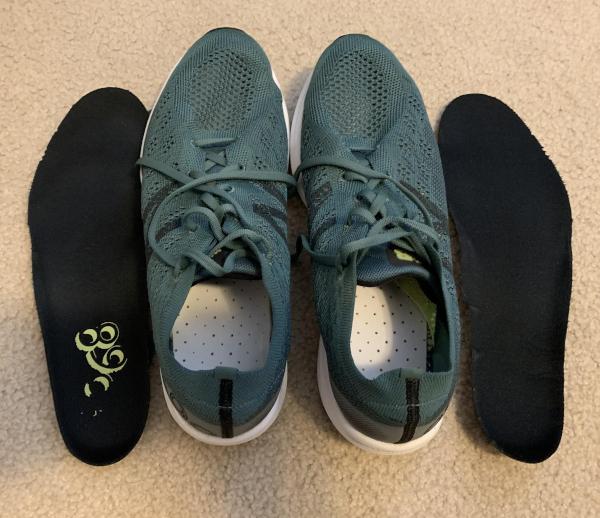 The shoe fits very well at an 11.5 2E. The toe-box is my immediate go-to with new shoes. I care not to disclose how many toe-nails have been sacrificed to the running gods.
So, how the toes fit and the room they have to roam is important. They were happy in the 890's!. On the opposite end, the heel was snug and comfy with some nice padding.
The knit construction of the upper gave a sense of good airflow. The laces and tongue seldom get my attention unless somethings is amiss—no issue here.
When walking down the hall for the test walk out of the box—not bad. It had a nice solid plant with a little rise mid-foot and a nice roll-off. It's a neutral shoe but good structure. I could feel a little give in the sole but not much squish.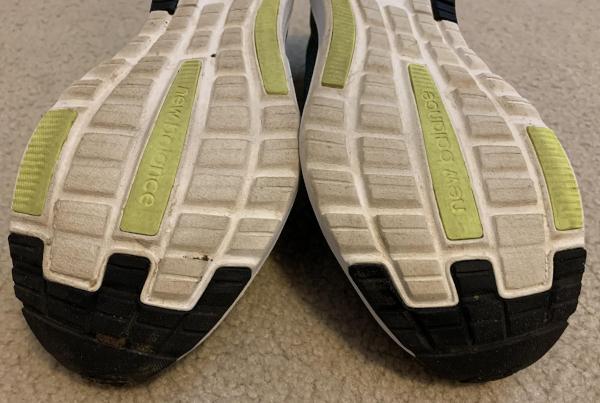 Okay—I will get these dirty, which means no returns for the most part. The first few runs were decent though my forefoot was all over the place. Seldom do I get blisters, but I had a couple. I could feel hot-spots on my forefoot almost immediately.
I have used the word "sloppy" already, but that is the sense that best describes what was taking place. I am not ashamed to say that many shoes have gone for runs with me, and we have had few, very few conversations as though they didn't even exist.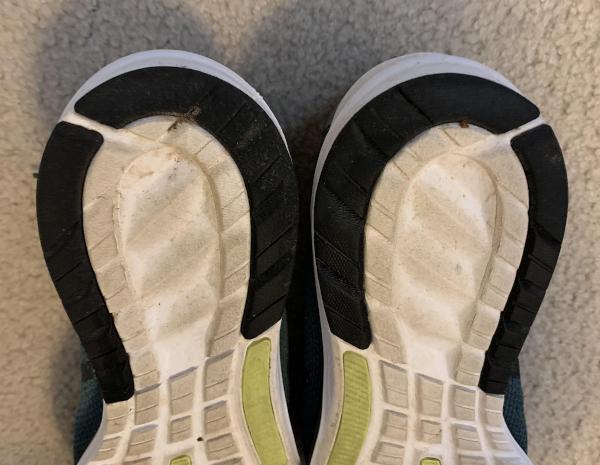 But, there were several conversations with the 890's—even to the point the last conversation was, "I should have left you at home."
Along with the sloppy was a hardness on the landing. There was hardly any squish at all, almost like a true racer I had a few years ago. I certainly could feel the road, and the bruised feeling of the forefoot was starting to knock on the door.
I did take a look at the insole to see what the fuss was all about—wow—really flimsy. I gave them a chance, but in the end, they had to go after only a couple of runs.
Indeed, they were all over the place. And, a sacrilege I did when they were divorced, and the new girlfriend (without the family name or fame) was brought on board.
We had such memories together, but in the end, it was you not me. This gave me another opportunity to give the 890's a chance at redemption.
Pulling the insoles gave a new life as the generic insoles gave a little cooling effect and a smidgen more cushion. Maybe this was enough to provide some squish and make this relationship work in the end.
There was good airflow so not too much overheating from the top. The new insoles did cool some of the heat from below.
But, there was still some sloppy when running, and the hardness never went away. They had such potential, but at 74 miles, we parted ways.
I could see that these could have easily gone the 300 or so miles that relationships typically last for me. The sole's build was nice with firm rubber where it hit the pavement the most.
I was pretty impressed with the bottoms (though I am not a bottom-kind-of-a-guy you know?). All around, I was impressed though I was hoping for more than just a great personality.
I gave them one last attempt. My last run with them was 7 miles at a decent tempo. My feet burned, and the bruising was starting to make an appearance.
I didn't note much of anything on that run other than "this shoe!" I'm sorry you gots-to-go. There is only room in the closet for four pairs, and you just talked your way to being voted off the rack.
Happy trails NB 890 v7—we could have made some great memories. While we had some music together, it was not so great.
I hope you can get your act together. Do that, and maybe we meet again down the road.
On paper, pretty much my perfect shoe - lightweight, wide fit, and fairly minimal. But how did it rate in reality?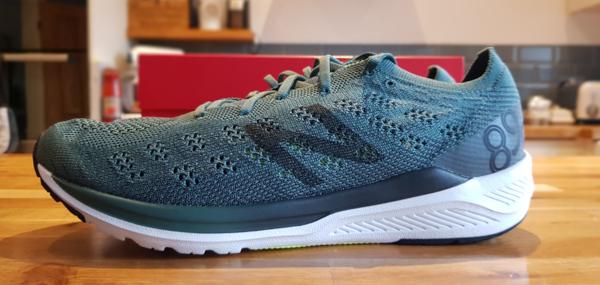 Specification
Firstly, let's look at the New Balance 890 v7 vital statistics.
6mm heel/toe drop
204g (lightweight)
Neutral
Size: 11
Selling features
Engineered knit upper with gusseted tongue
Innovative REVlite midsole
Blown rubber outsole with cut-outs for lightweight but traction
TPU Forefoot Strips
So let's get into the less technical side of things.
Fit
I specifically chose these shoes for their reported wide fit. I have fairly wide feet, nothing extreme but enough to have struggled in other shoes such as the Saucony Type A8 and even some editions of Inov-8.
These shoes do fit wide, but for me, this was perfect. I am not pounding against the upper knit, but fitting comfortably.
Poor picture, but you can see the width vs. Saucony Type A8 and the breathable upper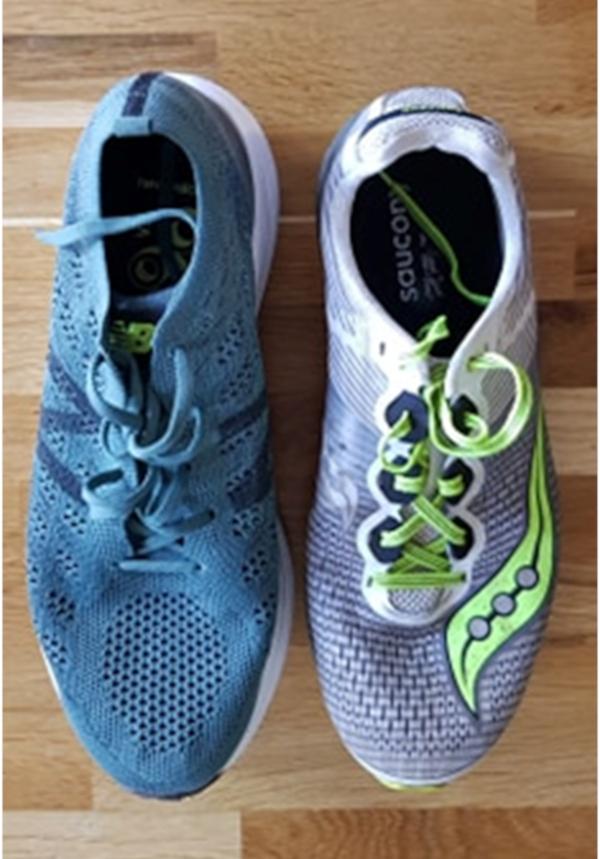 A narrow footed runner may struggle with movement in the shoe here. I usually buy my running shoes half a size larger for any foot swelling on longer runs and my wide feet.
In this case, it is not necessary; a 10.5 would have fitted nicely. Overall, they fit true to size but wider than other size 11s out there.
Knit upper
The knit upper is like a snuggly fitting slipper. When running, I do not notice the upper whatsoever, which is the way I believe it should be.
The cupped heel with the small bit of plastic that is on the shoe is soft and (again) not noticeable when running – no blisters ever here.
The knit is very breathable to the point on a cool and blustery day. I could feel the wind through the shoe, which may potentially be an issue for longer distances in winter.
The gusseted tongue also works. It's stitched into place and does stop any slip either side of the foot, which I have sometimes seen specifically in the Saucony shoes I have owned.
Gusseted tongue in action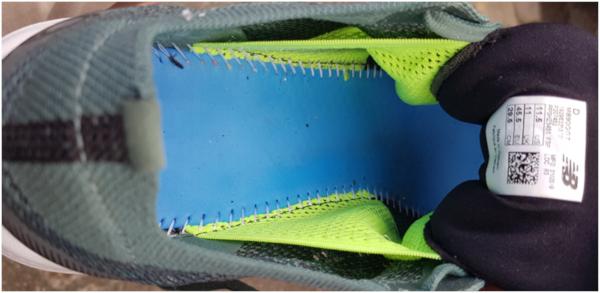 A final, odd, positive point on the fit. The laces thread through old school, regular loop-holes.
None of the modern technology where a string attaches to a buckle that then attaches to a string and eventually to the shoes – you get my point. Here, you pull the laces, and the shoe tightens via a standard, durable, loop-hole straight into the upper.
That's an A for fit and feel from the engineered knit upper. As per the title, a quick slipper.
REVlite midsole
A low profile but cushioned midsole. I am dubious of technology in midsoles, but this is the first time I have noticed an enhancement from an engineered midsole.
Cushion in the mid-foot and responsiveness in the forefoot. I can't comment on the 30% less weight than normal New Balance midsoles as they weigh nothing already.
Outsole
The outsole is claimed to be blown rubber for added comfort, durability, and with cut out sections for a lightweight shoe but keeping traction.
Let's break this down.
Lightweight
The shoe is definitely lightweight at a fraction over 200g. Not as lightweight as my previous Saucony Type A8. But the difference is so minimal I did not notice - light, bouncy running.
Traction
Like other reviews I have seen on RunRepeat, in the dry, this shoe grip on the road, especially with the speed work. When you kick down, you can feel the grip.
But the weather has only been good recently in the UK. Looking at the sole, I can't see that they will be great in the wet. I cannot verify that.
The three TPU forefoot strips on each shoe are noticeable for good and bad reasons. They do feel like they are made from a different rubber to the rest of the outsole.
I believe they contribute to the traction. When you kick down, you can feel them but not uncomfortably. They add stability to the outsole.
On the other hand, on interval runs and tempo runs, they cause hotspots. My feet have not blistered, but they become too noticeable. I certainly would not want to spend a longer, faster run in these.
Durability
This is my only big problem with the New Balance 890 v7. I have only done 100 km in these shoes.
Albeit it has been interval work mostly and I am not light on my feet, but you can see from the picture below that the wear is already significant. The pictures are from fresh out of the box and 100km.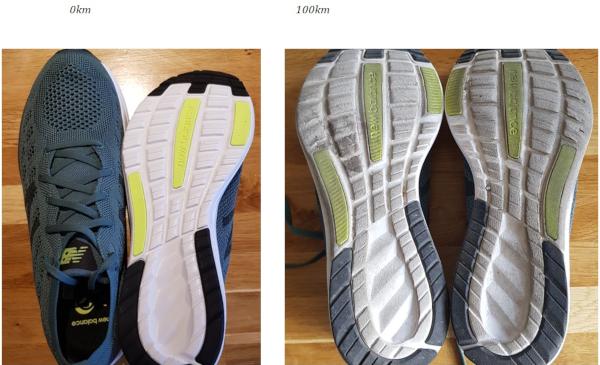 I would expect shoes to last me 500 km (which feels on the low end of expectation), and I worry about the next 100 km, nevermind the next 400 km.
Poor durability on the outsole.
Significant wear on the outside of the outer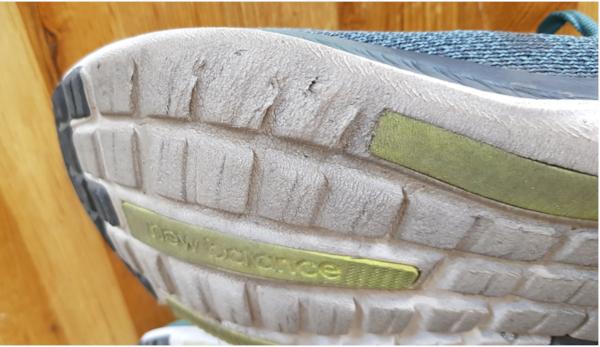 Pros
Light
Comfortable
Wide fitting
Breathable
Cons
Outsole durability
Hotspots
Conclusion
Runners looking for a quick, lightweight and wide shoe, look no further. The fit and feel of the upper, midsole, and for the most part - the outsole - is sublime.
The poor durability, though, on the outsole leaves me wondering if my bank account can handle a fresh pair every 200 km.
Good to know
The New Balance 890 v7 is a road running shoe redesigned to provide versatility. This is crafted for those who intend to excel in uptempo workouts and daily training activities. When compared to the previous models, this version is more responsive and lighter in structure.
The engineered knit upper is integrated into the upper section of the 890 v7. The primary purpose of which is to deliver a more reactive and breathable coverage. As a result, a more relaxed, healthier and fresher foot environment is promoted. The material is also focused on providing additional flexibility.
With the utilization of the gusseted tongue and deconstructed heel collar, the foot is kept in place. It also provides added comfort throughout the run.
This New Balance shoe also features a redesigned outsole. The outer sole is made up of rubber and ground contact foam that offers a more comfortable and enjoyable ride. This material is strategically placed for durability.
The New Balance 890 v7 is a neutral running shoe. It utilizes the standard running shoe measurements. Because of its semi-curved structure, it is sure to accommodate the natural shape and curvature of the foot. With the footwear's sizing schemes, runners can continue to have their usual shoe length preferences. The available width profiles for the men's version are D – Medium and 2E – Wide while the women's version is B – Medium and D – Wide.
Like the New Balance 860 v9, the blown rubber material is integrated into the outsole of the New Balance 890 v7. This material is strategically placed in high wear areas where increased durability is needed. This rubber protects the midsole section from possible wear and tear as well. Constructed to be flexible, each step is made to be bouncier. As a result, a more enjoyable and seamless ride is experienced by the runner.
Used in making the shoe is the Ground Contact REVlite Foam. This component of the footwear aims to provide additional responsiveness without compromising its weight.
An innovative foam compound called the RevLite is utilized in crafting the shoe. This foam is essential in providing a responsive and lightweight cushioning that is needed in tackling a wide variety of surfaces.
Located between the outsole and midsole are the TPU inserts. The goal of which is to deliver added propulsion especially when lifting off the ground. With this feature, a smoother heel-to-toe transition is also encouraged.
The Engineered Knit is integrated into the footwear. It lies throughout the upper to provide a more breathable and lightweight coverage. This single-layer material is essential in making sure that a healthier and drier foot environment is encouraged.
New Balance added the gusseted tongue construction as a feature of the shoe. The primary focus of which is to hold the foot in place without sacrificing comfort. As a result, possible shoe removal during the running activity is prevented and lessened.
The no-sew construction is applied to the footwear. New Balance added this feature to ensure that the foot is free from any possible irritation during the session. As a result, a comfortable running experience will be appreciated by the user.
Featured in the New Balance 890 v7 is the deconstructed heel. This component of the shoe aims to deliver a lighter weight structure. It also ensures a secure and snug fit to prevent bunions, plantar fasciitis, ingrown toenails, and blood circulatory problems.
Hugging the foot in a sock-like manner is the sole responsibility of the soft fabric lining. This is essential in staving off potential effects of painful fabric rubbing and hot spots.
The PL-6 last is used in the making of the New Balance 890 v7. This is a running-specific last which is described to have a standard forefoot, heel, and toe box height.
Rankings
How New Balance 890 v7 ranks compared to all other shoes
Popularity
The current trend of New Balance 890 v7.