The New Balance 517 is a supportive gym trainer at an excellent price point, which will work for beginners as well as more advanced gym rats. These shoes are well-suited for weight training and walking, as well as other gym staples like elliptical machines or fitness classes on a hard floor. The overall feel of the shoe is sturdy and supportive, with the right combination of materials to keep you focused on your workout rather than on your feet.
Pros
Supportive
Breathable
Removable insole
Durable, grippy outsole
Nice fit
Modern design
Reasonably-priced
Versatile
New Balance 517 review
I wanted a trainer with a similar level of support and structure to the above, just with a more updated look and greater breathability. I found this in the 517.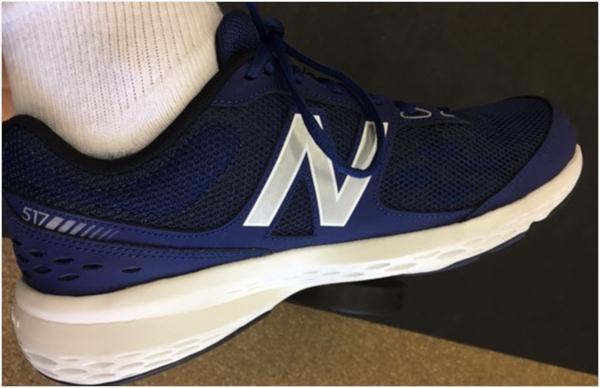 Aesthetics of the NB 517
The New Balance 517 is a traditional New Balance trainer with some updated features. Instead of the leather material which is found on some of the legacy trainer models made by New Balance (such as the popular 608), the 517 is mostly constructed from a synthetic mesh which is perforated and very breathable.
The color contrast between the upper and the sole gives the shoe a bit of a more modern look than classic leather trainers. The shoe also has a slightly sleeker profile than some of its boxier New Balance brethren.
Although the 517 is certainly not designed with a younger consumer in mind. It also doesn't exactly scream "dad shoe."
Although I am solidly within the "dad shoe" demographic (mid-40s father of two here) and have no problem wearing a gym shoe that doesn't look contemporary, it is sometimes nice to have something that appears a little more current.
Roomy enough for medium to wide feet
I have a medium-to-wide foot and found that most medium-width trainers I tried from brands like Nike, Reebok and Under Armor were simply too narrow for my feet.
Instead of buying a wide-width shoe in one of those other brands, I opted for the New Balance 517 because it runs somewhat wide in medium width. The shoes are roomy enough to be comfortable without being loose.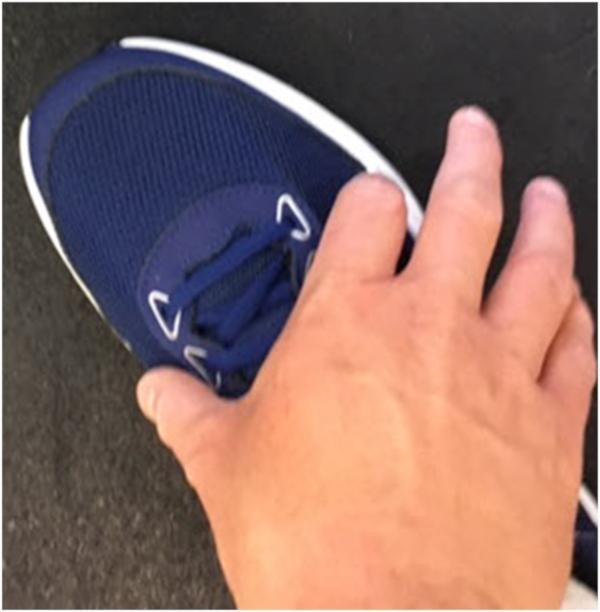 The wide toe box allows for toe splay, which is useful during training activities. I really like the lacing system, which provides ankle support by providing an extra lace hole at the collar area of the shoe.
The length of this trainer is perfect in my typical athletic shoe size, which is a 9.5. Note that I take a size 9 in casual and dress shoes, but go a half-size up for gym, running and hiking shoes to ensure sufficient toe room.
Upper of the New Balance 517
The upper is made from a perforated, highly breathable synthetic material. The midfoot area is built around a support cage which holds the midfoot in place. This gives the shoe a snug feel and provides a decent amount of lateral support.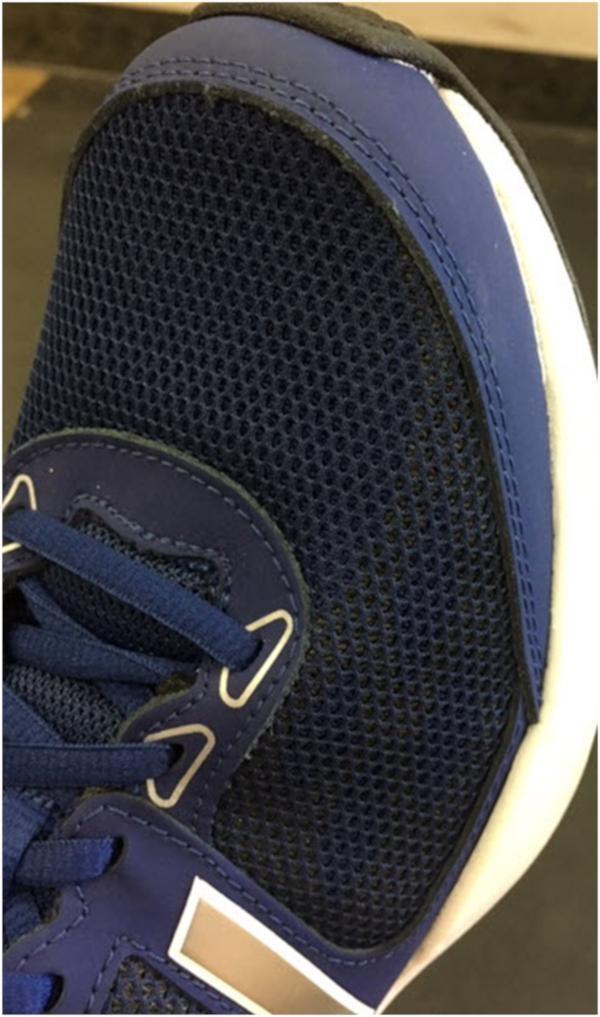 The heel counter is semi-rigid and prevents unwanted side-to-side motion of the rearfoot during fitness activities. The lacing system and padded collar provide solid ankle support, as described previously.
Midsole of the New Balance 517
The midsole is constructed from a foam material called ABZORB, which has been a staple of many New Balance models for years. The ABZORB foam provides cushioning but is also very firm, which is perfect for supporting the feet during weight training.
There is a bit of heel-to-toe drop here (looks like about 10mm), which may not work for people who prefer a truly minimalist experience during fitness activities.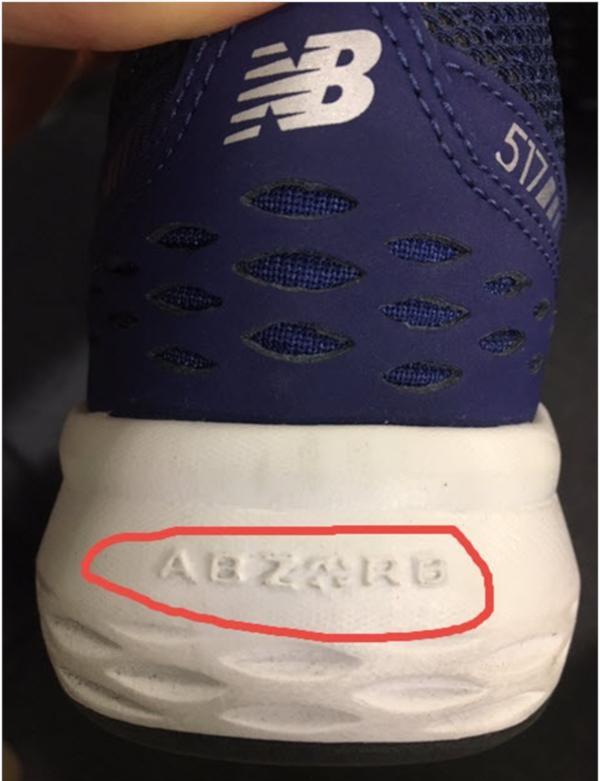 However, this bit of heel lift makes the shoe comfortable for cardio activities, especially anything which might involve jumping or quick movements (like a cardio class). This makes the shoe versatile and a good choice for those of us who like to vary our workouts.
Since I was curious to learn more, I found this little video describing the ABZORB technology on the New Balance website.
Removable insole
The shoe comes with a memory foam stock insole that is easily removable. The stock insole is soft and provides a cushion. It is, however, not at all contoured. I replaced the stock insole with my doctor-prescribed orthotics (Superfeet brand) with no issue.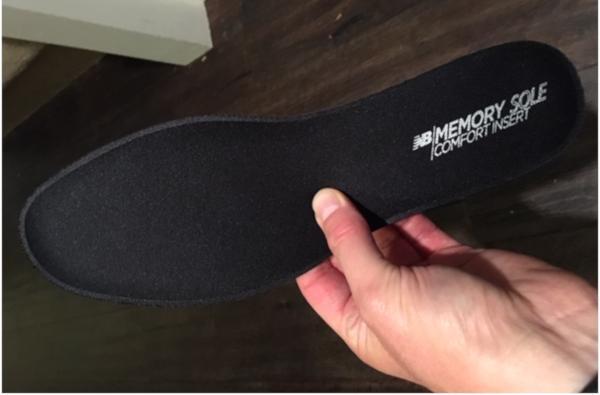 Great outsole design
The shoe's outsole provides much-needed traction on the weight room floor. The hard rubber includes textured areas on the heel and forefoot that prevent slipping.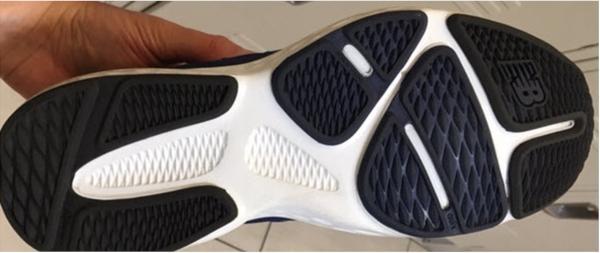 The flex grooves in the forefoot allow the shoe to bend nicely around the toe area. The bottom of the shoe is flat and wider than the upper, which gives the shoe a very stable feel.
Given the shoe's design, I imagine that it could even be used for some court sports.
Bottom line
I very highly recommend the New Balance 517 to anyone with even a very casual interest in fitness, since it is one of the most versatile workout shoes I have ever used.