Verdict from 4 experts and +100 user reviews
7 reasons to buy
Many purchasers noted that the New Balance 1500 v6 is comfortable.
The shoe fits true to size, based on some reviews.
A couple of buyers said the shoe is lightweight.
Some users mentioned that it offers a better fit than its predecessor.
A wearer is pleased with the stability provided by the shoe.
Several consumers commented that it is also good for casual walks.
People liked the stylish design of the shoe.
2 reasons not to buy
A tester reported that the shoe's outsole is not supportive enough.
It is comfortable but not good for racing, said a runner.
Bottom line
New Balance 1500 v6 is a road racing flat designed to help the runners achieve their optimal performance goals. The shoe features a race day-inspired designed and advanced technologies that provide quicker rebound and support for long-distance running.
Tip: see the best running shoes.
Our reviews
The New Balance 1500 v6 is just right. It has just enough structure to give a solid ride but light enough to not drag you down in upper mileage. They are speedy enough for a fast 5K but strong enough to bring a finish to the half-marathon or more.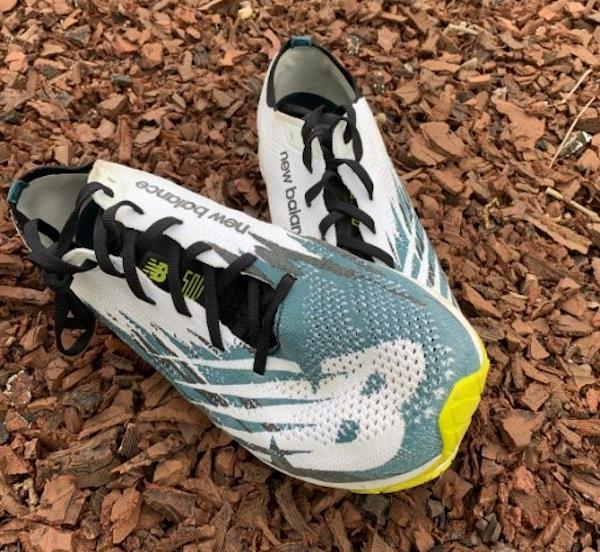 NB calls this a racer, and it performs no doubt. The build, though light, is strong enough to find that happy place for you if "racing flats" are just too minimal for you. I have to say it is just right!
I brought the previous version into my rotation after finally edging away from the heavier trainers. I need a little stability though most of my purchases have been from the normal (neutral) side of the shelves.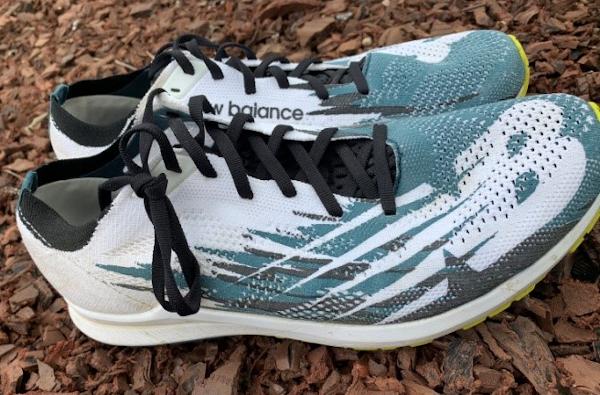 This comes in as a stability shoe giving that function though the ride does not have an over-pronounced structure.
Design
I am not a design freak. I purchase shoes based on how they work for me, not how they look. While the design does have some appeal, it has never stopped me from purchasing. I prefer the wilder colors than the dark black on light black motifs.
The design of the 1500's is pretty cool. I really like the color options and the embedding NB into the design. It looks fast and is fast.
White typically does not stay clean, but I have had no issues with these staining or showing their age prematurely. Recent runs have put them through some water and even a tad of mud, so the sparkle is starting to dwindle.
Build
The heel is firm but has the right amount of cushion all around as does the rounding of the ankle. The upper is mostly woven with some flex but also some rigidity.
These shoes have not been "hot" for me though I am a heavy sweater. The internal structure has no rough edges that cause any rubs or hotspots.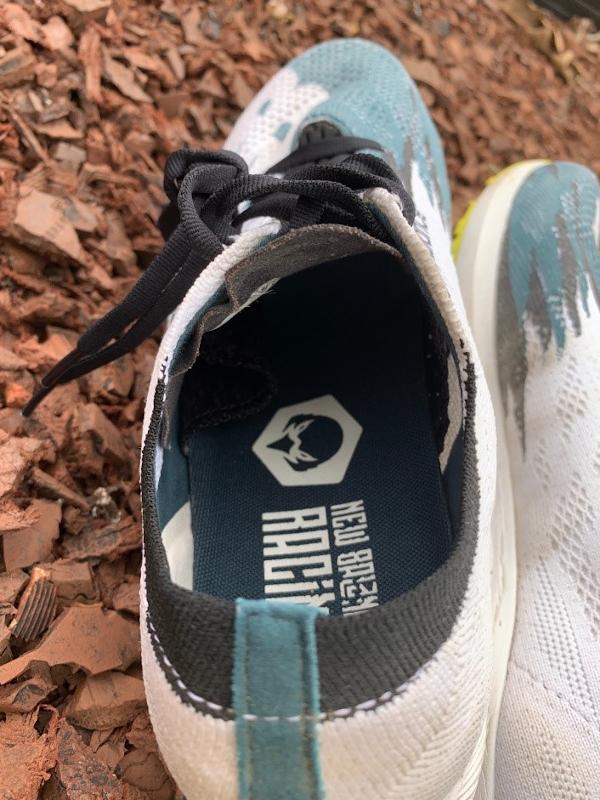 I don't use orthotics preferring to leave the insole be. The insole is pretty basic with minimal features and cushioning.
The sole of the shoe is intriguing. It has small lugs that have some bite, but you don't feel them as individual components when running. I have had no issue with slipping on wet pavement or asphalt.
My local running store says my feet are narrow-based on their measuring. Yet, I feel best in a 2E. Wides are hard to come by, but great news—the 1500's have a 2E option!
Apparently, my feet splay greatly when running and require some space in the toe-box. I got these as a wide option, and they give just that right amount of snug around the midfoot, but my toes are wild and free!
Since putting these heavily in my rotation, no blisters and no lost toe-nails! Thank you!
Performance
This is one of the few shoes that I have burned through that felt right on the first lace and took no break-in to get accustomed to its features. This is one of the few shoes that I don't "feel" when running.
It has a solid feel to it with just a hint of squish. You can feel the road though it is not heavily pronounced. There is a soft feel from the inside but a solid footing. I have worn squishy shoes, and squishy is not the word.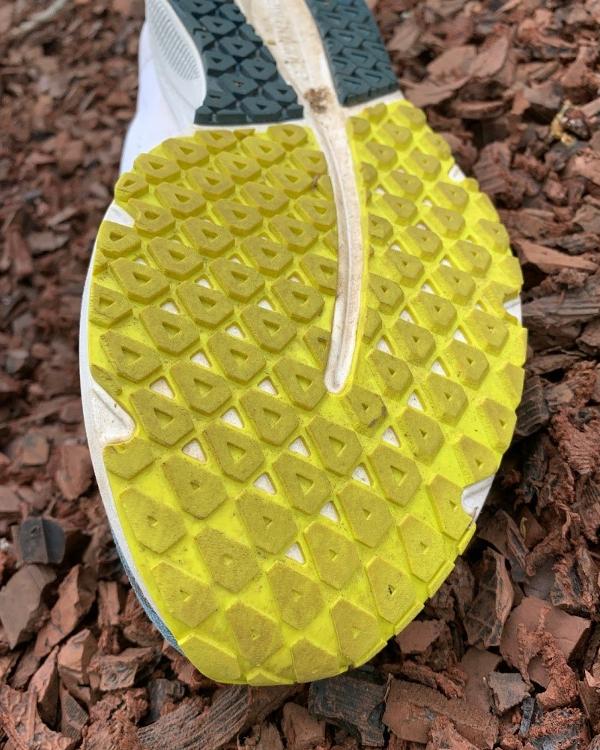 I have bruised my feet in the past and lean towards the sensitive side of ground contact. Initially, I was concerned as these appeared too firm on contact.
After putting them through a few paces, I learned to lighten my strike just a bit, and the 1500's took care of the rest. The sole does not give a "click" as some running shoes do on connecting.
The sensation on the ground is solid protection with minimal bounce and ease of rotation. There are no ridges or rises on the forefoot or midfoot area—the toe just eases into the forefoot to the midfoot to the hell seamlessly.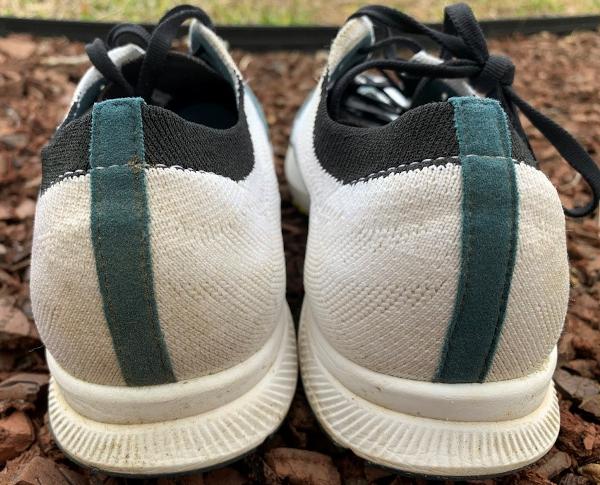 I was heel-running for a while and have moved to mid-foot. I do have the occasion where the heel will scrape. And, when fatigued, I can find myself on my heels a bit more often than I should.
But, this shoe does not overcorrect. So, if you are more of a heel-runner, this will not force you to place any differently. This is a light shoe—very light for its features.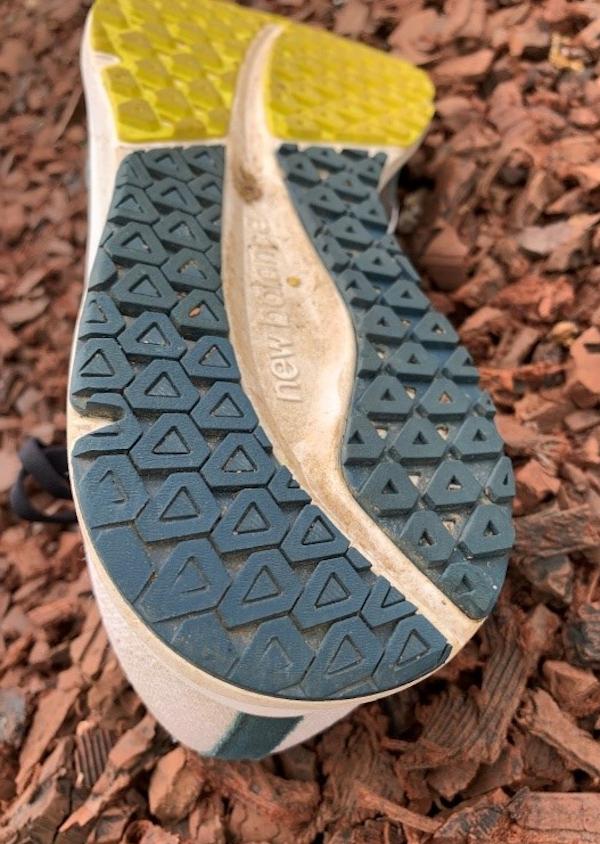 The tread is wearing nicely at 63 miles as of today. There are signs of wear on the toe and the heel as expected. I typically change out shoes around the 300-mile mark, and these appear to be right on that schedule.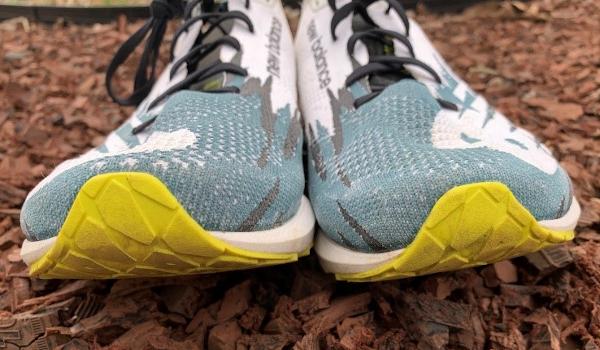 Score
I have landed only a handful of shoes that have treated me as well as these. This is the second pair of this series after retiring the previous version. These are my go-to shoes for the half-marathon without question.
I am stingy on high scores, but this one gets a perfect score from me today.
It rings all the right cords of being light enough to speed on, strong enough to give security, and enough protection on the ground to keep me taking a hard hit from the pavement.
If you are looking for a step down into the lighter, lesser shoe, this is a great one giving you a little of what you had without leaving you wishing for more.
Good to know
The New Balance 1500 v6 is an update to a series of New Balance road running shoes that offer a healthy amount of protection for overpronators. This running companion features a new knit upper and midsole design that brings a fresher look to the classic shoe serries.
This updated running gear now uses the newly formulated RevLite midsole cushioning that provides a quicker rebound and good energy return. This component is also durable and lightweight, making the shoe faster compared to its predecessors.
The medial post is another notable update of New Balance 1500 v6. It features a higher density foam that helps correct overpronation.

The New Balance 1500 v6's medial post, RevLite midsole, and removable insole are the technical components directly affecting the fit of the shoe. These components are working together to provide a more comfortable in-shoe feel.
The standard running shoe length was used when this product was made. Runners are welcome to buy a pair in their usual sizing expectations. However, it is best to test the shoe first or utilize the consumer feedback about the sizing to ensure a perfect fit. This running shoe is available in sizes and colors that cater to both men and women.
In the outsole unit of the New Balance 1500 v6 is a flexible yet highly durable rubber material. The new outsole offers an adequate amount of support that the user needs for a long and challenging run. The outsole provides a lightweight running experience without sacrificing durability and support. It protects the shoe from sharp rocks and uneven ground.
The blown rubber in the forefoot section helps increase the shoe's responsiveness, while the geometric lug pattern enhances the outsole's durability and propulsion.
The RevLite foam technology is integrated into New Balance 1500 v6's midsole section. The RevLite is an innovative foam compound that is 30% lighter than the other foams with the same performance. This impact-absorbing foam midsole delivers responsive cushioning and energy return. It also allows for a quicker rebound to help improve the running speed.
Other New Balance running shoes that use the RevLite cushioning technology are the New Balance FuelCell Rebel and New Balance 1500 v5.
The medial post of this shoe is made out of a high-density foam that is designed to correct overpronation. It has a gentle slope and spreads longer under the arch for added support.
This lightweight running shoe also comes with a padded removable insole. This material offers additional comfort and allows the user to adjust the amount of cushioning.
The New Balance 1500 v6 has a brand new upper design that is created to be even faster than its previous versions. It utilizes the Fantom Fit technology, an engineered mesh upper that is formed by combining two thin materials using a no-sew process. This component is so lightweight that it's hard to tell you're wearing a durable running shoe. The upper provides reliable protection that works for varied surfaces.
New Balance 1500 v6 utilizes the traditional lacing system, allowing the runner to adjust and customize the fit of the shoe. The padded tongue and heel collar are also incorporated in this running gear for added comfort and protection.
How 1500 v6 compares
Corescore: 54-57
3 shoes (0.32% of shoes)
Corescore: 58-61
6 shoes (0.64% of shoes)
Corescore: 62-65
15 shoes (2% of shoes)
Corescore: 66-69
18 shoes (2% of shoes)
Corescore: 70-73
55 shoes (6% of shoes)
Corescore: 74-76
62 shoes (7% of shoes)
Corescore: 77-80
207 shoes (22% of shoes)
Corescore: 81-84
266 shoes (28% of shoes)
Corescore: 85-88
208 shoes (22% of shoes)
Corescore: 89-93
94 shoes (10% of shoes)
Price: $40 - $70
114 shoes (12% of shoes)
Price: $71 - $101
268 shoes (29% of shoes)
Price: $102 - $132
272 shoes (29% of shoes)
Price: $133 - $163
169 shoes (18% of shoes)
Price: $164 - $194
60 shoes (6% of shoes)
Price: $195 - $225
37 shoes (4% of shoes)
Price: $226 - $256
10 shoes (1% of shoes)
Price: $257 - $287
1 shoes (0.11% of shoes)
Price: $288 - $318
2 shoes (0.21% of shoes)
Price: $319 - $350
1 shoes (0.11% of shoes)
Weight: 3.5oz - 4.6oz
6 shoes (0.77% of shoes)
Weight: 4.7oz - 5.8oz
16 shoes (2% of shoes)
Weight: 5.9oz - 7oz
41 shoes (5% of shoes)
Weight: 7.1oz - 8.2oz
113 shoes (15% of shoes)
Weight: 8.3oz - 9.4oz
191 shoes (25% of shoes)
Weight: 9.5oz - 10.5oz
193 shoes (25% of shoes)
Weight: 10.6oz - 11.7oz
152 shoes (20% of shoes)
Weight: 11.8oz - 12.9oz
49 shoes (6% of shoes)
Weight: 13oz - 14.1oz
14 shoes (2% of shoes)
Weight: 14.2oz - 15.4oz
4 shoes (0.51% of shoes)