People love their SUV's. And why not? The SUV is the "Swiss army knife" of the car world.
Who cares that it isn't as sturdy or as powerful as a pick-up truck? Who cares that it isn't as nimble, or as fast as a sports car. The beauty of the SUV is in its versatility. An SUV does a little bit of everything. A high-end SUV does a little bit of everything while keeping you nice and comfortable.
Such is the new Mizuno Wave Sky, a shoe that does a little bit of everything, all while offering maximum comfort. The Wave Sky is the newest, heavily cushioned, offering from Mizuno, and serves as a spiritual successor to the Enigma running shoe.
If you are one of the few that have run in the Enigma, feel free to enlighten me as to where the comparisons start and end. Otherwise, sit back, get comfortable, and let me tell you about all the reasons you'll want to get this shoe (and a few reasons why you may want to reconsider).
The Mizuno Wave Sky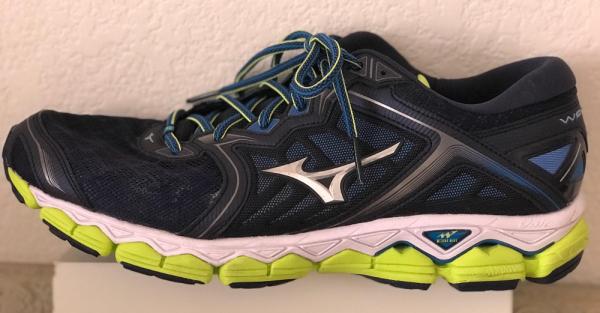 PROS
Comfort
Truth be told, I'm having a hard time thinking of an adequate way of explaining how comfortable these shoes are. There is so much going on in the Wave Sky. It is not a simple shoe.
Just when you think you understand everything about the shoe, you learn that there is so much more. So many different parts of the shoe lend themselves in unison to the comfort and performance of the final product.
Concerning comfort, I formally must declare that this is one of the most comfortable pair of performance running shoes I've ever owned. The comfort of the Wave Sky rivals that of even my most accommodating trainers (Adidas Cloudfoam, Nike Flyknit).
So, what makes this shoe so comfortable, compared to other premium running shoes? The answer to that question is Mizuno's SmoothRide. And believe me, this ride is smooth.
In all seriousness, I cannot stop raving about Mizuno's SmoothRide and Cloudwave technology.
So, what is Wave and what makes Cloudwave so special? Wave is the elastic plate that extends across the bottom of most Mizuno shoes. Different Mizuno shoes have different Wave configurations.
In the Wave Sky, it extends across the midfoot and heel. This makes the whole shoe a bit lighter while keeping maximum comfort in mind. Personally, I can attest to this and would formally like to thank the Mizuno team on behalf of my feet and joints.
Mizuno's SmoothRide and Cloudwave technology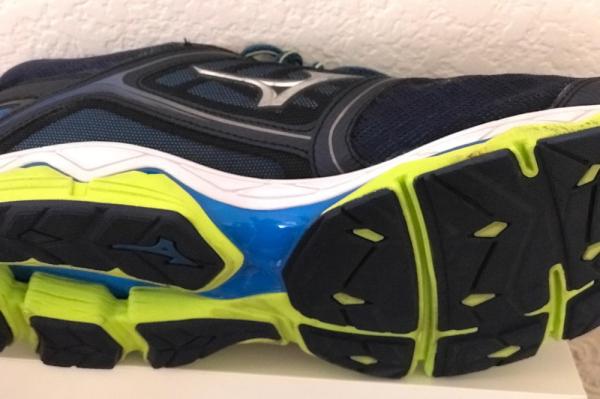 The comfort of the Wave Sky is also a result of the U4icX midsole. The midsole provides a plush feel while also maintaining enough firmness to guide you to your next stride. The heel is also padded and serves to mitigate the effects of impact on hard surfaces.
Furthermore, the upper is also designed with maximum comfort in mind. The sock liner, collar, and tongue are a pleasure to run in, eliminating any unwanted friction. While I wouldn't recommend it, I'm sure it's entirely possible to run barefoot in these shoes.
The comfortable sock liner, collar & tongue of the Wave Sky
Personally, the benefits of this comfort were apparent on my first run.
The Wave Sky guided me to the next stride while eliminating most of the impact I would normally feel on my knees, my feet, and my back. Where this comfort was most appreciated, however, was at the end of my first week running in the shoes.
I am very familiar with recovery after a week of running (icing my knees, bandaging my joints, putting pain ointments on my lower back etc.) However, this was entirely unnecessary after my first week of running in the Wave Sky.
The impact reduction offered by this shoe is truly remarkable.
The U4icX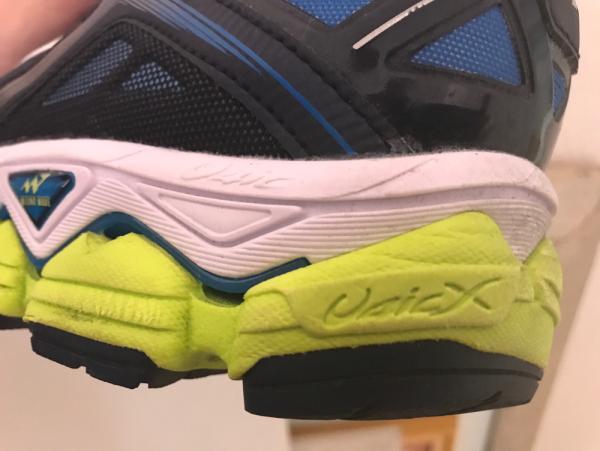 Impact Reduction
The two curves in the Wave Sky's Cloudwave configuration also provide more efficient pressure dispersion than other Mizuno Shoes. This effectively reduces the effects of impact, adding to the already comfortable ride and underfoot experience.
This coupled with the U4icX foam underneath the foot, made for some of the most enjoyable, and pain-free runs I have experienced in recent memory. Continuing with my previously established car analogy, the pressure dispersion offered by the Wave Sky, compounded with the independent cushioning, acts like the shocks in a car.
This effectively reduces the effects of impact, allowing for a super plush ride. Furthermore, the Wave Sky is also equipped with flex grooves in the heel, which also allows for force to be distributed equally on impact.
Flexibility
If that wasn't enough, the U4icX pods in the forefoot and heel also offer extra flexibility along with more independent cushioning. The flex grooves in the forefoot also allow for a smooth transition to toe off.
As previously mentioned, the Cloudwave being 2 separate parts allows for added flexibility, also culminating in a softer smoother toe off and transition. This isn't to say that the Wave Sky should be considered a "flexible" shoe.
It is stiff and unwelcoming at first, especially when compared to minimalist shoes. More on that in the "cons" section. Personally, I enjoyed the added rigidity of the Wave Sky every now and again.
The stiffness of the shoe adds to its responsiveness and helps ensure a faster toe-off.
Honestly, I felt my strides to be more aggressive. I'm not sure if "aggressive" is the most appropriate word, but that's how it felt to me. I always felt like my strides were purposeful and explosive.
A good combination of flexibility & responsiveness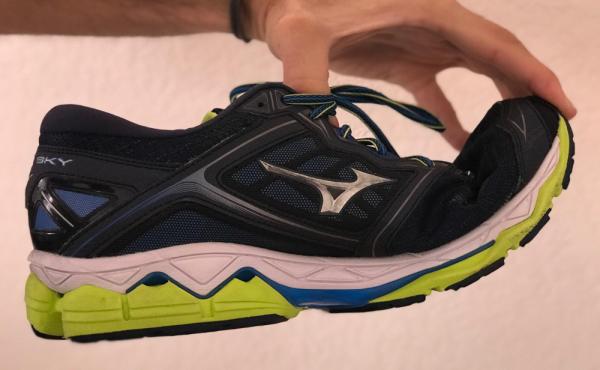 Fit
The beginning phases of wearing a new shoe are always the hardest. This shoe is no exception.
In fact, I had a harder time breaking these shoes in than most of my other running shoes. However, I expected this to be the case, as this is probably the furthest thing away from a minimalist shoe.
With added support, stability, and comfort come stiffness and difficulties in breaking the shoe in. However, after enough time and determination, the shoe became everything I wanted it to be. As I expected, after around 2 weeks of daily training, the shoe molded to the natural curvature of my foot, subsequently adding to the comfort offered by the shoe.
Something that worried me about the initial stiffness of the shoe was the toe-box. I have no problem admitting that in the beginning, I had no faith in the room offered in the toe of the shoe.
This, coupled with how stiff everything felt, lead me to believe that callouses were sure to follow long periods of running.
As many of you know, nothing stops a run quicker than unwanted friction on a big toe, or pinky toe. I was pleasantly surprised by the toe room offered, which allows for even excessive amounts of toe-splay.
Initial stiffness of the toe box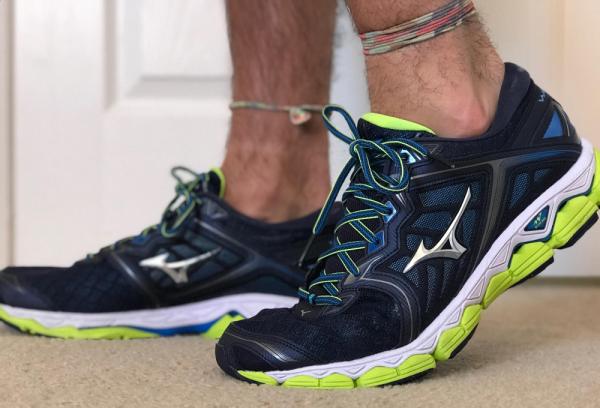 Stability
I was never alienated from the road, and never once was concerned with turning my ankle during my faster runs. The shoe also manages not to restrict the natural movement of my foot.
The U4icXStrobel lining aids in stabilizing my foot and subsequently boosts my performance. And performance, after all, is the most important thing for a runner.
The secure fit adding to its stability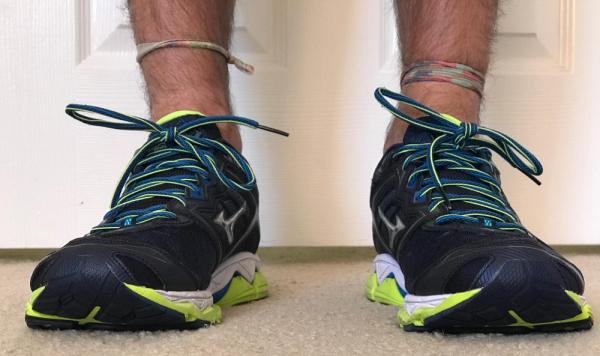 Performance
These additions contributed directly to my performance in a significant way. Most obviously, I could run longer! It's as simple as that.
Before training in the Mizuno Sky, I was already using a pretty comfortable shoe, the Brooks Ghost 10. In the Ghost, I could log roughly 8-10 miles a day without experiencing any of the negative effects of high impact running.
I'm a big guy (6'3", 180 pounds) so having the ability to run 9 miles a day, 6 days a week, was a big deal. I remember thinking to myself, I'll never look for another distance running shoe ever again. Boy, was I wrong.
The first day of training in the Mizuno Sky, I committed to myself to run for as long as the shoe would allow me. I took to running until I started feeling the effects of impact on my joints, feet, or back. These effects never materialized. No joke, I doubled my running duration on the first day of training in the Wave Sky (16 miles in 2 hours).
For me, what is most impressive about the Wave Sky is that it offers shock dispersion, guidance, and energy return without compromising (much) on flexibility. I cannot speak highly enough of that. As a distance runner, the shoe delivers in every important way.
I could summarize my review with the following sentence: while wearing the Wave Sky, I ran faster, for longer, and with less pain. In addition to that, the shoe is durable and has held up remarkably well considering the miles I have logged in it.
Durability
Thanks to its X10 rubber bottom, the Wave Sky is also a very rugged shoe. The material is very durable.
After running in the shoe daily for over three months, there are no signs of wear and tear. Furthermore, the tread has maintained its integrity. On most road terrain, the shoe performs admirably and grips the road effectively, even after 3 months of daily use.
So, what does that daily use look like you may ask? Well, I'm a big guy, running mostly on pavement, logging between 50-60 miles a week. So, doing the math, that adds up to almost 700 miles traveled in this shoe. Not bad, right?
Furthermore, the upper is surprisingly durable. The mesh and laces are still as intact today as they were when I first got the shoe. The construction is truly top-notch. This is a shoe that you will be pulling out of your closet for months, if not years, to come.
The outsole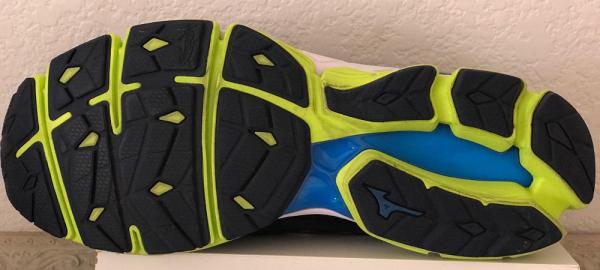 CONS
Weight
Ok now, there is just no getting around the fact that this is a heavy shoe. At size 14, my shoe weighs in at over 12 oz. That is a big shoe.
It's clunky at first. In fact, during my first couple of runs, I couldn't help feeling as though I was fighting gravity to lift my foot by the end of the run. This is compounded by potentially added weight from perspiration or rain setting in on the shoe.
The mesh upper is absorbent. Any amount of liquid setting in on the shoe (sweat, rain) makes it feel very dense. Perhaps this is minor grievance for some, but as someone who runs for long periods of time, perspiration is common. As someone who runs outdoors, encountering the elements is also common.
Breathability
In terms of performance, it's hard to think of a way in which the Wave Sky falls flat.However, as this is a review, I want to be as exhaustive as possible.
The upper mesh of the shoe is amazingly durable. However, I feel as though this durability comes at the price of breathability.Numerous times while running, I felt my foot overheating. This lead to various complications, and discomfort.
Depending on the duration of my run, and the temperature outdoors, the heat generated within the shoe was enough to make for uncomfortable sweating, and hot spots. On only one occasion, however, was I forced to stop my run and take the shoes off out of discomfort.
Durability at the price of breathability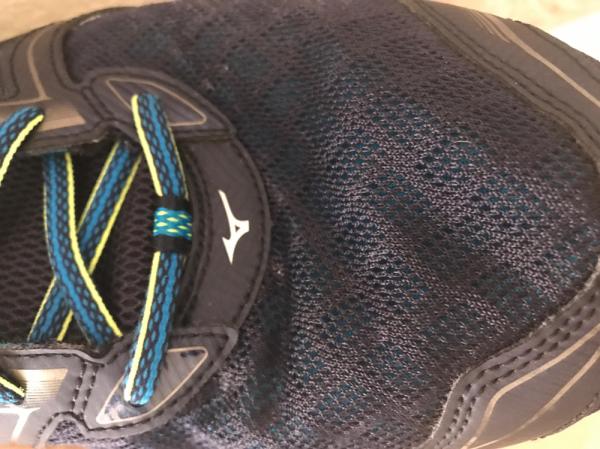 Flexibility
As mentioned previously, I want to commend the Mizuno team for attempting to make the Wave Sky more flexible than other incarnations of high comfort, high stability running shoes.
However, the Wave Sky is not a flexible shoe. I understand that it may be considered "flexible" in the realm of high comfort, high stability running shoes. However, when compared to other running shoes on the market, the Wave Sky is rigid.
Personally, I am not too bothered by this. When running in shoes like the Wave Sky, you resign yourself to the notion that flexibility will be taking a back seat to stability and comfort.
This is a shoe designed for longer runs, and the stiffness of the shoe never seems overwhelming. It gives you just enough flexibility to avoid feeling clunky. If you are in the market for a flexible, breathable running shoe, you should probably look elsewhere.
Aesthetic
It almost seems nit-picky to mention the flaws in such an inspired design. The Wave Sky is a shoe designed for performance. It is a shoe that was made for serious runners, looking to get the most out of their runs.
For this reason, it is hard for me to say what I am about to say; I hate the look of this shoe.
Some of the color options I find downright unattractive. While I understand the practical purpose of having brightly colored shoes (safety, visibility) I can't help but be turned off by the available color schemes.
The marine-inspired yellow, green, and blue combinations in my shoe were flatly unappealing to me. However, this is obviously a matter of personal taste. After all, one man's trash is another man's treasure.
The marine-inspired yellow, green, and blue combination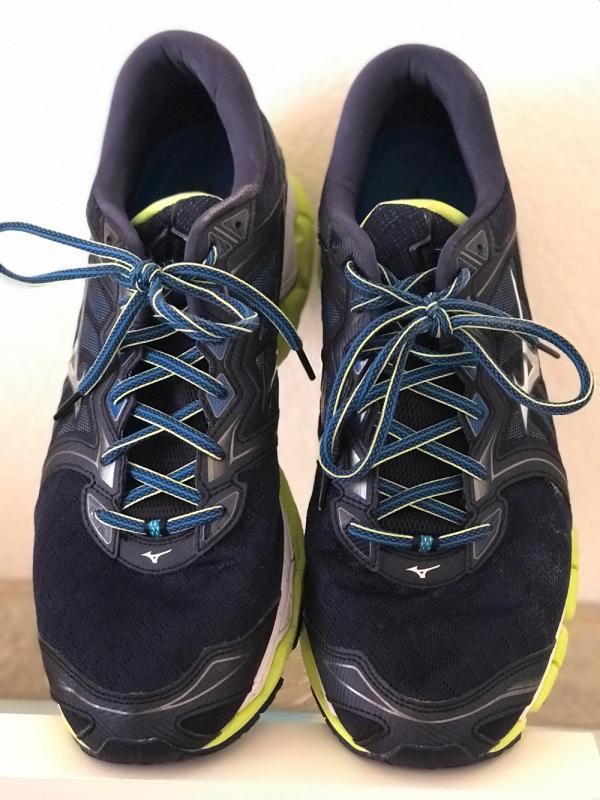 Price
So, the shoe is expensive. There's no other way to put it.
At $150, I can tell you that I would gladly pay the price to own another pair, but not everyone will agree. When it comes to price points of shoes, I typically bring up the Adidas UltraBoost. In my humble opinion, the UltraBoost is a top of the line shoe, worth every cent of the $180 asking price.
Personally, I find it hard to recommend any other shoe when that kind of money is on the line. If I had 150 dollars to spend, I would without a doubt scrounge for the extra 30 bucks and go for the Adidas.
Some would be better served waiting for a sale before splurging on the Wave Sky.
In my opinion, it is well worth the money, but would be an absolute steal, and subsequently impossible to pass up at a lower price point (100-130 dollars).
Bottom Line
So, you're in the market for a top of the line vehicle. You want one that does a little bit of everything. You want reliability, you want power, you want handling, you want comfort.
Well, my friend, you want an SUV. Not just any SUV though. You want a high-end SUV. It does everything you want it to do. It has a lot of moving parts, a lot of bells and whistles, and has your maximum comfort in mind.
The aesthetic may be a bit obnoxious. It may feel a bit bulky and unresponsive until you get used to it. The price point may be a little high. Heck, for the money, you may even decide to splurge and get the luxury model.
You're effectively considering the Mizuno Wave Sky of the car world. Take it from me, you will not be disappointed with your purchase. 700 miles in, and I am still reaching for the Wave Sky almost exclusively.
For one reason or another, I have fallen in love with this shoe. It is everything I want it to be from a performance standpoint. I have no doubt in my mind that I will be purchasing another pair soon, to replace the pair I currently own.
I have a lot of respect for Mizuno as a company and have been thoroughly impressed with their product.
So, if you are serious about your performance, serious about your comfort, or maybe by some miracle of fortune find the Wave Sky at a lower price, then you should buy it. Period. End of Story.
Get this shoe, and thank me later. Because believe me, your feet will.