If you are looking for a max-cushioned shoe that you can use as a daily trainer and that will last for hundreds of miles, the Waveknit 3 may be for you. It is an exceptionally well-built shoe, very durable, and should last at least 400 miles, if not more. However, be warned that it's way too heavy and lacks breathability. With a price tag of $160, there are so many other options at or below that price point that I would prefer.
Pros
Solid lockdown
Step-in comfort
Good energy return
Outsole will last hundreds of miles
Cons
Heavy
Little breathability
No reflective elements
Mizuno Wave Sky WaveKnit 3 review
The Mizuno Wave Sky Waveknit 3 are actually hot and heavy shoes to run in. It's not all bad though. This is a high-quality max-cushioned shoe.
Also, what is up that the name? It's a mouthful, so I'm just going to call them the Waveknit 3 from now on.
Build Quality of the WaveKnit 3
Upper
The Waveknit upper is made of thick and durable material that helps secure your foot in place but offers very little breathability. The material is thick, and the only comparison I can make would be Corduroy.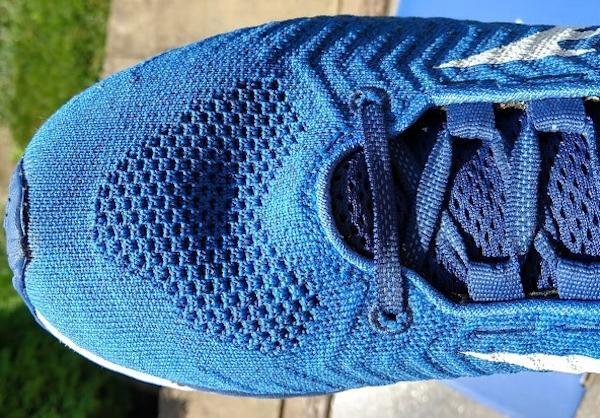 With so many shoe brands now offering breathable knit or mesh uppers, I found this to be a surprising, if not odd, deviation of that trend.
Running during the summer in these has been less than enjoyable as my feet would get extremely hot and uncomfortable. I look forward to testing them out during the wintertime where I think this material would be more appreciated.
I would not call the toe-box roomy, but I did not have any issues with hot-spots or blistering. The upper seemed to mold around my foot (not stretch), which was unique. That being said, if you have a wider foot, you may want to ½ size up.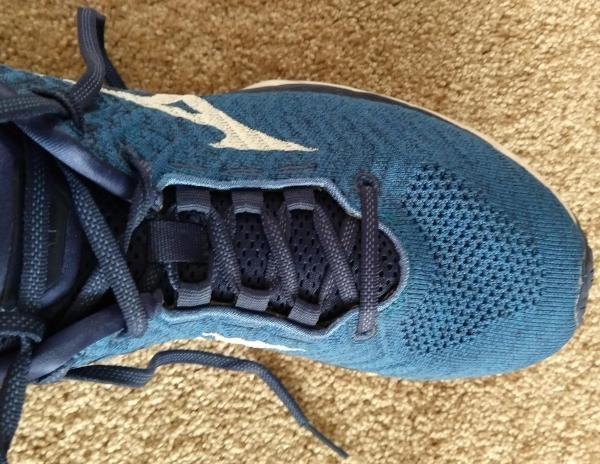 The laces are flat and lightly textured, and I had no issues with them becoming untied during runs. The length of the laces is plenty long (maybe too long) to allow for lace lockdown.
The lacing system eliminates eyelets in the mid part of the foot and does a fantastic job of holding your foot in place.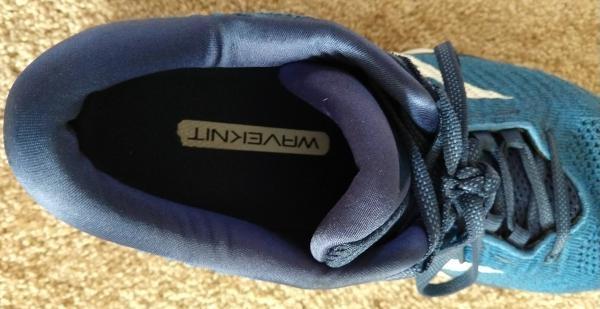 The heel collar and tongue are thickly padded. Couple this with their maximum cushioned sock liner and the step-in feel is one of the best features of this shoe. Your foot feels secure without having to tighten down the laces, which, ironically, makes this a very comfortable walking shoe.
On the downside, there is no reflective material on these shoes, so if you run outside in the dark, keep in mind that these will not help you with visibility.
Midsole
The Waveknit 3 uses three different foams. Two are fused together in a wave pattern with one (called U4icX) being softer and lighter and the other (called U4ic) being denser and more shock-absorbing. The third foam is called XPOP, which provides energy return in the same manner as Nike React or Adidas boost.

This combination of foam provides a unique experience while running or walking. There is a plushness or cush you feel in each step, but you don't get that sinking-in feeling because of the bounce back provided by the XPOP.
Outsole
The Waveknit 3 uses a durable carbon rubber outsole called X10 that allows for longer wear. I have put over 50 miles of running and several more walking in these shoes, and there is minimal wear showing. This outsole should last for hundreds of miles.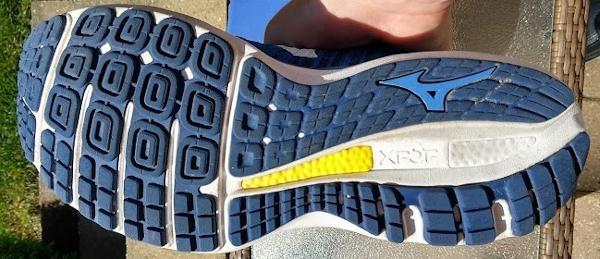 The flex grooves in the forefoot provide exceptional flexibility for a very comfortable toe-off while running.
Design of the Mizuno WaveKnit 3
Currently, Waveknit 3 comes in four colors for men and women. Black, Campanula-Silver, Quiet Shade, Flintstone-Vapor Blue are choices for men. Meanwhile, Black, Citadel-vapor Blue, Glacier Gray-white, Purple Potion-white are available for women.
Despite the fancy color names they are pretty toned down and conservative color offerings, which I'm okay with. No bright colors, just a variety of blues and greys, save for one reddish color on the women's offering.
These shoes are stylish enough where you could wear them as lifestyle shoes. I've been rocking my Campanula-Silver pair with shorts and polo during the summer.
Comfort & fit
These run fairly true to size based on the size 12 pair I received. But, there is not much extra room to work with, so you may want to consider ½ sizing up.
I had no issues with the toe-box, and my toes never felt pinched or cramped. The wider base at the forefoot provided stability despite the large stack height.
As mentioned before, the step-in feel of this shoe is great. The padded tongue and heel collar hug your foot, and the premium sock liner adds even more comfort.
Sadly, your foot will get warm in this cocoon of comfort, so make sure you wear socks to absorb the sweat.
The Wave ride
The midsole is bouncy, which I really enjoyed with my only complaint being the heel was a tad squishy, especially noticeable on downhill running.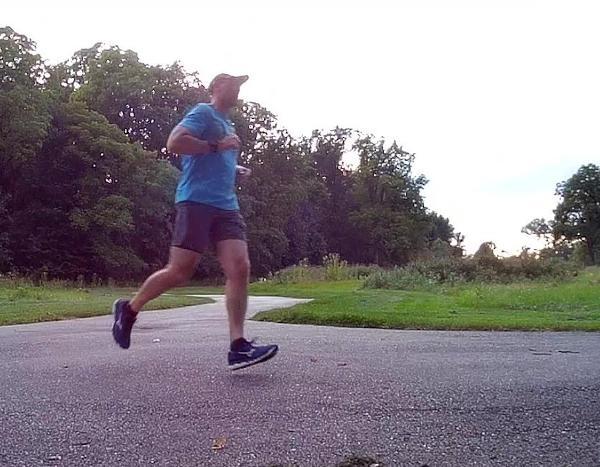 When running in this shoe, you are rewarded more as a heel striker than someone who is a mid to forefoot striker due to the overly plush 33mm heel.
The weight of the shoe made it hard for me to run fast and during long runs. Moreover, as the miles built up, they felt like weights on my feet.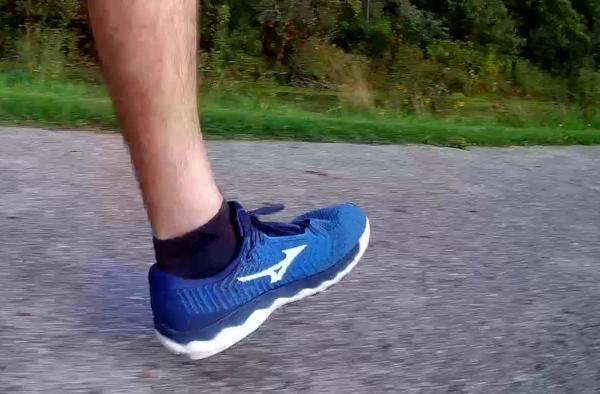 The outsole gripped without issue on road, grass, and lite trails. The only problem I noticed was, on some wet terrain, there was a bit of slippage on concrete, but I had no issues on wet grass.
Lockdown on the shoe was fantastic; my foot stayed in place without any concerns, no moving around or hotspots during my runs. Despite the stack height, there were no stability issues while hugging tight corners.
Price
At the time of this review, the Waveknit 3 is going for USD 160. Comparable brands like the Hoka Bondi and Altra Paradigm are priced at USD 150, making the Waveknit 3 at the upper end of the price range with the Saucony Triumph ISO (also $160).
The Waveknit 3 has been made with high-quality material, and I can tell a lot of engineering has gone into making this shoe and would explain the high price tag.
Suggested improvements
Lose weight. If Mizuno would apply some or all of the following suggestions, I believe it would significantly enhance the shoe. The upper needs to be thinner and more breathable, and that will help drop some weight.
The heel is extremely plush, too much so in my opinion. And, I'd love to see them shave a couple of millimeters off it, and make this shoe an 8mm stack height; this would also drop weight.
The carbon rubber outsole is great, but if this was applied to high wear areas only, it would be another way to drop weight, albeit at the cost of durability.
Thin out the tongue to enhance breathability and drop weight. The premium sock liner is nice but not necessary with such a plush midsole; a thinner sock liner would also lose weight.