Overall, I am really happy with the ride and durability of this shoe. This is a great shoe for most training runs and would be well suited for most wearers. Even though it is presented as a neutral shoe, I think that the platform is stable enough for those who need a little bit of stability.
Pros
Cushy
Springy ride
Durable
Grippy outsole
Secure fit
Well-built lacing
Flexible
Well-cushioned
Cons
Heavy
Too much collar padding
Mizuno Wave Sky 4 Waveknit review
The moment I first slipped this wonderful trainer on, I said an audible, "wow!" It was quite comfy from the moment I first put on the shoe.
I felt the cushion of the midsole immediately and through the six runs that I put into this shoe. This is a well-cushioned shoe that works well for my slow plodding runs and long runs, though I wouldn't use this as a race day shoe or for speed or tempo runs due to the weight.
Construction and design
According to Mizuno, the midsole on the Wave sky is a blend of the XPOP foam and Mizuno Energy Foam with a U4ic Strobel layer. The result is a very cushioned ride with a nice rebound, so you don't sink too far into the foam during your run.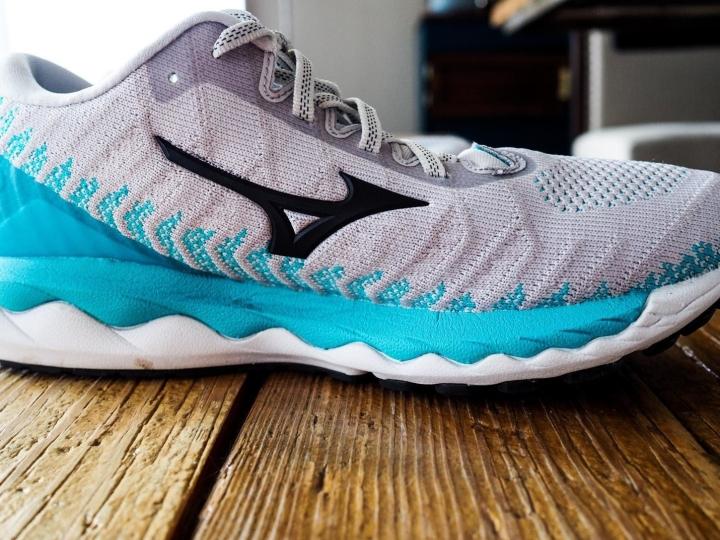 The layers of cushion sit above the X10 outsole that is supposed to add durability to the shoe, but I found that it also helps with the grip. Even after using this shoe exclusively for all my runs lately, I haven't seen considerable wear to the outsole.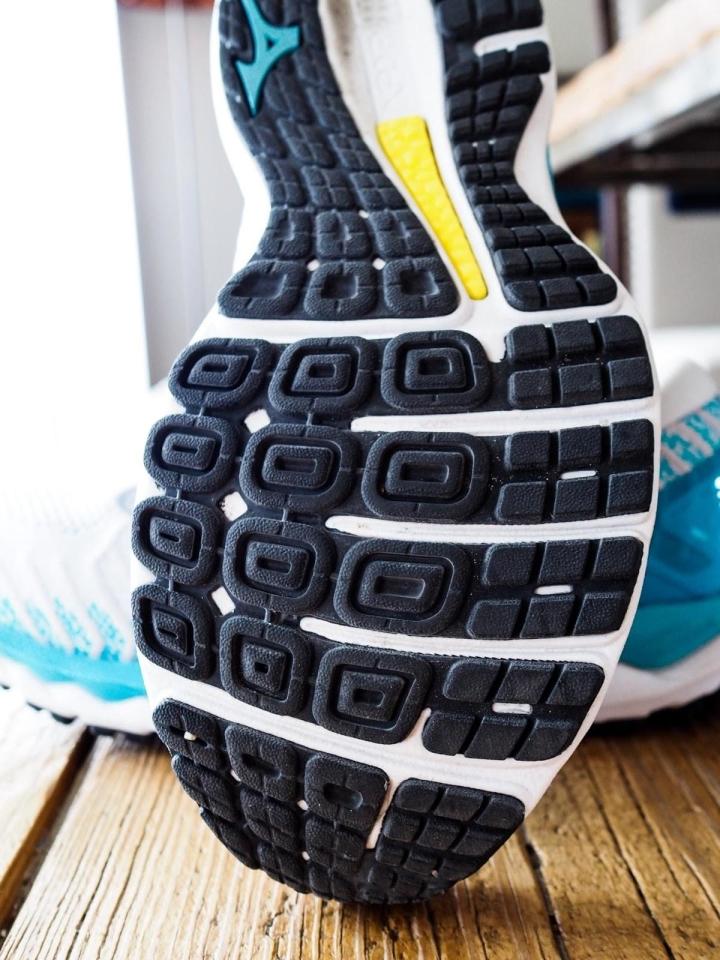 Amazing, breathable upper
The upper is the Waveknit fabric for which the Wave Sky Waveknit 4 gets its second wave. Mizuno uses this material on a few of their shoes, and I have always really liked it.
The knit is looser in the toe box so that your foot doesn't get too hot on runs. The midfoot is thicker so you get a good lockdown when lacing up your shoes. The welded logo also helps with this.
The laces and eyelets are, in a word, amazing! I usually have to use the extra eyelets that most running shoes have to keep the shoes from slipping off or rubbing during my runs. I didn't have this problem with this shoe.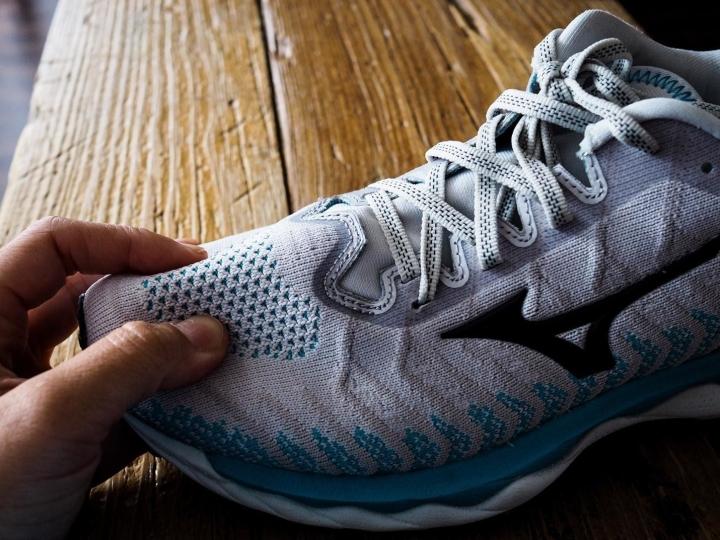 Heavily padded ankle collar
The last part of the construction of this shoe is actually my least favorite. The ankle collar is heavily padded, which helps keep your foot locked in, but also holds a lot of moisture in.
I know that a lot of people don't mind this, but I think that on long runs that are really sweaty. Having the heavy padding makes it feel like you have a wet sponge around your ankle. Considering the shoe already weighs 9.9 oz. in my size, holding water in the ankle is not desirable.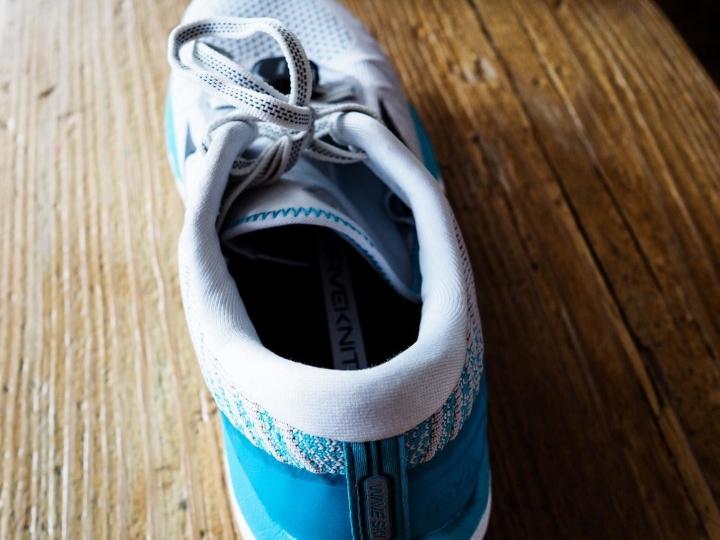 Responsive and flexible
As I ran in this shoe, the cushioning felt like the Hoka Clifton, Saucony Ride, and converged into a cushy and responsive feel. It has the flexibility that other max cushioned shoes lacked which really helped keep my natural footstrike through my runs.
Even though the shoe is heavy, I didn't really notice it because of the flexibility of the forefoot so it didn't feel like I had blocks on my feet. However, on my longer runs, my legs felt a little heavy towards the end.
I have used this on most runs and found that the cushioning worked well on most types of runs, but likely not the best choice if you are doing heavy speedwork at Eliud Kipchoge's pace.
Nice lockdown
The upper stays fully connected to my foot during my run and I didn't feel any heel slippage, which I really appreciate.
The best part of the upper during my run was that the gusseted tongue didn't move around and my feet didn't get too hot because it was well-ventilated in the toe area.
While the ankle collar felt nice on most of my runs, I didn't quite enjoy it when I was sweating heavily, and it seeped into the spongy ankle collar. That was my chief complaint about the shoe, but honestly, it wasn't noticeable most of the time and I have used this shoe exclusively on most of my runs recently.
I really enjoyed testing this shoe and would definitely get this version again, perhaps in a different colorway.