Mizuno Wave Sky 4 Waveknit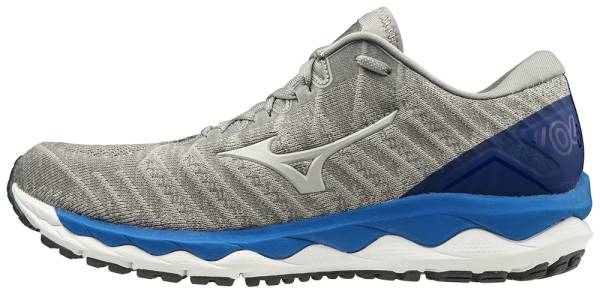 Featuring a well-cushioned platform, the Mizuno Wave Sky 4 Waveknit is designed to provide a comfortable and efficient ride. It features a knit upper for an accommodating fit and a durable outsole for reliable protection. This road running shoe is meant for running on roads and tracks.
---
Verdict from 8 experts and 100+ user reviews
6 reasons to buy
Construction: Many users admire the durability of the Mizuno Wave Sky 4 Waveknit.
Comfort: This shoe offers a smooth and bouncy ride, according to some buyers.
Midsole: The responsive cushioning gains praise from numerous runners.
Forefoot: A couple of commenters appreciate the roomy toe box of the shoe.
Versatility: Multiple consumers say that it is suitable for long runs, easy days, and casual walks.
Support: This neutral shoe offers a supportive platform, several wearers claim.
2 reasons not to buy
Weight: A few testers observe that the Wave Sky 4 Waveknit is heavier compared to other running shoes.
Upper: One purchaser has noticed that the heel section is a bit loose.
Bottom line
Featuring a well-cushioned platform, the Mizuno Wave Sky 4 Waveknit is designed to provide a comfortable and efficient ride. It features a knit upper for an accommodating fit and a durable outsole for reliable protection. This
road running shoe
is meant for running on roads and tracks.
Best price from 49 shops
We earn affiliate commissions at no extra cost to you when you buy through us.
70% say it's true to size.




Our reviews
The moment I first slipped this wonderful trainer on, I said an audible, "wow!" It was quite comfy from the moment I first put on the shoe.
I felt the cushion of the midsole immediately and through the six runs that I put into this shoe. This is a well-cushioned shoe that works well for my slow plodding runs and long runs, though I wouldn't use this as a race day shoe or for speed or tempo runs due to the weight.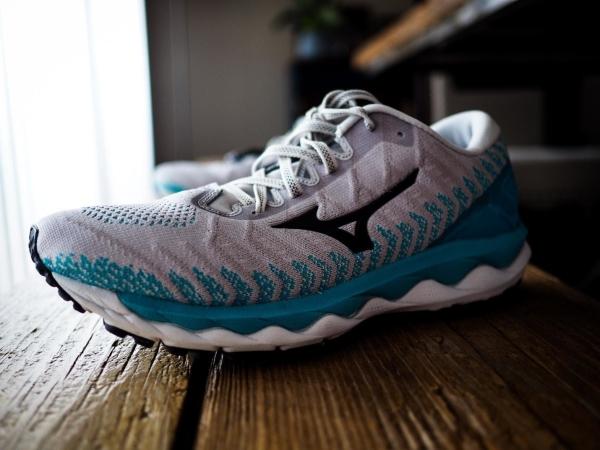 Construction and design
According to Mizuno, the midsole on the Wave sky is a blend of the XPOP foam and Mizuno Energy Foam with a U4ic Strobel layer. The result is a very cushioned ride with a nice rebound, so you don't sink too far into the foam during your run.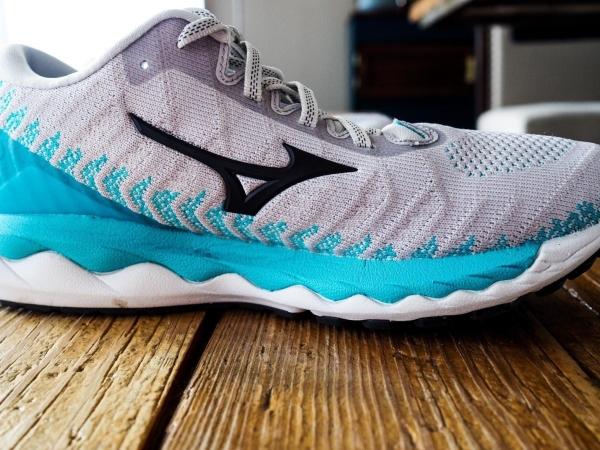 The layers of cushion sit above the X10 outsole that is supposed to add durability to the shoe, but I found that it also helps with the grip. Even after using this shoe exclusively for all my runs lately, I haven't seen considerable wear to the outsole.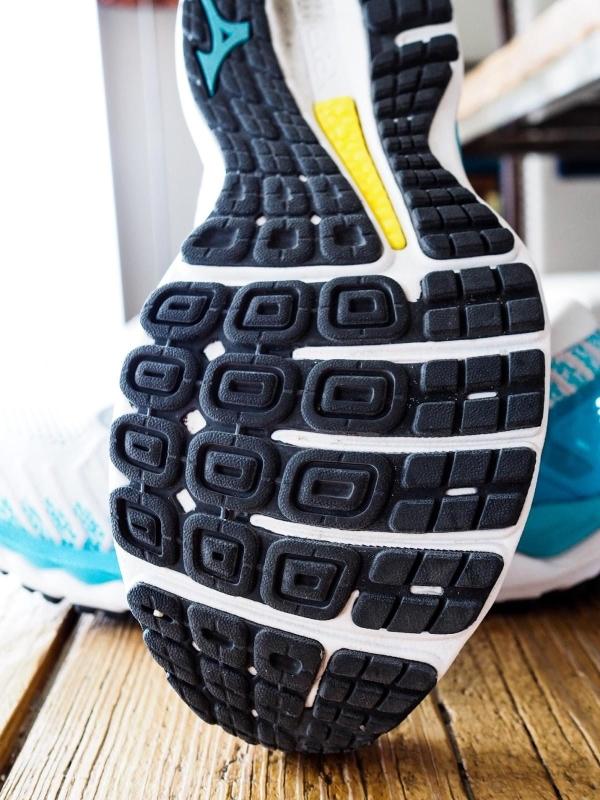 The upper is the Waveknit fabric for which the Wave Sky Waveknit 4 gets its second wave. Mizuno uses this material on a few of their shoes, and I have always really liked it.
The knit is looser in the toe box so that your foot doesn't get too hot on runs. The midfoot is thicker so you get a good lockdown when lacing up your shoes. The welded logo also helps with this.
The laces and eyelets are, in a word, amazing! I usually have to use the extra eyelets that most running shoes have to keep the shoes from slipping off or rubbing during my runs. I didn't have this problem with this shoe.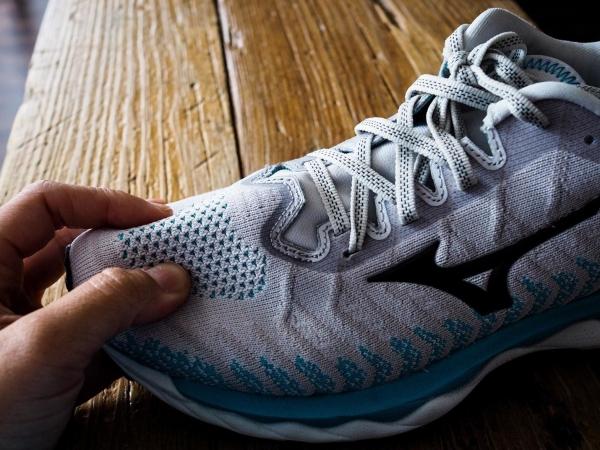 The last part of the construction of this shoe is actually my least favorite. The ankle collar is heavily padded, which helps keep your foot locked in, but also holds a lot of moisture in.
I know that a lot of people don't mind this, but I think that on long runs that are really sweaty. Having the heavy padding makes it feel like you have a wet sponge around your ankle. Considering the shoe already weighs 9.9 oz. in my size, holding water in the ankle is not desirable.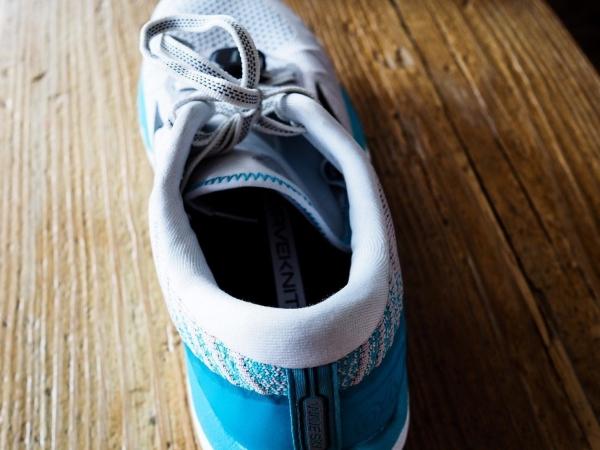 Performance
As I ran in this shoe, the cushioning felt like the Hoka Clifton, Saucony Ride, and converged into a cushy and responsive feel. It has the flexibility that other max cushioned shoes lacked which really helped keep my natural footstrike through my runs.
Even though the shoe is heavy, I didn't really notice it because of the flexibility of the forefoot so it didn't feel like I had blocks on my feet. However, on my longer runs, my legs felt a little heavy towards the end.
I have used this on most runs and found that the cushioning worked well on most types of runs, but likely not the best choice if you are doing heavy speedwork at Eliud Kipchoge's pace.
The upper stays fully connected to my foot during my run and I didn't feel any heel slippage, which I really appreciate.
The best part of the upper during my run was that the gusseted tongue didn't move around and my feet didn't get too hot because it was well-ventilated in the toe area.
While the ankle collar felt nice on most of my runs, I didn't quite enjoy it when I was sweating heavily, and it seeped into the spongy ankle collar. That was my chief complaint about the shoe, but honestly, it wasn't noticeable most of the time and I have used this shoe exclusively on most of my runs recently.
I really enjoyed testing this shoe and would definitely get this version again, perhaps in a different colorway.
Overall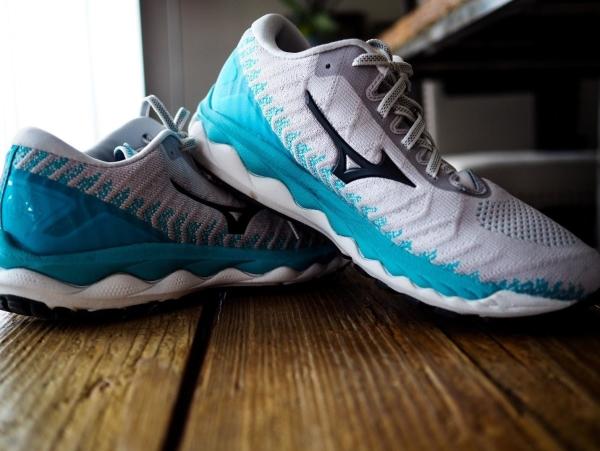 This is a great shoe for most training runs and would be well suited for most wearers. Even though it is presented as a neutral shoe, I think that the platform is stable enough for those who need a little bit of stability.
Pros
The combined foam of the midsole gives the shoe a cushioned and springy ride.
The outsole is durable and provides a decent grip on a variety of surfaces.
The knit upper holds my foot in well while still allowing my toes to move around.
The lacing system was really well-built. I didn't even need to use the extra eyelet at the top to hold my foot in.
Even though it is a max cushioned shoe, it was still flexible in the forefoot.
Cons
The shoe is heavy, weighing in at 9.9 oz. for a women's 9.
The colorway I have and most of the other color options for women harken back to shoes that serve an orthopedic function.
A little too much padding around the ankle collar holds in sweat and water where I don't want it.
Overall, I am really happy with the ride and durability of this shoe.
Word on the street is that Mizuno's Wave Sky Waveknit 4 offers the runner a soft ride for comfortable long runs while still providing energy return. Although new shoe models may show only subtle differences, the Sky Waveknit 4 packs in a new foam technology to their already-plush shoe for a rather unique ride quality.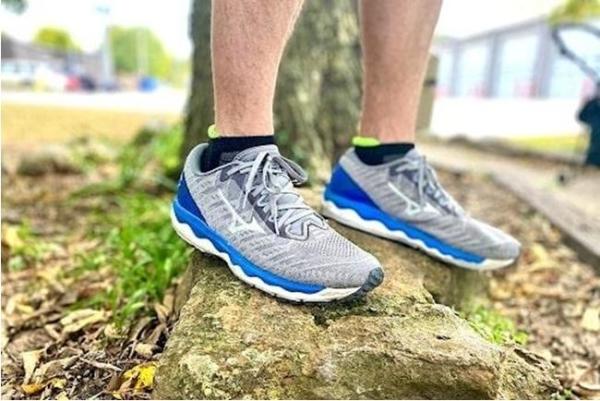 Design
Out of the box, I couldn't help but notice Mizuno's use of a sleek and structured knit upper. The knit is assembled in a way that feels thicker to the touch on the lateral sides and front of the toe, whereas the top of the toe box is slightly thinner, including more ventilation.
The fit was spot-on with natural movement and an overall comfortable wrap with no hot spots and plenty of room in the entire width of the shoe.
Colors are kept modest, with shades of grey, white, and blue throughout. The tongue remains fixed with a gusseted design that doesn't rub and feels really nice on the top of the foot. Standard eyelets are also integrated into the mesh material.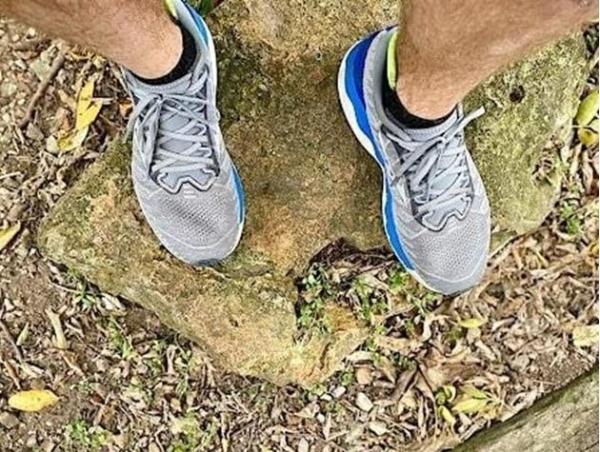 The heel counter includes a nice balance of firm and soft and padding around the ankle, making it plush without being too thick.
Upper
The upper consists of a high-quality and durable knit. Some knit uppers are relatively sloppy where the foot feels loose, however, this one would definitely be hard to beat.
It offers support and just enough flex in the material without too much give. I was very pleased with the roomy midfoot and toe box, allowing my foot placement to be as natural-feeling as possible.
The gusseted tongue on this shoe feels amazing, allowing no hot spots or rubbing, and at the same time maintaining proper placement.
Lacing is simple with standard eyelets and laces that remained tied with only single knots. Slightly warmer feel–fine for cooler running seasons. The heel counter is firm and does offer structure without pinching the Achilles in any way.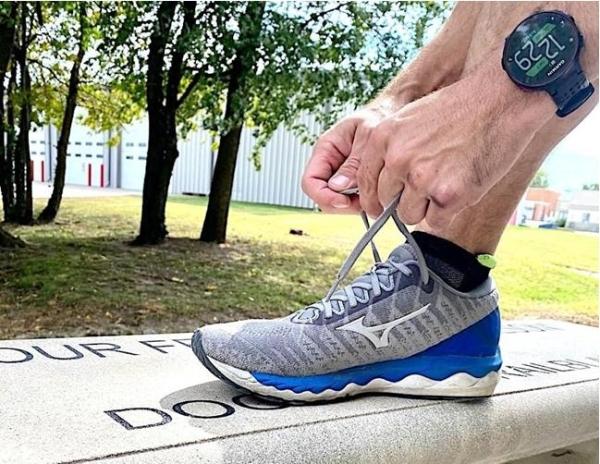 Midsole
The midsole consists of mid-to-high arch support and Enerzy foam material integrated with Mizuno's other successful foams, U4icX and XPOP. The new foam, Enerzy, is designed to provide return energy and comfort which with minimal loss of energy.
The Wave Sky Waveknit 4's energy return is noticeable and offers plenty of response no matter the distance. The combined midsole foams maintain a soft feeling without giving up on your push-off when picking up the pace.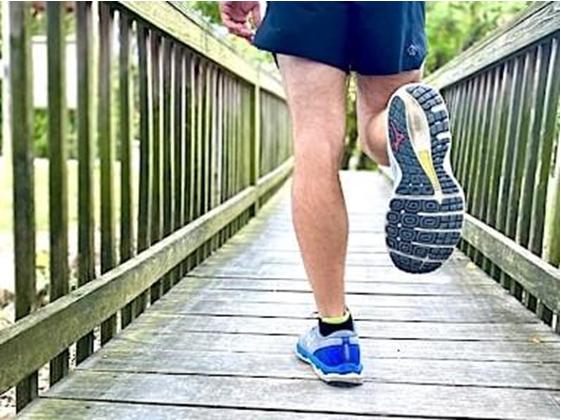 Outsole
Mizuno's outsole seems to be one of the most durable runner materials across all brands in the "trainer" category. The carbon rubber outsole takes this durable technology and spreads it across the whole platform. I was impressed with the amount of coverage of the rubber compound from heel to toe.
This outsole has shown no signs of wear in all the miles tested and can surely exceed several hundred miles of wear without any trouble at all.
Performance & durability
Soft feel with enough rebound during push-off, best suited for slow-paced recovery or long runs simply due to its overall weight.
The midsole, however, offers enough return to not make the shoe feel heavy and provides a nice bounce-like effect. I have noticed that there is plenty of rebound during my step-off thanks to the Enerzy foam integrated through the forefoot area of the midsole.
If you are used to changing the pace in your training runs (ex. Fartlek runs, speed training, etc.) and need a single shoe for many purposes, then this shoe should definitely be in your rotation.
Overall impressions
Consumers will be happy to know that the Wave Sky Waveknit 4 is indeed true-to-size. If you are in the market for an everyday training shoe that is versatile and long-lasting, this shoe is for you.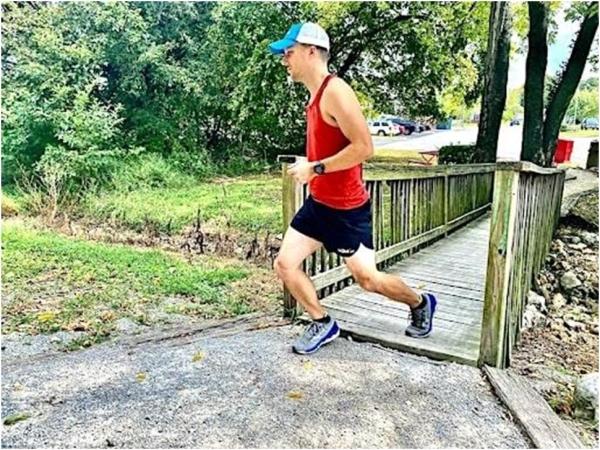 My men's 9.5 feels perfect, and overall, this is a nice supportive shoe that's comfortable while allowing the foot to perform its natural movement.
Having reviewed the Waveknit 3 and declaring it "not my kind of shoe," I was not expecting much from the Waveknit 4. Fortunately, Waveknit 4 has made some significant updates that have me singing a different tune.
If you love the Waveknit 3 you will love the Waveknit 4. If you were lukewarm on the 3, I think the 4 would be worth a look due to all of the updates.
Let's take a look at the latest version of Mizuno's maximalist running shoe.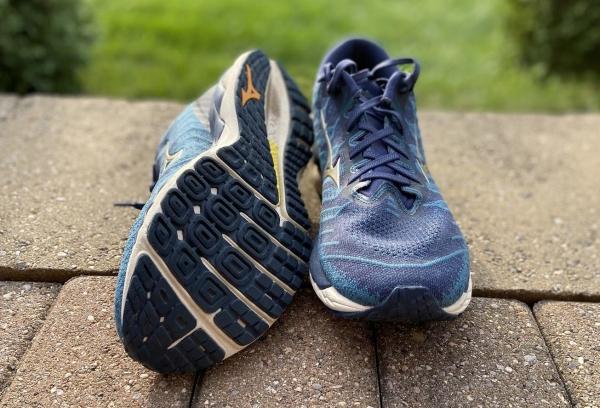 Specifications
Weight - 11.2 oz / 317g for (US Men's size 9), 9.4 oz / 266g (US Women's size 7)
Note - My US Men's size 12.5 weigh 14.3 oz / 404g
Stack Height - 33mm (heel), 23mm (forefoot)
Heel to toe differential of 10mm
Upper: Waveknit
Midsole: New Enerzy Midsole
Outsole: Carbon Rubber (X10)
Support: Neutral
Terrain: Road
Price: $160 US
Upper
Gone is the thick and unbreathable upper that made my foot feel like it was in an Easy Bake Oven, being replaced with a knit upper that is much thinner, more breathable, and stretchier.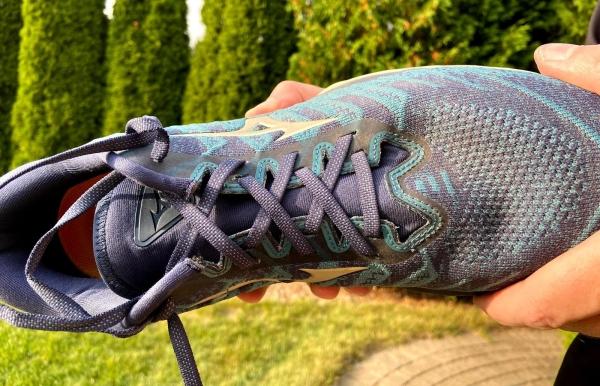 It's not exceptionally breathable, but my foot did not get overly hot running during the summer.
One issue some may have is with the volume of the upper. I did get the slightest bit of bunching when lacing up, and depending on your foot shape, it could become an issue.
The lacing system delivers excellent lockdown and offers the extra eyelet for lace lock, which I did require to prevent heel slippage. The laces are nicely textured and flat (just the way I like them), and I have never had an issue with them becoming untied.
The only problem is that they are crazy long, and I found myself triple tying them, so they weren't flapping and making my shoes look like they had wings.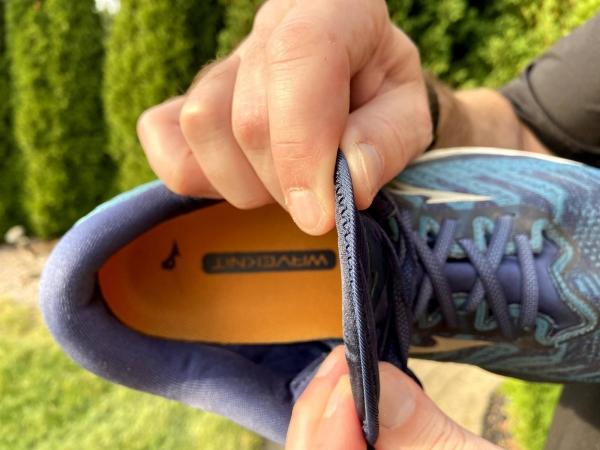 The achilles notch and heel collar have not changed much from the previous model and still gives plenty of cushioning.
As mentioned earlier, I had to use the extra eyelet to prevent heel slippage, but I believe this has more to do with the volume of the upper than any fault with the heel.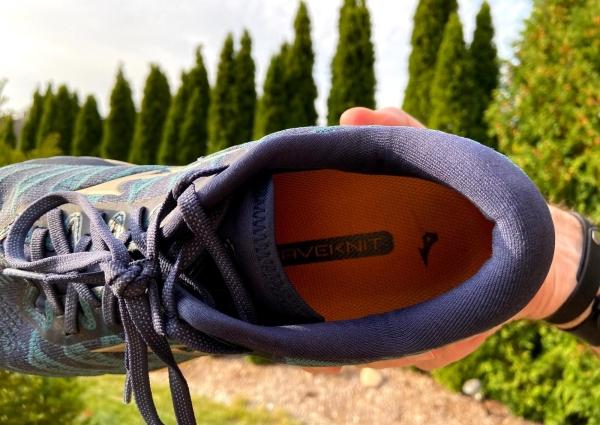 Midsole
Like the Waveknit 3, this uses three different foams to offer a unique underfoot feel. It's a bit confusing, but I think I got it right.
You still have XPOP, a PU foam that provides a bouncy feel similar to Boost when running. Also returning is U4icX, which is a soft foam that gives excellent cushioning. The new addition is ENERZY foam, which replaces the U4ic foam from the Waveknit 3.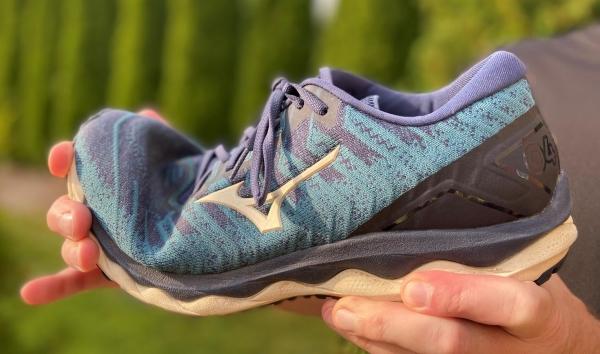 ENERZY is a definite improvement and gives the Waveknit 4 more of a performance shoe feel. Despite its heaviness, I was surprised to find that I was clocking some pretty good times.
It's still too heavy to race in, but I'd love to get my feet in a lighter rendition of this shoe. Can you say "Wave Rider"? I can!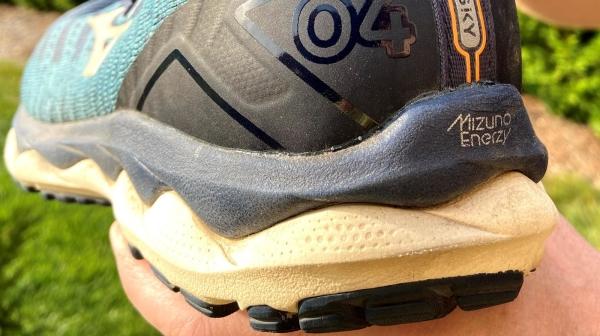 With 33mm of stack height in the heel, you get plenty of protection. If you are a heel-striker or heavier running, you will appreciate the cushioning provided.
It is not a sinking-in feeling but a firmer cushioning that gives you a stable and springy ride. The forefoot supplies decent cushioning at 23mm, and the midsole has a stiffness to it that gives you a springy toe-off.
The removable insole is of excellent quality and provided extra cushioning. It is not an Ortholite, but I had no odor issues, and I was doing most of my running on hot summer days.
No moisture accumulation to speak of and the shoe dried out nicely. You will have plenty of room to add custom orthotics if necessary.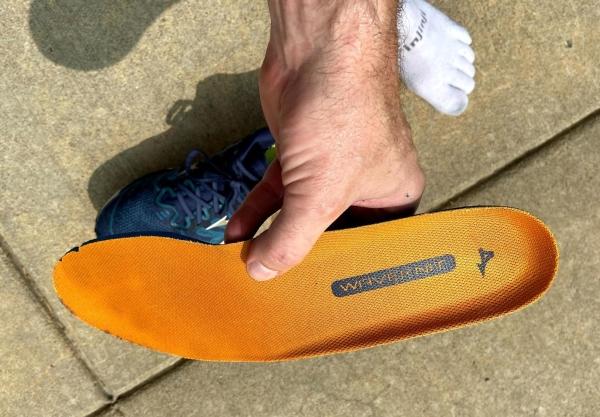 Outsole
The outsole is pretty much identical to the Waveknit 3 using a carbon rubber material called X10. This rubber is extremely durable and will last for hundreds of miles.
The pictures shown in this review were taken after the 50-mile mark, and there is hardly any wear showing. The flex grooves in the forefoot help with a smooth transition while going through your stride and the wide platform offers excellent stability while running.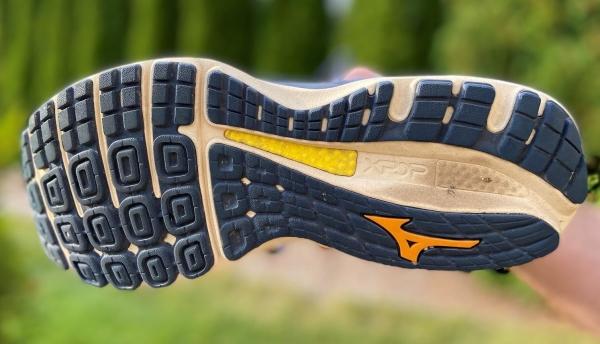 I did find the outsole to be a bit slippery while running on wet pavement and on steep declines, and tight turns, I could not run with confidence. Traction off-road on grass and lite trails was fine as long as it was dry terrain.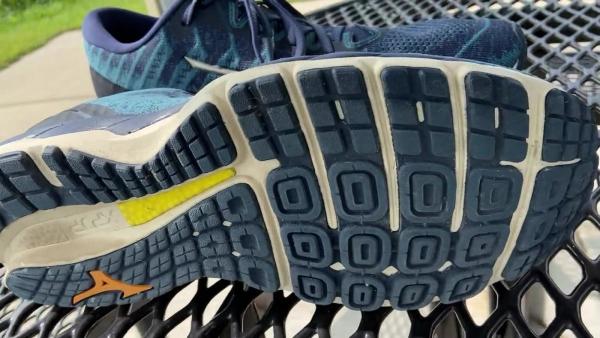 Design & build quality
It's an aesthetically pleasing shoe. The wave pattern on the upper and midsole give the shoe a very modern look. The color displayed here is called Mood Indigo, and they offer four different colors for men and women, all with equally fancy names.
The Mizuno logo on the sides of the upper and the decorative heel counter is a nice touch, although I could do without the fancy heel counter if it could save on weight.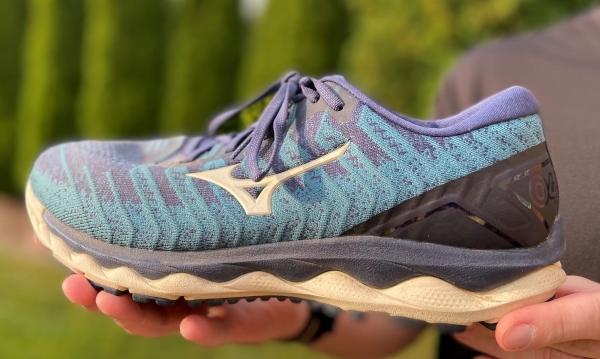 Speaking of weight, it has gained a bit, going from 11.0 oz to 11.2 oz, which is surprising since the upper has thinned out and well has the tongue. A lot of engineering and quality material has gone into this shoe. It is built extremely well and uses exceptional material, and should last a long, long time.
Comfort & fit
The Waveknit 4 fit true to size, and I had plenty of room in the toe box and never experienced any hotspots while running.
This is an improvement over the Waveknit 3, which had a narrow toe box, and I do recall some rubbing on my pinky toe. Once I could get the lacing dialed in, the shoe fits nicely, and I appreciated the wider platform while running.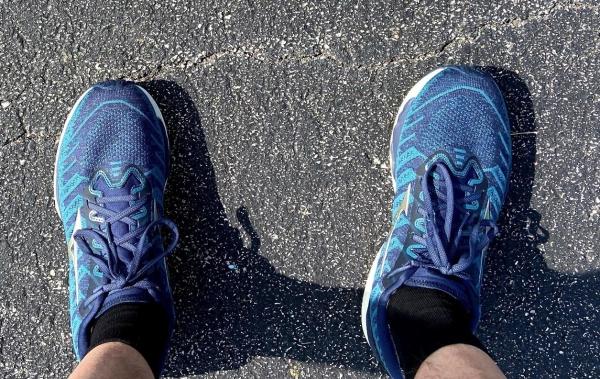 Some may find that this shoe has too much volume in the upper and toe box area, but thicker socks should fix that issue. Mizuno does offer a wide version of this shoe for both men and women, but I don't think you will need it unless you have extremely wide feet.
The ride
It's an odd feeling running in these shoes after running in a lighter pair like the Hoka Rincon. They almost remind me of boots, and they are the heaviest pair of shoes in my arsenal.
I was traveling for work while putting in the mileage for this review and was running in them exclusively for a couple of weeks. I had to pack lite so I could only bring one pair of running shoes.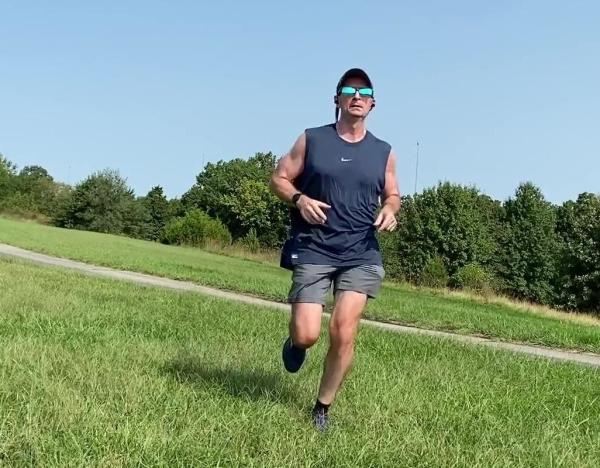 Once I adjusted to them, I was able to appreciate the Waveknit 4 better. Despite the high stack height, these shoes are very stable to run in because of their wide platform. I had no concern of ankle rolling, not even on tight turns.
I was surprised by my speed in these shoes, and I can run faster in them than in the Waveknit 3's. Not that I was burning it up, but I was expecting a slow, plodding experience, and instead, I was able to run a steady pace over long distances. My foot never felt beat up, and you can feel the energy return in your stride.
I completely forgot about the shoes while running, which is a good thing. One thing for sure, if you train in the Waveknit 4's and then race in a lite shoe like the Rincon, you will feel like Kipchoge even if you can't run like him.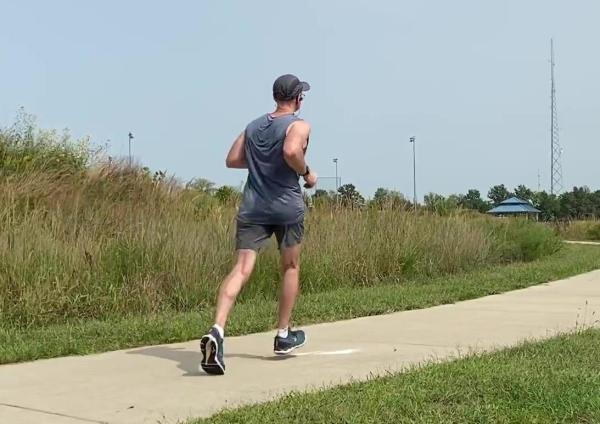 Value
At the time of this review, the Waveknit 4 is priced at $160 US. That's a lot of cheese for a shoe I will not be wearing on race day.
Conversely, it is a shoe that can last you for several years and hundreds of miles and maximalist shoes generally cost more than your standard daily trainer.
They say beauty is in the eye of the beholder; well, I say the value is as well. That being the case, I feel the Waveknit 4 is a wee bit too expensive; somewhere around $140 would be more reasonable, in my opinion.
Suggested improvements
Lose weight! Lose weight! Lose weight! Yes, I'm fat-shaming this shoe, hoping that the weight will go in a different direction for version 5. This can be done by finding a less substantial heel counter.
It looks cool with the logo and version on it, but considering what a beefcake it is, I'd rather drop some ounces. Also, I wonder if the outsole can be thinned out.
It is extremely durable, but it is too thick, so shaving some off could be helpful. Another idea would be only to have X10 in high wear areas.
Conclusion
If you are in the market for a maximalist shoe that is not super squishy and extremely durable, you should consider the Waveknit 4.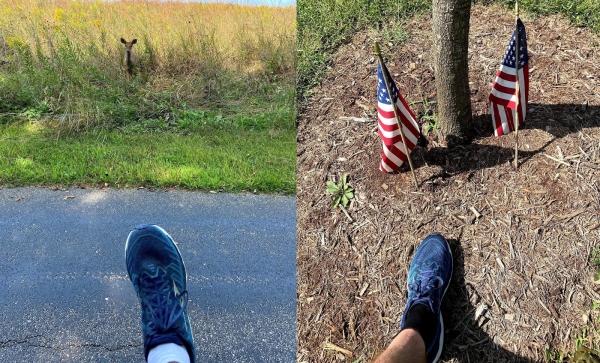 I would definitely recommend them for bigger runners, especially if speed is not a concern. The stack height and midsole in this shoe will protect you from a lot of pounding and help you run longer.
Mizuno Wave Sky 4 Waveknit: The shoe that will take you to new heights
Featuring Mizuno's latest midsole technology, the Wave Sky 4 Waveknit is created to deliver plush comfort with each stride. It is an update to a series of high-performance shoes regarded as the brand's most cushioned running footwear.
Designed to provide an efficient ride, the Mizuno Wave Sky 4 Waveknit is equipped with top-quality materials to help you run faster and farther.
Who is it for? It is a neutral running shoe that works well for athletes with a normal gait or those who do not overpronate (when the foot rolls inward).
Runners who supinate (when the outside of the foot carries the majority of the bodyweight) will also appreciate the soft, flexible, and responsive platform of the shoe.
What is it for? This Mizuno shoe is ideal for running on roads and smooth surfaces. It can be used for both short and long-distance runs.
Mizuno Wave Sky 4 WaveKnit vs 3
Focus on improving smoothness, Mizuno made several changes to the Wave Sky 4 Waveknit while maintaining the outstanding qualities of the Wave Sky WaveKnit 3. Here are some of the notable upgrades featured in Wave Sky 4 Waveknit:
The sleeker design and updated lacing system offer a more consistent fit compared to the earlier model.
The new Mizuno Enerzy foam allows the Wave Sky 4 Waveknit to give a better rebound and a softer in-shoe feel than its predecessor.
Rankings
How Mizuno Wave Sky 4 Waveknit ranks compared to all other shoes
Popularity
The current trend of Mizuno Wave Sky 4 Waveknit.