I was looking for road shoe comfort with off-road traction that had the capability to take on trails.
The Mizuno Wave Rider 20 GTX is a multi-sport derivative of a road shoe that meets these requirements adequately.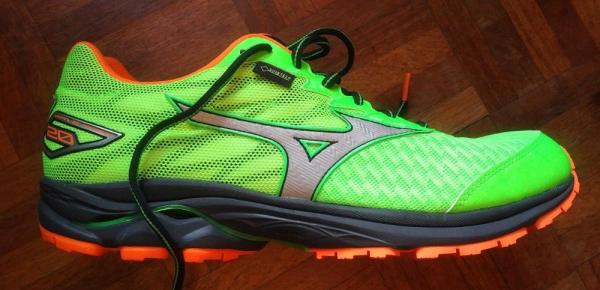 First Look Impression
Bright!
I planned to use this shoe on the trail, with only one color choice, the bright green - should ward off any dangerous animals. 
I would like to have chosen a more discrete colorway, however, the shoe is meant for hazy weather like rain and snow. The package is well put together; well-tested Midsole (Wave Rider 20) with a weather resistant Gore-Tex upper. Can't wait to get these wet and dirty, was my first thought.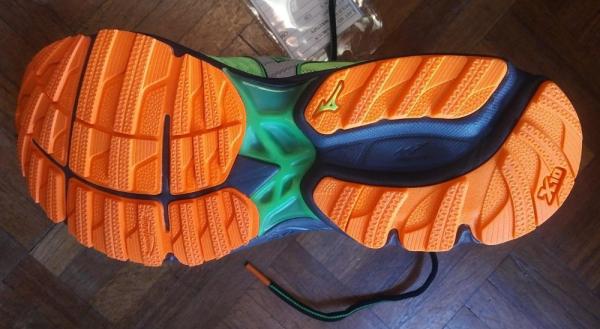 How does it Run?
My first run, I took to the trail, the terrain was undulating rock, mud, and river. Getting these shoes wet seemed impossible, the Gore-tex repels all water even mud, like magic, it rolls right off!
Grip was no issue and I felt I could lean into corners without a concern for slipping. I did find that the shoe felt wide, some foot slide specifically on descents. Despite using the last shoelace eyelet I still experienced slide, the shoe still needed time to settle in and take my foot shape.
After 200 km
I find that the Mizuno Wave Rider 20 GTX works well off-road. Midsole and outsole work in harmony for a firm ride on the trail – underfoot, grass and gravel feel sure-footed.
I find that the firm ride of the Wave rider is well suited for textured surfaces; it provides stability and confidence in my foot strike that engages me with nature's carpeted canvas. Trail shoes can vary and come in many strains – it can be bulky and overspecialized – for rocks, sand, mud, etc.
Wave Rider 20 GTX is a hybrid, asphalt or trail it can multitask effortlessly – shift your runs from road to grass sidewalks in the same run and get the best of both worlds – urban trail. It can take you almost anywhere your feet want to go.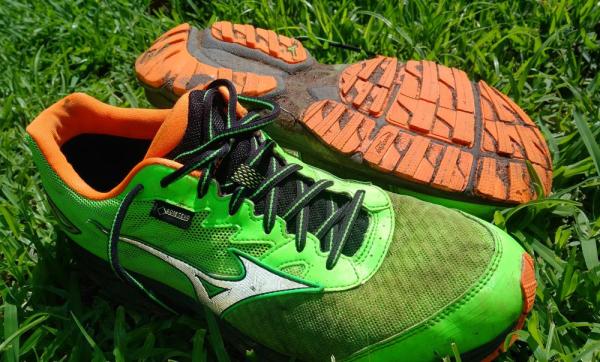 What's good about the shoes?
Good grip
Lightweight firm midsole
Comfortable
Wave plate protects foot arch
Water-repelling Goretex
What's not good about the shoes?
Not true to its size or too thin insole
No color options
Flappy sound from the upper
Upper
The Goretex material works well, though once the upper collects enough dust and dirt you find that moisture will adhere and absorb into the Gortex. I ran 16km in long wet grass and my socks did not get soaked as it would with other shoes.
Ventilation is not that good and your foot will get hot; however, it is meant for snow and cold climate and really works well in the winter months. My toes were kept nice and snug.
A little annoyance was that the upper would make a sound with every foot flex, sounding like a flappy rustle sound coming from the material.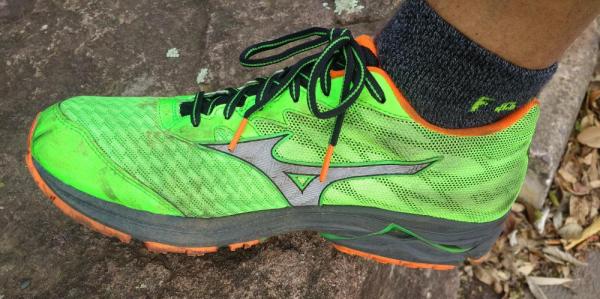 Midsole
The midsole is light and firm. The firm mid-soles are well adapted for the trail. Your foot is well planted in soft ground and grass - kick off in this terrain is snappy, well balanced with control.
Harder objects like rocks are well prevented from hurting your foot, assisted by the wave plate that runs under the arch. However, I did enjoy my urban trail runs, drifting off the road and running on grass sidewalks. This was more to test the shoe and felt it was a shame to destroy the sole tread on asphalt - best kept for the trail.
The midsole I did find too firm for road running, specifically at hill strike.


Sole
Good grip on wet grass - climbed up a 45-degree bank and experienced no slip. No nooks and crannies for stones or pebbles to get wedged in and stuck.
Nice grip leaning into sandy corners, mud, and slush can be a challenge; however, the Mizuno Wave Rider is not a "tractor", but rather a multi-tasking speed shoe.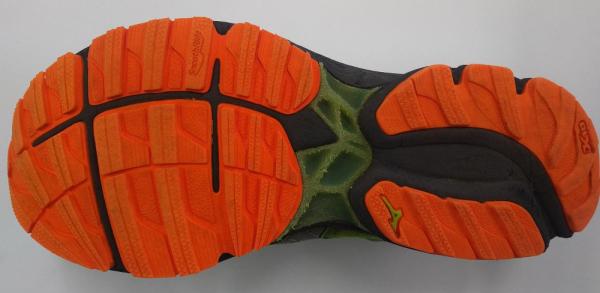 Insole
I found that the insole was too thin and I swopped it out for thicker one, this helped with the foot slide and the shoe felt more fitting. Comparing the insole with my Mizuno Wave Sky, which fits perfectly, you will notice the two insoles are different thicknesses.
Conclusion
Mizuno Wave Rider 20 GTX is a lightweight shoe for off-road and on-road running.
Cushioning and comfort are rarely used in the same line with trail running shoes, it's usually grip and durability. To me, good grip and comfort that spares toenails are what counts when I am running in a shoe and I can attest to losing many toenails.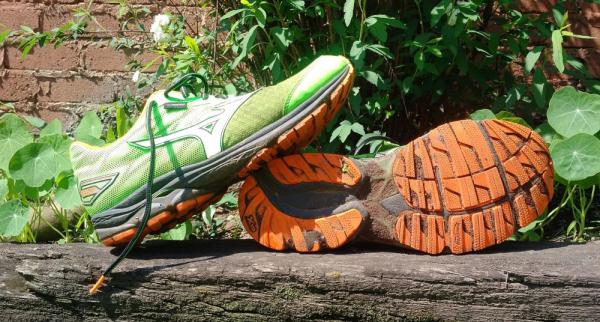 The Mizuno Wave Rider 20 GTX is a hybrid shoe, designed for road running but encompasses the needs of a trail runner. It can multitask and grapple with various conditions – rain, snow, mud, grass, rocks, and asphalt.
To sum it up simply, I would say, the Mizuno Wave Rider 20 GTX is the "Swiss army knife" of running.