Verdict from 3 experts and +100 user reviews
8 reasons to buy
The visual aspect of the Mizuno Wave Paradox 3 was welcomed by many runners; the colors were vibrant and fun, they stated.
Some testers lauded the high-quality components & materials used in this version.
An expert reviewer stated that the upper unit was aptly breathable.
A runner commented that they appreciated the responsive nature of the midsole unit.
The stability mechanism present in this model gained favor because it kept the foot stable and free from an uneven performance.
Several consumers observed that the heel area was very well-cushioned; they didn't perceive the impact forces during the landing phase.
A reviewer mentioned that this shoe's midsole was long-lasting.
A tester noted that even though this shoe had top levels of cushioning and a firm ride, it was still able to deliver a soft underfoot feel.
4 reasons not to buy
A purchaser noted that the Wave Paradox 3 was noticeably heavy.
The outsole tread has already worn out on a runner after only a distance of fewer than 50 miles.
The heel section of the upper unit felt loose, according to a number of testers.
Several consumers felt that the underfoot platform of the Wave Paradox 3 was not as supportive as its predecessor's.
Bottom line
The 3rd version of the Mizuno Wave Paradox brought joy to runners who have overpronated motion when performing. A majority of them welcomed the stability features of this road shoe, as well as its firm yet full-bodied underfoot cushioning system. The visual presentation also received some praise. But there were those who didn't acclimate well to it; some of them felt that it was too stiff, while a few noted that the upper was a bit loose.
Tip: see the best running shoes.
Our reviews
Do you know which running shoe companies have a money back guarantee against manufacturer defects?
When I sent Mizuno an e-mail with pictures, replacement thoughts never even crossed my mind. All I knew was communication is key for good customer service.
I was on a Mizuno happy high showcasing my shoes at the gym. I remember a gal said "What kind of shoes are those? They are really cool!" I felt really cool too because I finally found my happy running shoe. Sweet! No more shopping around or wasting time and money on other brands.
I'm in love with Mizuno, but then after 289 miles, look what happened.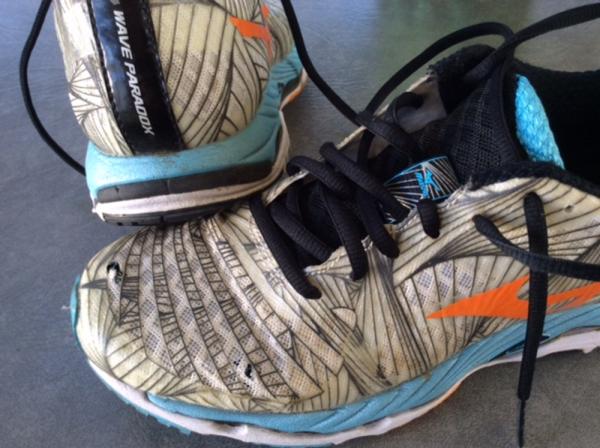 Wear & Tear
When it comes to wear & tear, unfortunately it's literally tear. Holes, holes, holes!
Sad to say, big and little holes, rips and tears started to appear throughout both toe boxes. In spite of being extremely satisfied with the support and stability, I was NOT feeling the love. Now I'm no wear tester, but I thought Mizuno has to see this to believe it.
Promptly, Mizuno informed me of their 1-year warranty against manufacturer defects.
Wow! Mizuno is offering to replace my beat up old running shoes. I dug up the sales receipt as requested and soon these Mizuno Wave Paradox 3's sat on my doorstep free of charge!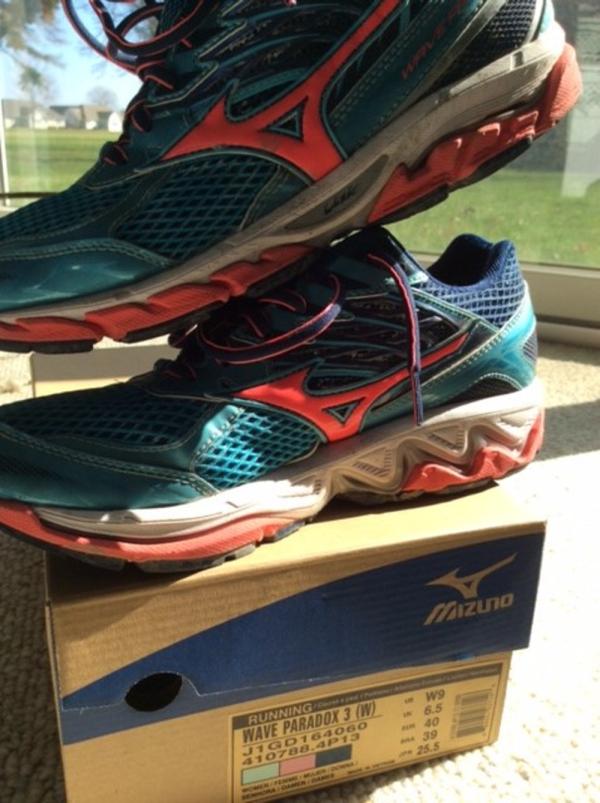 I felt like it was Christmas, but wasn't sure if I really liked my gift. First, I noticed the cool designer material took a hit, gone. Vanished! Then a double whammy! Extra bulk and heaviness!
Did Mizuno send me the wrong shoes, I thought? No, they clearly state Wave Paradox, so I told myself to keep an open mind.
Performance
At first, they didn't seem too bad and reminded me of my old Saucony power grids which I used to love. Furthermore, Mizuno already mastered stability, motion control, and pronation so I felt confident. Besides, the price was right. Let's keep running!
After 273 road miles and a 113-mile beating on Florida's beach sand, my Wave Paradox 3 prevailed!
The initial break-in process was extremely minimal although I prefer a bit snugger fit. I really liked the wider shoelaces and enjoyed lacing up.
The collar padding, inside cushioning and tongue show little wear despite my brutality. The rubber tips were made stronger and new rubber overlays were sewn in strategic places for added reinforcement.
Best of all, however, is absolutely no holes, rips or tears in the upper mesh material toe box!
See for yourself how my Wave Paradox 3's survived: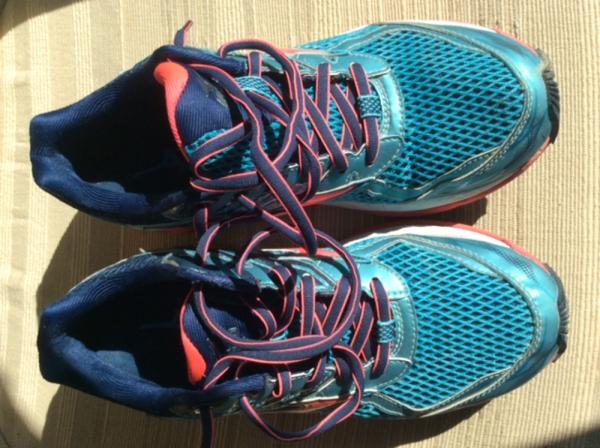 Padding & Cushioning
I would definitely recommend Wave Paradox 3 as one of the most durable training shoes I've ever owned. My son Jeremiah Wagner, a 3 time Boston Marathoner, currently trains in Mizuno Wave Paradox 3's too.
Mizuno has a very effective Achilles collar which surpassed his Adidas Supernova's. Superior padding, cushioning, stability and arch support combine to prevent injury and helps alleviate stress to tendons.
Weight & Affordability
Wave Paradox 3's may not participate in very many road races due to added weight and bulkiness. Woman's Wave Paradox 3 at 11.3 ounces.
What a difference and unsurprisingly, so was the price.
Wave Paradox 2 cost $135.00 vs. Wave Paradox 3 at $165.00 when new on the market. Thankfully over time, prices decrease and today serious coin can be saved!
Arch Support
Before I rush to the store though, I question Mizuno's new and improved arch support.
The midsole took on different dual density foam plus the heel drop may have changed a bit. Either way, my arches refuse to buy in. After a hundred miles or so I reverted back to adding orthotics just like I did with my old Saucony power grids.
Ironically, this was why I switched to Mizuno in the first place, to eliminate inserts.
I researched beforehand and even knew in 2014 Fortius Media Group, LLC named Wave Paradox as the best stabilizing shoe! What more could Mizuno ask for?
I guess like the rest of us they want to be lifelong learners and continue striving for excellence.
Here's a pic of their new vs. old engineering.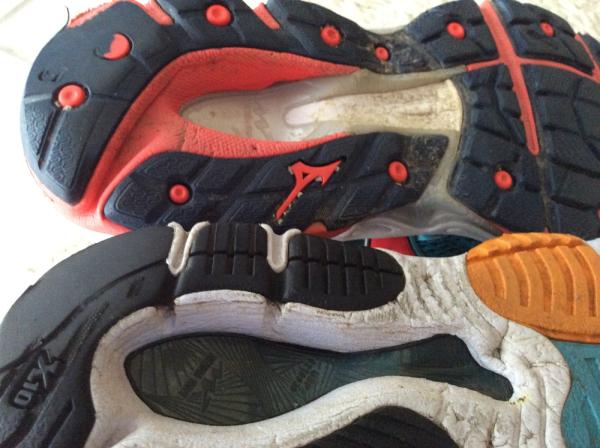 In any event, I cut Mizuno absolutely no slack. I ran until the bottom rubber outsoles wore completely down. Look closely and you'll see a tiny bit of fraying, but remember Mizuno has a 1-year money back guarantee against manufacturer defects.
Outsole
Obviously, Mizuno knew improvements had to be made. Even the bottom outsoles took on drastic, redesign features. When revamping, Mizuno left no stone overturned.
Speaking of stones, you can see I picked up a few in their new tread.
The former design not so much, but stones did leave big imprints in the density foam.
Conclusion
In my opinion, Mizuno may not have to replace many Wave Paradox 3s. With all these major upgrades and complete overhaul, the durability test is passed. My problem is that I'm still in shock with the finished makeover.
Everyone knows some people embrace change while others not so much. As for me, I only wanted one simple modification, more durable designer material. Should I e-mail Mizuno another letter explaining how close I was to being their 1st loyalty member?
I refuse to give up on Mizuno just yet! Even though they threw me a curve ball, I believe they are more than capable of rocking my running world. With that being said, I feel the need to switch to a different Mizuno model.
Now it's my turn to read a few RunRepeat.com reviews! Stay tuned to see which one I pick. It may be Mizuno Wave Rider, Wave Inspire or Wave Connect.
All I know is it's definitely going to be a NEW? WAVE!
Until then, Happy Running!
Good to know
The Mizuno Wave Paradox 3 is a road running shoe that's made for those who have severe over-pronated foot motion. A distinctive set of features supports the arch and prevents it from deviating during the activity, essentially protecting the runner from discomfort or injury. It's a high quality running companion for shoe enthusiasts.
The upper unit showcases fabrics that adapt to the shape and motion of the wearer's foot. They make sure to give a glove-like fit that's secure and precise. Moving the foot through the gait cycle won't cause the fabrics to rub uncomfortably against the skin; rather, they go along with it, supporting it and providing it with the freedom to move naturally.
The mid-sole unit of the Mizuno Wave Paradox 3 focuses on shock absorption, responsible cushioning and stability. Strong, but responsive materials compose the entire platform, and they work together in order to provide comfort and efficient performance to the runner. Over-pronated foot motion won't become a problem anymore because this model has a stability mechanism that corrects such concerns.
High quality, anti-abrasion rubber is at work in the outsole unit of the Wave Paradox 3. It protects the mid-sole from the potentially debilitating nature of the asphalt. It also delivers reliable surface traction, which is important for every running experience. There are flex grooves in the forefoot area and they make the platform more flexible, especially during the toe-off phase.
The Mizuno Wave Paradox 3 has a standard running shoe length. It comes in sizes that runners are used to. The available width for both the men and women's versions is medium, so it is able to accommodate those with medium sized feet. Its semi-curved shape follows the natural curve of the human foot.
The X10 outsole layer makes use of a carbon rubber, which is a highly durable material that's resistant to wear and tear. It doesn't peel off easily, even when affected by impact, friction and surface exposure. It responsibly protects the mid-sole from the damaging nature of the asphalt. This sturdy material is also placed in the outsole of the Paradox 5.
Flex grooves make the platform more flexible. They essentially allow natural movement to take place, especially during the toe-off phase.
The U4ic is a full-length foam that's responsible for cushioning, shock attenuation and durable support. It carries the foot well, keeping it comfortable throughout the running session.
The U4icX is the lighter version of the U4ic. Placed in the forefoot and heel sections, it basically adds more responsiveness to the underfoot experience. Its soft nature heightens comfort.
The Mizuno Wave is a thermal plastic wave that goes from the rear of the platform to the mid-foot section. It helps in attenuating shock, in giving a springy ride, and in improving the overall cushioned feeling.
The Double Fan Wave is a mid-sole unit that prevents over-pronated foot motion. With this in the Mizuno Wave Paradox 3, runners can enjoy a running experience that's free from discomfort, muscle pain or other potential injuries.
The Ortholite Sock Liner provides the runner with more cushioning. It has antimicrobial and an anti-moisture functions, which keep the shoe clean and healthy for the foot.
Open Mesh wraps around the foot securely and keeps it in place. Its open construction accommodates the flow of air into the foot-chamber, thus maintaining ventilation.
The Dynamotion Fit technology comprises stretchable materials, which accommodate the natural shape and motion of the foot when taking each step. They do not rub against the skin; they actually follow the foot as it moves, giving a glove-like fit that's very agreeable.
Rankings
How Mizuno Wave Paradox 3 ranks compared to all other shoes
Popularity
The current trend of Mizuno Wave Paradox 3.