Verdict from 7 experts and +100 user reviews
8 reasons to buy
Runners have appreciated the lightweight nature of the Wave Daichi 2.
The shoe offered great ground feel, observed most testers.
Consumers have lauded the shoe for its durable & high-quality materials.
A couple of running enthusiasts have commended the springiness of the mid-sole unit's wave plate.
The Mizuno Wave Daichi 2 has also been found to do well on roads, based on the feedback of some reviewers.
A number of consumers welcomed the breathable and quick-drying upper unit.
Many found Daichi 2 to be a comfortable shoe.
A runner claimed to be impressed by the decent cushioning of this running shoe.
4 reasons not to buy
A lot of runners have complained about its apparently poor traction capability.
A few testers observed that the shoe felt stiff in the midsole area, contributing to noticeable inflexibility.
Some found the shoe to be bulky & rigid, specifically in the heel section.
A number of reviewers noticed that the small lugs tended to slip easily on wet surfaces and attract mud.
Bottom line
The Mizuno Wave Daichi 2 has gained appreciation for its comfortable, lightweight ride & its ability to do well on both trails and roads. However, a number of runners felt that the Daichi 2 fell short in term of some of its features. They have noted the inefficient traction & its inability to handle rough terrains. But the general feedback was that this neutral shoe is still able to work well on simple off-road terrains.
Tip: see the best trail running shoes.
Our reviews
I am excited to have the opportunity to review the Mizuno trail shoe that I have worn!
After trying out this shoe I was impressed with the quality and believe that this a great shoe for beginning trail runners to start off with.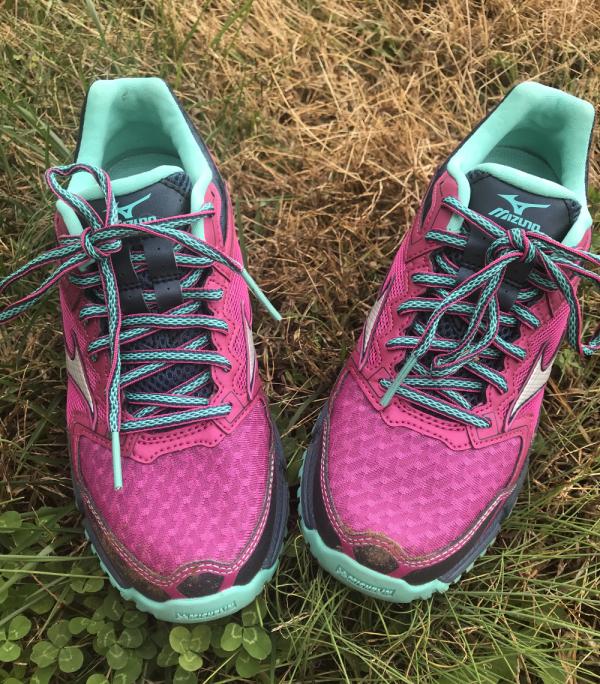 The Mizuno Wave Daichi 2 is a neutral and lightweight trail shoe. It provides trail runners with a comfortable and durable ride in mild terrain.
The shoe construction is top notch in quality and some of my favorite features were the Michelin rubber outsoles, XtaRide technology, air mesh upper, and color schemes.
Michelin Rubber Outsoles & XtaRide Technology
A favorite feature of mine regarding this shoe was the Michelin rubber outsoles. I feel like the Michelin rubber provides this trail shoe with a durable ride that can withstand rocky terrain.
Additionally, these shoes feature XtaRide technology which consists of lugs in the bottom of the shoe that Mizuno claims are comparable to mountain bike tires.
These lugs provide the shoe the ability to gain extra grip and traction in rough terrain. When I first saw the lugs in the bottom I was skeptical that they might feel more like a cleat.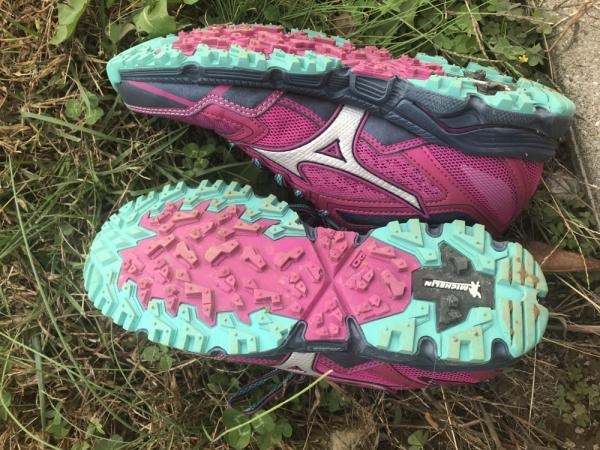 However, they don't feel like that to me at all, and I didn't feel like I even noticed them while out running in these shoes. (I also would like to add that my experience with these shoes has been in mild terrain, and does not reflect their ability in moderate to rough areas).
The XtaRide technology also includes an X-groove in the midsole of the shoe, which enhances its flexibility.
I would like to add- while I did feel that the X-groove did provide for some flexibility, when I first started wearing this shoe I felt like it was much stiffer than other Mizuno shoes that I have worn.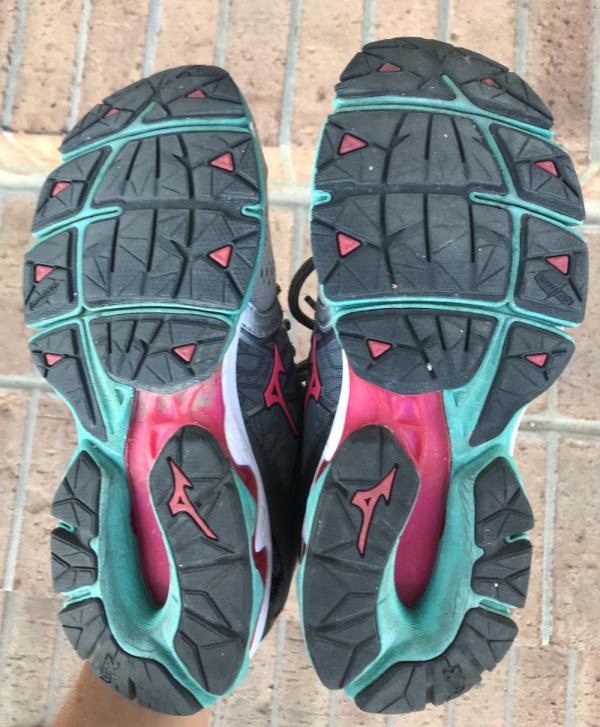 Cushioned Midsole & Ventilated Upper
One thing that I really like about Mizuno shoe technology is their Wave Technology.
These shoes are also designed in that fashion and it provides them a lightweight and cushioned ride. Anytime that I am wearing a Mizuno shoe I never have trouble with my feet and these were no different.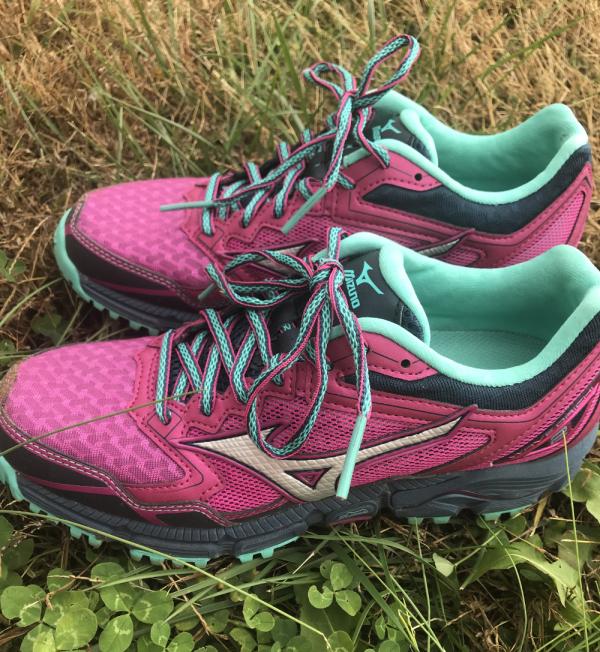 Another notable feature of these shoes is their durable and ventilated upper. When running in the shoes my feet felt cool and ventilated. The upper also is lightweight and seem durable enough to withstand the elements.
Color Scheme
Lastly, I can't pass up an opportunity to talk about the variety of color options in this pair of shoes.
The shoes that I received were Beet Root-Silver and they are probably my favorite color on a pair of running shoes to date. Along with this color combo, they also offer to others which I think many runners would also enjoy.
Negatives
With any shoe, there will be some features that could use improvement or don't work for the foot of every runner.
For me, I found that when wearing these shoes, they did seem to be stiff and narrow. My foot is already narrow to begin with so for me to notice this so I much, I feel like that runners with wider feet may have problems in this width and maybe even in their normal size.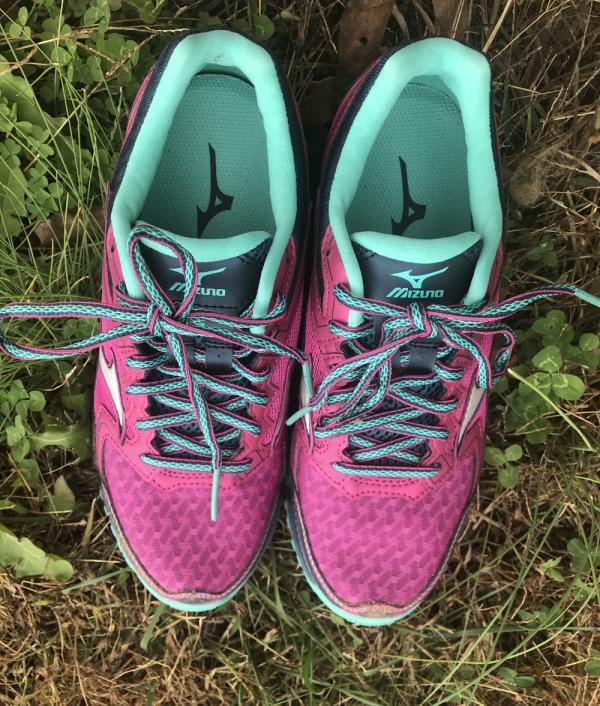 Conclusion
To conclude, if you are searching for a trail shoe for mild terrain I believe this shoe would adequately meet your needs. The original price started at $130.00 and might be an expensive investment for the occasional trail runner.
However, if given the opportunity to purchase these shoes on sale I believe they would make a great addition to any occasional trail runners shoe collection.
Good to know
A trademark of this series is its Michelin soles. This technology delivers unprecedented grip & traction across all terrains & weather conditions. It's reminiscent of mountain bike tires from Michelin.
This iteration of the Wave Daichi features a combination of Mizuno's top-of-the-line proprietary technologies—the Wave plate, AP+ and XtaRide. The combination of these ensures a ride that is comfortable, responsive, and well-rounded.
The upper showcases its signature Dynamotion Fit, a fabric that adapts to the movement of the foot while ensuring protection and ample support.
This version is also equipped with a Removable Insock. This provides added cushioning & comfort.
The shoe runs half-a-size larger than usual. Retailers advise on getting one that's half-a-size smaller to get a better fit. This trail shoe is available in a medium width for both men and women. Its shape is semi-curved to accommodate the natural curve of the human foot.
Wave Daichi 2's impact zones are well equipped with X10. This is a tough carbon rubber that holds up well to wear and tear, ensuring durability. It also doles out traction, which is helpful when it comes to gaining control of movement over the surfaces. This outsole element is also used in the new Daichi 3 and other popular running shoes from Mizuno.
Mizuno's new trail concept XtaRide is also featured in this model. This boasts 3mm gripping lugs that allow the runner to easily adapt & adjust to the surroundings. Along with the Xtatic groove in the midsole, they work together to provide the runner with great flexibility without sacrificing traction.
The 2nd version of the Wave Daichi features one of Mizuno' staples—the Wave Technology. This concave wave helps in providing responsive cushioning while still allowing ample underfoot steadiness during the running session.
The AP+ is Mizuno's midsole compound that ensures outstanding comfort during every ride. It is a durable and lightweight material that offers exceptional rebound characteristics, enhancing energy return.
The Xtaride groove in the midfoot further attenuates impact shock upon landing.
The upper features Air Mesh and it's meant to accommodate a lightweight and well-ventilated coverage. This material allows air to flow into the foot-chamber, ensuring a cool and dry interior.
The Dynamotion fit utilizes a stretchable material that moves with the foot as it transitions through the gait cycle. This provides a ride that's free of irritation, has exceptional upper support & an outstanding dynamic feel.
Rankings
How Mizuno Wave Daichi 2 ranks compared to all other shoes
Popularity
The current trend of Mizuno Wave Daichi 2.