This is going to be a retrospective review rather than a normal review for the simple reason that I ran 700km on this shoe a few months ago.
All the pictures in this review were taken when I retired these shoes so you can see how they look like at the end of their life and I can tell you how they behave.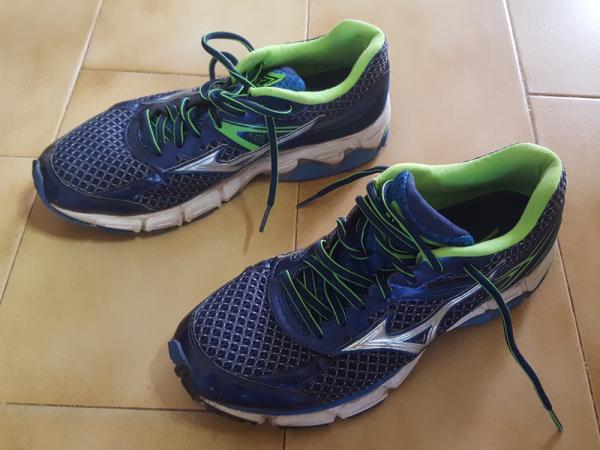 When I picked up Wave Connect I was looking for a shoe that could give me a fair amount of stability but not at the expense of weight, and I can tell you that you might be surprised to see just how light this shoe is despite its heavy appearance.
Comfort
A UK 7 weighs just 263g, making this shoe one of the lightest stability shoes.
Mizuno Wave Connect 3 was the very first Mizuno shoe I ever owned. I loved their wide shape that left plenty of room for my toes. Compared to Adidas Supernova and Brooks Adrenaline, this shoe has plenty more room for your toes and is definitely more comfortable.
Even though the upper mesh does not have the best appearance, it is very soft and durable which contributes to the shoe's level of comfort.
In fact, I think it will be rare for anybody to get blisters thanks to the upper mesh in the toe area.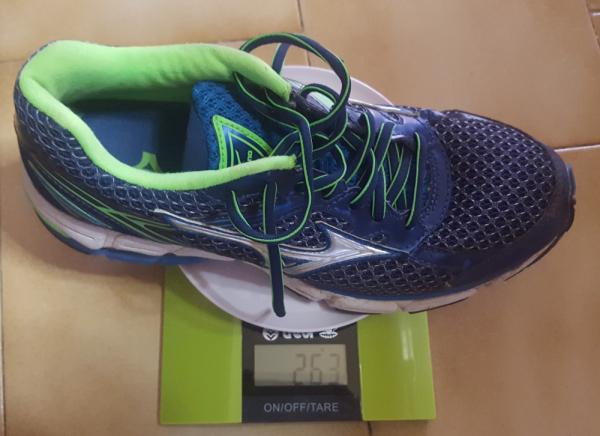 Cushioning
This shoe is one of the siblings of Wave Inspire, probably one of the Mizuno stability flagship models.
The biggest difference between the two is that Wave Connect is firmer with less cushioning. So, if you are looking for a more cushioned shoe go for Wave Inspire, but if you don't care about cushioning and you prefer a firmer ride on a light shoe, then go for Wave Connect.
Remember, in terms of cushioning for Wave Connect do not expect much cushioning in any area of your foot including in the heel and forefoot.
As mentioned above, Wave Connect's sole is very firm and not very cushioned, yet it is very light.
Concerning sole flexibility it is the same as some of the other shoes in this category, such as Adidas Supernova, but more flexible than others, like Brooks Adrenaline.
In terms of durability, you can see from the photo that the outer sole is a bit deteriorated, but it is what you can expect after 700km.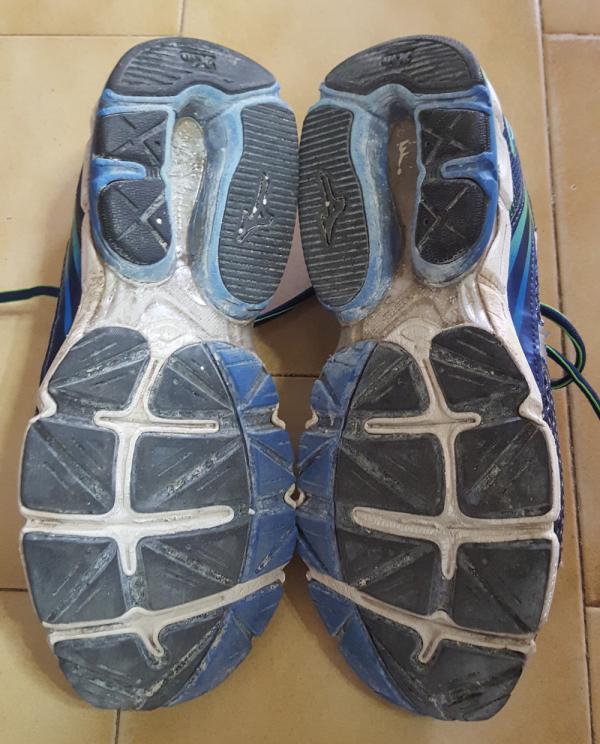 Despite its light weight and firmness, it is not a fast shoe.
If you are a fast runner you may notice that under certain speeds, depending on your gait which for me was around 4.25 min/km (14 km/h), you get the feeling that you are losing rather than gaining speed from this shoe.
But for slow, easy, and long runs this is going to be a very good companion especially given its comfort level.
This shoe's heel is quite high with its 33mm and a forefoot height of 21mm. This difference creates a drop of 12mm so you can guess that it was not built for speed but for daily, easy, and comfortable runs.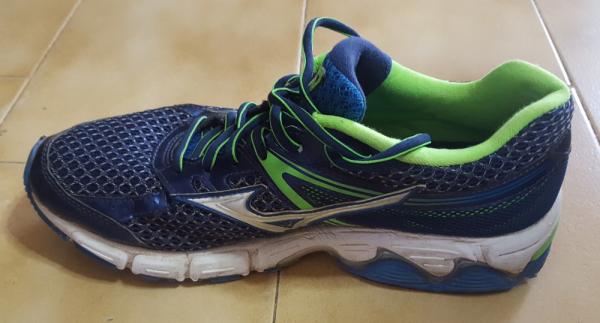 I tried to switch between Mizuno Wave Connect and Nike Structure because the latter gave more cushioning, but the degree of comfort between the two is not comparable at all.
The Mizuno's greater comfort level makes it more suitable for longer runs despite having less cushioning.
It is no wonder that Mizuno has historically been the brand to go for if you have a wide foot.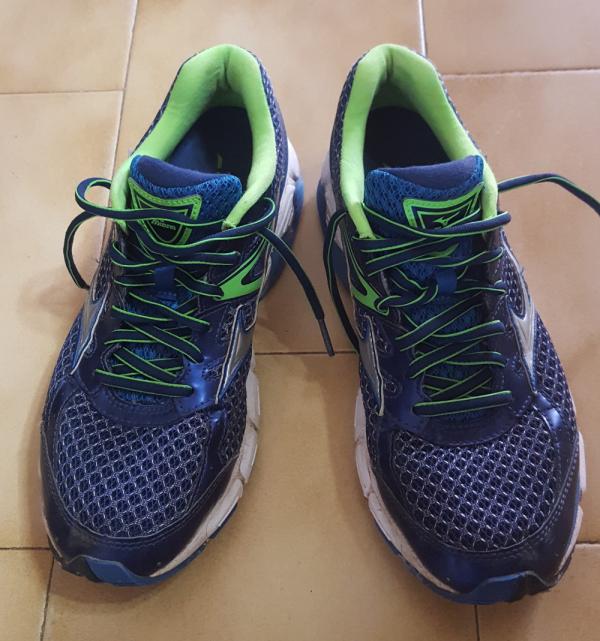 Performance
I am not a big fan of this shoe's appearance and design and think it could have been done better in 2017. Still, the quality of the materials is not bad.
I used to run in a pretty humid environment (autumn in London), and until my last run with these shoes, I never had a problem with the materials' durability.
Meanwhile, other shoes of the same class may develop tears from continuous use in humid environments. The upper mesh is made from a couple of very breathable layers, and I can swear that I never smelt anything bad coming from this shoe.
You can be sure to run on this shoe without any breathability concerns if you are in an area with a humid or hot climate.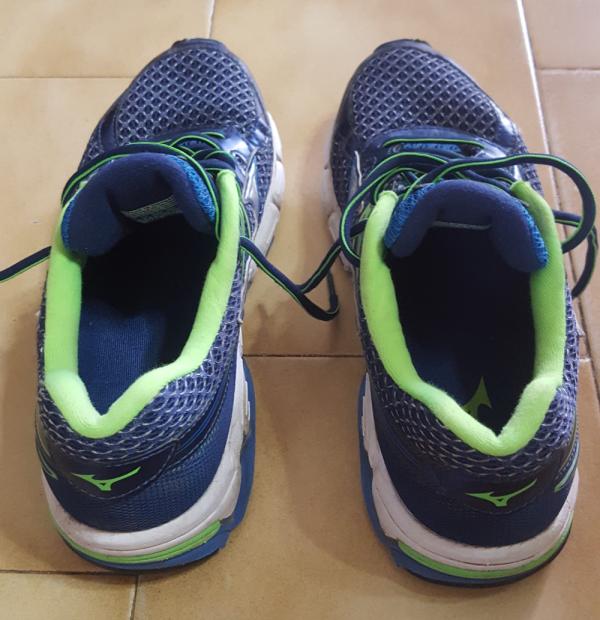 Finally, in terms of surface Mizuno Wave Connect is definitely a road shoe.
I never had a grip problem on the road, but as you can see from the outsole picture it is not particularly suitable for grass or trails.
Pros
Comfort
Shape
Plenty of room for toes (ideal if you have a wide foot)
Despite its appearance, it is a lightweight stability shoe
Longer life and more comfortable than several other brands' stability shoes
Cons
Hard to find in shops
Poor cushioning in any area of the foot
Conclusion
If you are looking for a shoe that will give you a firm and comfortable ride, then the Mizuno Wave Connect is an option that you have to consider.
However, if you are already running on very hard surfaces keep in mind that you should not expect much cushioning from its multi-layered outer sole. The design may not be as appealing as the other brands' options, but the price tag is as light as its weight.
Now, I can confess that the begin of this review I lied, I did not dismiss this pair of shoes, I gave them to my father for his countryside walks, they are still very usable. ;)