The Merrell MTL Long Sky puts the brand on the map of serious ultra running shoes. It is an amazingly reliable option for going 100 miles and beyond. It is also unbelievably lightweight for a shoe of its kind without compromising durability, protection, and support. It can readily be your go-to trail shoe for a variety of challenges and terrains.
Pros
Perfectly-fitting trail shoe
Light for its kind
Great for wet, muddy, uneven terrain
Excellent underfoot protection
Drains moisture quickly
Little wear after 300 miles
Merrell MTL Long Sky review
I would highly recommend the Merrell MTL Long Sky, especially for any ultra-distance events over mixed terrain.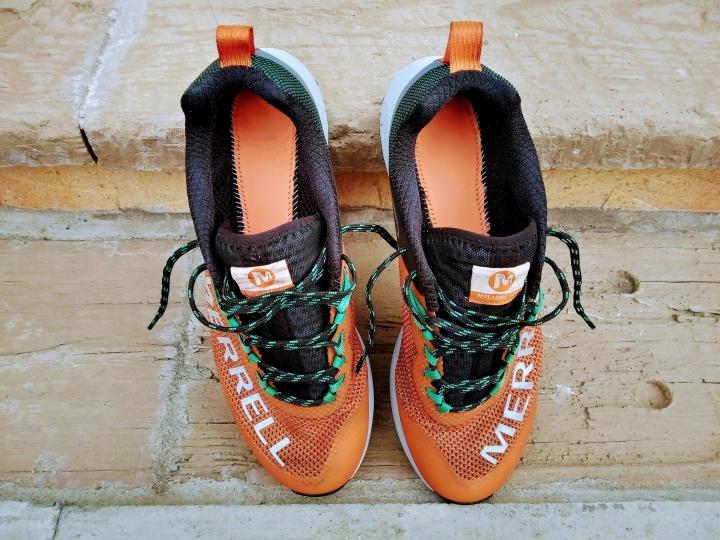 Up until now, Merrell has not been a brand you'd see too often in the trail and ultra-distance races, but that might all be about to change.
Why Merrell MTL Long Sky
Having had 5 previous reviews published, those kind people at RunRepeat afforded me the opportunity of a free pair of running shoes to enjoy and review.
And I have to be honest, the shoe I eventually chose was not my original choice. But I'm so glad my first choice wasn't available because the Merrell MTL Long Sky Trail is an utterly amazing trail shoe.
In fact, it could even possibly be the best trail shoe I've ever had the pleasure of running in—And I've had a few!
I'll provide you with some in-depth detail as to why that is. But first, let me give you the details and specifications of the shoe.
Specifications
Merrell has designed the MTL Long Sky Trail shoe in collaboration with Anna Frost, an elite ultra-distance runner who has won events like the Hard Rock 100 and the Transvulcania, and in 2010, won the overall title in the World Skyrunner Series.
The Merrell Test Lab (MTL); hence the name, has designed the shoe as a performance race-day shoe. But don't think for a moment that it's only a racing flat.
The Long Sky Trail shoe is capable of so much more and of even becoming your 'go-to' trail shoe. It comes in orange (as seen here) and black.
I've put the shoe to test on a variety of terrains and in both wet and dry conditions. I've used it exclusively to complete 100 miles over the course of 8 days.
Over the 5 weeks or so that I've had it, I've covered a total distance of just over 300 miles. I'll tell you how that all went, but first, back to the details and specifications.
The upper of the MTL Long Sky is constructed with a lightweight, waterproof, wear-resistant, large-pored mesh.
It also has thin-layered but protective thermoplastic polyurethane (TPU), reinforcing the toe area and extending toward the midfoot. The TPU provides good toe protection while being flexible and soft.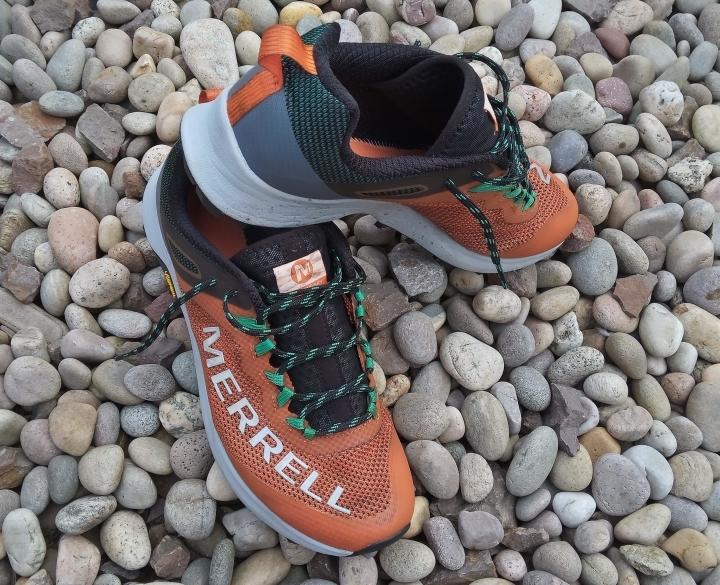 The molded TPU heel counter is on the firm end of the spectrum and is very supportive. It also gives a great fit too.
The shoe also has a reinforced loop that attaches to the heel, making it easier to slip the shoe on.
The MTL Long Sky has a stack height has a drop of 8mm, which is fairly standard in a long-distance trail shoe. It also has an EVA foam midsole with a medial post, providing light pronation control. This becomes very appreciated after some long miles and when your running form begins to go.
The MTL Long Sky comes with a 'sticky-grip', aggressive Vibram Megagrip rubber sole. It has a lug depth of 5mm and is able to provide you with solid traction on both wet and dry surfaces.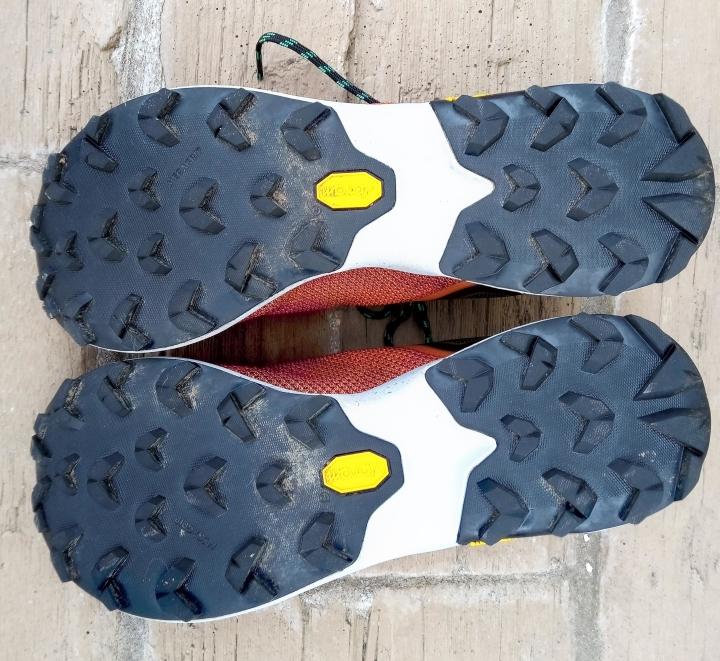 Inside the shoe, there is a breathable mesh lining that sits comfortably against the skin and increases ventilation. The shoe also has an internal bootie and because it's sealed right the way up the tongue, it provides a great locked-in fit and keeps debris out.
In fact, when I was descending on steeper slopes, I could feel the internal bootie keeping my foot secure and preventing my foot/toes from being pushed to the front.
Finally, as you've probably already noticed, the MTL Long Sky comes in an 'interesting' orange color. If you don't fancy that, it also comes in black.
Please also note the writing "Merrell" that wraps the front and side is reflective!
And the shoe has a traditional lacing system.
First Impressions
The first thing I noticed when I tried the shoes on was its really good fit. It's probably the best fitting trail shoe I've ever had. I'm on the smaller end of the UK size 9, so if you're on the larger end, you may want to consider going up half a size.
I took the shoe right away, probably because I actually liked the colorways, but more so because the fit was just perfect.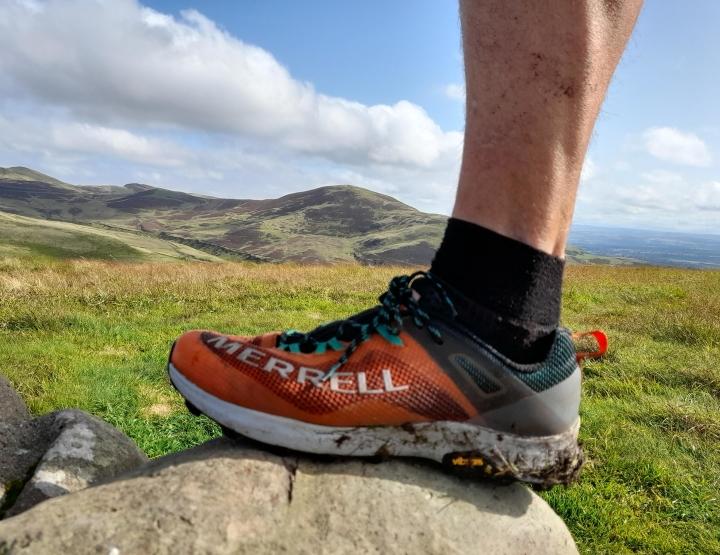 The internal bootie was one of the best I've experienced. And after a couple of hours wearing them around the house, I was ready to take them out on the trails.
Straight from the Scales to the Trails
Merrell states that the shoe weighs 230 grams. I tend to weigh my shoes as soon as I get them out of the box because brands don't always indicate the actual weight. Turns out, the MTL Long Sky UK size 9 weighs 288 grams on my scale.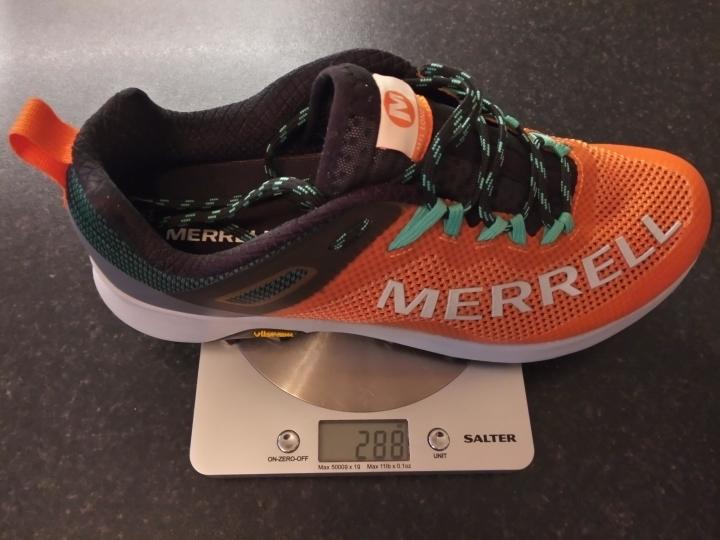 This is still very light for a shoe with so much structure, support, and cushioning, but significantly heavier than 230 grams.
The next day, I wore the shoe on a 13-mile trail run, including over 4,000 feet of ascent and descent. I was keen to see if this was a trail shoe that needed no break-in period.
I was a little nervous, so I carried a spare pair of trail shoes in my backpack. However, the reality was I shouldn't have bothered because the MTL Long Sky was amazing.
This is a trail run I've done many times and in many different trail shoes, so it gave me a great opportunity to compare the model against other shoes.
After a short run on the road, the route immediately goes into a steep grassy section for about 1,500 feet.
That day the grass was wet, and although Merrell states the upper is constructed using a waterproof mesh, I felt my feet getting wet. I can't tell how effective the waterproof mesh is, but it's definitely not as waterproof as the Gore-Tex version of the MTL Long Sky.
Despite running in wet conditions, the shoe has given me a solid grip, thanks to its 5-mm lugs.
As you get higher, the surface becomes more gravelly; with lots of loose stones, some of which are quite sharp. Even with this, the MTL Long Sky has provided a strong grip and good underfoot protection (even though it doesn't come with a rock plate).
Later into the run, the surface had many rocky sections, both on ascents and descents. Again, the MTL Long Sky excelled.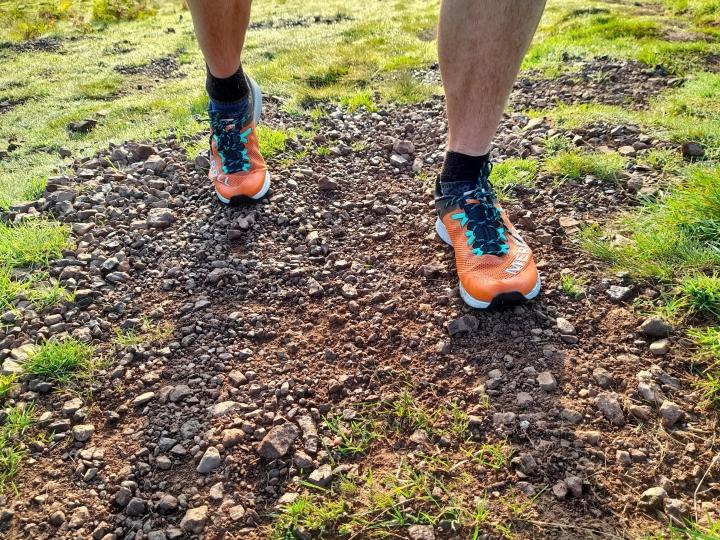 It has given me a very secure fit, all-around protection. At times, it felt like it was anchoring me to the surface. So, I was very impressed.
On this trail, there are also sections of deep sticky mud and at times, marsh right up to the lower knee. But once again, the MTL Long Sky dealt with everything.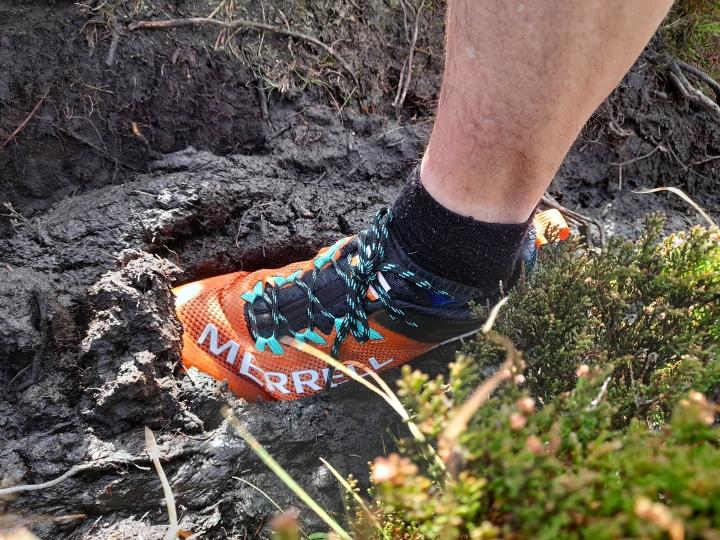 I found the shoe drained off any excess water quickly and even when I was being sucked into the mud, it remained secure on my foot. I never once had to stop to drain off water or even to re-tie the laces.
My first outing in the Merrell MTL Long Sky has been a huge success. I have not experienced any 'hot-spots' whatsoever and I couldn't think of a trail shoe I've taken that route that performed better!
Is It Truly More Than Just a Race-Day Shoe Though?
When there's no pandemic, I usually run about 2,500 miles per year and do about 4 or 5 ultra-distance races. To date, my distance record is 82 miles in 24 hours, so I really look for a shoe that can handle long days out, around 50 to 70 miles per week, and is very durable.
So, is the Merrell MTL Long Sky capable of delivering this for a very average (and soon to be 60-year old) runner?
Well, there's only one way to find out.
So over the following weeks, I ran a total of 300+ miles. This includes 100 miles in 8 days on a mixture of terrains, including tarmac, light, rocky, stony, and muddy trails, wet rocks, and beach (both soft sand & hard sand), as well as dry and rainy conditions.
Firstly, just to get this out the way, the shoe does really well on tarmac. Some trail shoes are awful but this is one of the better ones.
Remember, it's no road shoe, but even on 18-mile runs where I need to spend about 6 miles on tarmac, the shoe is fine and I have no foot problems whatsoever.
In terms of the trails and its purpose, the Merrell MTL Long Sky is possibly the best trail shoe I've ever had the pleasure of running in. I've had a few already, including the Salomon S-Lab Sense Ultra and the Inov-8 Trailroc G 280.
On the soft sand, I was particularly impressed that I have never once stopped to empty the sand out when it covered over the top of the shoe. On every run, the shoe effectively kept sand and debris out.
You may remember that I mentioned the MTL Long Sky doesn't have a rock plate. Quite honestly, I don't think it needs one. I have never felt any of the sharp rocks penetrate the sole to the point of causing pain.
Some of my runs took me over damp, seaweedy-type rocks. And although no shoe can truly provide a solid grip on this kind of surface, the MTL Long Sky has done a great job; keeping me confident and secure as I carefully traveled along.
Parts of the terrain I ran on have been very uneven and undulating and I can honestly say, it felt like the MTL Long Sky was moving in harmony with the natural movement of my foot at all times. The shoe is surprisingly flexible and I have never felt any pinching nor pressure points.
With all these amazing features and qualities, you can tell that this shoe has been designed in collaboration with an experienced runner. And for me, Anna Frost's input has made the MTL Long Sky an amazing ultra-distance race shoe.
However, the question remains. Is it a genuinely durable shoe and a potential everyday shoe?
Durability of the Merrell MTL Long Sky
At the time of writing this review, I have already run over 300 miles in the MTL Long Sky and love every minute of it. It has quickly become my go-to shoe, and until now, it continues to maintain a good level of structural integrity, solid cushioning and support, and great grip on various terrains and conditions.
The wear down to the sole is almost non-existent, so there's really no point in having a picture. However, there has been a tiny bit of wear on the upper.
Here you can see at the point where the laces meet the upper, the shoe has formed a kind of crease. And just at that point (and nowhere else), there is some very slight fraying. After 300+ miles, it's hardly worth mentioning, but it is there.
Also, the middle line of the first 'E' in MERRELL has started to lift. That's the only letter that's doing it, and to be honest, I actually thought more of this would have happened. Again, after 300+ miles, it's no big deal, but it is there.
So, there you have it. The Merrell MTL Long Sky has been a huge surprise.