Review coming soon
Merrell Momentous 2 has just been released by Merrell . Our experts are working on a detailed review. Please, come back later.
Get an email when final verdict is ready:
My Rating
Our reviews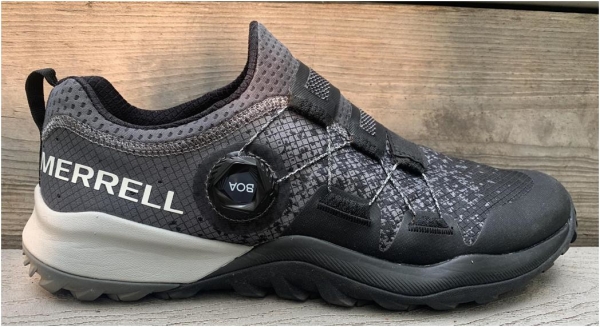 Use: Trail
Drop: 4mm
Stack: 22mm/18mm
Wt: 11 oz
Fit
Of all that there is to say about the Merrell Momentus 2 BOA, the fit has got to be the most important. Lashing down a pair of these shoes with the BOA lace system is almost guaranteed to deliver the most secure feeling you've likely ever had with a running shoe.
This is my second pair of trail running shoes that employ the BOA system, and the feeling is the same. The ability to micro-adjust the tightness of the shoe in a seconds notice is a feature that you just can't get with a traditional lace system.
The BOA system combined with the rear sling that helps lock down the heel box creates a snugness and security that is hard to match in other shoes.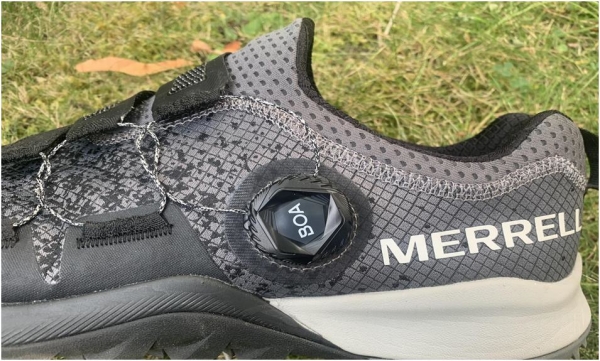 The padding of the heel-box is ample but not excessive and creates a comfortable nest for your foot. The upper mesh is constructed in a bootie style, which works perfectly with the BOA system.
The nexus of the two creates a snug, locked-down, and comfortable home for your foot, without all the excess baggage of a tongue to get folded around in the process.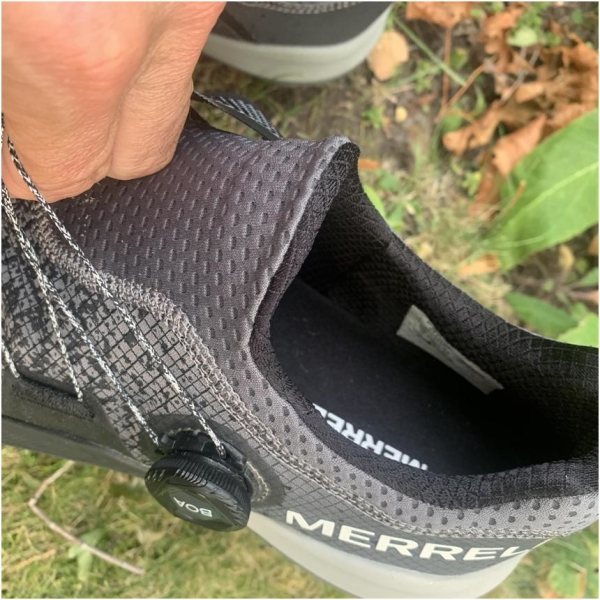 Function
I really enjoyed running in this shoe. While it's not the trail shoe I'm going to knock off an Ultra in, it definitely is the shoe that I'd choose for a fast and nimble run on a technical forest trail. Nimble is the keyword here.
The Merrell Momentus 2 BOA has a responsive feel on the trail. I enjoyed it's lateral stability as I danced around rocks and roots while winding through the Montana woods.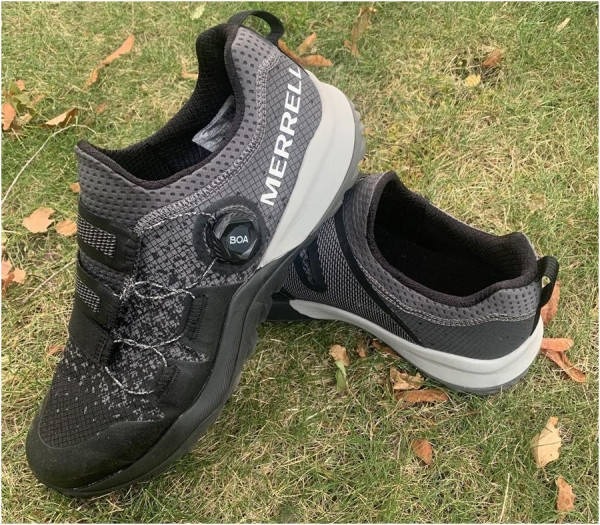 The upper mesh kept my foot cool and although I didn't get a chance to test these in wet conditions, I imagine that the weave of the upper would drain well too. The Momentus 2 is not overkill with excess padding, the place where some shoes sponge up the moisture.
The traction of the Merrell Momentus 2 BOA is superb. Boasting a monstrous 5mm lug depth this shoe is nothing short of the cleat.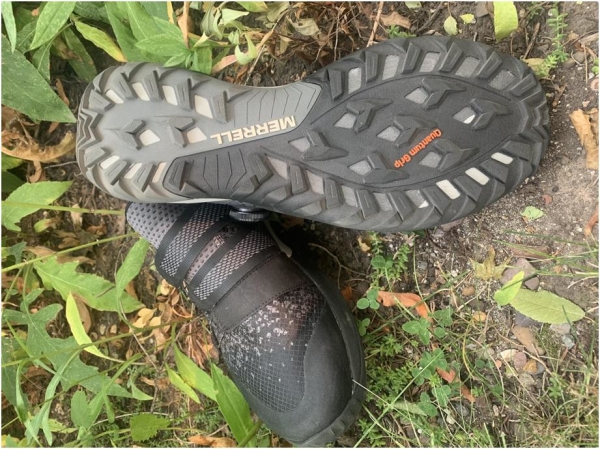 The Merrell mountain-grade Quantum Grip™ rubber outsole gives security to steep climbs on loose terrain, sharp turns on uncertain trails, and fast descents on anything you can throw at it. The tread pattern is well thought out with subtle directional variances for maximum lateral grip.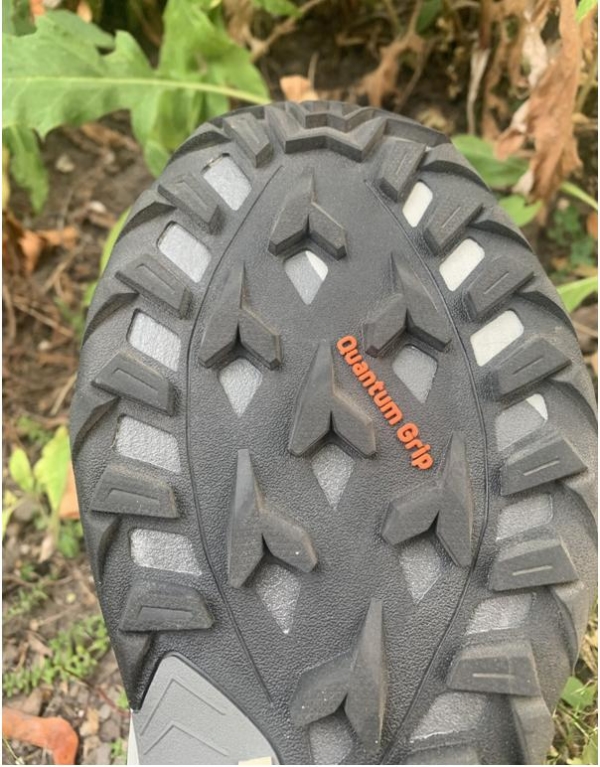 The reinforced toe is supple, yet a firm layer of rubber impregnated into the fabric of the upper. This is a nice burly touch in an area that is sure to receive a lot of abuse.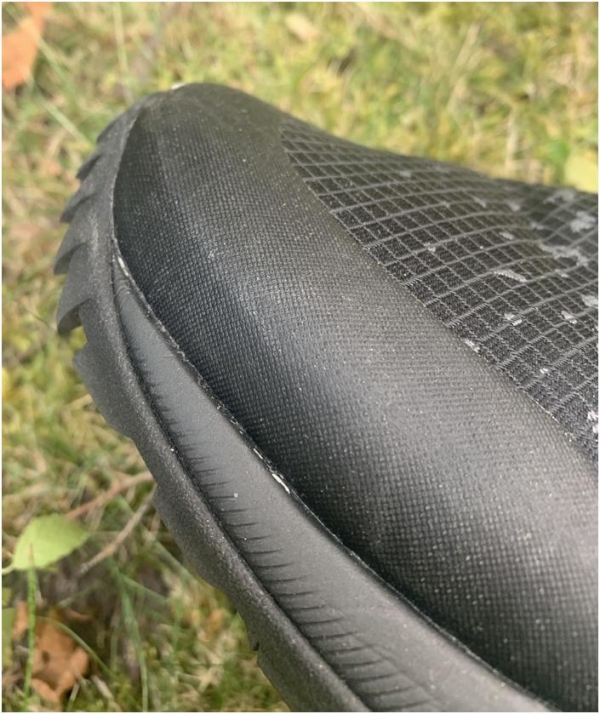 The overall cushion of the midsole was the only thing that this reviewer found lacking. While the EVA midsole does offer some comfort and cushion, it's definitely not suited for the long haul.
As mentioned earlier, the Momentus 2 seems most at home on short, fast, technical trail runs. On my 5-7 mile runs up the local mountain trails, I thoroughly enjoyed the Momentus, but as the distance grew longer, I missed the cushion and forgiveness of some of my other shoes.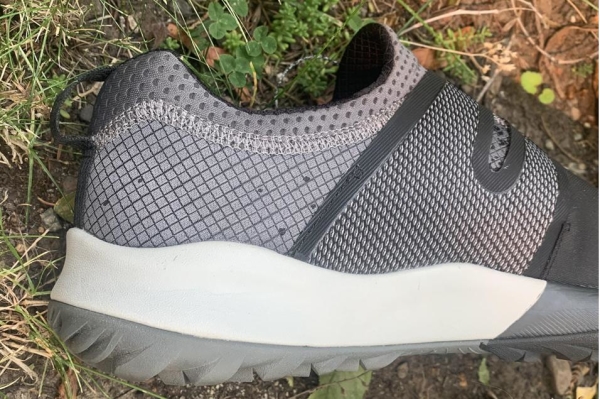 Pros
Excellent fit
Responsive and fast feel
Aggressive 5mm sole lugs
Cons
Overall
The Merrell Momentus 2 BOA is a quick and nimble trail shoe. Its aggressive sole is built to tackle any terrain. The BOA lacing system offers a superlative fit and the bootie design of the upper creates a comfortable feel.
The cushion of the sole is suited best for short to mid-distance runs. I really like this shoe. I think it's a great choice for someone looking to transition from light trail running to more technical terrain.
At an MSRP of $130.00, it's priced appropriately.
Let's get right to the point. This is a traditional trail shoe in almost all aspects except one: the BOA technology.
While I've enjoyed BOA tech with other outdoor equipment (snowshoes, ski boots, etc.), I can safely say I'm not a fan of incorporating this technology into my running shoes.
Okay, now that we've gotten that spoiler out of the way, let's dive into all my nitty-gritty thoughts and opinions on the Merrell Momentous 2.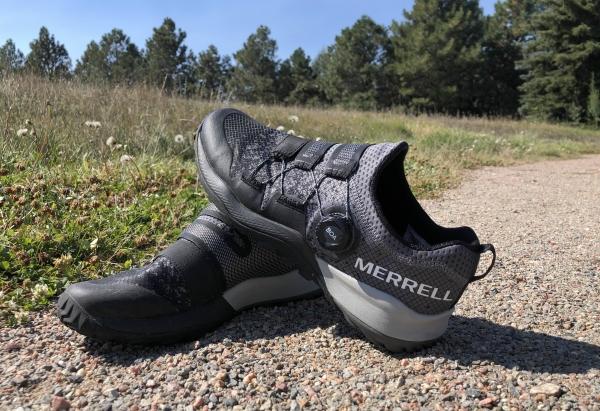 Comfort and ride
Overall, I like the cushion and ride of the Merrell Momentous 2. The shoe feels good to put on, and I find it's been a go-to (because of how easy it is to put on) for family walks, hikes, and general leisure. However, I can't "dial" it in just right for running.
See, the BOA technology pulls the shoe tight in the dial platform's direction, but this creates unequal pressure across the top of the foot. As someone who struggles with hallux rigidus to a minor degree, this is a huge issue.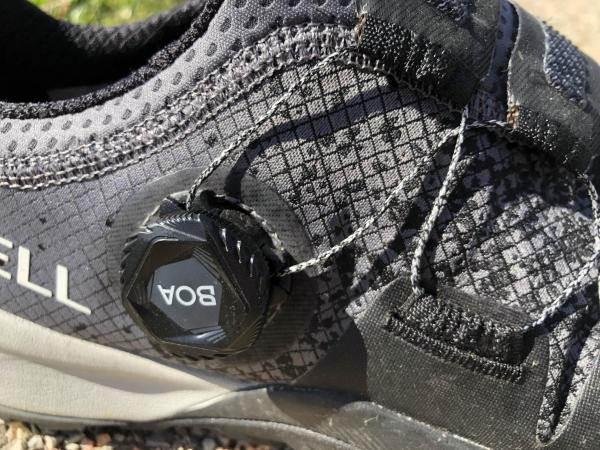 You can get the shoe mostly secure, but to get it secure across the entirety of the top of the foot (and to lock your heel in), you have to really crank that dial.
Once I do this, I get mild discomfort because now one side of the foot is super pinched by the tightening while the other is just right. The one workaround I have found for this shoe is to double up on socks, which is not my favorite solution.
I can't necessarily go down another size because I feel like my toes would be jammed during downhill running, but I can't get a good solid (non-painful) fit across the shoe without double socking.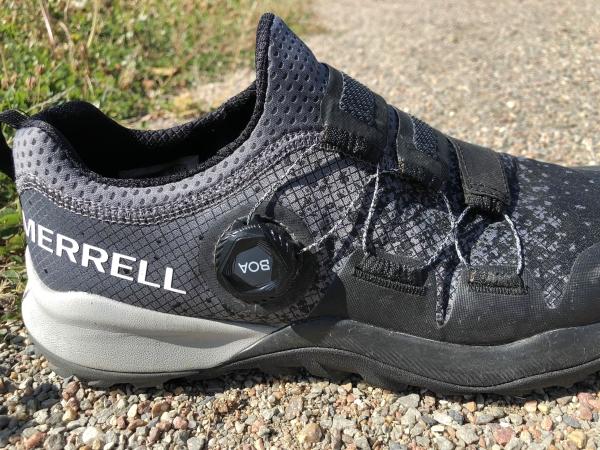 However, for hiking, walking, and playing with the kids, I don't need a perfect fit, as I do with running. So I am more-often-than-not generally happy with how comfortable the shoe is.
Also, while it might seem like a little quirk, you can't sit comfortably cross-legged with these shoes because the BOA dial will jam into your leg. Not that this is a huge consideration for a trail running shoe, but it is a gripe I've encountered while doing my post-run cooldown exercises.
I do love how quick it is to put this shoe on. I usually take a little bit to tie and re-tie my shoe to get the perfect fit, but the BOA tech makes it quick and easy to put on, tighten, and get running.
Performance
Once I'm double-socked in and start my trail runs, this has been my experience with the Merrell Momentous 2.
First, the shoe is marketed as "a more connected, fast experience on trails," but that wasn't quite my reality.
With a low drop and medium amount of cushion, I do feel like I get a solid connection with the ground. However, with 10.9 oz of shoe hanging off my foot, I definitely don't get the "fast experience" I was hoping for.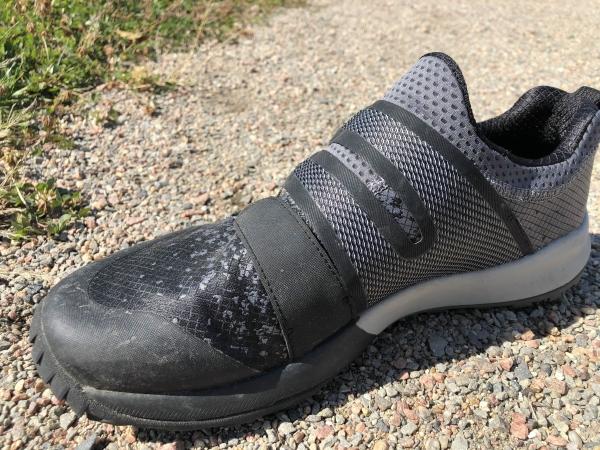 It's a relatively heavier shoe for trail running, and it leaves me feeling a bit more sluggish. I'm not entirely sure where all the weight is coming from, either.
With a Hoka One One Bondi, for example, you know its 10 oz weight is coming from a 30+mm stack height — that's a lot of cushioning.
So, I'm not sure if the BOA tech is what's causing the weight (doubtful) or if it's the Quantum Grip rubber outsole (more likely). Whatever the case is, it feels like a whole lotta weight on foot without necessarily a good reason for it.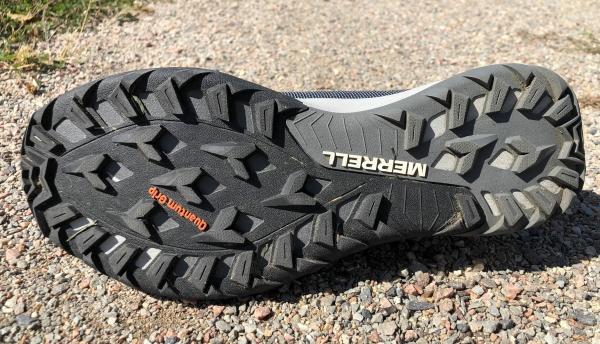 As for grip, I have no complaints. The outsole rubber does a great job on dirt, rocks, pavement, and even treadmill without any noticeable problems.
It's a very sticky connection, but I like it. I don't worry about slipping off rocks during Class 2 and even Class 3 scrambles, nor do I have to bomb hills with any hesitation.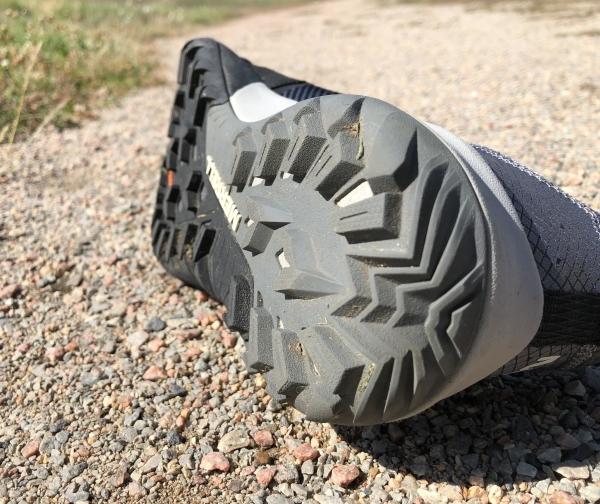 Midsole
I've had issues with my knees in the past, but I haven't had a problem with the Momentous 2. It delivers enough cushioning for basic protection without sacrificing performance (except for the weight).
I'm naturally a forefoot runner, and I feel like this shoe is definitely tailored more to that demographic.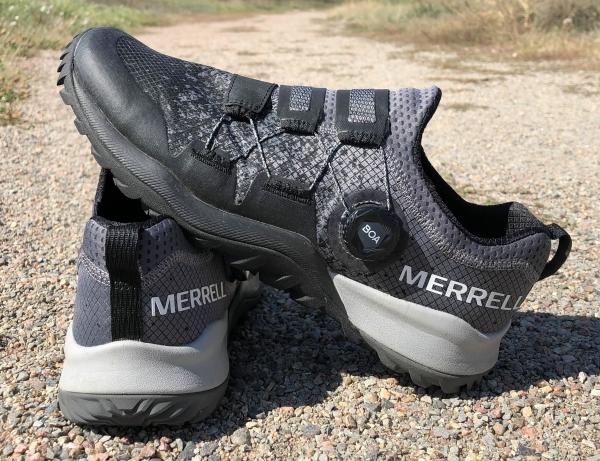 Upper
I'm a huge fan of the jacquard mesh used in the upper. It makes for fantastic ventilation and a very soft fit. The shoe is also made of vegan-friendly materials, so that's always a nice bonus, too.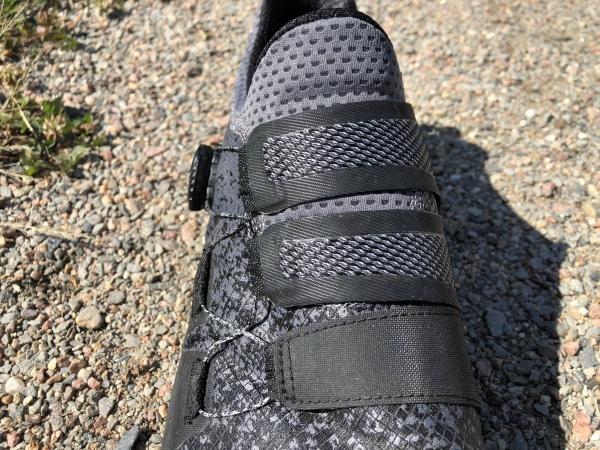 Durability
No issues with durability. It seems like a high-quality shoe made with materials that'll last.
I haven't used BOA tech extensively, but the dial platform would be the only thing I'd worry about. If I clipped it on a rock while scrambling or flying down a trail, I could imagine doing some real damage to the plastic.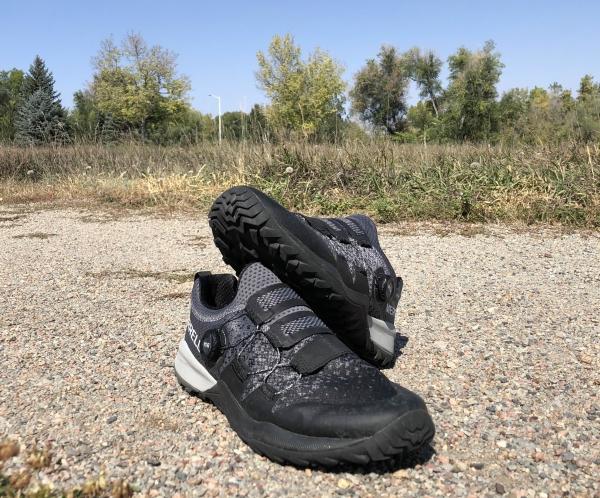 Looks
I'm torn. On one hand, I think it's a sleek-looking shoe with an innovative design and great colors.
However, I can't help but feel a little silly while wearing the shoes—and it's not because of the dial. Most people don't even notice the dial first—they just notice that the shoes look more like slip-on clogs than trail runners.
Price
At $130, you're hitting the upper price spectrum for trail running shoes. It's not a crazy amount for a new shoe, but I'd like to see less weight and a little bit more finesse in the BOA tech fit to justify the steep price.
Tl;DR? I got you covered
Pros
Responsive
Great outsole grip
Durable
Super breathable
Quick to put on and adjust
Good cushion
Cons
Heavy
Fit is imprecise with BOA tech
Expensive
Verdict
All-in-all, I think the Momentous 2 is a great shoe with lots of potentials, but it's not a go-to in my closet. I'm excited to see what Merrell will do with future versions of this shoe, but for now, I'll be content with what we have.
Merrell Momentous 2: Made for control and efficiency
Featuring a low-to-the-ground construction, the Momentous 2 from Merrell allows you to move at a high pace with maximum ground control. Similar to the Adidas Terrex Agravic BOA, a big bonus added to this trail shoe is its incorporation of the BOA technology. It permits an efficient, accurate fit as users can tighten and loosen the platform in just a few turns of the knob.
Momentous 2 vs. 1: The difference
Here are some of the upgrades made to the second iteration of the momentous to better its performance:
More ventilation. Utilizing a jacquard mesh, the trail running shoe maximizes airflow and lightness.
Convenient lockdown. This time around, Merrell geared the Momentous 2 with a BOA Fit System that allows quick fastening.
Optimal grip and durability. Equipped with the brand's Quantum Grip rubber outsole, the running shoe withstands abrasion and ensures a sticky foot plant.
How Momentous 2 compares
Corescore: 55-58
1 shoes (0.26% of shoes)
Corescore: 59-62
0 shoes (0% of shoes)
Corescore: 63-66
4 shoes (1% of shoes)
Corescore: 67-70
10 shoes (3% of shoes)
Corescore: 71-74
28 shoes (7% of shoes)
Corescore: 75-77
32 shoes (8% of shoes)
Corescore: 78-81
83 shoes (22% of shoes)
Corescore: 82-85
117 shoes (30% of shoes)
Corescore: 86-89
89 shoes (23% of shoes)
Corescore: 90-94
21 shoes (5% of shoes)
Price: $60 - $78
23 shoes (6% of shoes)
Price: $79 - $97
28 shoes (7% of shoes)
Price: $98 - $116
63 shoes (16% of shoes)
Price: $117 - $135
114 shoes (30% of shoes)
Price: $136 - $154
77 shoes (20% of shoes)
Price: $155 - $173
50 shoes (13% of shoes)
Price: $174 - $192
20 shoes (5% of shoes)
Price: $193 - $211
6 shoes (2% of shoes)
Price: $212 - $230
2 shoes (0.52% of shoes)
Price: $231 - $250
2 shoes (0.52% of shoes)
All shoes average:
10.4oz
Weight: 5oz - 6.8oz
7 shoes (2% of shoes)
Weight: 6.9oz - 8.7oz
57 shoes (16% of shoes)
Weight: 8.8oz - 10.6oz
149 shoes (41% of shoes)
Weight: 10.7oz - 12.5oz
119 shoes (33% of shoes)
Weight: 12.6oz - 14.4oz
25 shoes (7% of shoes)
Weight: 14.5oz - 16.3oz
5 shoes (1% of shoes)
Weight: 16.4oz - 18.2oz
1 shoes (0.27% of shoes)
Weight: 18.3oz - 20.1oz
0 shoes (0% of shoes)
Weight: 20.2oz - 22oz
0 shoes (0% of shoes)
Weight: 22.1oz - 24oz
2 shoes (0.55% of shoes)